Bruschetta made with fresh garden tomatoes, basil, onion, garlic and cheese in a balsamic vinaigrette makes a delicious appetizer or afternoon snack.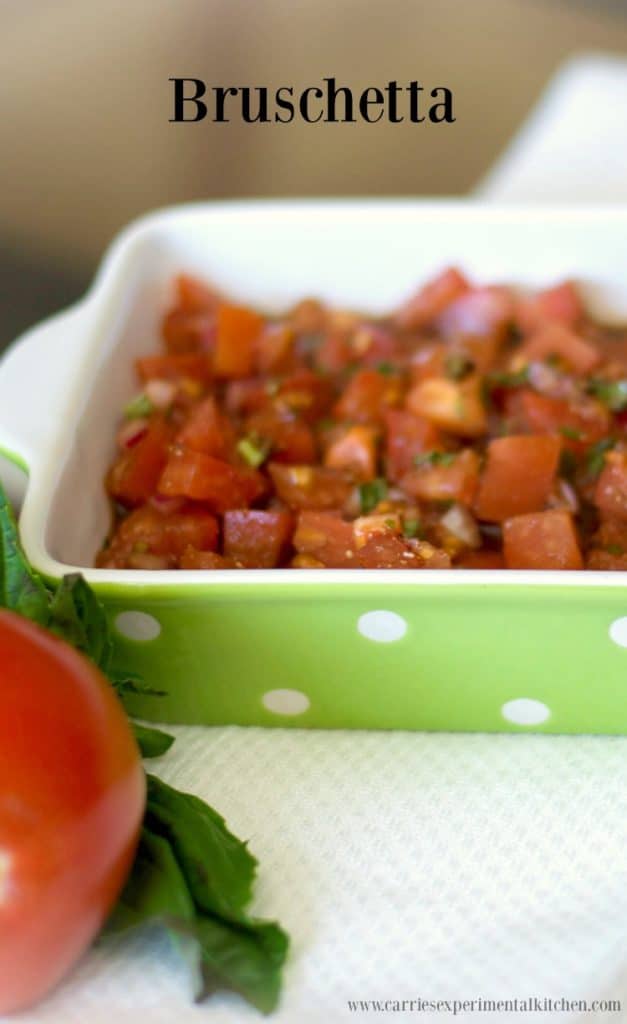 When I first posted this recipe for Bruschetta almost 2 years ago, my photography skills weren't that stellar. Not that they're perfect now, but I have come a long way with practice.
I also included this recipe in my cookbook as it's one of my favorite recipes. You should really check out the book if you haven't already! This book would make the perfect addition to any kitchen, but Mother's and Father's Day is right around the corner and would make a great gift too!
What recipes are in the cookbook?
There are over 180 original recipes including many of my family's favorites such as:
Appetizers: Stuffed Chorizo Bread, Garlic and Herb Cheese Stuffed Mushrooms, Roasted Garlic, Rosemary & Sun Dried Tomato Hummus
Soup: Tuscan White Bean, Beef Barley, French Onion
Salads: Tortellini Salad with Sun Dried Tomatoes & Broccoli, and Haricot Verts with Feta, Cranberries & Pistachios
Poultry: Lemon Yogurt & Basil Chicken Kabobs, Chicken Francaise, Balsamic Honey Mustard Grilled Chicken, Beer & Orange Marinated Grilled Chicken, Pecan Breaded Chicken
Beef and Pork: Flank Steak Stuffed w/ Zucchini & Brie, Braised Short Ribs, Tuscan-Style Beef Brisket, Lemon Basil Grilled Pork Chops and Pork Milanese
Pasta and Nonmeat: Eggplant Parmesan, Homemade Gnocchi, Mediterranean Pasta with Chicken & Olives
Sides: Balsamic Mushroom Risotto, Chorizo Cornbread Stuffing, Sweet Potato Casserole
Vegetables: Garlic Roasted Cauliflower; Spinach with Garlic & Roasted Plum Tomatoes, Greek Tomato Zucchini Fritters and Stuffed Zucchini Boats
For the Sweet Tooth: Limoncello Strawberries with Fresh Basil, Red Wine Poached Pears and Candied Pecan & Cranberry Biscotti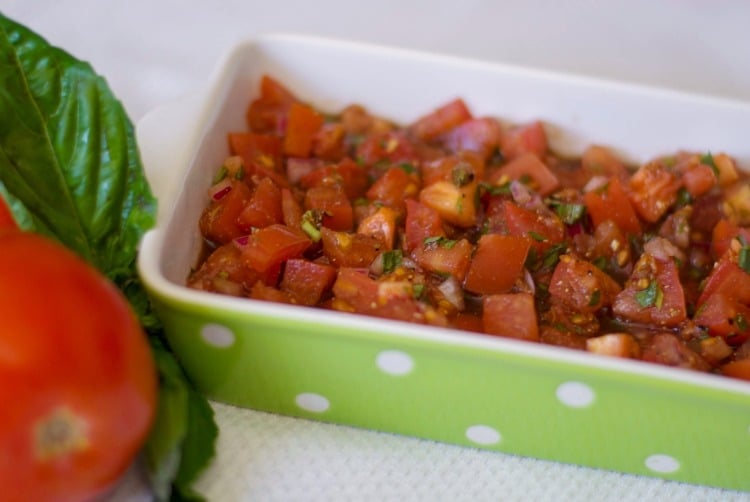 How can you serve bruschetta?
Bruschetta is the most frequently made recipe in my home throughout the year; mainly in the warmer months when fresh Roma tomatoes are in season and I tend to use it a variety of different ways including:
As an appetizer served over toasted baguette slices
Top the bruschetta over chicken or pork cutlets; which is our favorite way to eat this and the most requested by my family
Add the bruschetta to a garden salad
Mix the bruschetta with pasta, rice or grains; as in a salad or main entree
I recently made this recipe when we topped it over chicken cutlets and wanted to share it with you. It's extremely tasty and easy to make. Tomato season will be here before you know it and I hope you like it as much as we do! ~Enjoy!
Sign up for my weekly newsletter
and receive
a FREE eBook!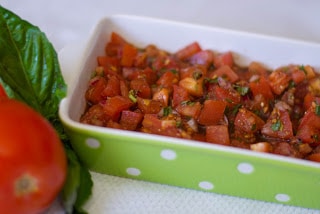 Bruschetta
Bruschetta made with fresh garden tomatoes, basil, onion, garlic and cheese in a balsamic vinaigrette makes a delicious appetizer or afternoon snack.
Instructions
Preheat oven to 350 degrees F.

Place the sliced bread on a baking sheet and spray with cooking spray. Place the tray in the oven and bake for approximately 10-15 minutes; turning halfway, until the bread is toasted. Cool completely.

Combine the tomatoes, onion, basil, cheese, garlic, salt, pepper, vinegar, and oil; mix well. Refrigerate until ready to serve.

Serve the bruschetta on toast rounds.
Visit the

recipe index

to search for more recipes by category.

Related Recipes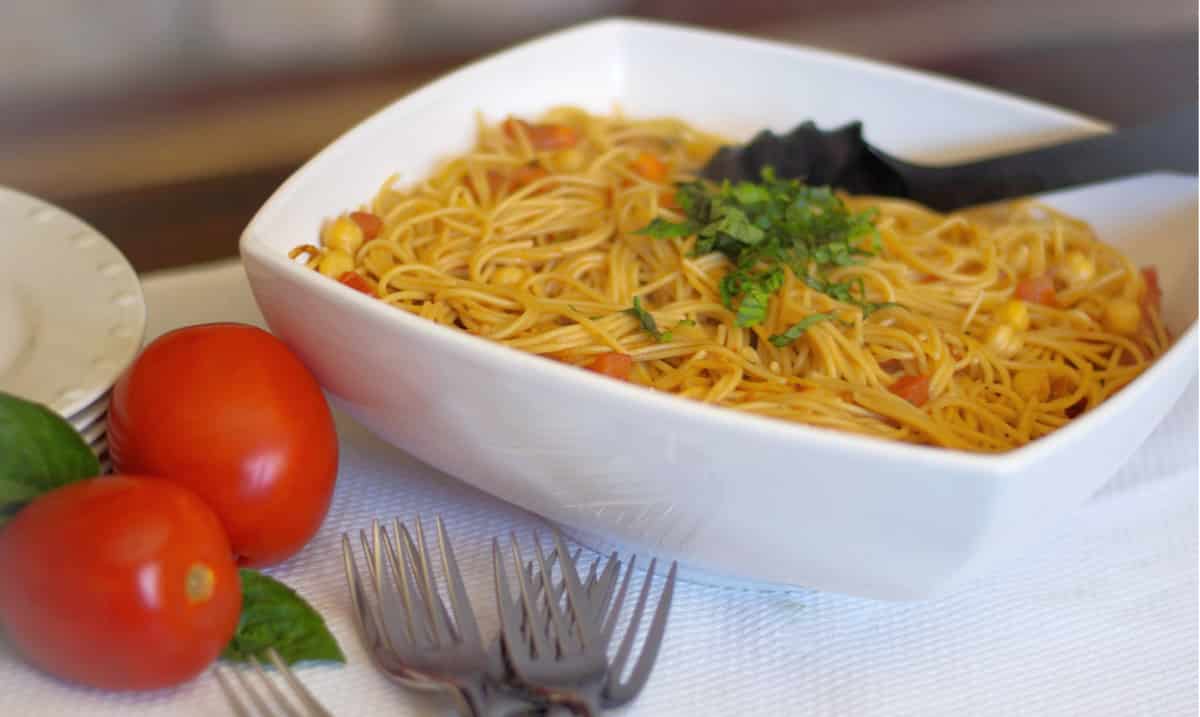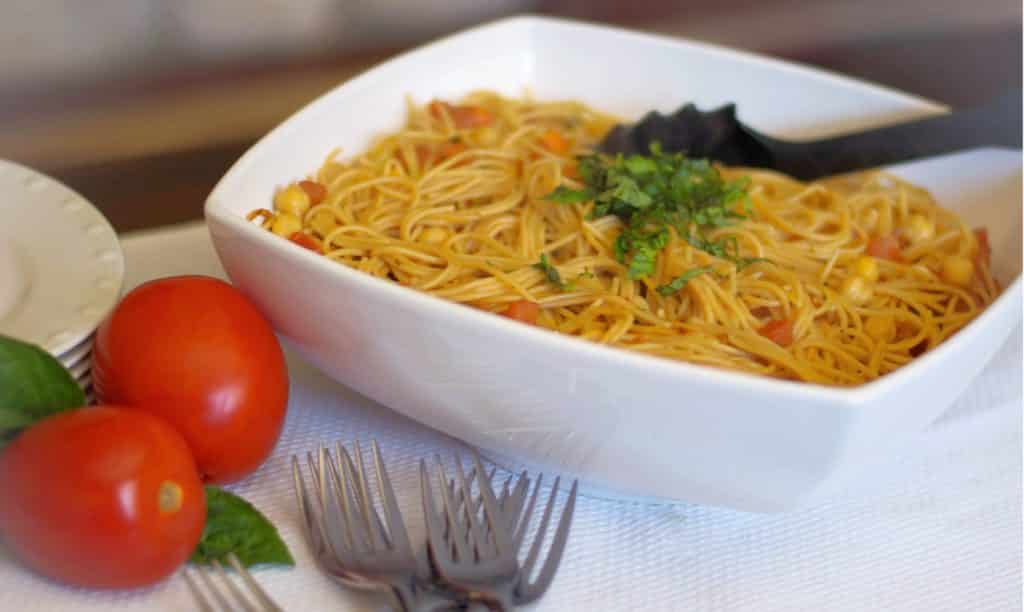 Spaghetti with Bruschetta and Chick Peas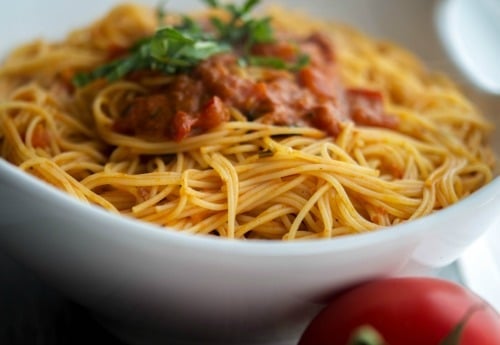 Angel Hair Pasta with Bruschetta Vodka Sauce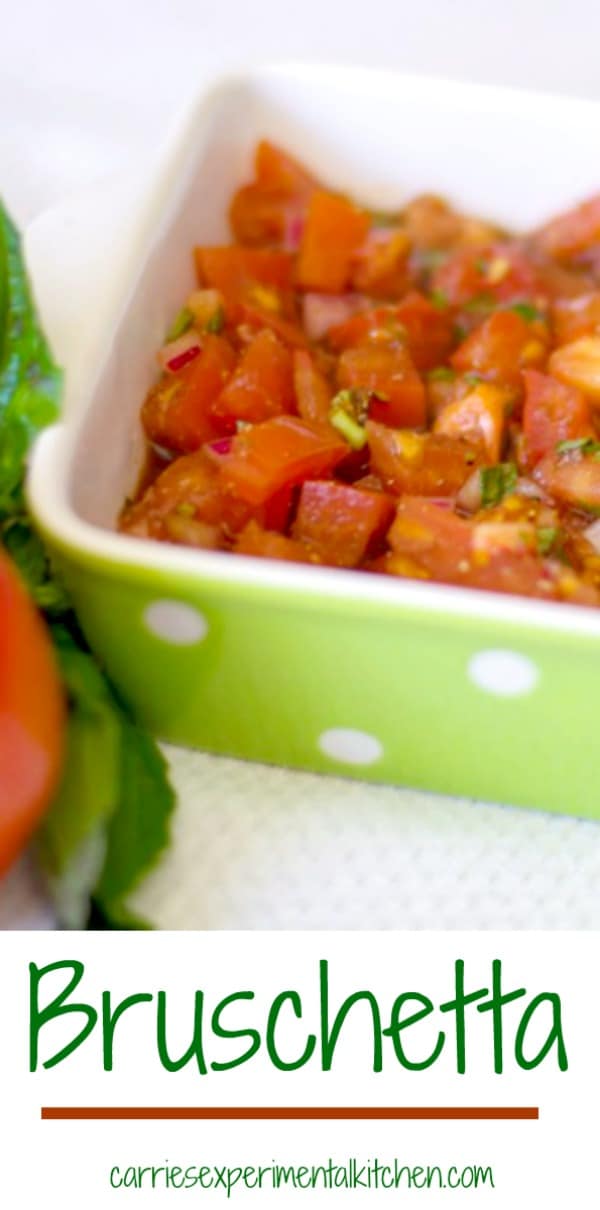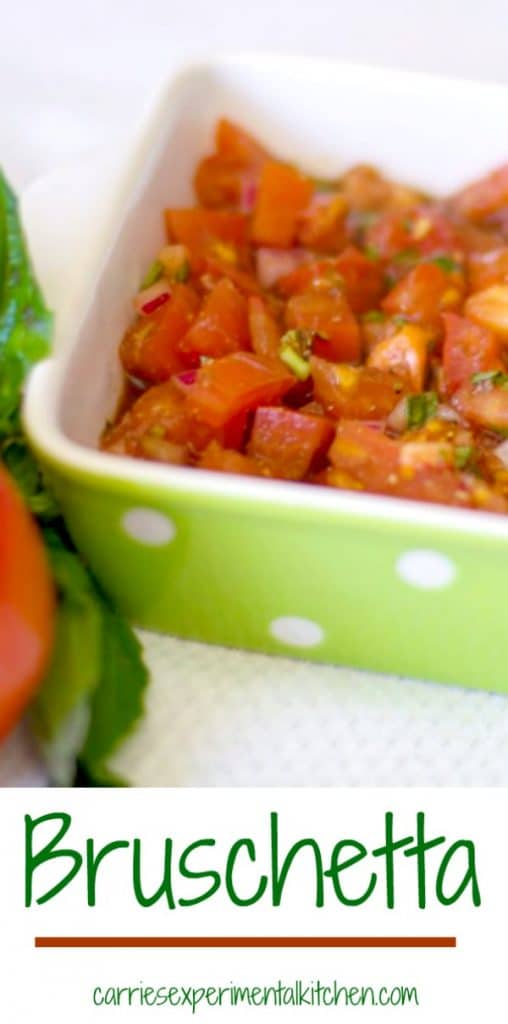 Connect with me on Social Media