Cauliflower mixed with American cheese, scallions, garlic and self rising flour; then fried until golden brown make a tasty side dish.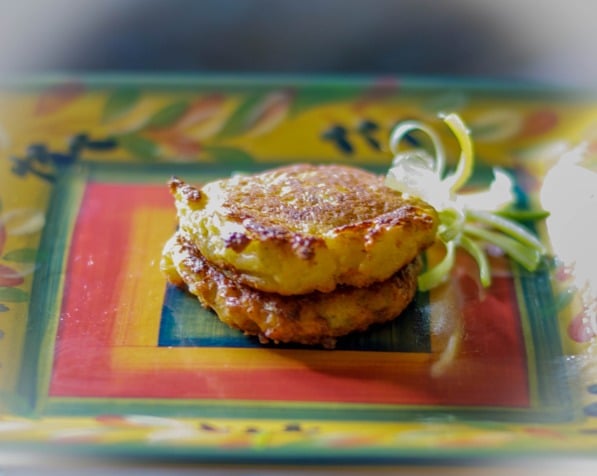 My youngest daughter does NOT like cauliflower at all. No matter how I prepare it. I can't say I blame her as I didn't even like it myself until several years ago, and now I love it. My favorite way to eat it is roasted with some fresh garlic (go figure!). So one night I decided that I would puree some frozen cauliflower I had and make fritters out of them. I normally buy fresh cauliflower as it does taste better, but I also like to keep some frozen vegetables on hand in case I have last minute guests (saves me a trip to the store).
I thought these would also be easier to use than steaming fresh cauliflower too (and boy were they…5 minutes in the microwave and done!). At first, I set out to make them a little healthier so I tried baking them, but the inside never seem to set right and they were doughy. So I resorted to frying them, and they were a hit. She must have eaten 4 of them herself!
Later, I was pleasantly surprised that they were only 78 calories a piece too; however, I don't know this until after I make something and it's usually consumed by that point. I just used some 2% American sliced cheese I had, but feel free to add whatever you have. Maybe some sharp cheddar or Asiago might be nice or if you like things a little on the spicy side, some PepperJack. In any event, these were delicious. Besides, everything tastes better with cheese!
Cauliflower & Cheese Fritters
Cauliflower mixed with American cheese, scallions, garlic and self rising flour; then fried until golden brown.
Ingredients
16

oz.

Frozen Cauliflower Florets

3

oz.

American Cheese

1/4

c.

Scallions,

chopped

2

Cloves

Garlic,

minced

1

c.

Self Rising Flour

Salt and Pepper

to taste

Canola Oil

for frying
Instructions
Defrost cauliflower, drain excess water and place in a food processor or blender.

Add the cheese, scallions, and garlic and pulse until the mixture is smooth. Place mixture in a bowl then stir in the flour, salt and pepper.

Heat about 1/2"-1" of oil in large, non-stick saute pan then carefully drop a kitchen tablespoon size amount of batter into the oil, pushing down on it to flatten it. Allow to brown on both sides, approximately 2-3 minutes per side, then drain on paper towels to remove excess oil.
Connect with me on Social Media