If you follow me on Facebook, this is the roasted chicken I made last night for dinner. It had such a refreshing flavor and the kids LOVED the pomegranate seeds.
They had never tried pomegranate before and got a kick out of pulling the seeds away from the membrane. It's actually quite easy if you've never done it before yourself. Cut the top of the pomegranate in half about halfway down, then break it apart with your fingers. I found it easier to place in a bowl with a little water. The seeds drop to the bottom while the fleshy part floats to the top, making it easier to separate. Just be careful..pomegranate juice STAINS, so you might want to put on an apron or an old shirt. 🙂 Also, don't be afraid if your little bird is pink while marinating. It will turn to this golden brown color once roasted.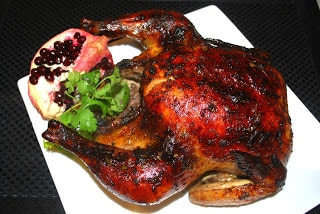 Roasted Chicken with Fresh Pomegranate, Lime and Cilantro
3-4lb. Roaster Chicken, insides removed
Marinade
½ Fresh Pomegranate, seeds only (about 1 cup)
1 Lime, zest and juice
1 tbsp. Fresh Cilantro, chopped
1 Clove Garlic, minced
⅓ c. Canola Oil
½ tsp. Kosher Salt
¼ tsp. Fresh Ground Black Pepper
1 c. Low Sodium Chicken Broth
Add pomegranate seeds to a blender and pulse. Strain the mixture to remove all of the seeds with a sieve. Add the juice to a bowl and whisk in the lime zest, lime juice, cilantro, garlic, oil, salt and pepper. Add the chicken to resealable bag and pour in the mixture. Seal the bag and coat the chicken. Refrigerate for at least 2 hours. Place chicken in a roasting pan, add the chicken broth then bake chicken at 350 degrees until proper internal temperature is reached, basting the chicken every 20 minutes to achieve the golden color. Let rest 15 minutes before slicing.
Enjoy and GO GIANTS!...Sorry, I couldn't resist! 🙂