They recently opened a new
Fairway Market
in my area and I couldn't wait to go check it out. I was in awe of all of the fresh produce, neatly stacked in symmetrical rows as I walked through their produce department. I found so many wonderful new things to try, all of them looked better than the next. One item that caught my eye were these Organic Yellow Carrots from
Cal-Organic Farms
. Sure, I shop at produce markets most of the time, but I had never seen these before. I just had to try them! They were incredibly sweet and the addition of fresh rosemary compounded by the caramelized carrots made this a delectable side dish.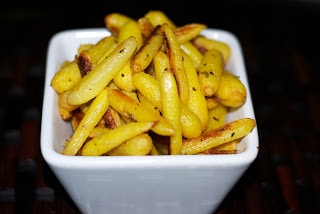 Rosemary Roasted Yellow Carrots
1 lb. Organic Yellow Baby Carrots
1 tbsp. Fresh Rosemary, chopped
1 tbsp. Extra Virgin Olive Oil
Kosher Salt, to taste
Fresh Ground Black Pepper, to taste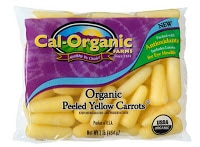 Directions:
1. Steam the carrots over a double boiler until they are still slightly firm but fork tender.
2. Add the carrots to a bowl, then add in the rosemary, oil, salt and pepper. Mix well.
3. Place the carrots on a baking sheet and bake at 400 degrees for 25-30 minutes; turning once. Serves 4.
*Nutritional Information per Serving: Calories 56, Carbs 5.8g, Fat 3.6g, Protein .5g, Fiber 2.1g
*Calculations based on ingredients entered into CalorieCount and may not be 100% accurate.
Enjoy!