Triple Chocolate Cheesecake made with a chocolate, cream cheese and sour cream, and finally a rich chocolate ganache topping.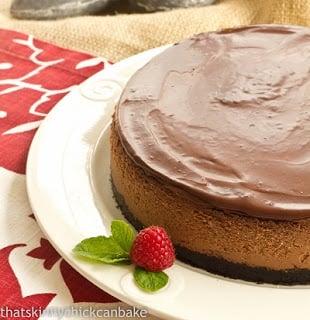 Happy Valentine's Day! Today I'll be flying the friendly skies with the hubby to go see Rachael perform in the National Cheerleading Competition in Atlanta this weekend.
I didn't want to leave you all empty handed so I have entrusted my foodie friend Liz Berg from That Skinny Chick Bake to help me out today and boy, let me tell you she never disappoints.
In her blog she not only shares delectable desserts, but mouth watering savory meals as well and I'm honored to have her here with us today.
Without further ado, I give you Liz from That Skinny Chick Can Bake!
That Skinny Chick Can Bake
It's my honor to be guest posting for my foodie friend, Carrie, today. She and I met on Foodbuzz and continue to keep in touch via Google+. When she asked me to share something on Valentine's Day, I immediately decided it MUST be chocolate.
Triple chocolate, in fact. I belong to a volunteer organization that raises funds for our county hospital...and we do this by putting on an annual Decorators' Show House.
Local interior decorators and landscapers work their magic on a stately home, and then it is open to the public for two weeks in the spring.
In late January, our members spend an evening touring the undecorated house while enjoying nibbles for dinner.Crazy me volunteered to bring in something chocolate to serve 75!
This cheesecake was one of 3 desserts I made. Thank goodness hubby Bill was invited to this party...I would be in deep trouble taking all this chocolate goodness out of the house without letting him have a taste.
Since the desserts were supposed to be finger food, I cut the cheesecake into squares and placed them into paper cupcake liners with a fork…and it was the first of all the donated desserts to disappear.
More than one guest came up to me, swooning…such a boost to the ego when one of your baked goods garners such rave reviews.
And an excellent endorsement of this recipe! This dessert starts with a thick chocolate cookie crust, followed by a chocolate cheesecake using both cream cheese and sour cream, and finally a rich chocolate ganache topping.
Cheesecake tips
1. Have your cream cheese, sour cream, and eggs at room temperature. This will allow for a smoother cheesecake and easier blending.
2. Do not over mix your cheesecake batter. Using a paddle attachment will prevent unwanted air from being whipped into batter. Mix in eggs till just incorporated.
3. Bake your cheesecake in a water bath or bain marie. This keeps an even baking temperature and minimizes cracking.
4. Make sure to wrap your springform pan with a double layer of foil to prevent any water seepage from the bain marie.
5. Do not open the door of the oven till near the end of the baking time.
6. Cool the cheesecake slowly.
7. Take the cheesecake out of the fridge about ½ hour before serving to take the chill off.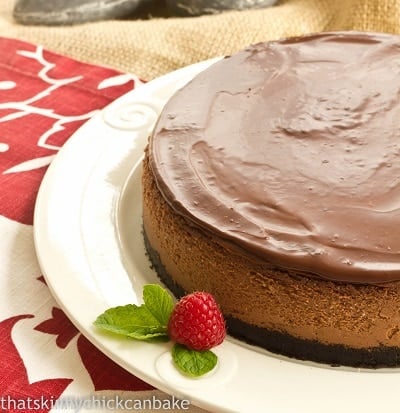 VISIT THE

RECIPE INDEX

TO SEARCH FOR MORE RECIPES BY CATEGORY.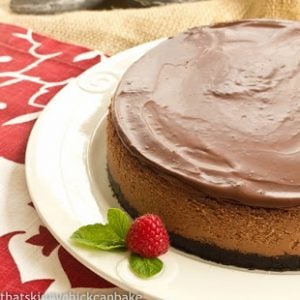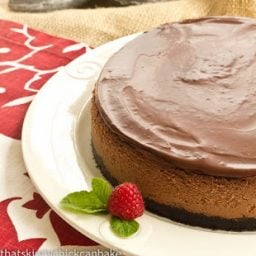 Triple Chocolate Cheesecake (Adapted from Bon Appetit)
Triple Chocolate Cheesecake made with a chocolate, cream cheese and sour cream, and finally a rich chocolate ganache topping.
Ingredients
For the Crust
1

(9-ounce) box

chocolate wafer cookies

(crushed)

6

tablespoons

melted butter

2

tablespoons

granulated sugar
For the Filling
1 ½

cups

whipping cream

1

teaspoon

instant coffee powder

12

ounces

chopped semisweet chocolate

2-

(8-ounce) packages

ream cheese

(room temperature)

¾

cup

granulated sugar

1

tablespoon

cornstarch

1

cup

sour cream

(room temperature)

2

teaspoons

vanilla extract

3

large

eggs

(room temperature)
For the Ganache
½

cup

whipping cream

4

ounces

chopped semisweet chocolate
Instructions
Preheat oven to 350° F. Wrap a 9-inch springform pan with a double layer of aluminum foil. Spray bottom of pan with non-stick cooking spray. Set aside.

Mix cookie crumbs, sugar and melted butter till combined. Pat into bottom of prepared pan and refrigerate while preparing filling.

Combine cream and coffee powder in microwave safe bowl or large Pyrex measuring cup. Microwave cream till just shy of boiling. Stir to mix in coffee, and then add the 12 ounces of chopped chocolate. Let sit a few minutes till chocolate melts. Whisk till smooth. Set aside for about 10 minutes to cool.

Using stand mixer with paddle attachment, mix cream cheese and sugar till blended. Add cornstarch and mix. Beat in sour cream and vanilla. Add eggs one at a time, mixing till just blended.

Whisk about 1 cup of the cream cheese mixture into chocolate, then add chocolate back into the remaining cream cheese mixture. Mix until just combined, stopping and scraping bowl a couple times to ensure chocolate is well incorporated.

Pour mixture into crust. Place the pan into a large roaster and add enough hot water to come halfway up the sides of the springform pan. Bake till cheesecake is slightly set and puffed around the perimeter. Turn off oven and do not remove cheesecake for 45 minutes. After that resting time, remove pan to cooling rack…remove foil when cool enough to handle. Let cool to room temperature, then cover and chill overnight.

To make ganache, microwave cream till it almost boils. Add chopped chocolate and let rest a couple minutes. Whisk till smooth. Pour over top of chilled cheesecake and spread evenly with off –set spatula. Chill at least 2 hours before serving

To serve, remove sides of springform pan and place cheesecake on serving plate. If you have a large spatula, you may want to remove cake from bottom of springform pan. Serve with berries and whipped cream if desired.
CONNECT WITH ME ON SOCIAL MEDIA