Whole Wheat Pumpkin Cranberry Scones are deliciously moist and perfect for breakfast or an afternoon snack.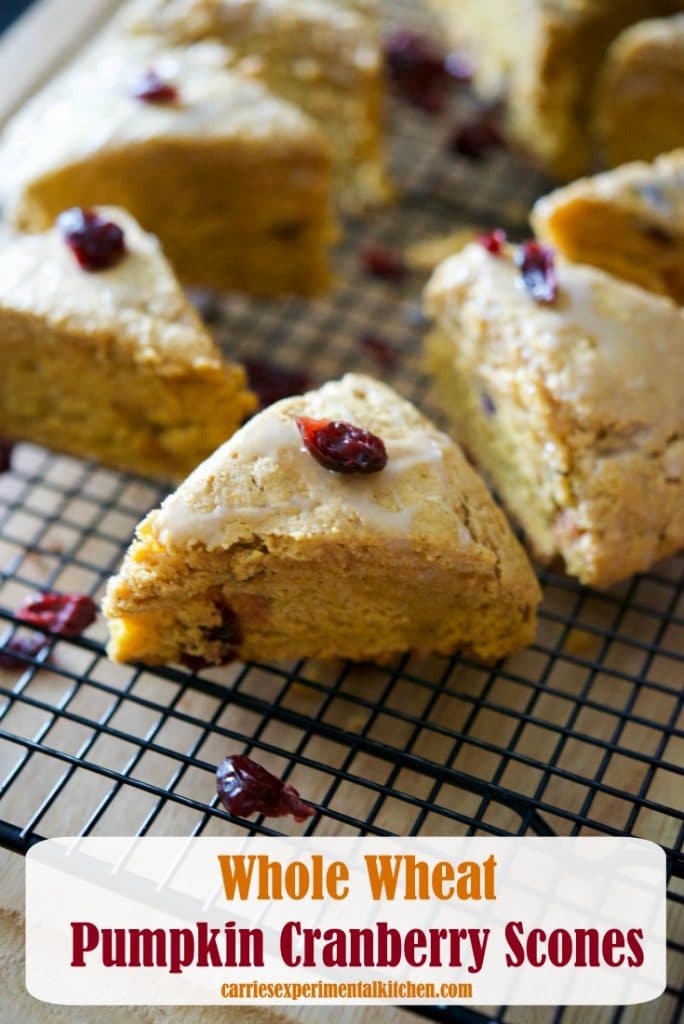 A few years ago, our oldest daughter was taking SAT prep classes. Because of the location, I would wait for her to finish instead of driving back home. Luckily there was a Panera Bread right next store, so I would bring my computer, grab a cup of tea and a cinnamon chip scone.
Since she finished the class a couple of years ago, I can probably count on one hand the number of times that I've eaten a scone since.
I wanted to try making scones myself and thought that since it's Fall, I'd make a pumpkin cranberry version. I don't generally like to bake because I really don't like making recipes where I have to measure exactly.
I'm more of a wing-it type of cook. In fact, I had to make this recipe twice because the first time I didn't have the ingredients measured correctly and the dough was extremely sticky.
Because I used unbleached whole wheat flour instead of all purpose flour, this dough was a bit stickier than it normally would be, but the scones were a bit more moist than a typical scone.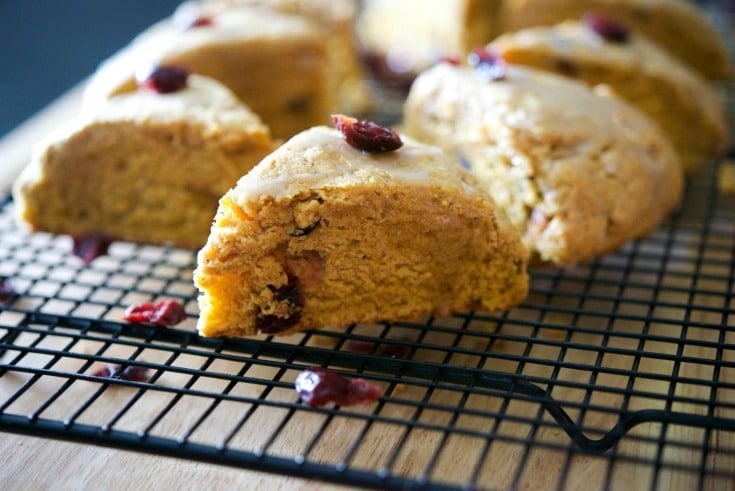 How do you make Pumpkin Cranberry Scones?
For this recipe you'll need to prepare two separate bowls: one for the dry ingredients and one for the wet ingredients.
Once they're both mixed separately, combine the two and stir in the cranberries. Turn the dough onto a floured surface and knead 2-3 times and form a ball.
Remember the dough will be a little sticky so dust your hands and surface with the whole wheat flour.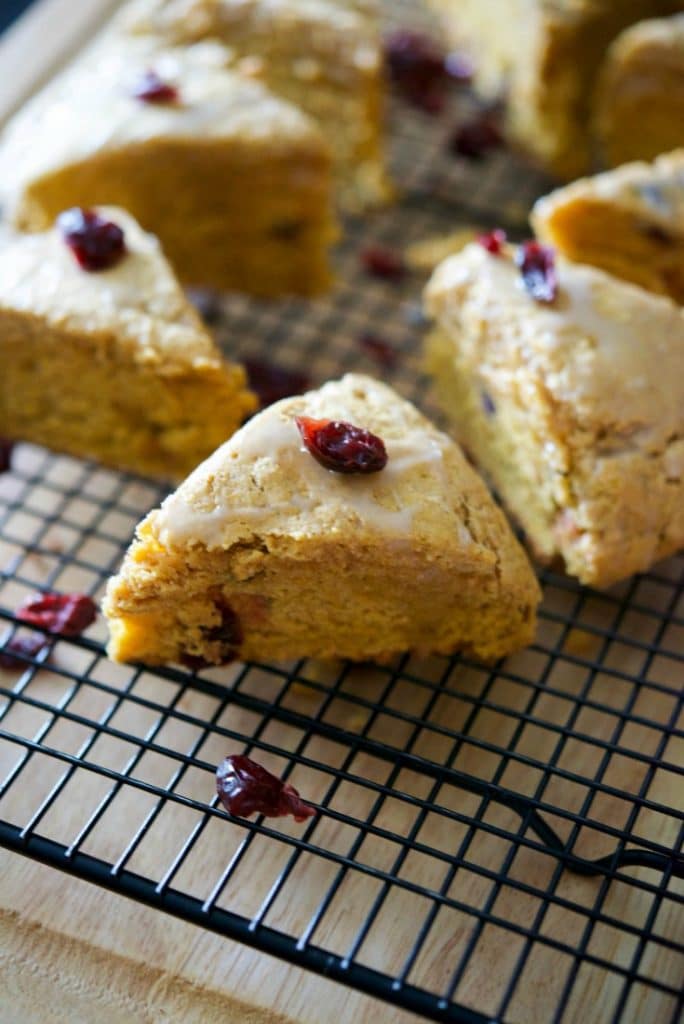 Spray a baking sheet with cooking spray, place the dough onto the sheet and form into a 10 to 12 inch circle and flatten the dough so that it's approximately 1″ thick.
Using a knife, score the top of the dough to form 8 wedges. Bake in a 375 degree F oven for 25-30 minutes until the scones have risen and the bottom is lightly browned.
Allow to cool completely on a wire rack; then cut through the dough to form 8 scones. If you'd like, you could mix 1/4 cup of confectioners sugar with 2 tsp. milk and drizzle on top of the scones.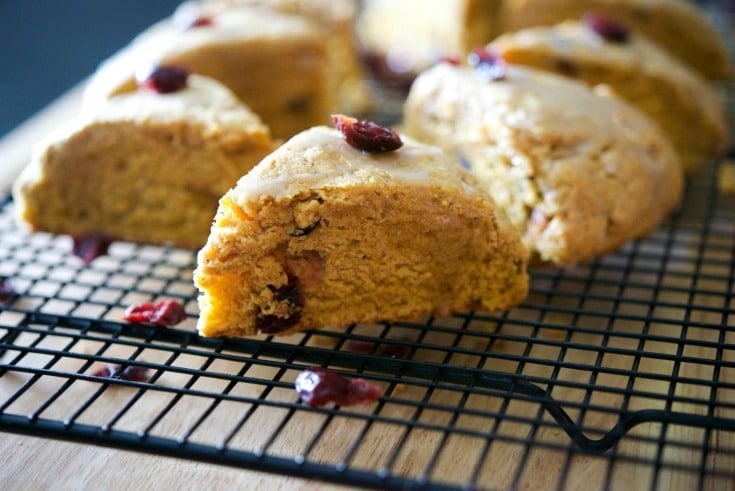 My first thought when making these Whole Wheat Pumpkin Cranberry Scones were that they were a bit dry. Then I realized that scones in general were always that way and in comparison to others I've had, they were actually quite moist.
We each ate one for an afternoon snack; then wrapped them tightly and froze them to enjoy later for breakfast over the weekend. ~Enjoy!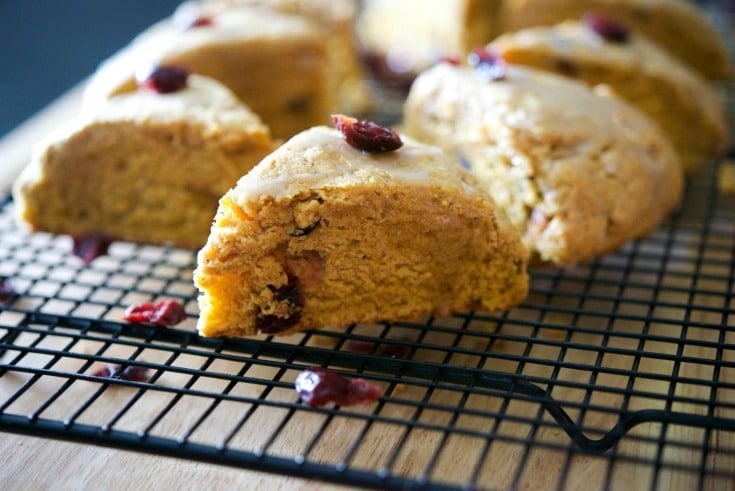 Instructions
Preheat oven to 375 degrees F.

Combine the first five dry ingredients in a large bowl; then using a pastry blender or two butter knives, cut in the butter.

In a separate small bowl, combine the egg, sour cream, vanilla and pumpkin. Whisk until blended; then pour the liquid ingredients into the dry ingredients.

Add the cranberries and mix well with a spoon.

Place the dough onto a lightly floured surface and knead the dough 2-3 times.

Spray a baking sheet with cooking spray and add the dough. Form into a 10-12 round, flattened circle; then score the top into 8 wedges. Do not slice all the way through.

Bake for 25-30 minutes until the dough has risen and the bottom is lightly brown. Remove from the oven and cool completely on a wire rack.

Cut through the scored dough to form 8 scones.

To glaze the top, combine the confectioners sugar and milk and drizzle on top.
Nutrition
Serving:
1
g
|
Calories:
125
kcal
|
Carbohydrates:
14
g
|
Protein:
2
g
|
Fat:
7
g
|
Cholesterol:
42
mg
|
Sodium:
184
mg
|
Fiber:
1
g
|
Sugar:
13
g
Did you make this recipe?
Share a comment on the blog or mention @CarriesExpKtchn on Instagram!
Visit the

recipe index

to search for more recipes by category.

Related Recipes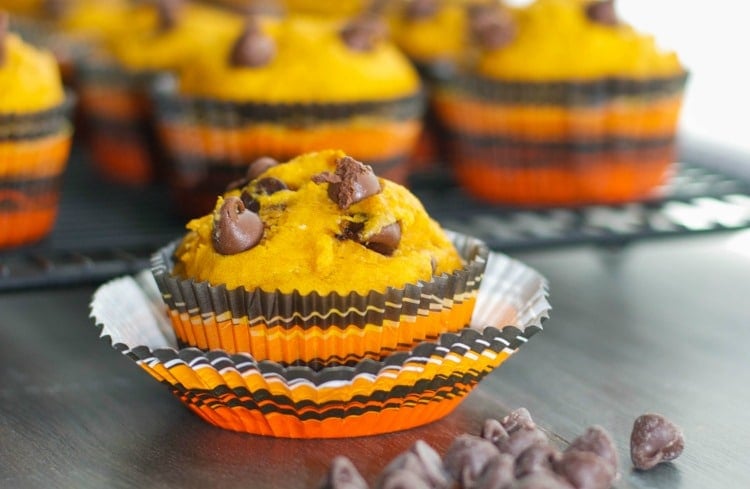 Chocolate Chip Pumpkin Muffins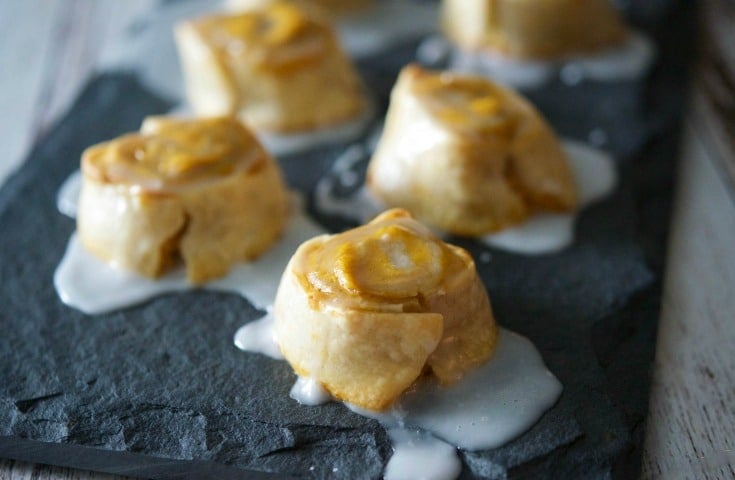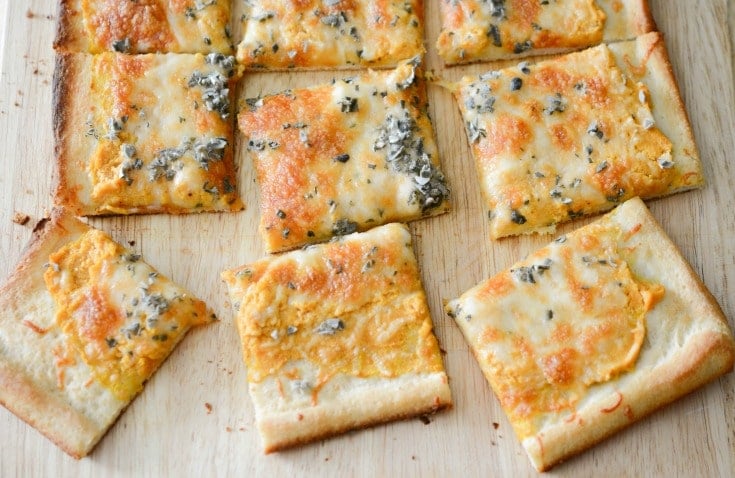 Connect with me on Social Media