Baklava is a sweet pastry layered with phyllo dough, chopped nuts, then topped with syrup or honey.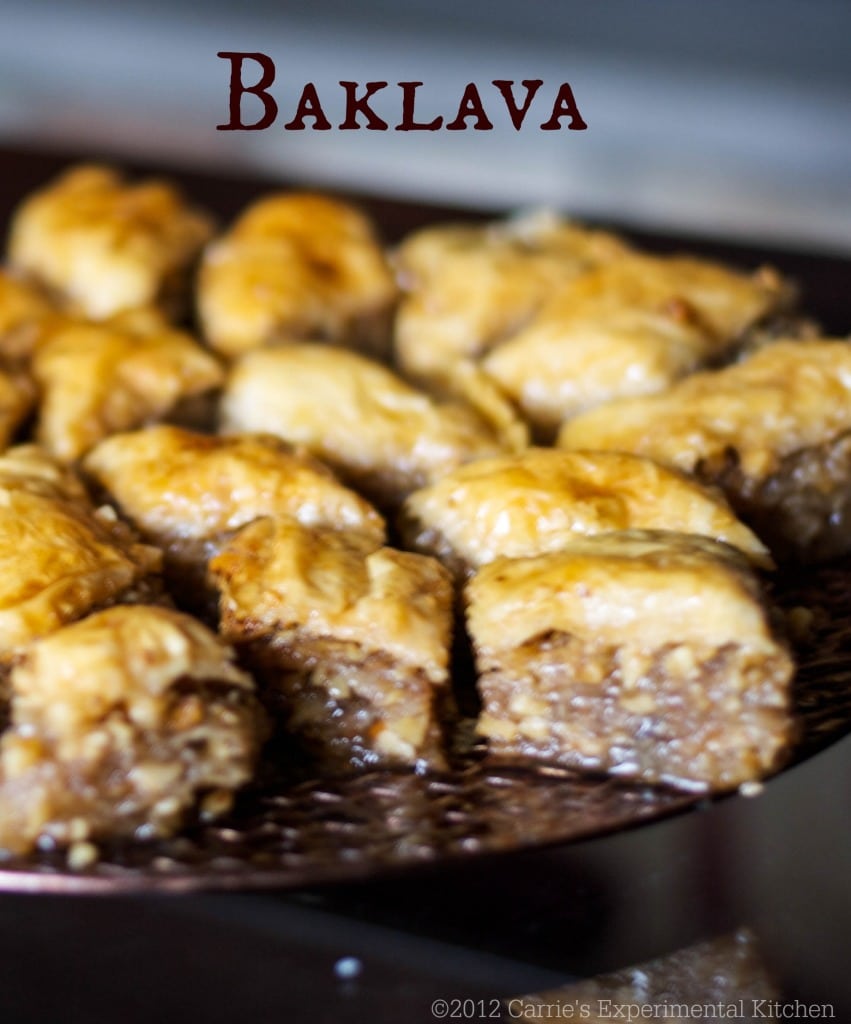 I normally don't like overly sweet desserts, but I'll always make an exception for Baklava, which is our Holiday Baking recipe #10.
I couldn't go another year without trying to make it myself, especially since visiting Greece and Turkey last summer, where this is a common sweet treat and found at EVERY local bakery.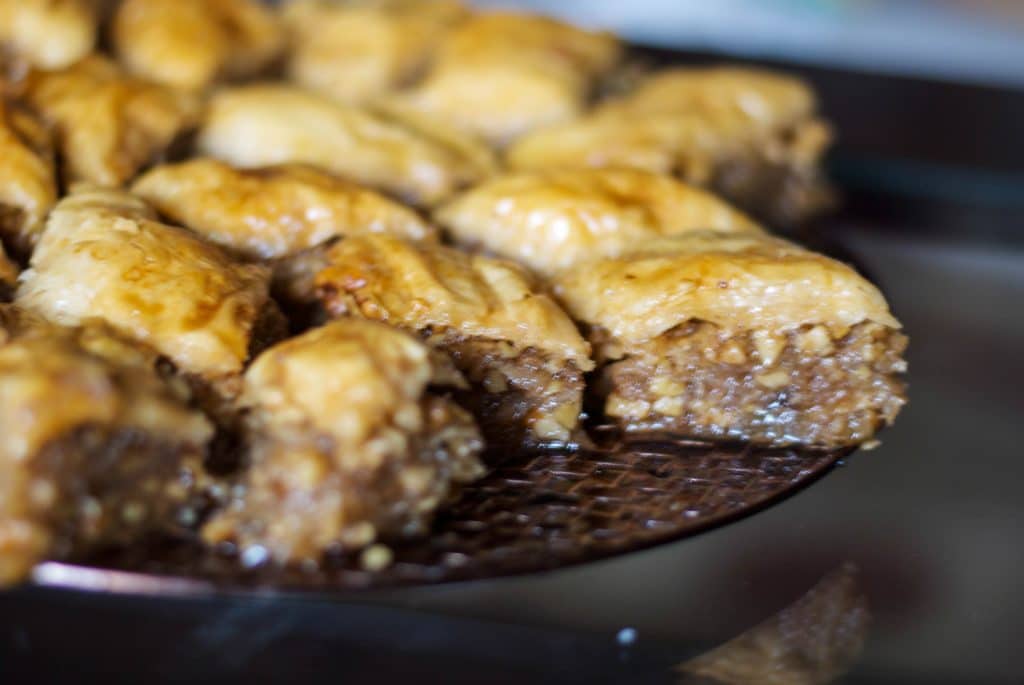 Though the origin of Baklava is uncertain, many believe that it was first created in Turkey and there are many different variations to this recipe. The recipe I chose to adapt was one I found several years ago in the Food Network Magazine and was created by Michael Symon.
It was a Greek version which has 33 layers of dough; one for each year of Christ's life. This baklava was DELICIOUS.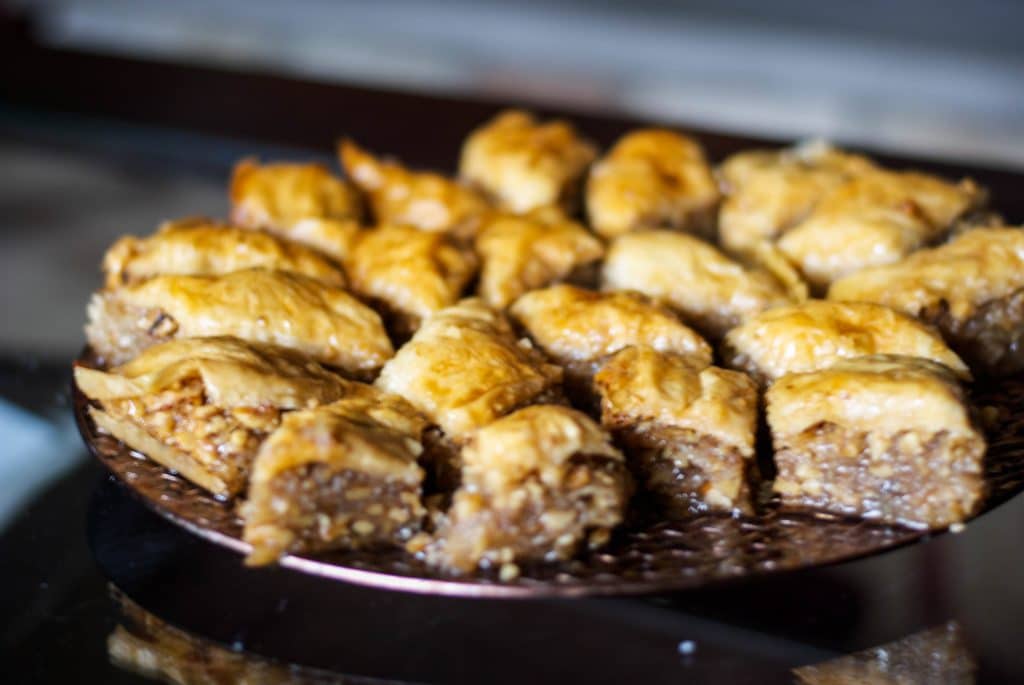 What changes did you make to the baklava recipe?
1. His recipe calls for either zwieback crackers or breadcrumbs, I used Panko breadcrumbs.
2. I prepared the syrup the same; however, I didn't pour it all on top of the cooked baklava. Adding the entire amount was a little too sweet and wet for my taste.
3. He also states to let it soak for 6 hours after pouring the syrup over the warm baklava; I couldn't wait and according to several of my Facebook readers, they don't wait the full time and it's fine. I would have to agree and 3 hours was enough for me to wait to dig into these beauties! Enjoy!
SIGN UP FOR MY WEEKLY NEWSLETTER
AND RECEIVE
A FREE EBOOK!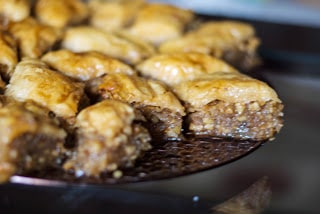 Ingredients
For the Baklava
1

lb.

Walnuts

coarsely ground, plus more for garnish

1/2

tsp.

Ground Cinnamon

1

c.

Panko Breadcrumbs

4

Sticks Unsalted Butter,

melted

16

in

Sheets Phyllo Dough,

cut half, not frozen
Instructions
Preheat oven to 350 degrees.

Combine the nuts, cinnamon and breadcrumbs in a bowl.

Brush a 9"x13" baking dish with some of the butter. Layer 10 pieces of phyllo in the dish, brushing each piece with butter before adding the next (keep the remaining dough covered with a damp towel).

Sprinkle a quarter of the nut mixture over the dough. Layer 4 pieces of phyllo on top, brushing each with butter before adding the next; sprinkle with another quarter of the nut mixture.

Add 4 more phyllo pieces on top, brushing each with butter, then add another quarter of the nut mixture, 4 more pieces of phyllo with butter, and the remaining nuts.

Layer the remaining 10 pieces of phyllo on top of the nuts, brushing each with butter; brush the top piece with extra butter.

Cut into the baklava to make strips, about 1 1/2 inches wide. Then make diagonal slices, about 1 1/2 inches apart, to create a diamond pattern. Bake until golden, about 1 hour.

Bring the sugar, honey and 1 1/2 cups water to a boil in a saucepan over medium heat and cook, 10 to 15 minutes.

Add the lemon juice and boil 2 more minutes, then let cool slightly.

Pour the syrup over the warm baklava; let soak, uncovered for at least 3 hours. Garnish with nuts.
Did you make this recipe?
Share a comment on the blog or mention @CarriesExpKtchn on Instagram!

VISIT THE

RECIPE INDEX

TO SEARCH FOR MORE RECIPES BY CATEGORY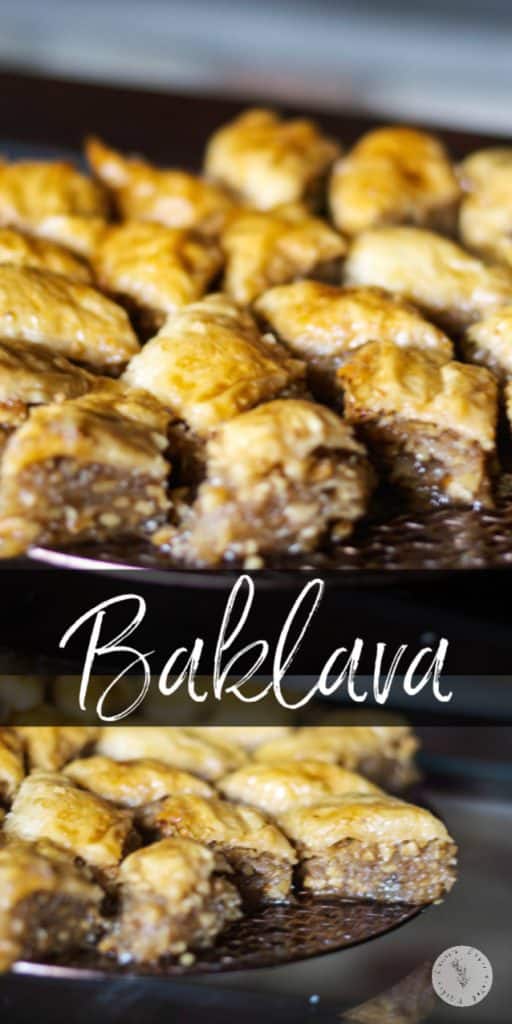 CONNECT WITH ME ON SOCIAL MEDIA