Butternut Squash & Asian Pear Cornbread Stuffing is a must have on your Thanksgiving table.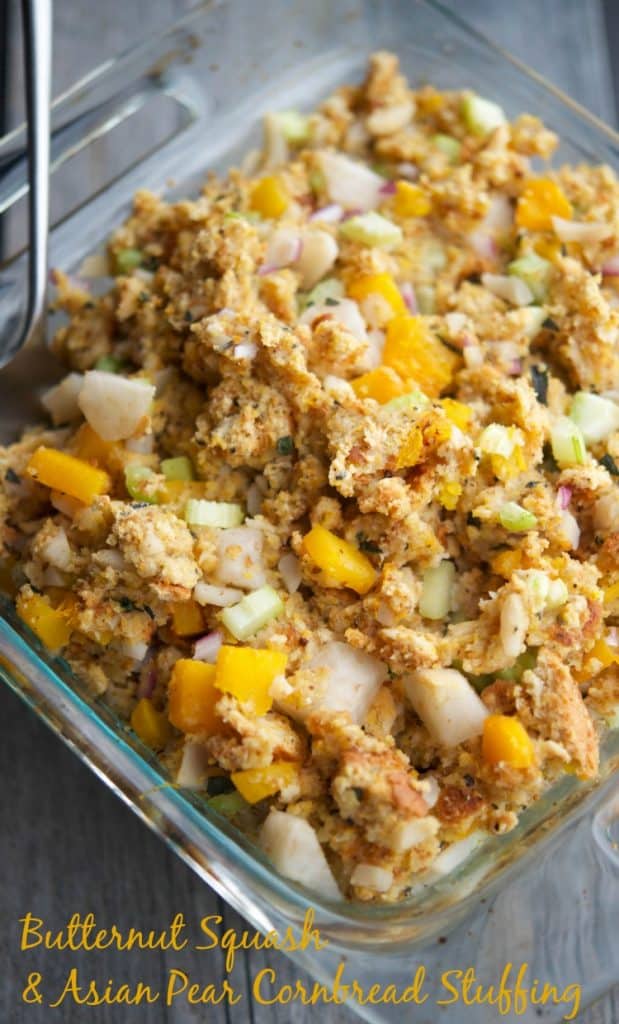 On Thanksgiving, we always make our standard favorite side dishes and one of those is Portuguese Stuffing. It's a definite "must have" similar to the feelings I shared recently about green bean casserole.
But I also like to make another type of bread stuffing just to have variety. Since I had some butternut squash and a lone Asian pear I decided to combine the two to create this new Butternut Squash & Asian Pear Cornbread Stuffing.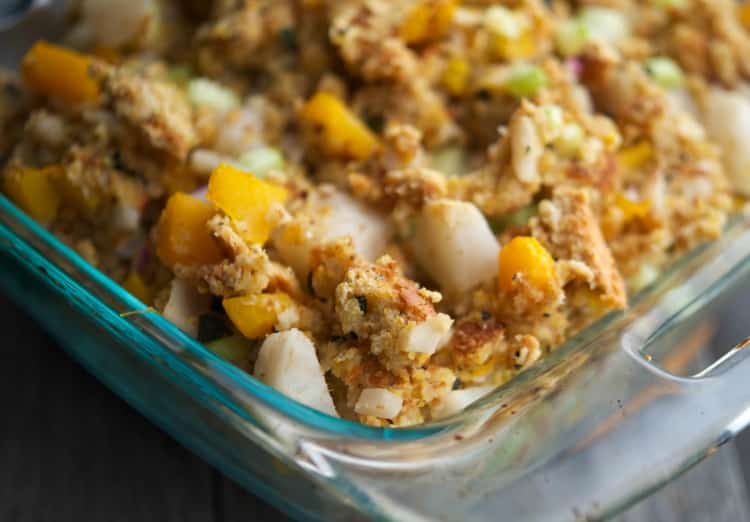 Butternut squash on it's own tastes like a cross between a sweet potato and pumpkin so the flavor is pretty mild. However, roast the squash in the oven and the flavor is even sweeter. Combine that with the Asian pear, crunchy water chestnuts, celery, onions and cornbread stuffing mix and you have a new side dish that is sure to please every palate.
I prefer to make my stuffing (or dressing…I don't want to offend anyone here) on the side rather than stuff it into the bird; probably because I like my stuffing to be more on the drier side rather than soggy and mushy as what tends to happen when you stuff the turkey with it.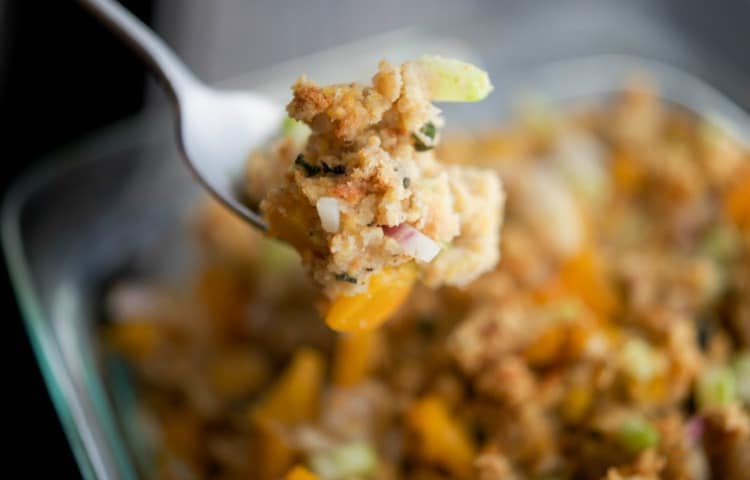 The first thing you want to do is peel the squash, scoop out the inside seeds and pulp; then dice into 1″ pieces. Or, you could cheat and purchase the squash already peeled and diced. I opted for the middle road and got one that was peeled, but not diced already to save some time.
Once you have your diced squash, place on a baking sheet then lightly coat with cooking spray. Place in a preheated oven and allow to roast for about 10 minutes. The pieces of squash are small so they shouldn't take longer than that to soften.
Butternut Squash & Asian Pear Cornbread Stuffing #Thanksgiving
Click To Tweet
While the squash is roasting, you're going to multi-task. Honestly, it's the only way I ever get anything done in the kitchen. If you wait around for one thing to be done in order to start another, you'd be in there for hours! 🙂 You're going to heat the stock and butter together.
It has to be hot/warm when you add it to the stuffing mixture or it won't mix properly. I used vegetable broth, but you can use chicken if that's all you have. While the broth is coming to a boil, combine all of the rest of the ingredients in a bowl; including the squash. Add the broth, mix well; then place in an oven safe baking dish.
Bake for about 20 minutes until a light brown crust forms. If you would like to save some time on Thanksgiving, prepare this the night before and save the baking part until Thanksgiving day. While the turkey is resting, you can heat this in the oven.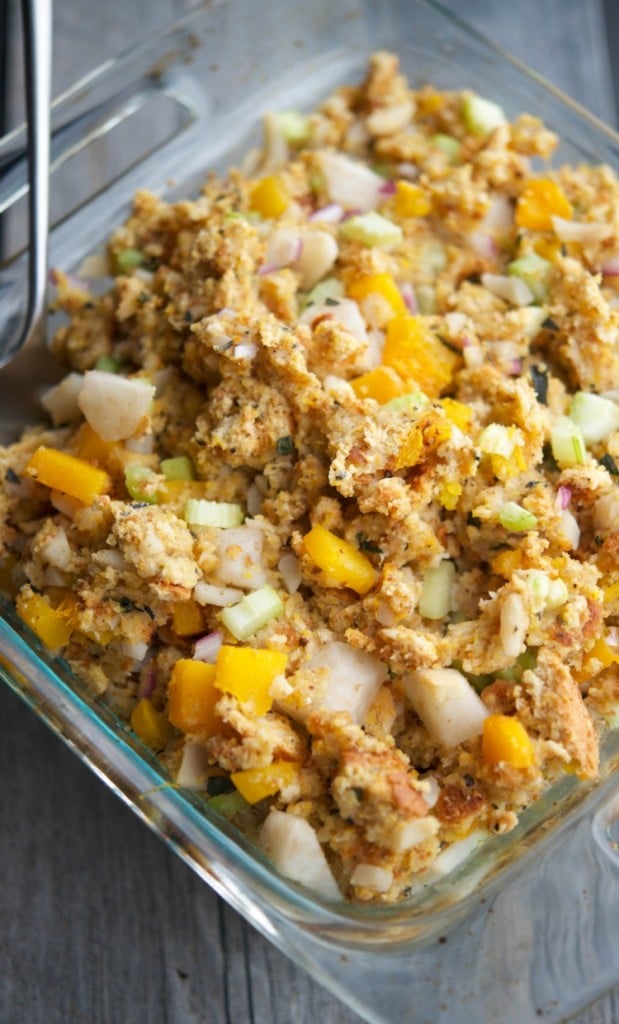 This Butternut Squash & Asian Pear Cornbread Stuffing was delicious and my family really enjoyed it. They did think it was a bit odd to have a Thanksgiving meal in October as a trial run, but after almost 5 years of doing this blog they're kind of getting used to it. ~Enjoy!
Sign up for my weekly newsletter to get
 the latest recipes and receive
 a FREE eBook!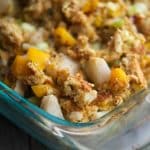 Butternut Squash & Asian Pear Cornbread Stuffing
This Butternut Squash & Asian Pear Cornbread Stuffing is a must have on your Thanksgiving table.
Ingredients
2

c

. Butternut Squash

peeled, diced 1"

2

c

. Low Sodium Vegetable Broth

or chicken

1

tbsp

. Butter

14

oz

. Cornbread Stuffing Mix

1

Asian Pear

peeled, cored, diced 1"

1/4

c

. Chopped Onion

1-5

ounce

Can Water Chestnuts

chopped,

3

Celery Stalks

chopped

2

tbsp

. Fresh Sage

chopped

Cooking Spray

Salt and Pepper

as desired
Instructions
Preheat oven to 425 degrees F.

Place the diced butternut squash on a baking sheet, spray with cooking spray and roast for 10 minutes until they start to soften. Remove from oven.

While the squash is roasting, heat your broth and butter in a small saucepan until boiling; then turn off heat.

Add the stuffing mix, pears, onion, water chestnuts, celery and sage to a large bowl; then add the roasted squash.

Gradually add the broth to the stuffing mixture; mix well. Season with salt and pepper.

Add the stuffing to an oven safe baking dish and bake for 20 minutes until the stuffing is heated through and the top gets a light brown crust.
Visit the 

recipe index

 to search for more recipes by category.

Related Recipes:
Apple Bread Stuffing (Carrie's Experimental Kitchen)
Harvest Apple Cranberry and Sage Sausage Stuffing (The Chunky Chef)
Sausage & Herb Stuffing with Butternut Squash and Cranberries (Recipe Girl)
Apple Cranberry Stuffing (Carrie's Experimental Kitchen)
Savory Cremini Mushroom Dressing (Vegan in the Freezer)
Southwest Cornbread Stuffing (Dinners, Dishes and Desserts)
Connect with me on Social Media