Apple Cranberry Stuffed Pork Chops are delicious and so easy to prepare that you can make them for weeknight meal or Sunday dinner.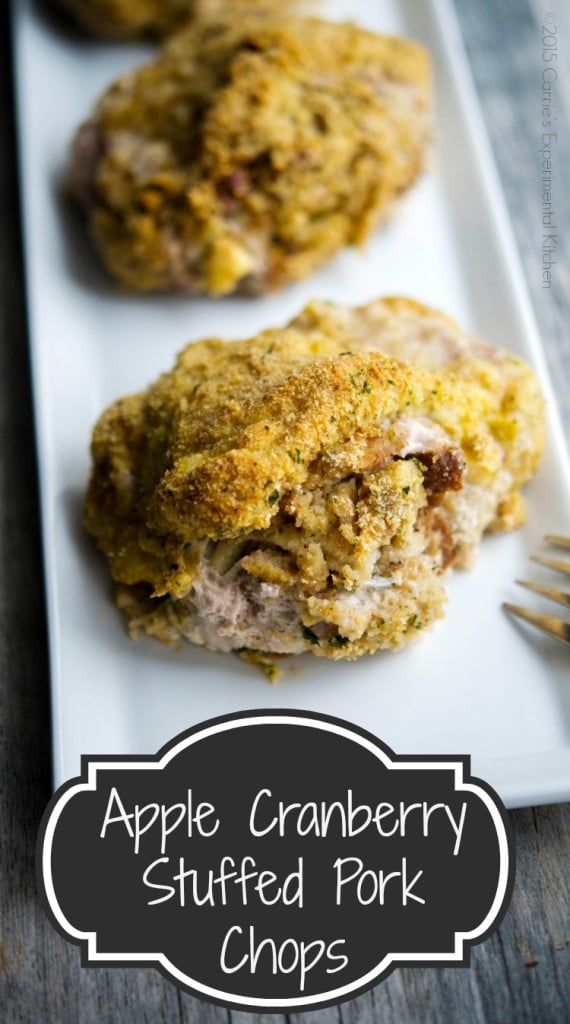 I posted this recipe for Apple Cranberry Stuffed Pork Chops back in May 2011; however, when I posted the recipe originally I used this stuffing recipe and stuffed it inside an entire pork roast.
When I was flipping through my cookbook deciding which recipes I wanted to give a photo makeover, this recipe definitely stood out.
First of all my original picture of this recipe was beyond horrendous and didn't do the recipe justice at all. I'm serious, look for yourself!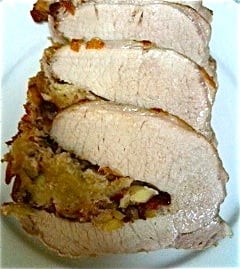 Pathetic right? We all live and learn and though my photography isn't 100% yet, after almost 4 years I'm happy to say that at least it's a definite improvement.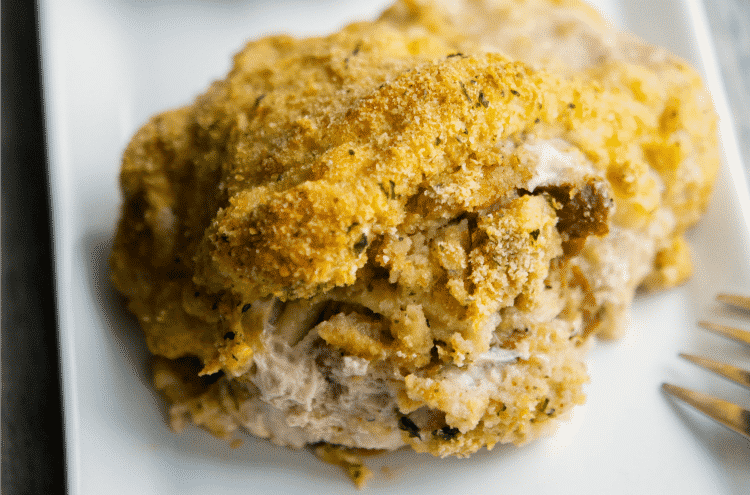 Another reason I wanted to make this recipe for Apple Cranberry Stuffed Pork Chops again is that my family and I REALLY liked it the first time and I haven't made it since. I guess I'm so busy experimenting with new recipes to try that I very rarely make the same recipe over again.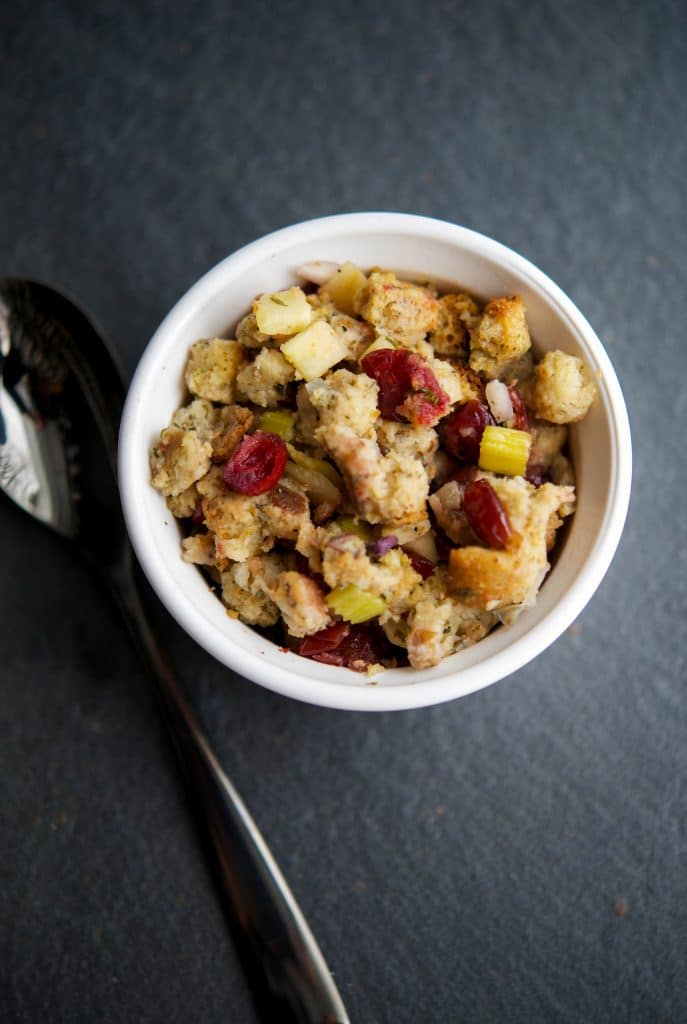 How do you make Apple Cranberry Stuffing?
Making stuffing is really quite easy and combines seasoned stuffing mix (you could also use stale cubed bread), onion, celery, dried cranberries, chopped apples and chicken broth (you could also use vegetable broth).
Once you prepare the stuffing, you can heat it and use it as a side dish or stuff it inside chicken or pork chops like I did with these.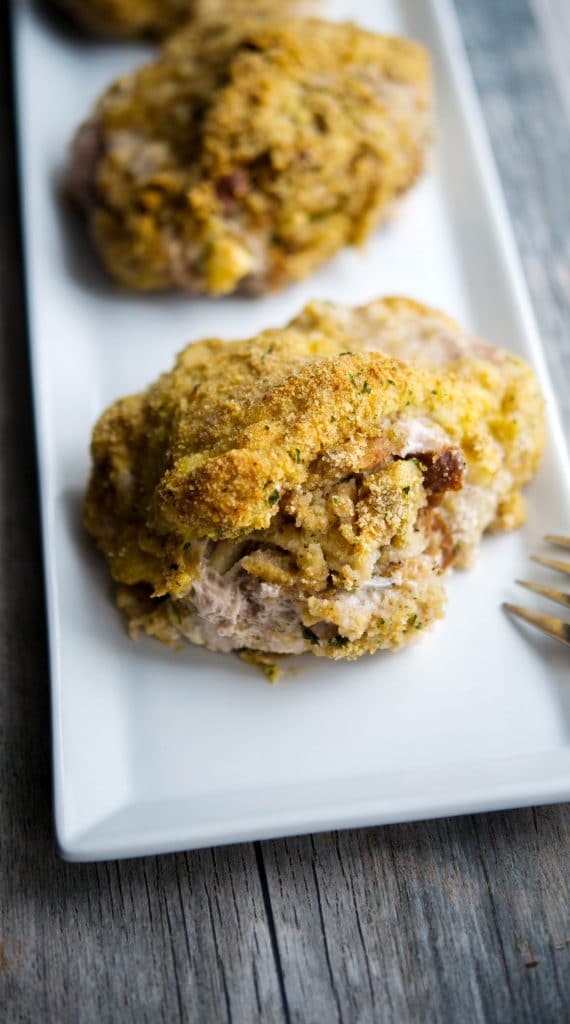 These Apple Cranberry Stuffed Pork Chops were delicious and because there is stuffing already inside, all you have to do is make a vegetable and dinner is served. ~Enjoy!
Sign up for my weekly newsletter
and receive
a FREE eBook!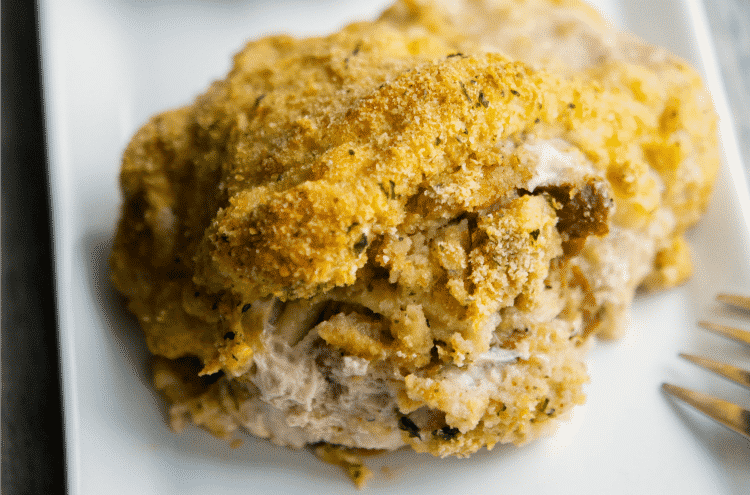 Ingredients
For the Apple Cranberry Stuffing
2

cups

Seasoned Stuffing Mix

2

tablespoons

Red Onion, finely chopped

2

Stalks Celerym finely chopped

1/4

cup

Dried Cranberries

1

Apple, peeled, small dice

1

cup

Chicken Broth
Instructions
For the Pork Chops
Preheat oven to 350 degrees F.

Trim any fat from the pork then cut a horizontal slice into the chop to form a pocket. Do not cut all the way through.

Prepare three separate bowls. One for flour. One for eggs and add a splash of water. One for the breadcrumbs.

Add 1/2 c. prepared Apple Cranberry Stuffing to each pork chop; then coat the chops first in the flour, then egg wash then breadcrumbs.

Place on a baking sheet or oven safe dish and bake for 40-55 minutes until cooked through. (time depends on the thickness of your pork chop).

For the Apple Cranberry Stuffing
Combine the stuffing mix, onion, celery, cranberries and apple. Gradually add the chicken broth and mix until the bread crumbs start to soften enough so that it molds together, but not overly wet. (If it looks too dry, add a bit more chicken broth)

(If baking, place in an oven safe dish and bake at 350 degrees F for approximately 20-30 minutes.)
Did you make this recipe?
Share a comment on the blog or mention @CarriesExpKtchn on Instagram!
Visit the

recipe index

to search for more recipes by category.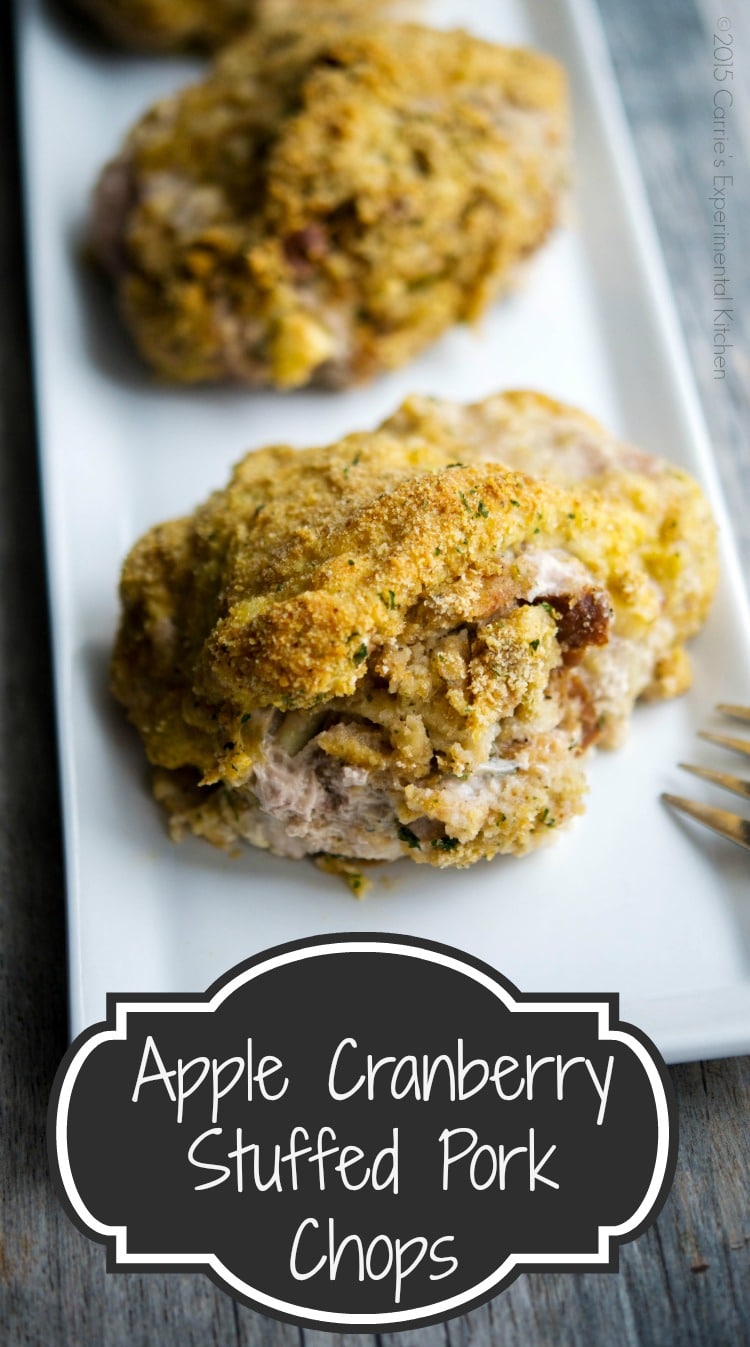 Related Recipes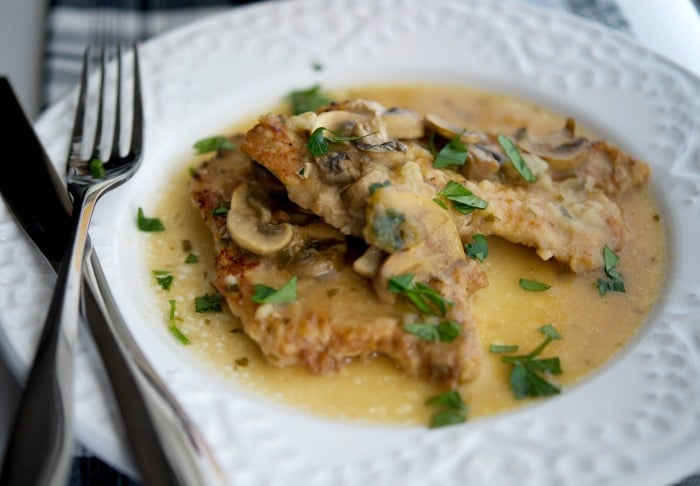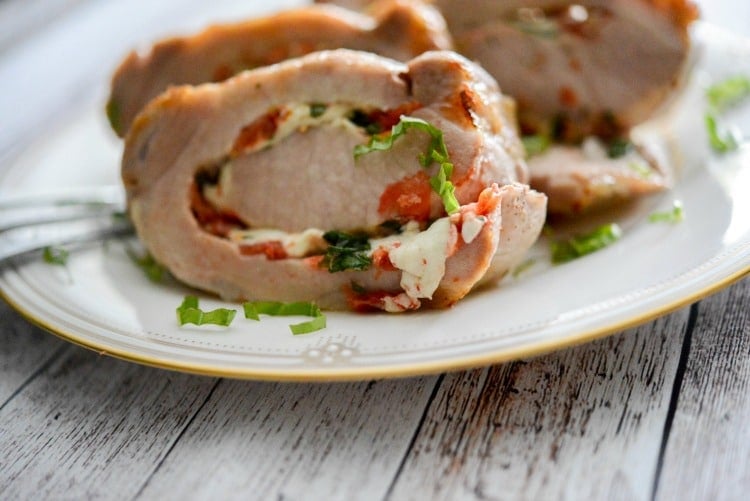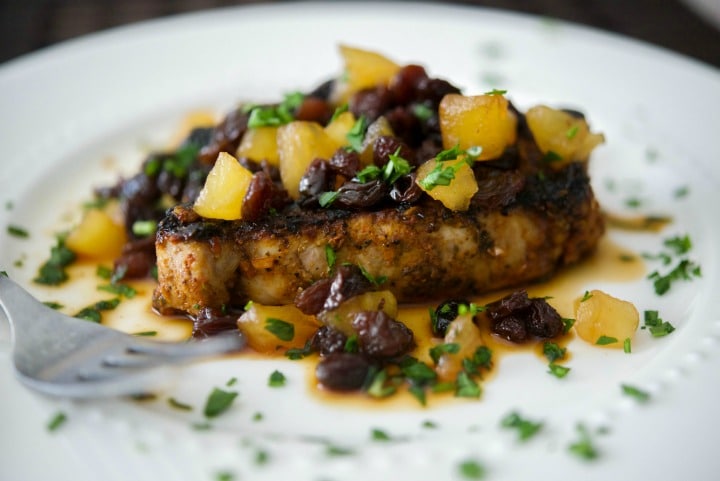 Cajun Pork Chops with Honey, Apple & Raisin Chutney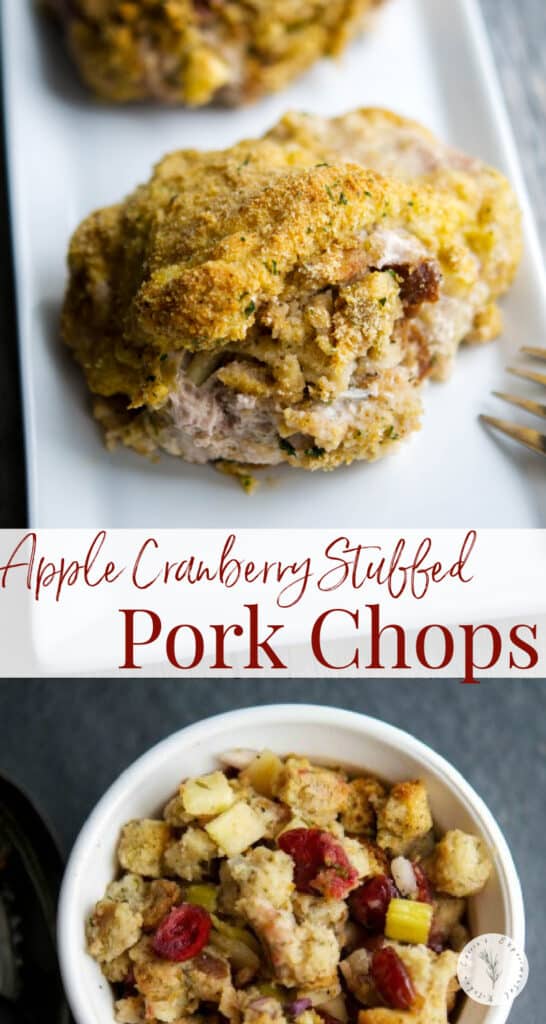 Connect with me on Social Media