This family favorite recipe for Portuguese stuffing is made with chorizo, ground beef, vegetables and stuffing mix is always on our Thanksgiving table.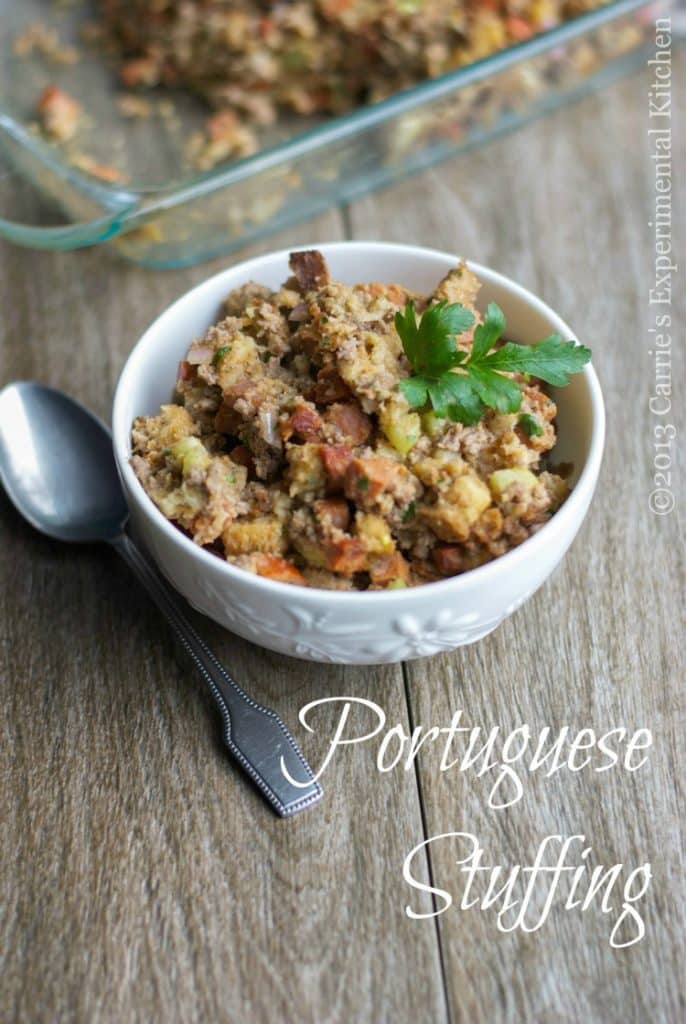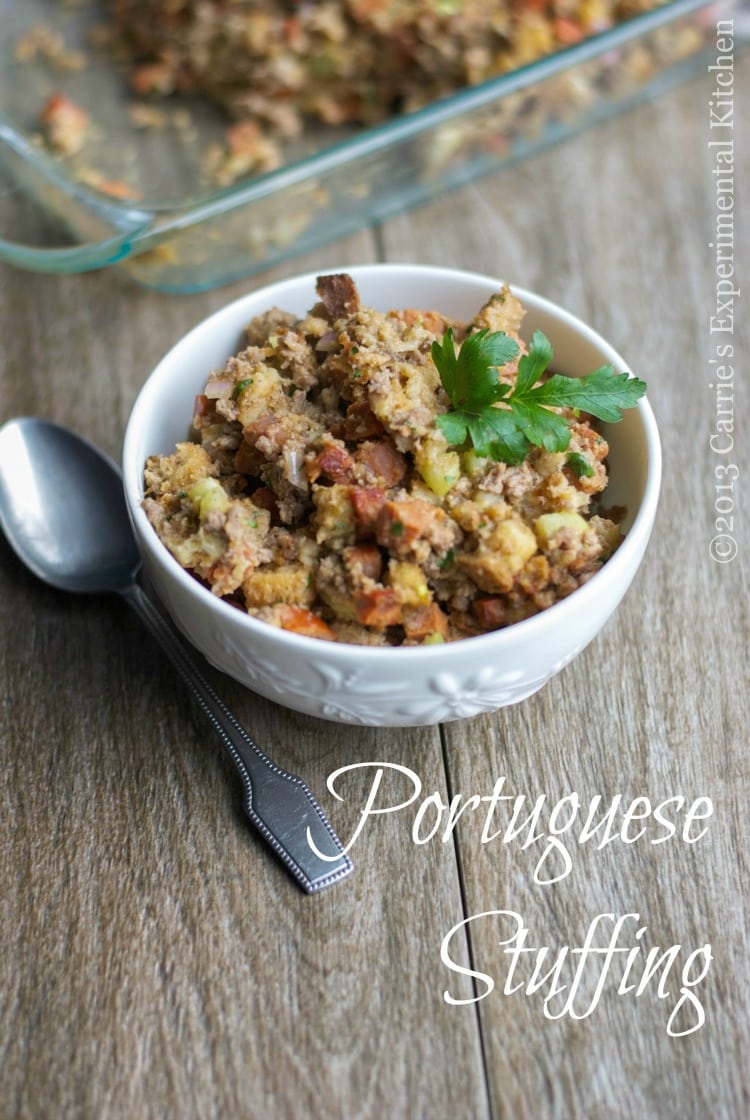 My husband never knew his grandparents on his father's side of the family as my father in law was the youngest of nine siblings and was a "change of life" baby as they like to call it. His Portuguese grandmother, Antonia, was pregnant with twins at the age of 50, but the doctors thought she had a tumor.
Nine months later, my father in law was born and sadly, his brother had passed in the womb. By the time my husband was born, both grandparents had passed away, but the stories lived on through his parents, aunts, uncles and older cousins.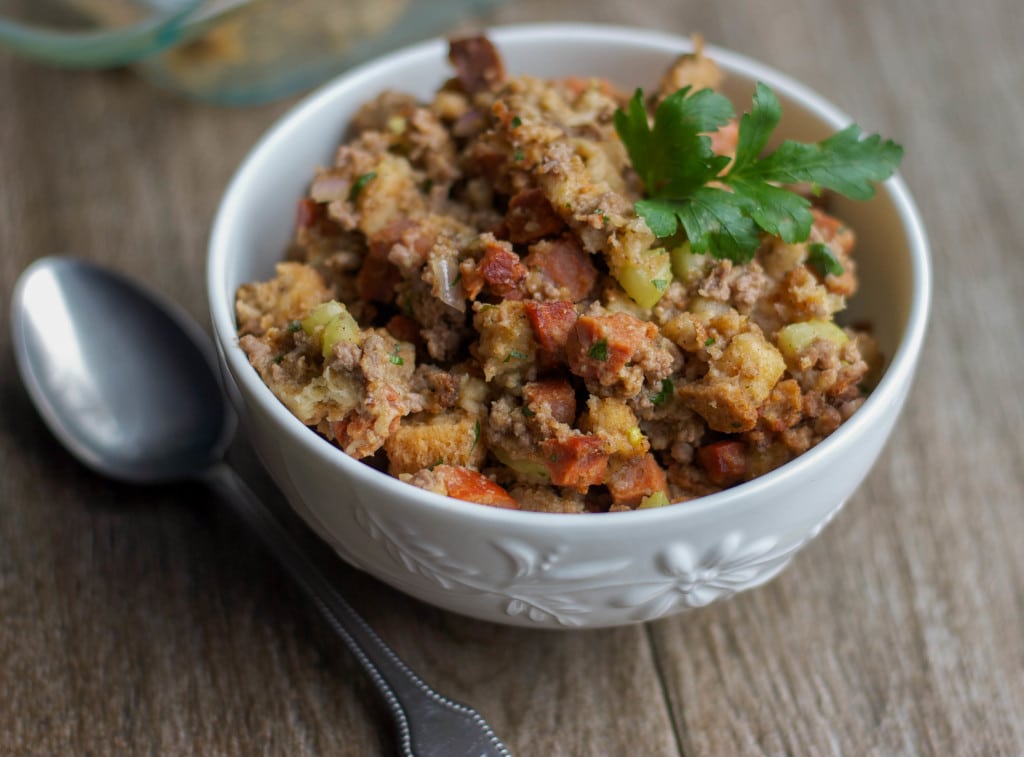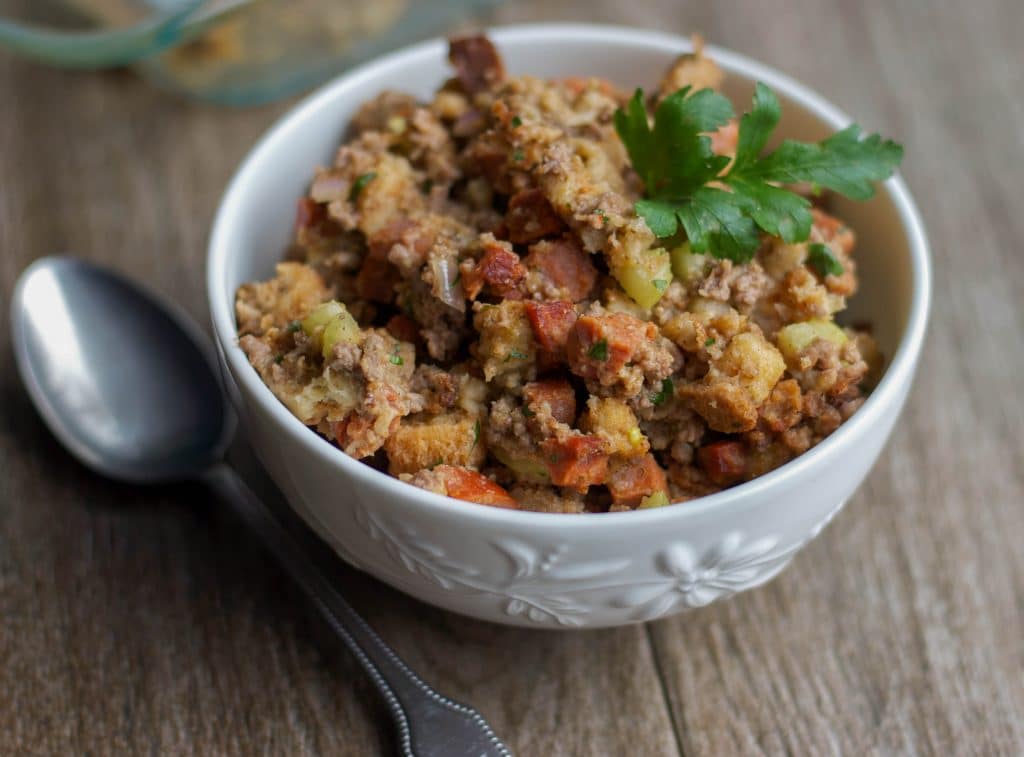 One tradition that has been passed down from generation to generation is that every family member makes Antonia's Portuguese Stuffing. When I first started dating my husband in 1993, I had never eaten chorizo.
I think I may have shared this story before, but this Portuguese Stuffing was my first encounter with chorizo one holiday and I've been a huge fan ever since.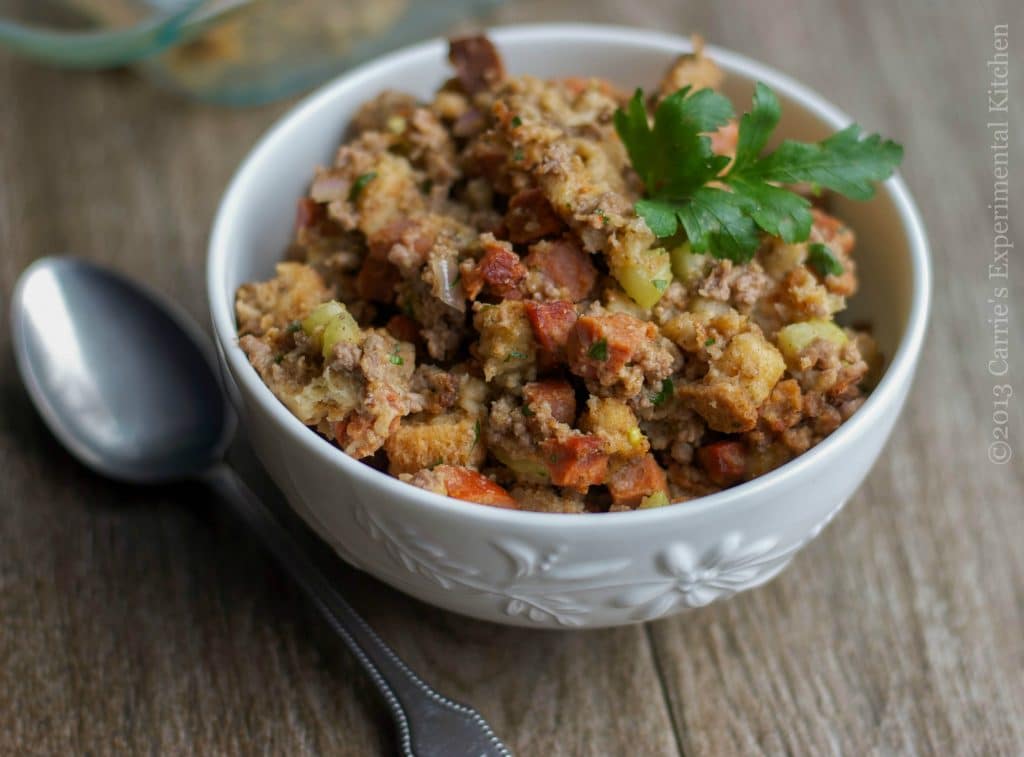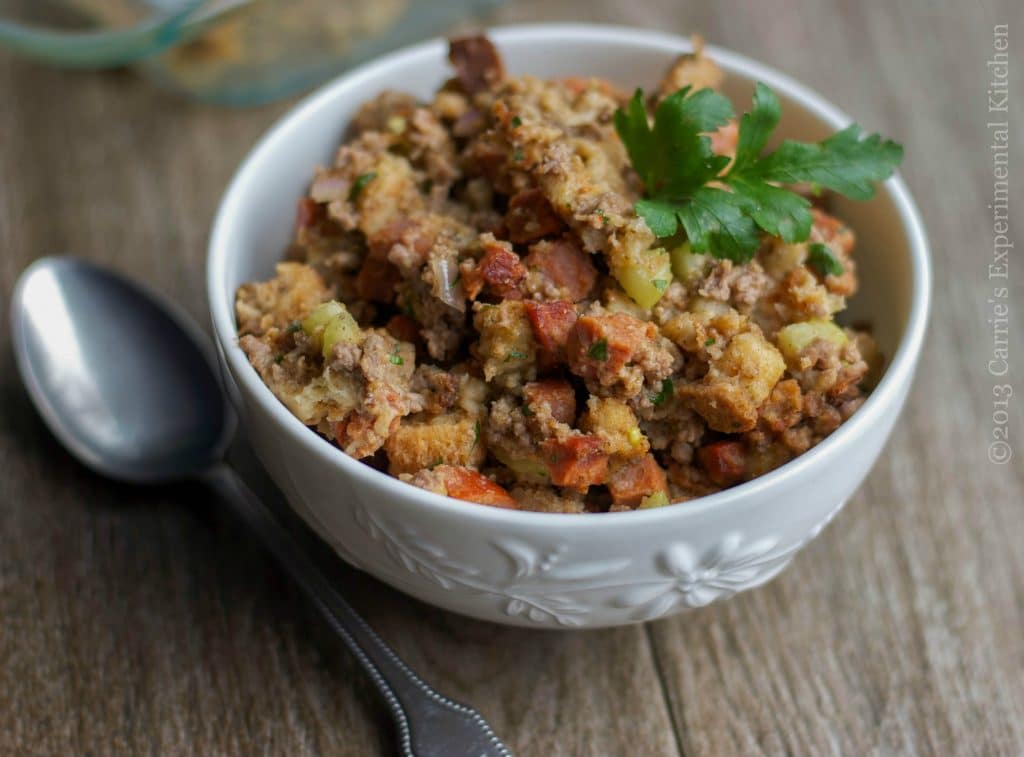 My mother in law makes this stuffing every Thanksgiving and we all look forward to it, especially my youngest daughter who just LOVES it. And to think, in twenty years we only missed out on it once when my MIL fell and broke her hip two years ago.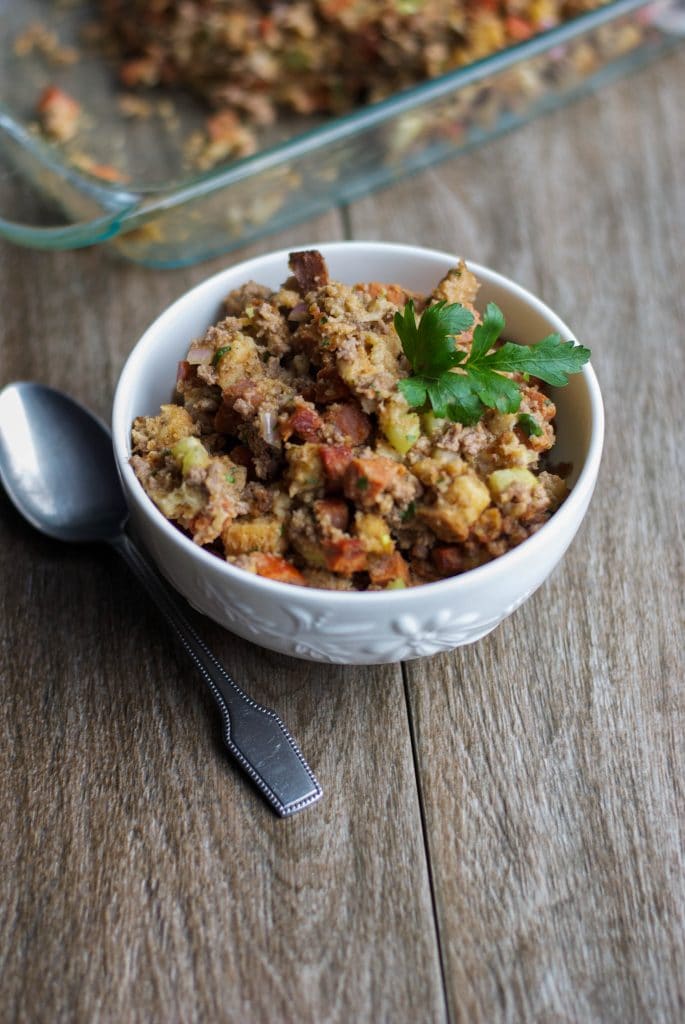 What's in Portuguese Stuffing?
This year, I finally asked her if I can make this recipe myself and share it with all of you and she was more than happy to oblige. This Portuguese Stuffing made with chorizo, ground beef, celery, onions, garlic and stuffing mix is delicious and would make a wonderful new addition to your holiday table.
The stuffing can be a tad on the spicy side depending on the brand of chorizo you purchase, so look for the mild version if you're sensitive to heat. You can also prepare this stuffing the day before, refrigerate; then heat when ready to eat. ~Enjoy!
VISIT THE

RECIPE INDEX

TO SEARCH FOR MORE RECIPES BY CATEGORY.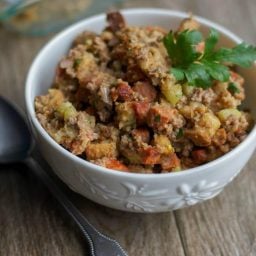 Antonia's Portuguese Stuffing
Portuguese stuffing made with chorizo, ground beef, vegetables and stuffing mix is always on our Thanksgiving table.
Ingredients
1

pound

lean ground beef

12

ounces

portuguese chorizo

,peeled and small dice

1

tablespoon

butter

2

celery stalks

,small dice

1/4

cup

red onion

,small dice

2

tablespoons

minced garlic

2

tablespoons

chopped fresh parsley

12

ounces

stuffing mix

1 1/2

cups

chicken broth
Instructions
Preheat oven to 350 degrees F.

In a large nonstick skillet, brown the ground beef until it it cooked through and no longer pink; approximately 6-8 minutes. Drain any fat off and add the meat to a large bowl.

In the same pan, add the chorizo and allow to brown; approximately 3-4 minutes. Add the chorizo to the bowl.

In the same pan, melt the butter and stir in the celery, onion and garlic. Saute for 2-3 minutes, then add this mixture along with the remaining ingredients to the bowl.

Combine all ingredients and mix well. The stuffing should be wet.

Add the stuffing to an oven safe baking dish and bake for 20-25 minutes until heated through and lightly browned.

What is your family's favorite stuffing recipe?
Related Recipes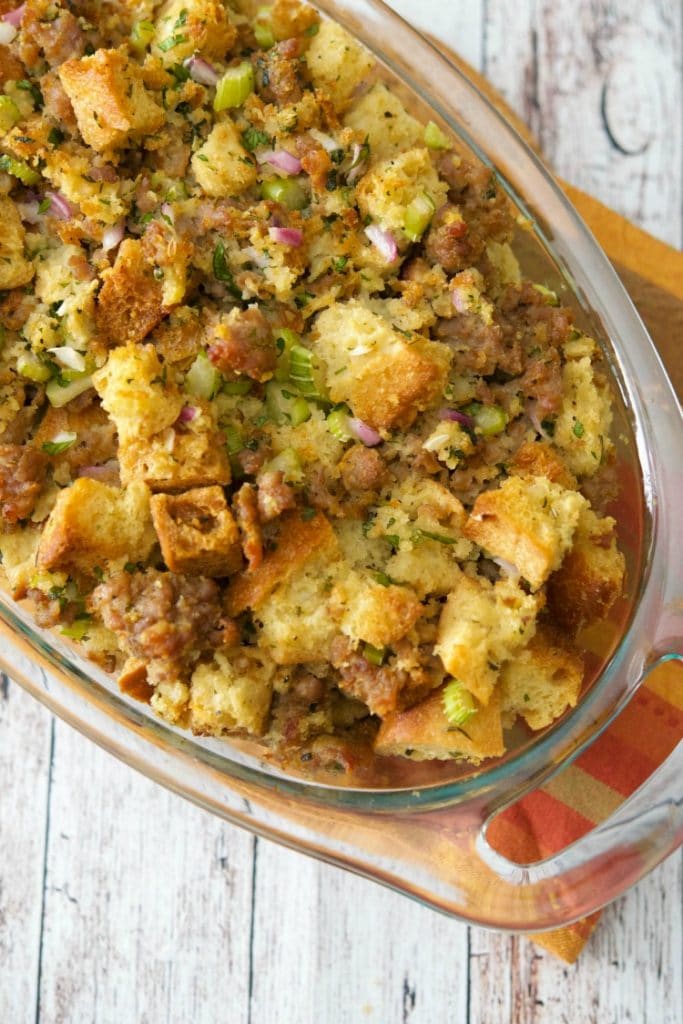 Italian Sausage Bread Stuffing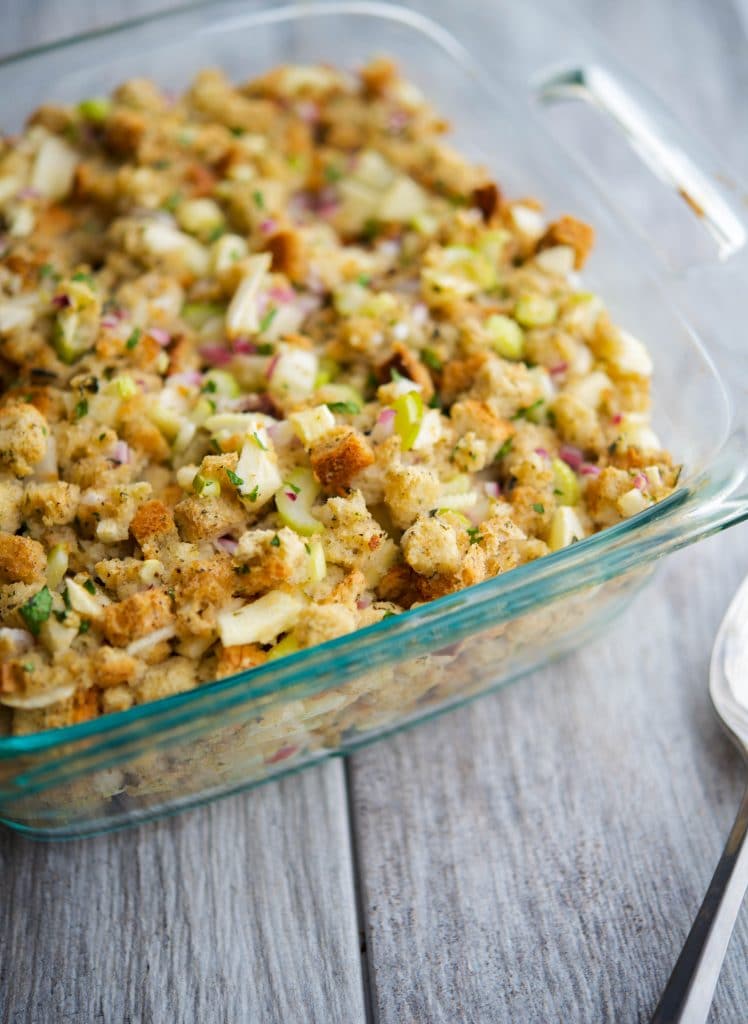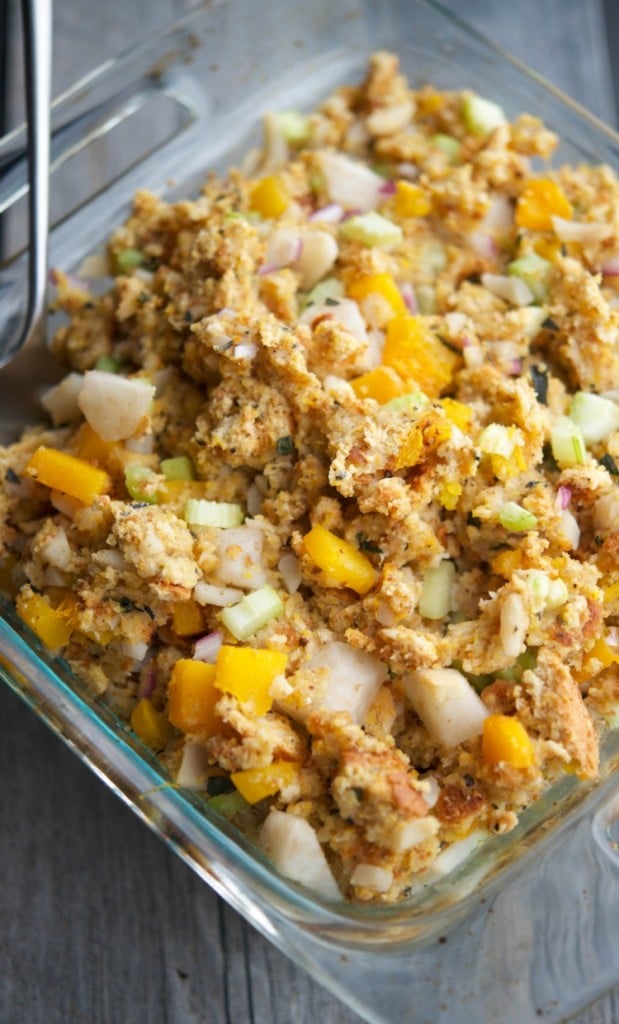 Butternut Squash & Asian Pear Cornbread Stuffing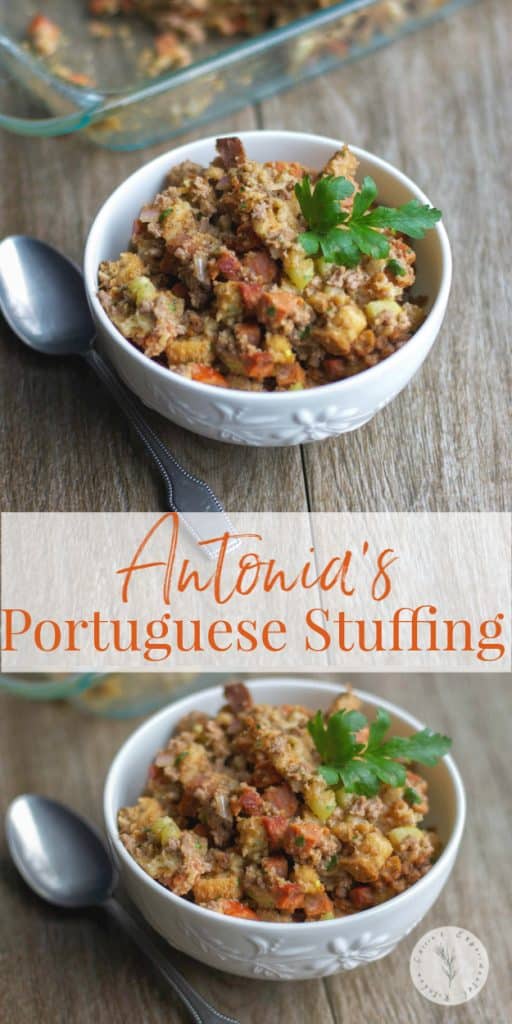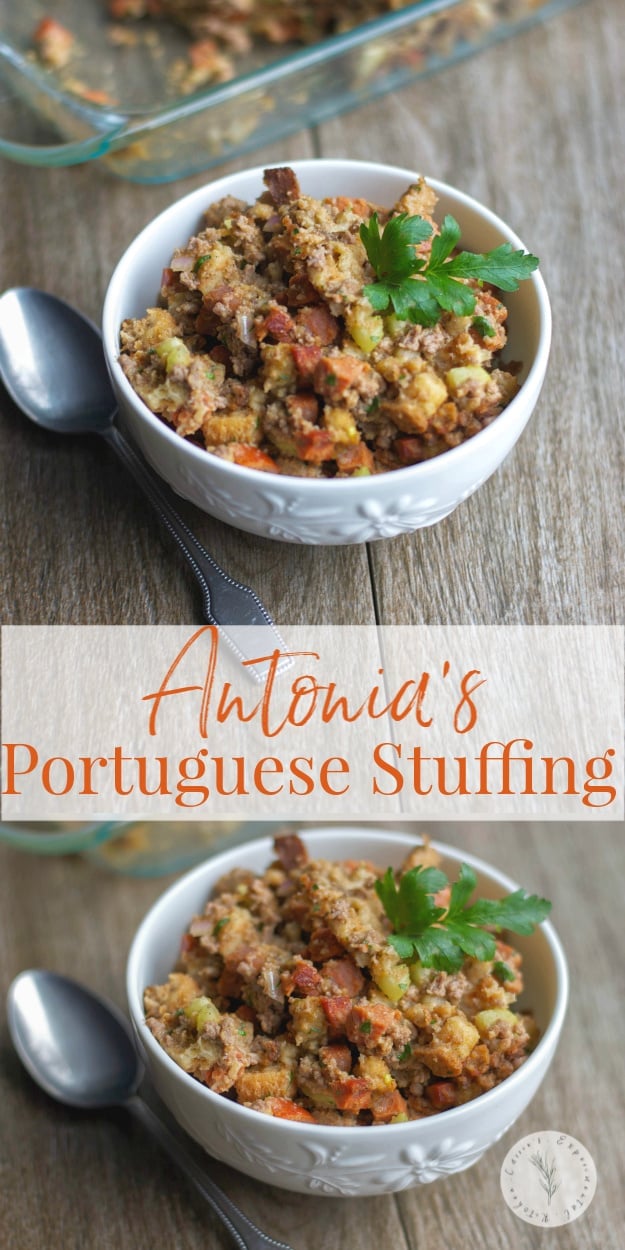 CONNECT WITH ME ON SOCIAL MEDIA