Boneless, center cut pork chops marinated in a brine of fresh lime juice and cilantro; then grilled to perfection.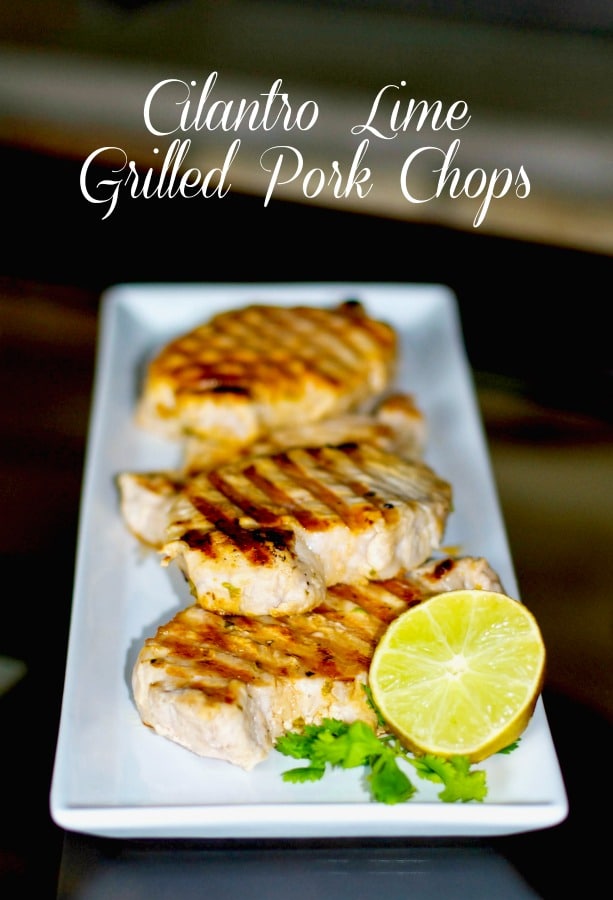 This recipe for Lime and Cilantro Grilled Pork Chops was one of the first recipes I shared on Carrie's Experimental Kitchen back in 2011. It's hard to believe that last month we celebrated our 8th Blog-iversary!
I know I'm a bit late, but it's been a little chaotic around here over the last several months. Since then, I've created and shared over 1,200 recipes and I still enjoy experimenting in my kitchen to this day.
I originally stared this site to keep all of my recipes in one location so that my then 14 and 9 year old daughters would have a place to reference; like an online recipe book.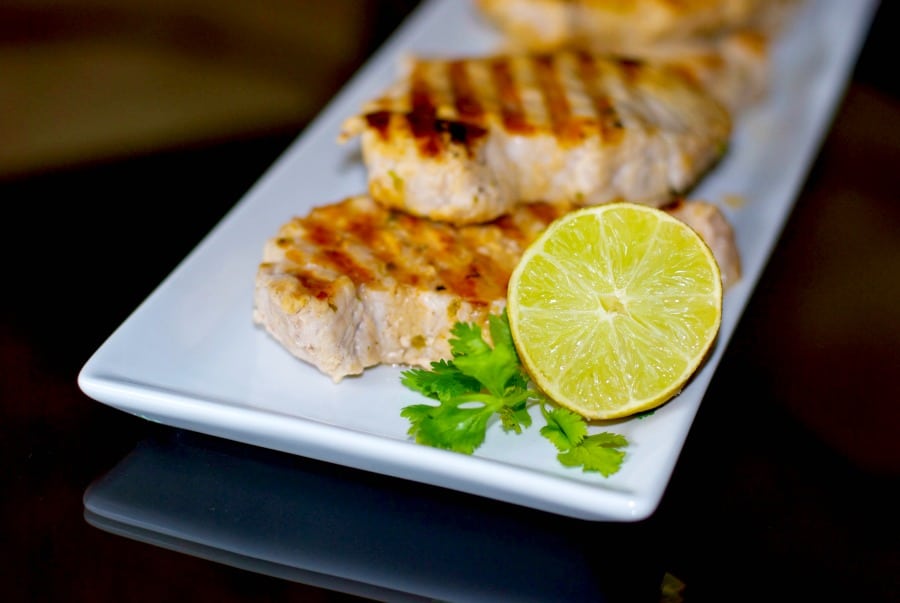 Little did I know at the time how much it would spark their own interest in what we were eating as a family and how they defined their own palates. Gone are the days of "chicken dinos" (thankfully!).
Now Carrie's Experimental Kitchen just feels like another place we call home.I can't even tell you how many times they've accessed this site over the years to print recipes on their own.
They've even made a few "guest appearances" by contributing to a few blog posts including Homemade Gnocchi , Caprese Shrimp Stuffed Tomatoes and 63 Budget Friendly Meals for the First Time College Student.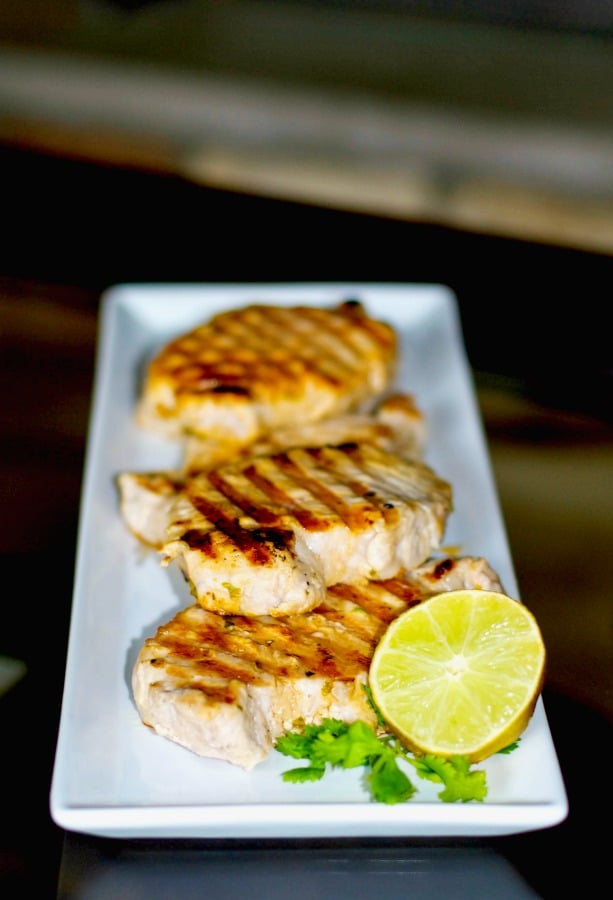 I'd also be remiss if I didn't thank all of YOU! For your support, guidance, love and friendship over the last 8 years. It really means a lot and I get a smile on my face every time someone comments on one of the recipes they've tried.
I especially love to see how you may have tweaked it and made it your own because cooking is all about experimenting!
How do you make Cilantro Lime Grilled Pork Chops?
So back to these Lime and Cilantro Grilled Pork Chops! I just LOVE to brine pork chops (and chicken too!) whenever I want to grill. It really seals in the flavor and I have to say whenever I've brined my meat before grilling, it's never been dry.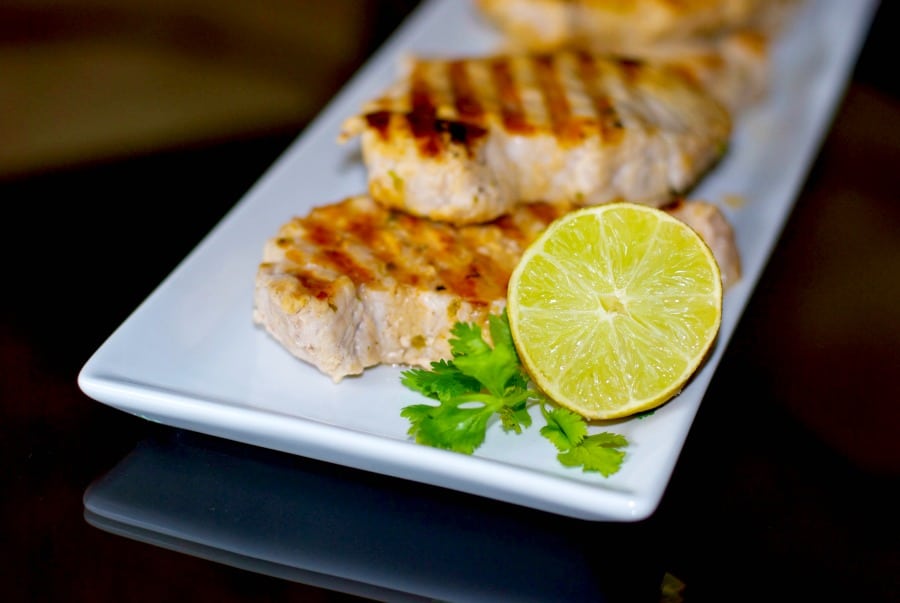 For this marinade I made a simple brine of water, sugar, salt, fresh cilantro, and lime juice. Allow the pork to refrigerate in brine for 2 hours; then grill. It's that simple and the taste is amazing! ~Enjoy!
Sign up for my weekly newsletter and receive a FREE eBook!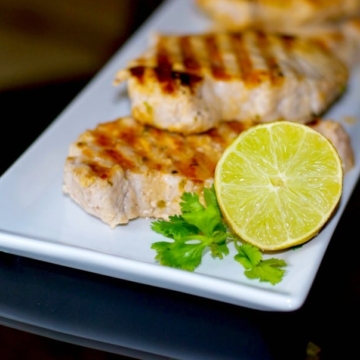 Lime and Cilantro Grilled Pork Chops
Boneless, center cut pork chops marinated in a brine of fresh lime juice and cilantro; then grilled to perfection.
Ingredients
4-

(4-ounce)

boneless center cut pork chops

¾

cup

water

2

tablespoons

granulated sugar

2

tablespoons

kosher salt

1

tablespoons

chopped fresh cilantro

1

lime

(zest and juice)
Instructions
In a small bowl, combine the water, sugar, and salt until it dissolves.

Add cilantro, lime zest and juice; then whisk together until well blended.

Add the pork chops and the marinade to a resealable plastic bag, and refrigerate for 2 hours.

Remove the meat from the bag, discard the marinade; then grill the pork chops until the minimum internal temperature of 145 degrees F is reached. (more if you prefer it well done)
Nutrition
Calories:
200
kcal
Carbohydrates:
6
g
Protein:
24
g
Fat:
8
g
Saturated Fat:
3
g
Polyunsaturated Fat:
1
g
Monounsaturated Fat:
3
g
Trans Fat:
0.1
g
Cholesterol:
76
mg
Sodium:
3545
mg
Potassium:
429
mg
Fiber:
0.02
g
Sugar:
6
g
Vitamin A:
13
IU
Vitamin C:
1
mg
Calcium:
12
mg
Iron:
1
mg
Visit the

recipe index

to search for more recipes by category.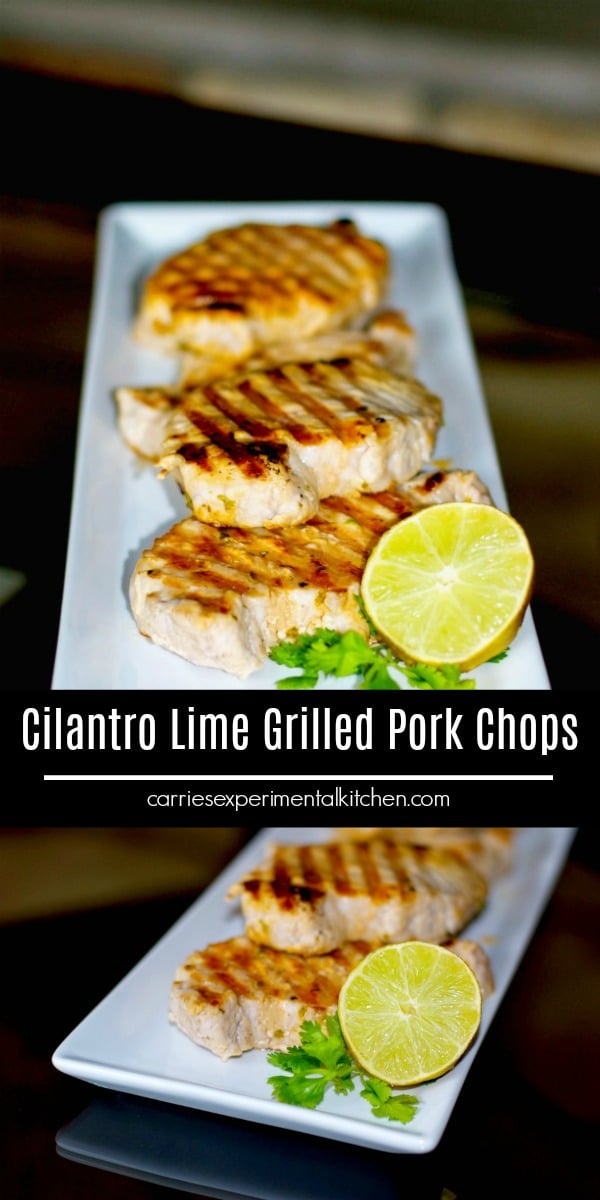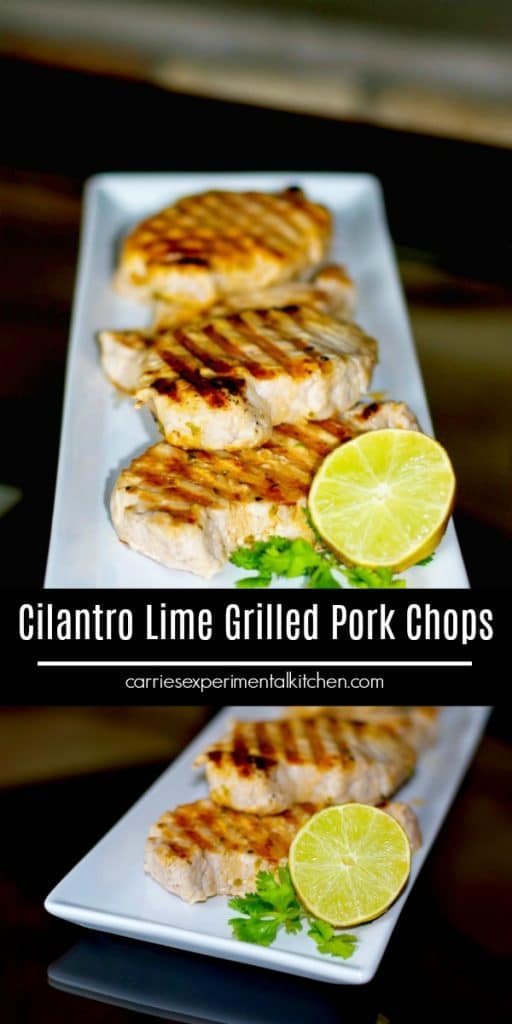 Connect with me on Social Media
*Originally shared April 2013/Updated May 2019