Corn Chowder made with corn kernels and chunks of potatoes in a creamy broth is delicious and satisfying.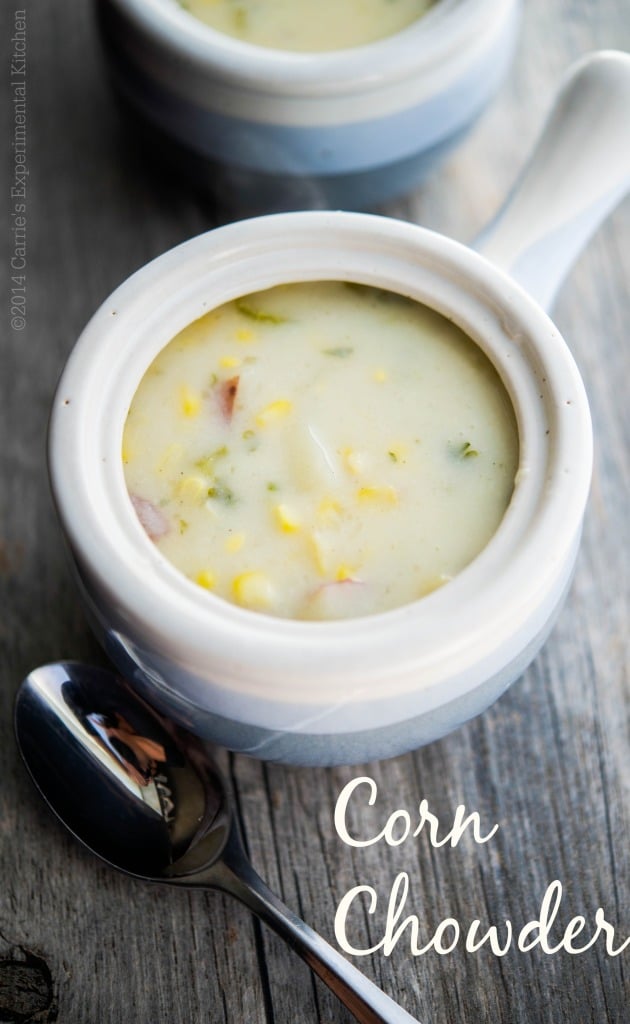 When the weather starts to get a little cooler, I crave certain food more than others. Soup is the perfect example as I'm sure you can all relate.
Sure, I'll eat it year round, but there is nothing better than a hot bowl of soup on a cold day to warm your insides.
I had gotten a bunch of fresh corn on the cob recently and froze most of it to enjoy after the season. I wanted to make something with it besides serving it as a side dish and realized I had never shared Corn Chowder here on the blog so now was as good of a time as any.
As I was thinking about the word "chowder" I also realized that I should probably explain the difference between different types of soup so you know what I'm talking about.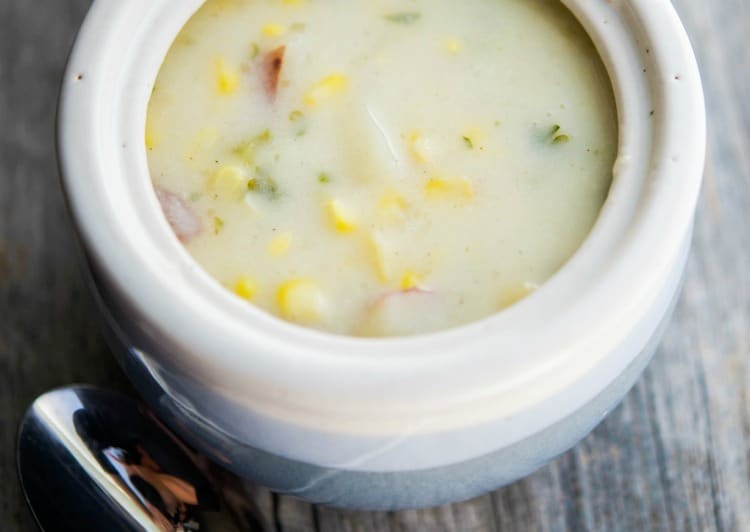 Types of Soup
Bisque-Thick soup that is smooth and creamy; usually pureed shell fish.
Chowder-Usually a thick, chunky soup.
Consommé-Broth that has been simmered for a long time; then clarified to remove any impurities.
Cream-A soup that is thickened with a white sauce (bechamel).
Gumbo- A strong stock usually made from meat or fish with vegetables that is thickened.
Stew-Contains solid ingredients cooked in liquid; then served in its own gravy.
Puree-Any food that has been mashed, pressed and strained.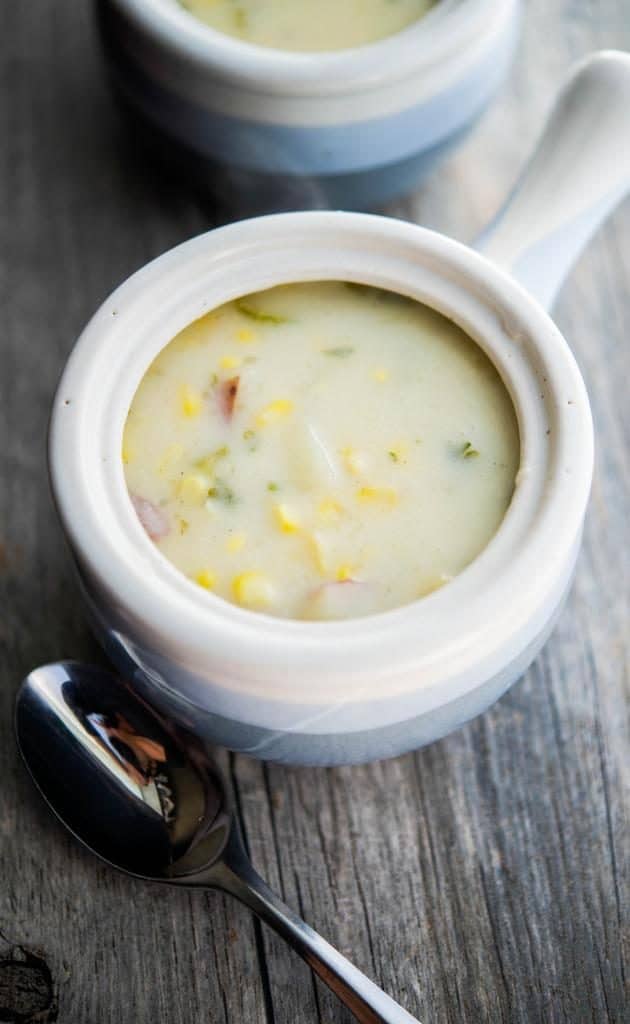 So by definition, my Corn Chowder had to be thick and chock full of goodness like fresh corn on the cob, red bliss potatoes, celery and onions. I can tell you, it was fantastic; well at least I thought so!
I used regular milk, flour and butter to thicken mine; however, you can use heavy cream or half & half if you would like for that extra creaminess. ~Enjoy!
Sign up for my weekly newsletter
and receive
a FREE eBook!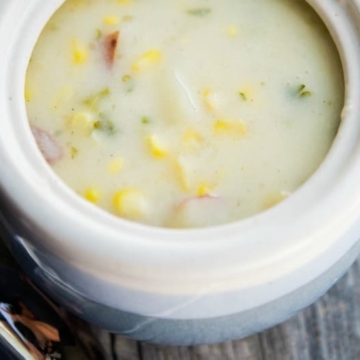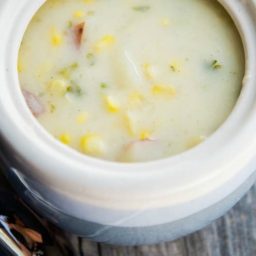 Corn Chowder
Corn Chowder made with fresh corn on the cob and chunks of potatoes in a creamy broth is delicious and satisfying.
Ingredients
2

ribs

celery,

chopped

¼

cup

diced red onion

2

tablespoons

butter

¼

cup

all purpose flour

¼

teaspoon

ground thyme

6

cups

chicken broth

2

medium

red bliss potatoes,

washed, skin on ¼" dice

2

cups

corn kernels

(6 ears corn on the cob)

1

tablespoon

chopped fresh parsley

2

cups

milk
Instructions
In a large pot, melt the butter over medium heat; then add the celery and onions. Allow to soften for about 1 minute; then whisk in the flour and thyme forming a roux.

Add the chicken broth, potatoes, corn and parsley and bring to a boil.

Reduce heat to low and simmer for 30 minutes.

Heat the milk over high heat; then add to the soup. Cook for another 10 minutes.
Visit the

recipe index

to search for more recipes by category.

Related Recipes
Healthy Low Fat Sweet Potato & Cannellini Bean Soup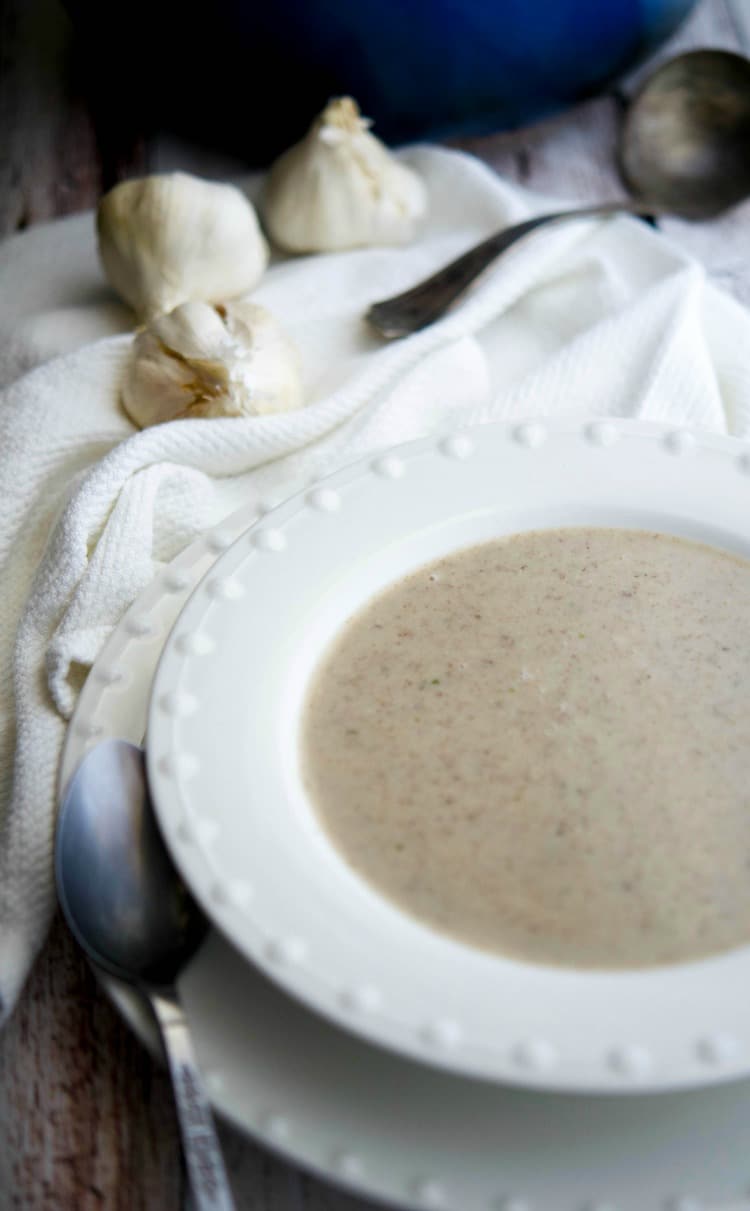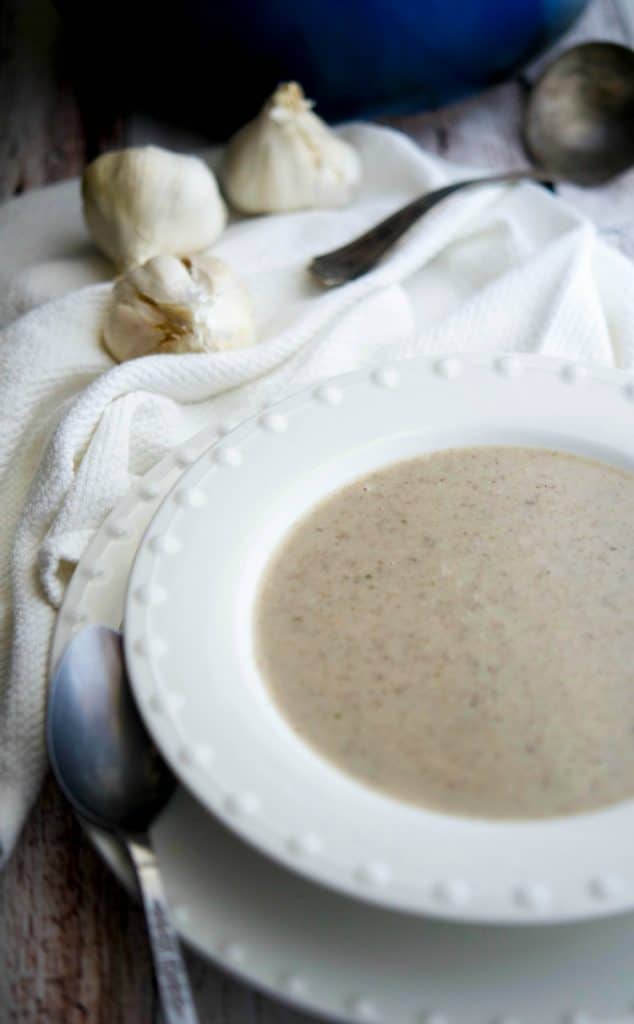 Creamy Roasted Garlic & Mushroom Soup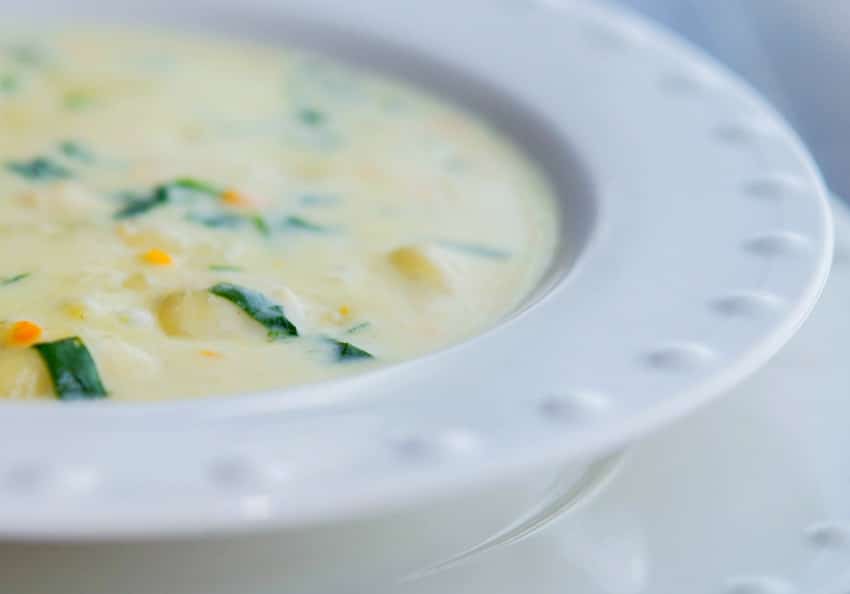 Olive Garden Chicken Gnocchi Soup (Copycat)
Connect with me on Social Media