Flounder topped oreganata style with a mixture of oats, breadcrumbs, garlic, lemon and parsley.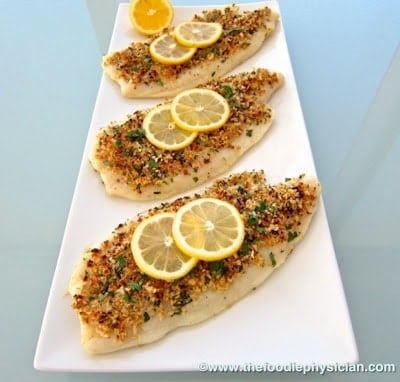 Well? Aren't these posts fantastic so far! Today we're At Sea so I plan on laying poolside with a good book after all of that touring we've been doing, but I can't WAIT for you to meet Sonali, The Foodie Physician.
Not only is she a doctor, she's also a trained chef...really! She recently also took part in a tv commercial that aired on The Food Network called Chopped-Open Your Basket, so now she's also our resident celebrity. I think it's safe to say she's a Triple Threat...Take a look here ! Please join me in welcoming Sonali to CEK!
Who is The Foodie Physician?
Hi, my name is Sonali aka The Foodie Physician. I was truly honored to be asked to write a guest post on my friend Carrie's wonderful site. I'm an Emergency Medicine physician, chef, recipe developer and bona fide foodie.
I have a passion for food and like to use my medical and culinary backgrounds to help people create meals that are nutritious and full of flavor. On my blog, The Foodie Physician, I share my original recipes. I also enjoy discussing the health benefits of foods and encourage people to know what they're eating so that they can make smart food choices all day long.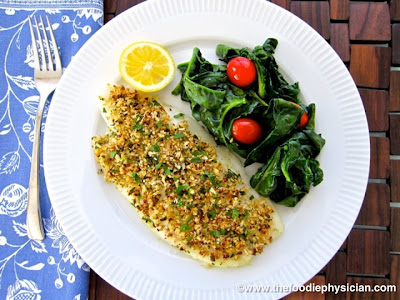 I'm a big fan of Carrie's Seafood Frenzy Fridays and personally I love cooking fish. Since I know Carrie doesn't cook much seafood on her own, I figured I would take the opportunity to share a healthy seafood dish with her and her readers.
What is Oreganata?
Oreganata is a classic Italian seafood dish in which the seafood (usually fish or clams) is topped with a crunchy mixture of breadcrumbs, olive oil, lemon and herbs including oregano, hence the name.
If you're intimidated at the thought of cooking seafood, this is a great dish to start with because it's very easy- simply mix together the crumb topping, top the fish with it and bake.
How do you make Flounder Oreganata?
The fish typically takes only 10-12 minutes to cook in the oven, which gives you time to make a quick side dish.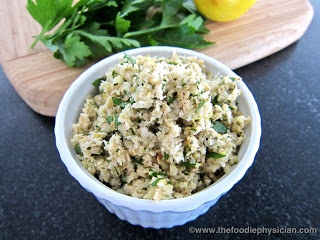 Serve with a few lemon wedges and you've got a delicious and healthy dinner in less than 30 minutes. How can you beat that? Breadcrumbs add lovely texture to a variety of dishes, but many types of store-bought breadcrumbs are light on nutrition and loaded with sodium.
I love to use panko breadcrumbs, a popular variety of Japanese breadcrumbs that are light, flaky and add an excellent, crispy crust to food. They have less sodium than traditional seasoned breadcrumbs but don't add much nutritional value.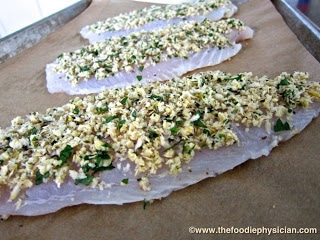 I wanted to put my own healthy spin on this traditional Italian recipe by incorporating a more nutritious topping so I decided to use rolled oats. I never really thought about using oatmeal in anything other than breakfast dishes until I recently read about using it as a healthy substitute for breadcrumbs.
If you grind the oats in a food processor, they form crumbs that can successfully be used as a crunchy topping for chicken cutlets, seafood and pasta.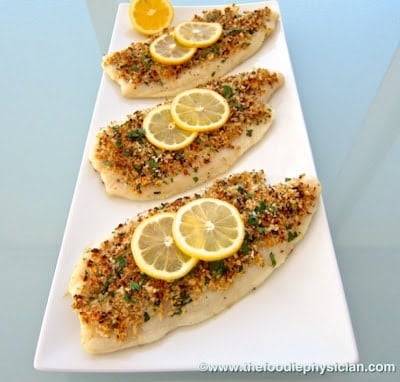 What are oats?
Oats are whole grains that are loaded with fiber, vitamins, minerals and antioxidants. Because they are packed with fiber, they help lower cholesterol and may reduce the risk of heart disease.
Oats also help to control blood sugar levels and maintain a healthy blood pressure. The fiber also keeps you feeling fuller for a longer time thereby curbing cravings and snacking.
For this dish, I decided to use a combination of half oatmeal and half panko to get the nutritional benefits of the oats while maintaining the light, crispy texture that I love from the panko.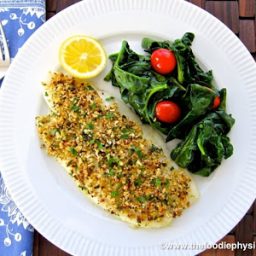 Flounder Oreganata
Oreganata is a classic Italian seafood dish in which the seafood (usually fish or clams) is topped with a crunchy mixture of breadcrumbs, olive oil, lemon and herbs including oregano.
Ingredients
⅓

cup

rolled oats

¼

cup

panko breadcrumbs

2

cloves

garlic

finely chopped

1 ½

tablespoons

chopped parsley plus extra for garnish

½

teaspoon

dried oregano

4

teaspoons

fresh lemon juice

1

teaspoon

lemon zest

1

tablespoon

olive oil

Kosher salt and black pepper

4

flounder fillets

6 ounces each or other white fish like haddock, tilapia or cod

Lemon wedges for garnish

optional
Instructions
Preheat oven to 450 degrees F.

Pulse the oats in a mini food processor until they are finely ground.  Mix the ground oats with the panko breadcrumbs, garlic, parsley, oregano, lemon juice, zest, oil, and ½ teaspoon salt in a small bowl.

Place the fish filets on a baking sheet lined with parchment or foil and season them lightly with salt and pepper.  Spoon equal amounts of the breadcrumb mixture onto the filets, lightly pressing it in so that it adheres to the fish.

Bake in the oven 10-12 minutes until the fish is opaque and topping is golden brown.  If the topping needs to be browned further, place the fish under the broiler for a minute or two. Garnish with chopped parsley and lemon slices.  Squeeze lemon on top just before eating.