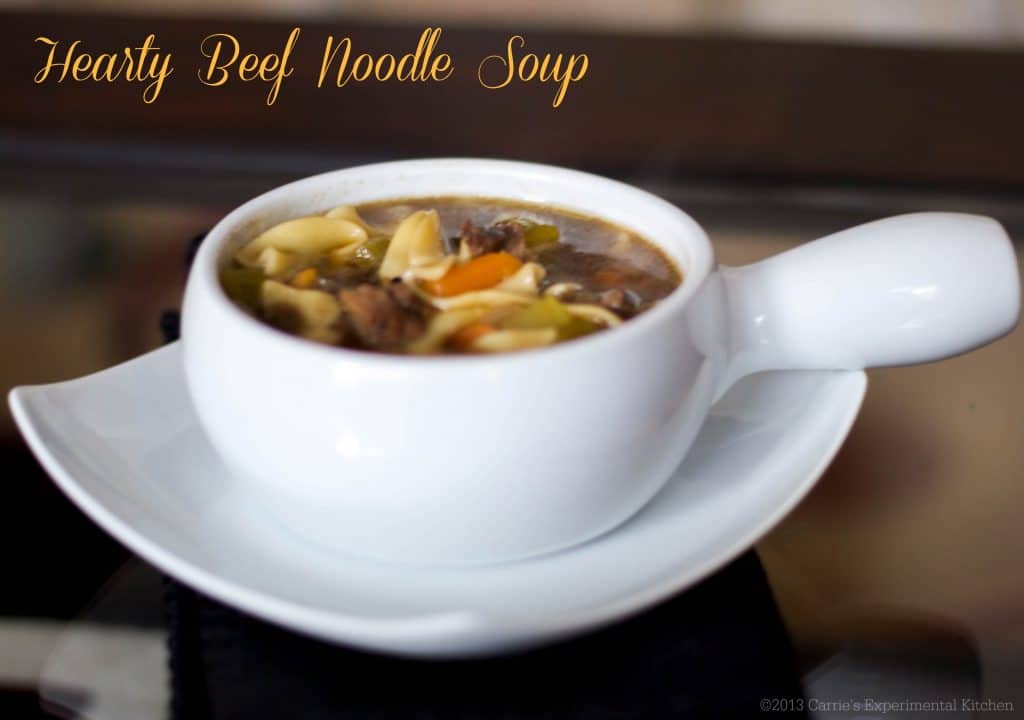 I never get tired of soup and like a variety. My husband loves it as well and asked me to make a Beef Noodle Soup a while ago, but I only tend to make this kind of soup if I have leftover beef from a roast or steak.  To me, it just seems to be a waste of time to go through the of trouble cooking the meat just to put it in the soup alone.
For this particular soup, I used some leftover london broil. We don't do much outside grilling here in NJ between November-February as it's usually too cold or snowing. However, this year has been odd with warm days in the upper 50's followed by a snowstorm or temperatures in the teens the next. So this soup came at the perfect time!
If you have extra soup, don't worry! Here are some tips on how to store it.
Allow the soup to cool completely before refrigerating or freezing.
If you are going to be eating it within a few days: Divide the cooled soup into shallow, airtight containers; then cover and refrigerate up to 3 days.
If you want to freeze the soup: Divide the cooled soup into shallow, airtight, freezer safe containers leaving a 1/2″ space between the top of the soup and the rim of the container. This will allow room for the soup to expand while frozen without the lid coming off. You can freeze soup for up to 3 months. Also, do not freeze soup that has been thickened with cornstarch or flour. Leave it out and add it once defrosted and reheated. By freezing soup with a thickener, it changes the consistency and thickening capacity causing it to look congealed.
Hearty Beef Noodle Soup
1 c. Carrots, sliced
1/2 c. Red Onion, chopped
2 Celery Stalks, chopped
1 tbsp. Canola Oil
2 c. Cooked Beef, diced
4 c. Low Sodium Beef Broth
4 c. Water
3 Sprigs Fresh Thyme
2 c. Egg Noodles, dry
Directions:
1. In a large saucepan, heat the oil and add in the carrots, onion and celery.
2. Saute until the vegetables start to soften, then add in the beef, beef broth, water, and thyme.
3. Bring to a boil, then reduce heat. Simmer for 45 minutes, then add in the egg noodles and simmer for another 15 minutes. Makes 6 cups.