Making your own fruit flavored vinegar, like this blackberry version, is easy and only requires a few simple ingredients. There are so many flavor combinations to choose from.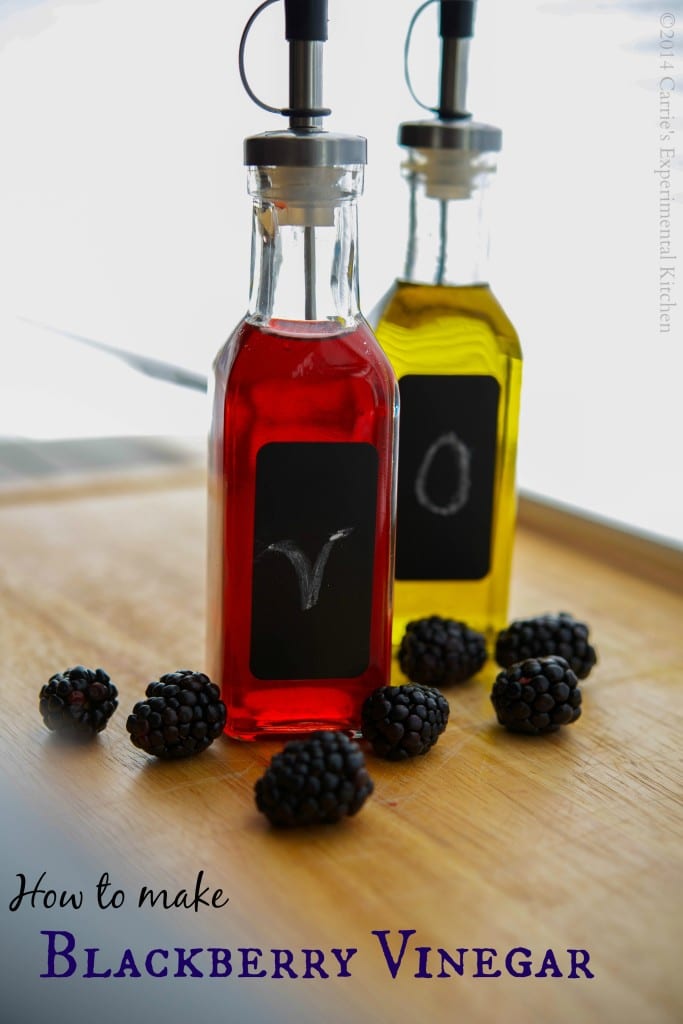 Sometimes I never know what my next experiment is going to be until I find something unexpectedly. For example, our cheerleading team was hosting a garage sale fundraiser several months ago and I found four, white porcelain ramekins for $1.
Not each, but all four for one dollar..BONUS! As soon as I saw them I KNEW I was going to make some kind of macaroni and cheese dish and that's when I created the recipe for Rosemary & Goat Cheese Mac n' Cheese. Perfect right?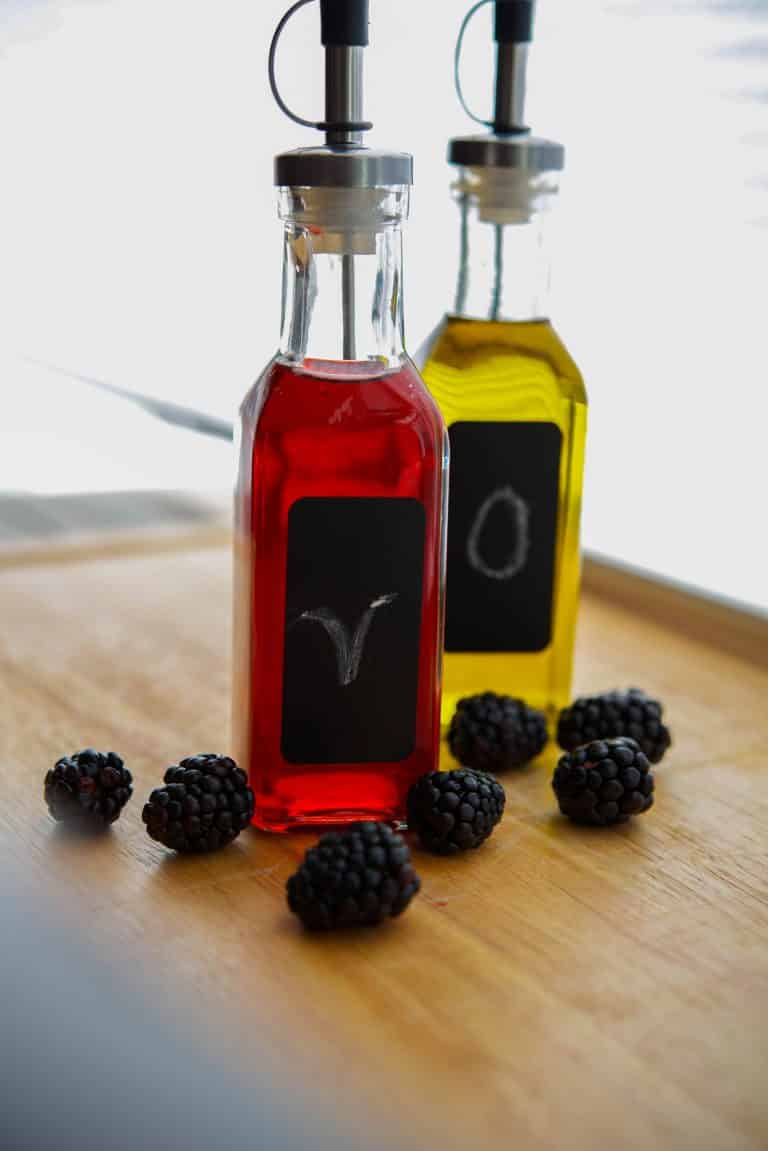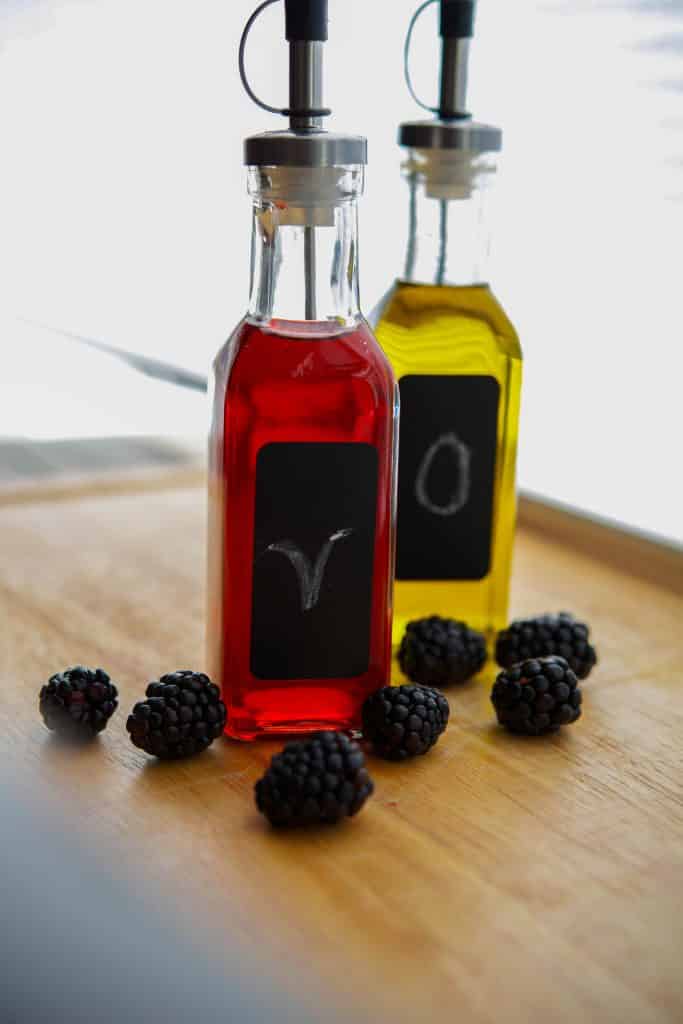 Well this is the exact same way this recipe for Blackberry Vinegar was created. I was walking through Target one day and I like to look through those few isles where they have everything for $1.
These cruets caught my eye and I loved how they had a chalkboard front. Since Spring is just around the corner, I thought making some homemade vinegar would be a great idea to post about to get us all out of this winter doldrum.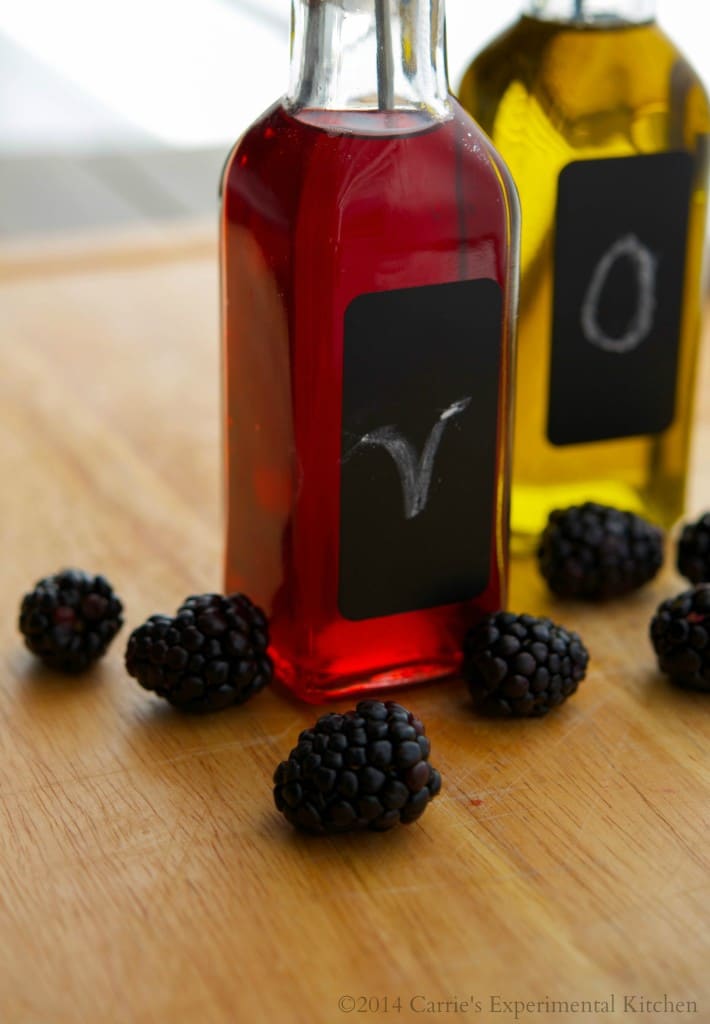 Making your own vinegar is SUPER EASY, it's the waiting that's a killer! Two ingredients: vinegar and fruit of your choice are all you need. My local market has had an abundance of blackberries lately so I chose to use those, but feel free to experiment and substitute as you wish.
Once you make the vinegar, you can use it as the base for a salad dressing; to marinate meat, poultry or fish; or toss it in with your favorite pasta salad recipe.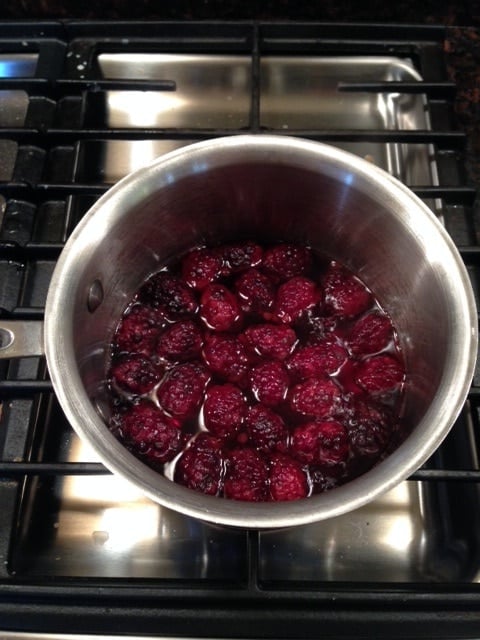 What are some other combinations you can make?
Raspberries + Balsamic Vinegar
Pears + White Vinegar
Oranges + Rice Wine Vinegar
Strawberries + Red Wine Vinegar
Peaches + White Vinegar
Vanilla Bean + White Vinegar
Don't they sound good? I can't wait for salad season! ~Enjoy!
Sign up for my weekly newsletter
and receive
a FREE eBook!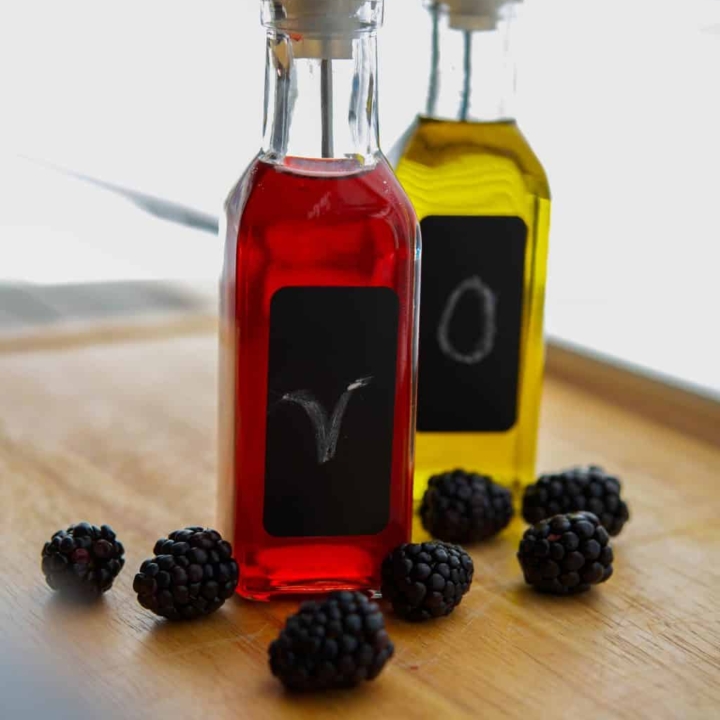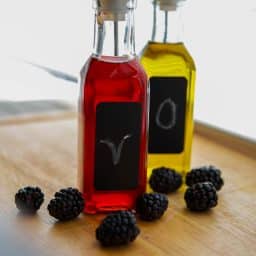 How to Make Blackberry Vinegar
Making your own fruit flavored vinegar, like this blackberry version, is easy and only requires a few simple ingredients.
Instructions
Add the vinegar and blackberries to a small, stainless steel saucepan and bring to a boil over high heat; then reduce heat to low and allow to simmer for 5 minutes.

Remove from the heat and allow to completely cool; approximately 30 minutes.

Place the vinegar in a covered, airtight container and allow to sit at room temperature for 2 weeks.

Sterilize your storage bottle by placing it in a saucepan filled with water. Allow it to come to a boil and simmer for 3 minutes; then remove and allow to dry.

Strain the vinegar in a fine mesh strainer or cheese cloth so that it catches any sediment. Discard the blackberries and store in your sterilized bottle.

Store in a cool, dry place for up to 6 months.
Visit the

recipe index

to search for more recipes by category.


Connect with me on Social Media