Italian Baked Beans made with white beans, turkey bacon, rosemary, crushed tomatoes, Italian dry red wine and Asiago and Pecorino Romano cheeses.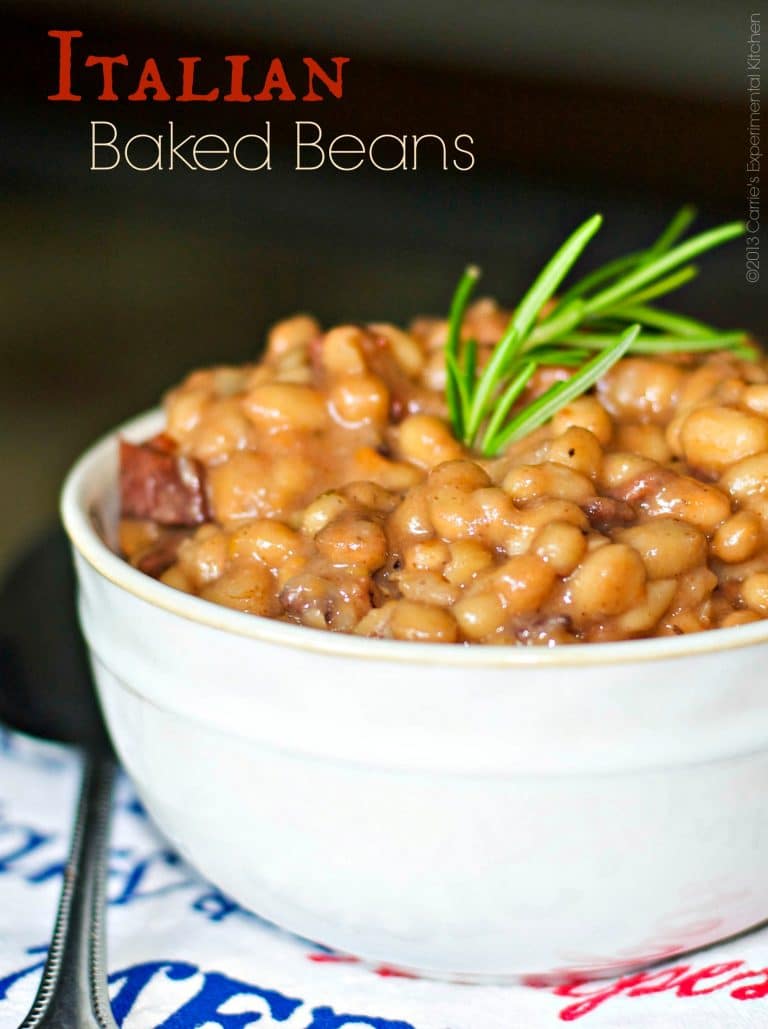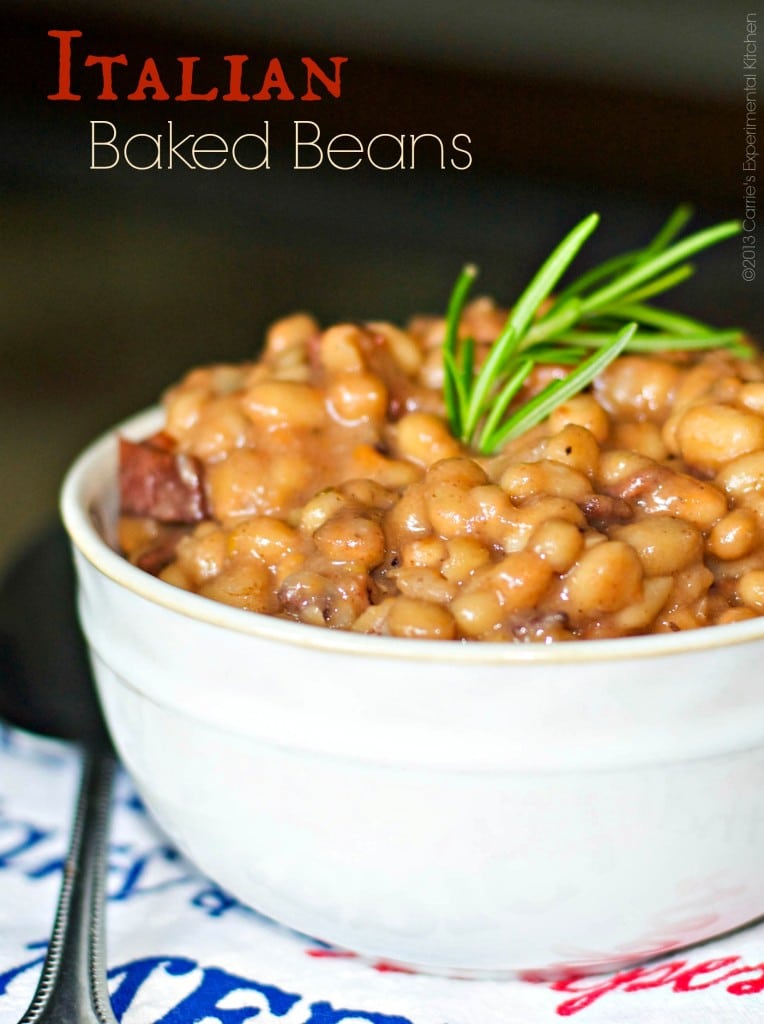 Summer, as you all know, is a time for grilling and barbecues. And one menu item can usually be found at most gatherings…baked beans. I never particularly cared for the pork and bean variety so I generally never made them myself; though my mother in law makes a great version using chorizo (I'll have to get that recipe from her one of these days to share with you!).
That is until I was reading the June issue of Food Network Magazine and saw a recipe from Jeff Mauro for Tuscan Stovetop Baked Beans. They looked delicious and had many of the flavors I love like garlic, tomatoes, rosemary, wine, cheese and lemon. He even added some balsamic drizzle over the top and they looked amazing! But as I started to look at the recipe to duplicate it, I decided to make a few changes.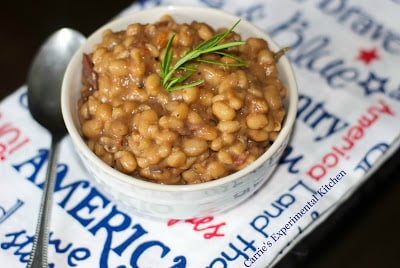 Since I didn't have pancetta or white wine in the house, I used turkey bacon and used up an open bottle of Chianti. I started out cooking them on the stove, but they were still a little too "watery" for my liking, so I added some cornstarch to thicken it up a bit and also decided to bake them instead of cook them on top of the stove. They really got nice and bubbly that way too!
These Italian Baked Beans were INCREDIBLE! Now as you're looking at the ingredient list, you're probably thinking there are A LOT of ingredients, but most of them you should already have in your pantry . ~Enjoy!
Sign up for my weekly newsletter to get
 the latest recipes and receive
 a FREE eBook! 
Italian Baked Beans
Italian Baked Beans made with white beans, turkey bacon, rosemary, crushed tomatoes, Italian dry red wine and Asiago and Pecorino Romano cheeses.
Ingredients
1/2

lb.

Organic Turkey Bacon, small dice

1

tbsp.

Extra Virgin Olive Oil

1/3

c.

Red Onion, small dice

2

Stalks Celery, small dice

1

Large Carrot, peeled and small dice

1

tbsp.

Fresh Rosemary, chopped

3

Garlic Cloves, chopped

3/4

c.

Dry Red Wine (I used Chianti)

1

c.

Crushed Tomatoes (I used San Marzano)

1

Lemon, zest only

2

c.

Low Sodium Fat Free Chicken Broth

2

tbsp.

Grated Pecorino Romano Cheese

2

tbsp.

Grated Asiago Cheese

4-15

ounce

Cans Small White Beans, rinsed and drained

2

tbsp.

Cornstarch 

2

tbsp.

Cold Water
Instructions
Preheat oven to 350 degrees.

Heat the oil in a Dutch oven over medium heat; then add in the bacon. Stir until crisp about 10 minutes. Remove and set aside.

In the same pan, add the onion, celery, and carrots and allow to soften for about 5-7 minutes; then add in the garlic, rosemary and the cooked bacon and cook for another minute.

Deglaze the pan with the wine, scraping the bits from the bottom of the pan. Allow the wine to simmer down until reduced by half; then add in the tomatoes, lemon zest, chicken broth, both cheeses and beans. Allow to simmer for 10 minutes over medium heat allowing some of the liquid to absorb.

Combine the cornstarch and water together and gradually add it to the beans until they have thickened (you may not need all of it); then transfer to a 2 quart oven safe baking dish and bake for 30 minutes or until the beans are hot and bubbly.
Visit the 

recipe index

 to search for more recipes by category.


Connect with me on Social Media
 Related Recipes
Maple Brown Sugar Baked Beans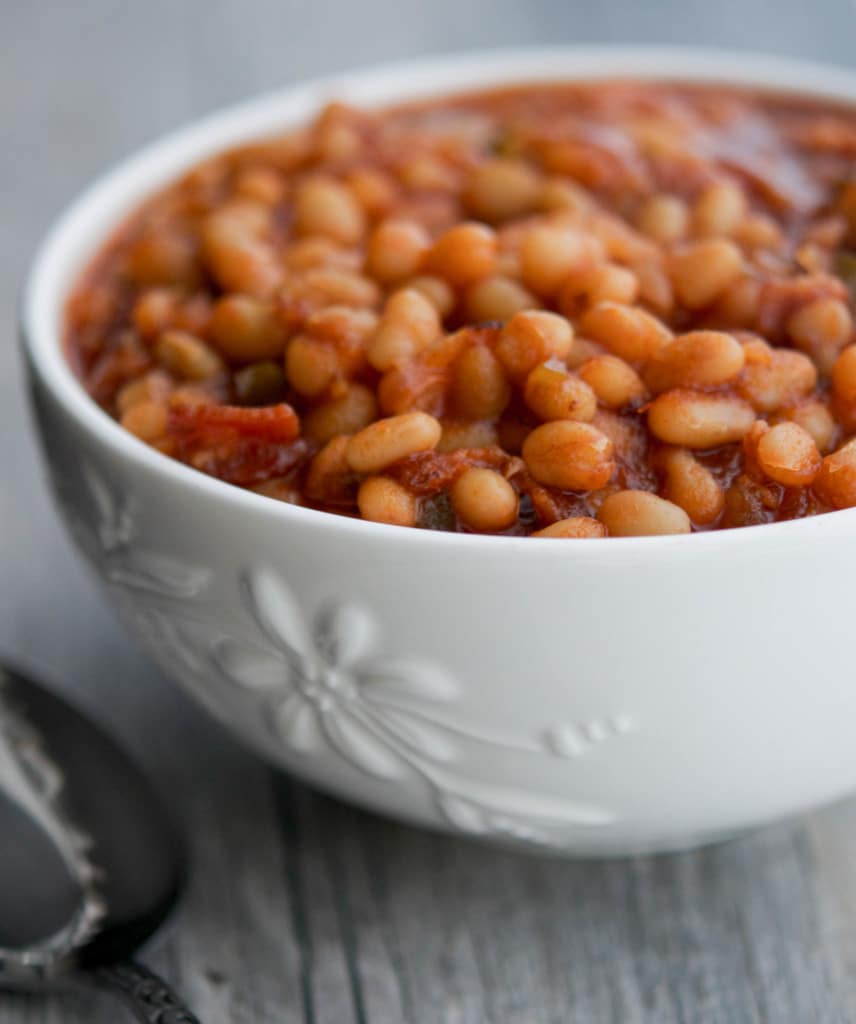 Linda's Portuguese Baked Beans