Roasted eggplant, leeks and mushrooms combined with Italian sausage, breadcrumbs and Asiago cheese; then baked until golden brown.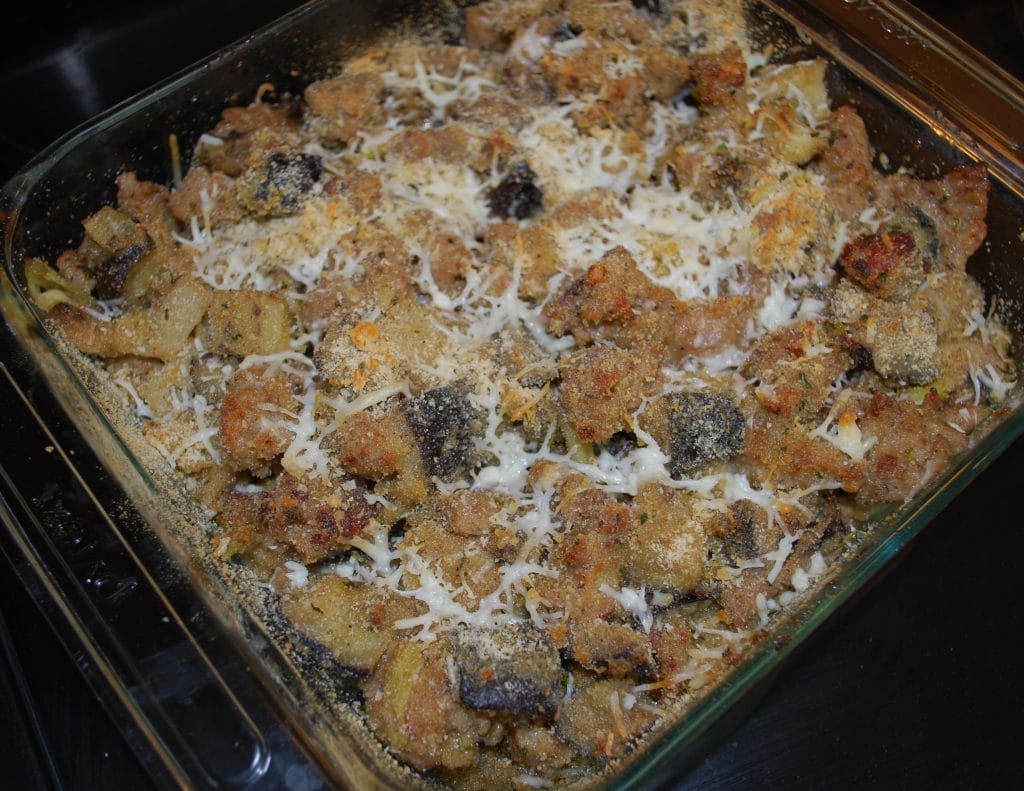 About a week or so ago I purchased an eggplant with every intention of making some sort of stuffing to go inside of it. So yesterday, as I was looking at it in my refrigerator, I figured I'd better do something with it before I had to throw it away.
As I thought about it some more, I realized a couple of things. One, I didn't think that my kids would just cut the eggplant "shell" to eat it (they prefer the fried version and I'm trying to break them of that) and would probably just eat the inside anyway. And two, I only had one eggplant and since they wouldn't eat the "shell", the stuffing probably wouldn't be enough to feed the four of us.
On to Plan B. I decided to make a casserole with it and boy was this delicious! First, I cut the eggplant into chunks, added some chopped up leeks, mushrooms and garlic and lightly tossed them with some olive oil, salt and pepper. Then I roasted them in the oven for about 15 minutes until they were nice and brown, added them to my cooked sausage along with some Asiago cheese (mmm…love this cheese!) and put it back in the oven for another 10 minutes. I have to say that the entire meal took less than 1/2 hour to make and it was so filling and flavorful.
My oldest daughter had a football game and didn't get home until after 9:30pm last night. She didn't want to eat that late so she just had a small taste. She loved it so much she wanted me to give it to her for lunch today heated up in thermos so I guess this one is a keeper. 🙂
Italian Sausage & Roasted Eggplant Casserole
1 Eggplant, skin washed and cut into bite size chunks
5 Cloves Garlic, chopped
1 Leek, white part only, chopped
10 Mushrooms, sliced
1/4 c. Extra Virgin Olive Oil
Kosher Salt, to taste
Fresh Ground Black Pepper, to taste
8 Links Italian Sausage, casings removed
1/2 c. Chardonnay
1 tbsp. Fresh Rosemary, chopped
1/2 c. Grated Asiago Cheese
1/4 c. Grated Pecorino Romano Cheese
1/4 c. Italian Seasoned Bread Crumbs
Directions:
In a bowl, mix together the eggplant, leeks, mushrooms, oil, salt and pepper until all the vegetables are coated. Place on a baking sheet and bake at 425 °F for 15 minutes, stirring occasionally.
While the vegetables are roasting, heat a large frying pan and add the sausage. Cook the sausage until there is no pink left, breaking it up into smaller pieces as it gets brown.
Add the wine, rosemary and roasted vegetables and mix well. Next, add both cheeses and the bread crumbs. Mix well and place mixture into a baking dish.
Sprinkle extra breadcrumbs and some more of the Asiago cheese on top and bake for 10 minutes until the cheese has melted and the breadcrumbs have turned a golden brown.