Eggplant Parmesan with Marinara Sauce made with sliced, breaded and fried eggplant layered with my favorite tomato sauce and shredded mozzarella cheese is my idea of ultimate comfort food.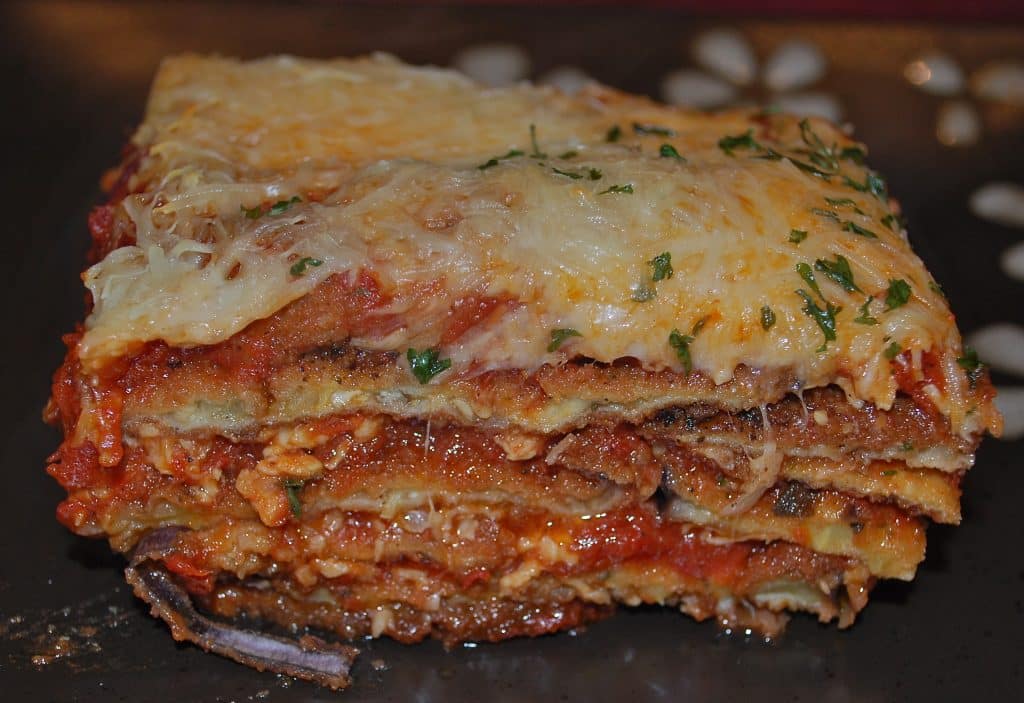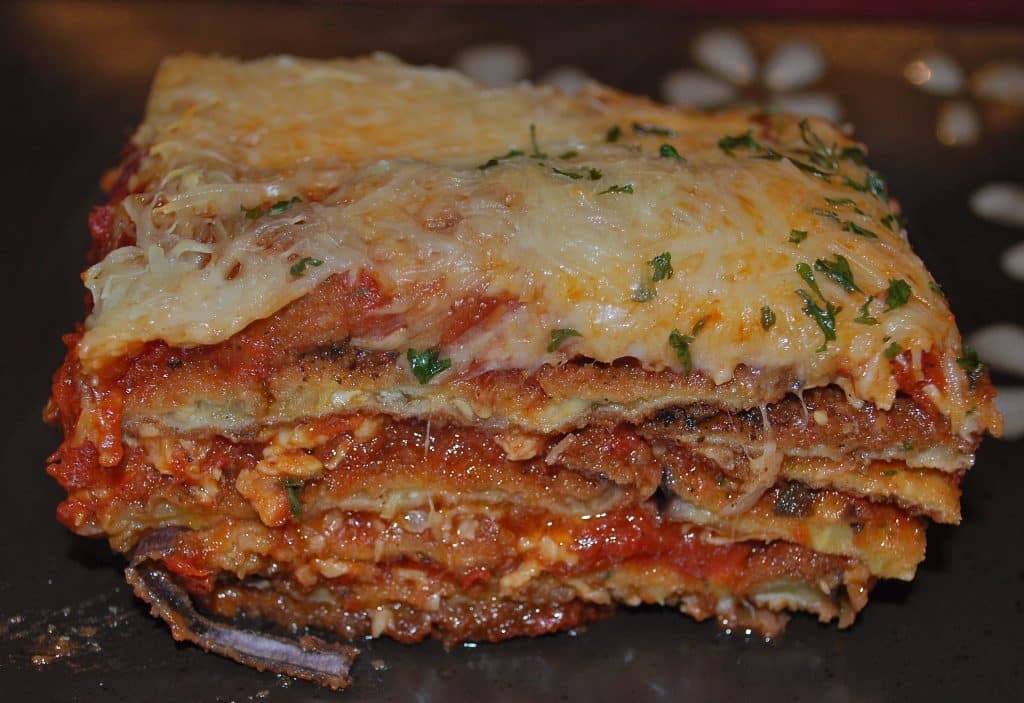 Do you call it Sauce or Gravy?
That is the age-old question!
In my family, it has always been called sauce; whether we add meat to it or not. I even tried to find the answer online but there are still many inconsistencies in theory and opinion.
Based on several Italian menus I looked at online (isn't it amazing how I can be sitting in NJ and look at an authentic Italian menu from the Amalfi Coast and Maremma?), they don't use either of these terms.
Instead, they will use the term Pommodoro for tomato sauce or Ragu for a meat sauce. It is believed that the term "gravy" came from a missed translation ("sugo") by early Italian Americans on the East Coast.
I'm sure some of you are still on the fence so I guess I'll just have to go visit Italy to find out. I'll keep you posted. 🙂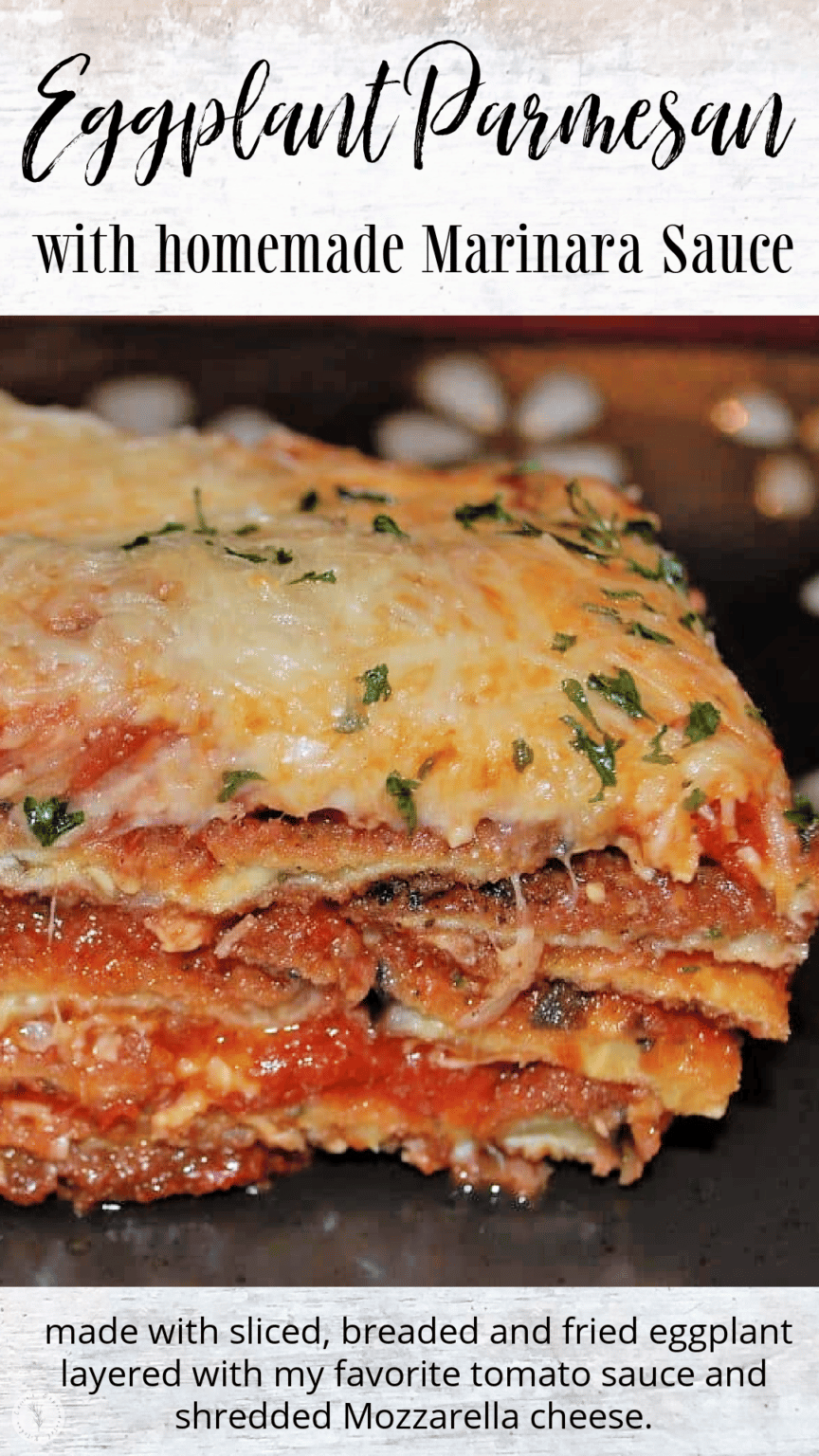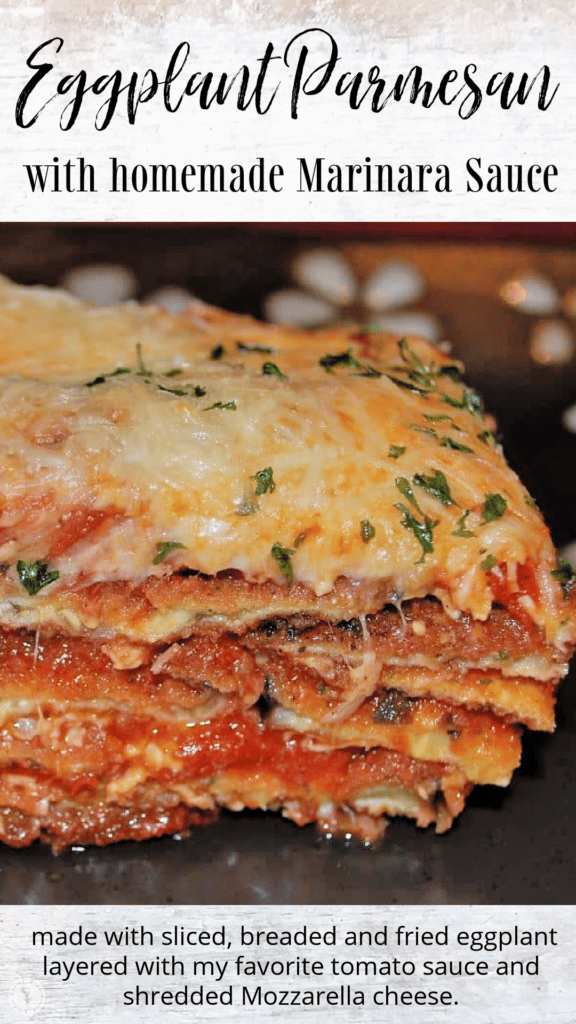 What makes this the best Eggplant Parmesan Recipe?
So, here it is. My infamous Eggplant Parmesan recipe. It's really no big deal, but the trick is to slice the eggplant super thin. One-quarter inch or thinner if possible, by using a very sharp knife or an electric slicer.
Because it does take quite a while to prepare, I usually make extra so that I can freeze any leftovers. It's even better the 2nd time around and if you're like me, nothing taste better than scalding hot Eggplant Parmesan!
Since I do make quite a bit, I also make extra Marinara Sauce. If you don't want to make as much, simply reduce the amount of ingredients below. I also tend to prepare one eggplant at a time then change the oil to do the 2nd eggplant for two reasons.
One, the eggplant will turn brown if you leave it out in the air for too long. Two, towards the end of the first eggplant, the frying oil will have a lot of burned sediment at the bottom of the pan and you don't want that to get mixed in with your eggplant.
Some people will also say that you should cover the cut eggplant with a plate to help draw out the moisture before cooking. I have never done this, and personally don't know if it's good to do or not.
BUT, you do have to work with it quickly; so slice, bread and fry like you're in an assembly line. ~Enjoy!
Sign up for my weekly newsletter
and receive
a FREE eBook!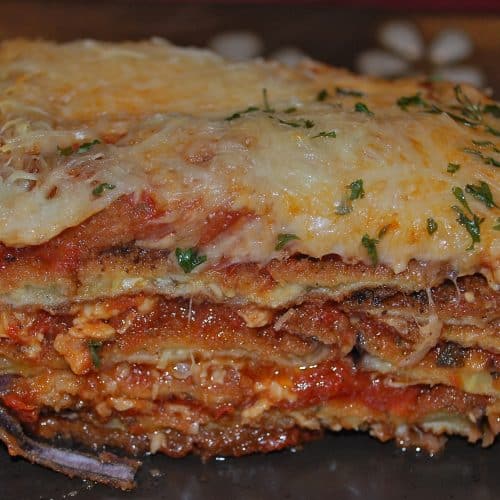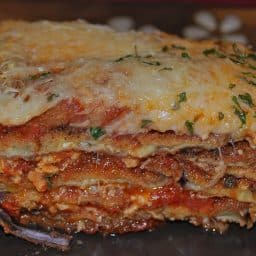 Eggplant Parmesan with Marinara Sauce
Eggplant Parmesan made with sliced, breaded and fried eggplant layered with my favorite tomato sauce and shredded mozzarella cheese is my idea of ultimate comfort food.
Ingredients
For the Eggplant Parmesan
2

Eggplant, sliced thin (I leave the skins on)

4

c.

Italian Breadcrumbs

3

c.

All-Purpose Flour

6

large

Eggs

½

c .

Milk

Canola Oil, for frying

4

c.

Part Skim Finely Shredded Mozzarella Cheese
For the Marinara Sauce
1

tbsp.

EVOO

2-

28(ounce) cans

Crushed Tomatoes

3

cloves

Garlic, minced

2-

6(ounce) cans

Tomato Paste

2

tbsp.

Fresh Basil, chopped

2

tbsp.

Fresh Parsley, chopped

¼

c.

Pecorino Romano Cheese, grated

28

ounces

Water
Instructions
For the Eggplant Parmesan
You will need 3 separate bowls. One for Flour. One for the egg wash (combine the eggs and milk and whisk together. One for Breadcrumbs.

Wash the outside of the eggplant and leaving the skin on, slice it as thin as possible; no larger than ¼". Dip the eggplant rounds first into flour, then egg mixture, then into the breadcrumbs.

Heat approximately 1-2" of oil over medium heat in a large non-stick frying pan. Gradually fry eggplant until it is browned on both sides. Drain the eggplant on either paper towels or brown paper bags to remove as much excess grease as possible.

In a large oven safe baking dish (13x9), coat the bottom with a thin layer of the marinara sauce. Next, add the fried eggplant, top with sauce and cover with some of the shredded cheese. Repeat layering until all of the eggplant is gone; usually 2-3 layers. (You should have some excess sauce left.)

Place the casserole dish in the oven and bake at 350°F for approximately 30 minutes or until cheese is bubbling and lightly browned.
For the Marinara Sauce
In a medium saucepan, heat oil over medium heat and add garlic, basil and parsley. 

Sauté until garlic starts to get lightly browned; then add crushed tomatoes, tomato paste, cheese and water. Let simmer for 1 hour; stirring occasionally.  Makes 7 cups

Visit the

recipe index

to search for more recipes by category.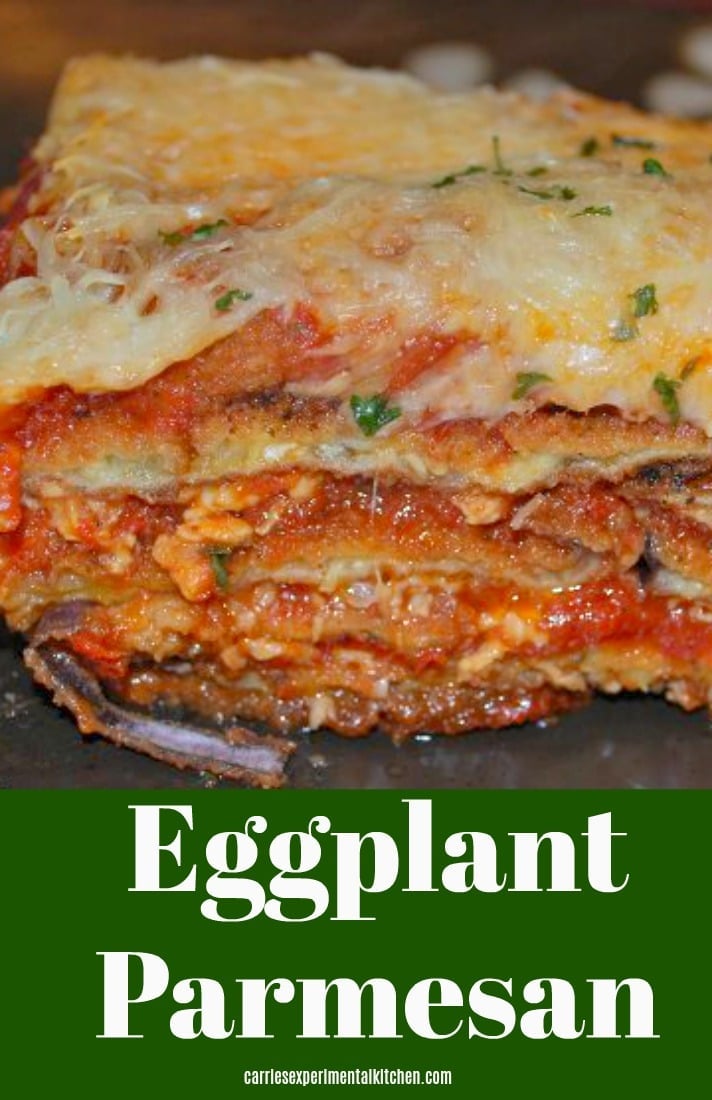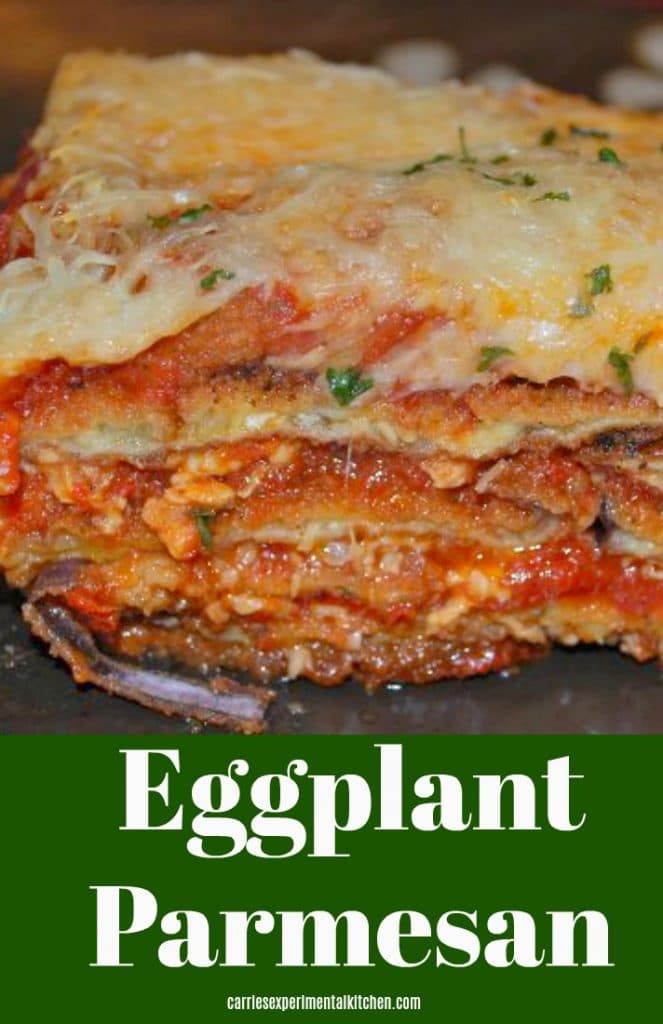 Related Recipes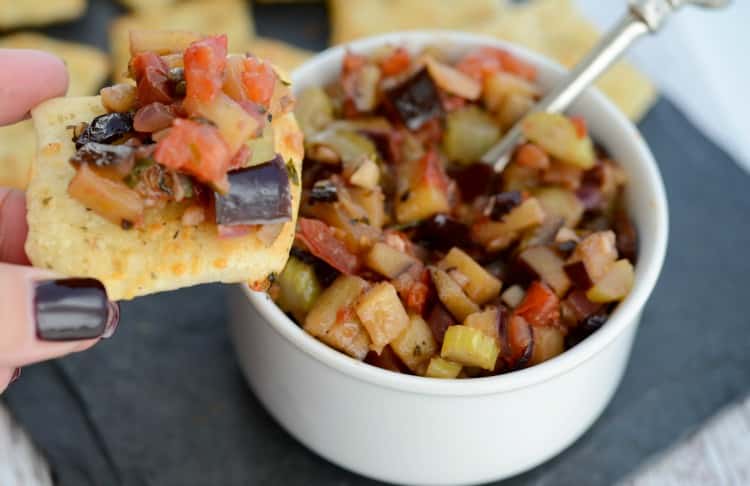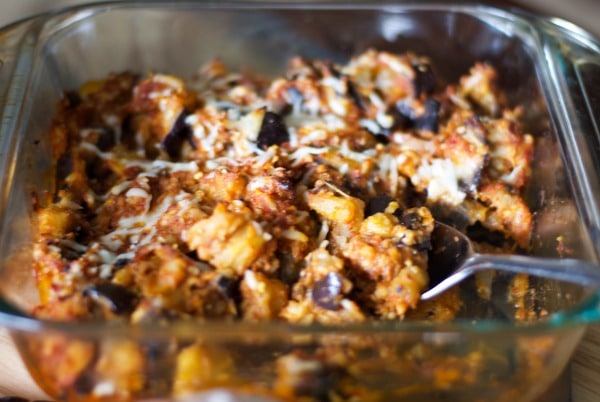 Connect with me on Social Media