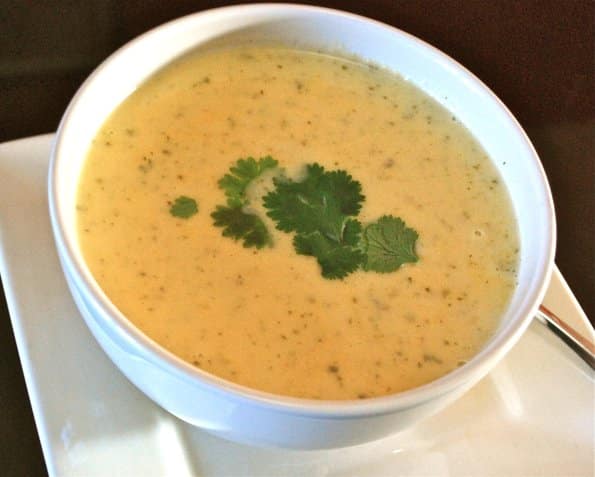 I had seen a recipe in passing for Beer Cheese Soup and thought it sounded interesting, but I'm not a huge beer drinker/fan so I chalked it up to "if the need presents itself" category and locked it away in the depths of my brain. That is, until this past weekend, when we had an entire package of shredded Mexican cheese left over from a function at school and I was told to take it home. I figured, why not, I'll find something to make with it.
So before it went bad, I decided that I'd make Beer Cheese Soup with it. The original recipes I found were fairly simple and called for beer, broth, cheese and heavy cream. Since I had this Mexican blend shredded cheese, I wanted to give it a little twist and what goes better with Mexican food than a nice cold Corona with lime (so says the hubby). And you can't have lime without cilantro, right? (Well, at least I think it goes perfect together!). I even lightened it up by using 2% milk instead of heavy cream since I'm trying to shed that extra holiday weight gain and it was so flavorful, I don't think you'd even miss the cream!
Mexican Beer Cheese Soup
1/4 c. Spanish Onion, chopped
1 Stalk Celery, chopped
1 tbsp. Butter
2 tbsp. All-Purpose Flour
1-12oz. Bottle Corona Extra Beer
2 c. 2% Milk
1 Lime, zest and juice
10oz. Shredded Mexican Cheese Blend (Mild Cheddar, Monterey Jack, Queso Quesadilla & Asadero Cheeses)
2 c.  Low-Sodium Chicken Broth
1 tbsp. Fresh Cilantro, chopped + some for garnish
2 tbsp. Cold Water
2 tbsp. Cornstarch
In a saucepan, melt butter and add onion and celery. Saute for approximately 5 minutes, then add flour to form a roux. Gradually add the bottle of beer and mix well. Add the chicken broth and cilantro and bring to a boil. While this is cooking, heat the milk, lime zest and juice and cheese together over low heat until the cheese has melted. Once melted, add to the soup mixture and reduce heat to low and simmer for 15 minutes. Use your immersion blender* to blend all of the ingredients together. If it looks too "loose" and not creamy enough, simply mix together cornstarch & cold water to help thicken it to your liking. Garnish with fresh cilantro. Makes 8 cups.
*If you do not have an immersion blender, simply pour the mixture into a regular blender and puree until smooth. Just be very careful not to fill it too much to the top as it will be extremely hot and you don't want to pop the lid off of your blender!
Enjoy!