These Pumpkin & Brie Mini Quiche are delicious and so easy to make. Use a mini muffin tin to create individual appetizers for your holiday gathering.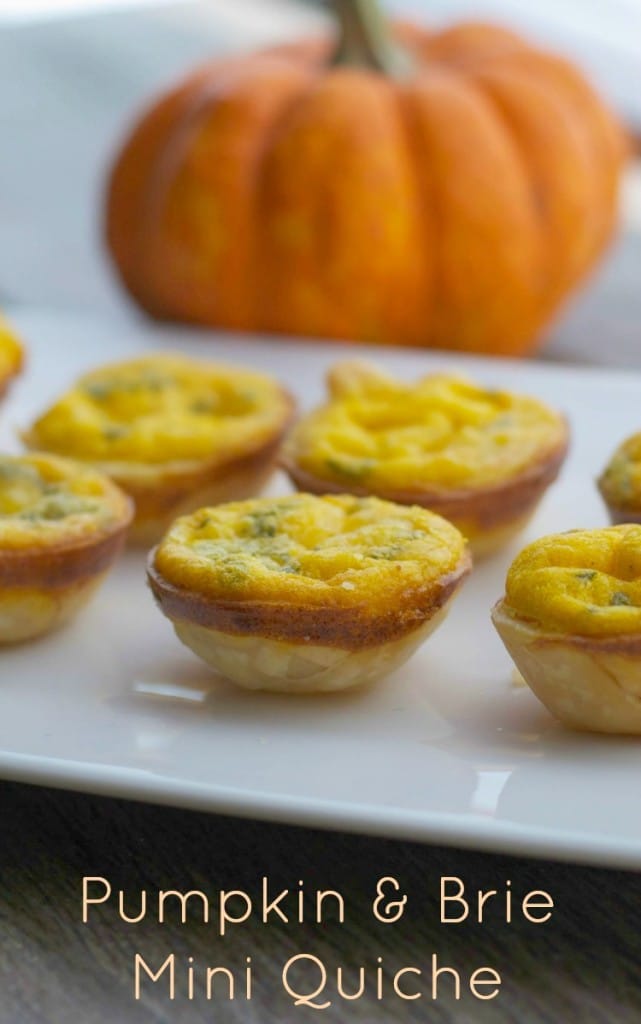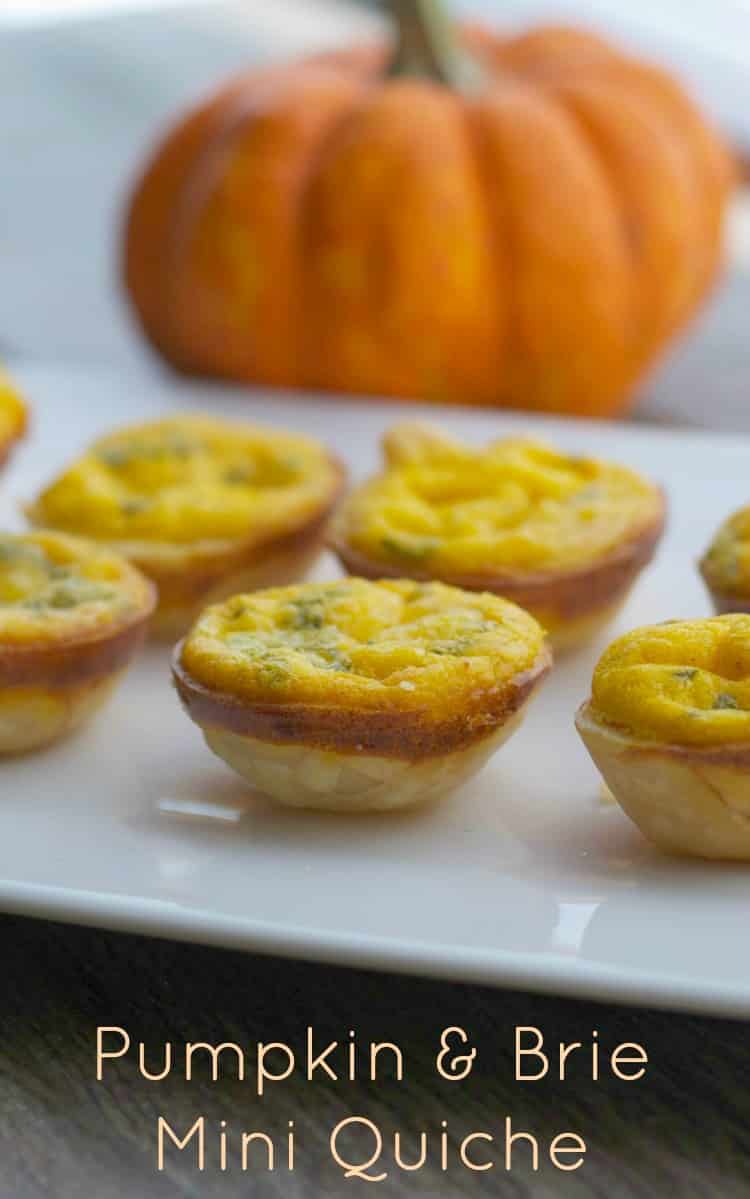 It's only 29 days until my favorite holiday…Thanksgiving! I know. It's not even Halloween yet, but if you haven't figured it out by now, I'm a huge planner. I love Thanksgiving. The smell of turkey roasting in the oven. The parade Thanksgiving morning. The pumpkin…usually my only excuse to eat pumpkin pie during the year since no one really likes it except for my oldest daughter and I!
Try making these Pumpkin & Brie Mini Quiche appetizer for Thanksgiving. Click To Tweet
I really like to try new things for holidays; however, my extended family crave the old favorites. So though I may make one or two new things for them to try this year, I decided that my daily "guinea pigs" (a.k.a. my hubby, kids and some close friends) will get to try my new experiments a little early this year.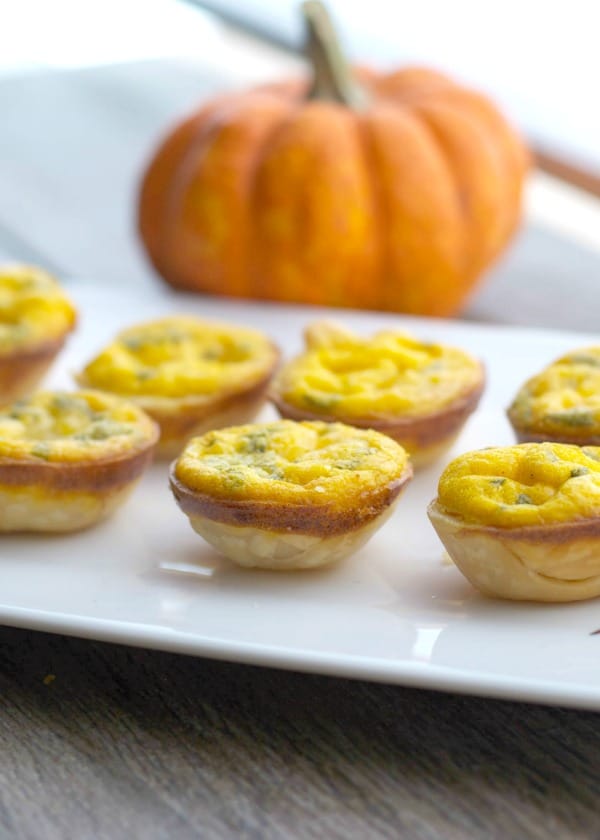 That way, YOU all get some new recipes to make for your dinner table and I get to enjoy my Thanksgiving without having to photograph anything new the day of so I can devote my energy towards my guests.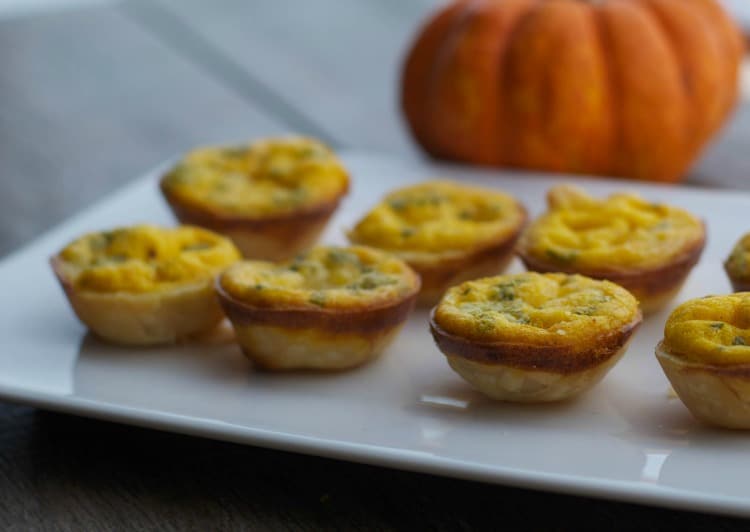 Over the next two weeks, I'll be posting some great new additions you can make for your family this Thanksgiving and to start you off, I made these Pumpkin & Brie Mini Quiche. These were fantastic and would make a wonderful appetizer.
If you want to prepare these ahead of time, bake them the day or night before, allow them to cool, and refrigerate them; then place them on a baking sheet and heat them in a 350-degree F oven the next day for about 5-10 minutes right before you're ready to serve them.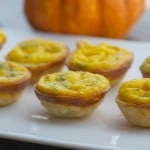 Pumpkin & Brie Mini Quiche
Ingredients
1

Refrigerated Pie Crust

3

Large Eggs

3/4

c.

Heavy Cream

1/4

c.

Pumpkin Puree

2

tsp.

Fresh Sage, chopped

1

tbsp.

Grated Pecorino Romano Cheese

2

oz.

Brie, white rind removed and cut into 24 small cubes

Cooking Spray
Instructions
Preheat oven to 350 degrees.

Gently roll out the dough so that it's uniform in thickness; then cut out small circles using a shot glass or small mouthed glass (you want to make sure it fits in a nonstick mini muffin tin). You may need to do re-roll the dough several times.

Spray a nonstick mini muffin tin generously with cooking spray and place each circle in each section of a and press down along the bottom and sides. (I use my mini tart shaper from Pampered Chef).

In a medium sized bowl, whisk together the eggs, heavy cream, pumpkin, sage and Pecorino Romano Cheese.

Add a small piece of Brie to each shell in the mini muffin tin; then add the egg mixture on top until it reaches the top of each muffin tin. (I found it easier to add the egg mixture to a measuring cup and pour it in that way).

Place the muffin tin in the oven and bake 15-20 minutes or until the egg mixture puffs up and is lightly brown. Remove from oven and serve while hot. If needed, use a plastic knife to help loosen the quiche from the pan.