This Pumpkin & Sage Risotto is the quintessential fall dish with wonderful flavors and lucky for us, it also has less than 5 ingredients!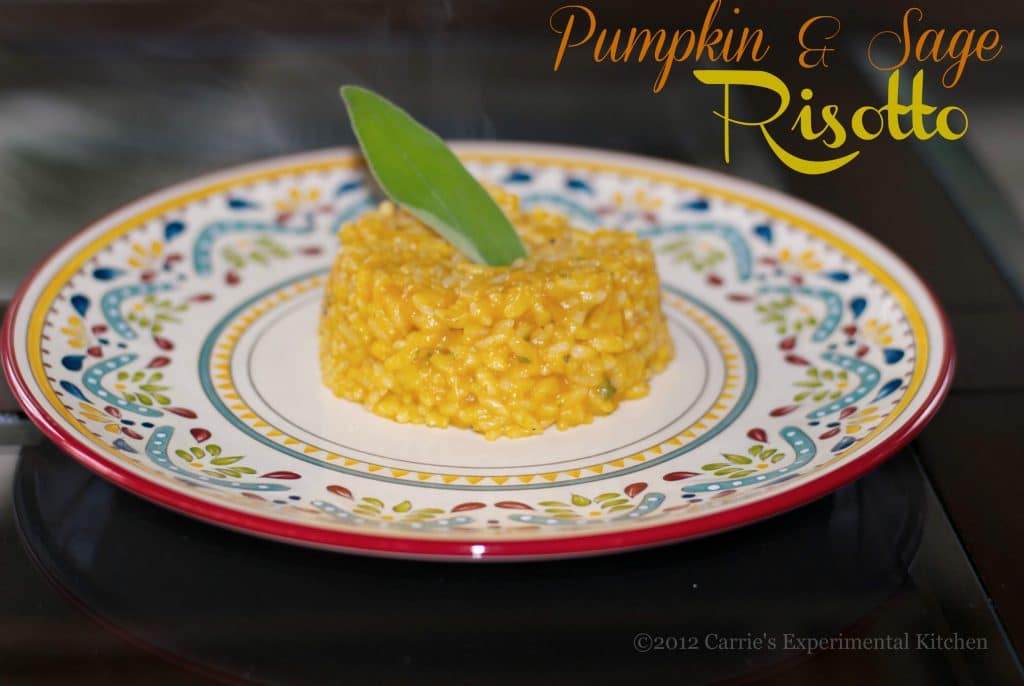 I made this recipe special to share this week as I wasn't sure if my family would like it, but when Rachael came home from school and saw the container in the refrigerator, she couldn't wait to try it (and then proceeded to eat half the container for dinner so I guess it was a hit). Risotto's are so easy to make and would make a great side dish on your Thanksgiving table.
Pumpkin & Sage Risotto
1 tbsp. Butter
1 c. Arborio Rice
4 c. Vegetable Broth
1/2 c. Pumpkin Puree
1 tbsp. Sage
Salt and Pepper, to tasteDirections:
1. In a large, non-stick saute pan, melt the butter and add in the rice.
2. Stir until the rice turns slightly brown, then add 1 cup of the vegetable broth.
3. Allow the liquid to evaporate, then add the remaining broth 1 cup at a time, allowing the liquid to evaporate after each addition.
4. When the last cup of liquid has almost evaporated, stir in the pumpkin and sage; mix well. Makes 5-1/2 cup servings.

*Nutritional Information: Calories 113 , Carbs 25.5g, Fat 0g, Protein 2.1g, Fiber 1.1g, Sugar 2.2g
*Calculations based on ingredients entered into CalorieCount and may not be 100% accurate.
Click here for more
SIDES
!Enjoy!
Thanksgiving Tip
Plan out your menu in advance and keep it posted on the refrigerator until the big day. I like to do this at least 1-2 weeks ahead of time so that I can gradually purchase any specialty pantry items I may need. As you prepare items that can be made ahead of time, cross it off of your list.  It is also a good idea to go through each recipe to make sure you have a complete shopping list. And then, if your neurotic like me, you'll re-write the list so that all like items are together. 🙂 I don't know how many times I've had to send my husband to the store the morning of a holiday because I forgot something.