Italian Sausage, Spinach & Mushroom Lasagna in a creamy Parmigiano Reggiano Cream Sauce baked in Chinet disposable bakeware.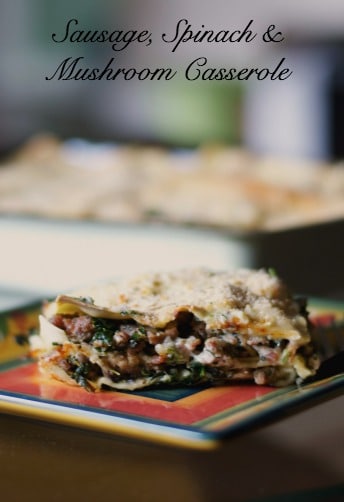 A couple of weeks ago, Chinet® contacted me to see if I would be interested in reviewing one of their new products...a disposable bakeware line called Chinet Bakeware®.
I was THRILLED to say the least because I am already a HUGE fan of Chinet® paper products and only buy their plates when serving on disposable dishes for parties, especially because I owned light colored couches!
The day they arrived I was so excited. I opened the box to find one set of each size along with wonderful packaging, clear instructions, neutral green colors and sturdy disposable bakeware with lids.
They were beautiful and are perfect to take along to a party without having to worry about getting your dish back! I couldn't wait to get started to see how this paper product was going to hold up in an oven so I decided to make a lasagna for dinner.
How do you make Sausage, Spinach and Mushroom Lasagna?
I didn't have any marinara sauce in the freezer so I opted to make a cream sauce. I didn't want all of the added calories of heavy cream, especially since I was using sausage, so I used 2% milk, then thickened it up with a roux.
As for the cheese, I used shredded (since hubby went shopping and couldn't resist the block of fresh grated Parmigiano Reggiano cheese), but you can use grated as well.
The lasagna was incredible, but very rich and had a robust flavor so a small piece with a tossed salad was perfect for dinner.
As far as the pan...AWESOME! Even after taking it out of the oven the outside wasn't extremely hot to touch, but was steamy and hot on the inside. I would definitely purchase this product, especially now that picnic season is underway.
About Chinet Bakeware
Here is a little information about the bakeware directly from their website. Introducing Chinet Bakeware® baking pans.
The first disposable baking dishes that let you take your food from oven to table to freezer to microwave, all in one attractive, non-stick pan.
And because it's from the Chinet brand, strength and stability are built in. Bakeware is designed to be sturdy and dependable no matter what you've got cooked up.
Not only does it look good, but you can leave it behind without worrying about losing your favorite permanent pan. Made in the USA of 90% recycled material, Chinet Bakeware is finally an idea in disposable bakeware that isn't half-baked."
They come in four convenient sizes in sets of two including the pan and clear plastic lids: Square 8"x8", Rectangular 9"x13", Oval 7"x11" and Oval 7 ¼" x 9 ¼" (just don't put the lid in the oven!)
VISIT THE

RECIPE INDEX

TO SEARCH FOR MORE RECIPES BY CATEGORY.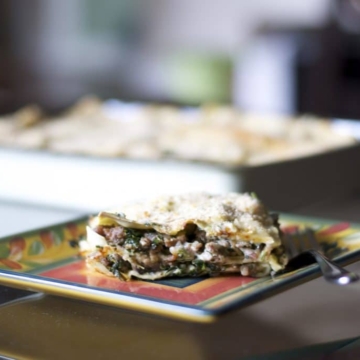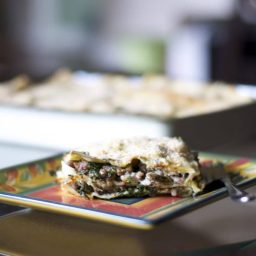 Sausage, Spinach & Mushroom Lasagna with a Parmigiano Reggiano Cream Sauce
Italian Sausage, Spinach & Mushroom Lasagna in a creamy Parmigiano Reggiano Cream Sauce baked in Chinet disposable bakeware. 
Ingredients
For the Lasagna
1

box

No Boil Lasagna Sheets

(15)

8

links

Sweet Italian Sausage,

casings removed

2

cloves

Garlic,

minced

10

oz.

Sliced White Mushrooms

10

oz.

Frozen Chopped Spinach,

defrosted and drained

Prepared Parmigiano Reggiano Cream Sauce

1

c.

Shredded Mozzarella Cheese
Instructions
For the Lasagna
In a large saute pan, add the sausage, break apart and cook until there is no more pink.

Next, add the garlic, spinach and mushrooms and saute until the mushrooms start to soften. Set aside.

Using the 9"x13" disposable Chinet Bakeware®, ladle a thin layer of sauce on the bottom; then add 5 lasagna sheets. Top with half of the sausage mixture; then add some of the sauce to the top of the sausage and sprinkle ½ cup of the mozzarella cheese.

Place another layer of lasagna sheets, the remaining sausage mixture and remaining mozzarella cheese. Top with the last 5 lasagna sheets, pour remaining sauce over the top then sprinkle the breadcrumbs over the sauce.

Bake at 350 degrees F for 30 minutes or until the top is lightly browned and bubbly.
For the Sauce
In a medium saucepan, melt butter; then whisk in flour forming a roux. Add the milk and whisk until smooth.

Add the cheese, salt, pepper and nutmeg and stir until the cheese melts and sauce thickens; approximately 10 minutes. Makes 4 cups.
Related Recipes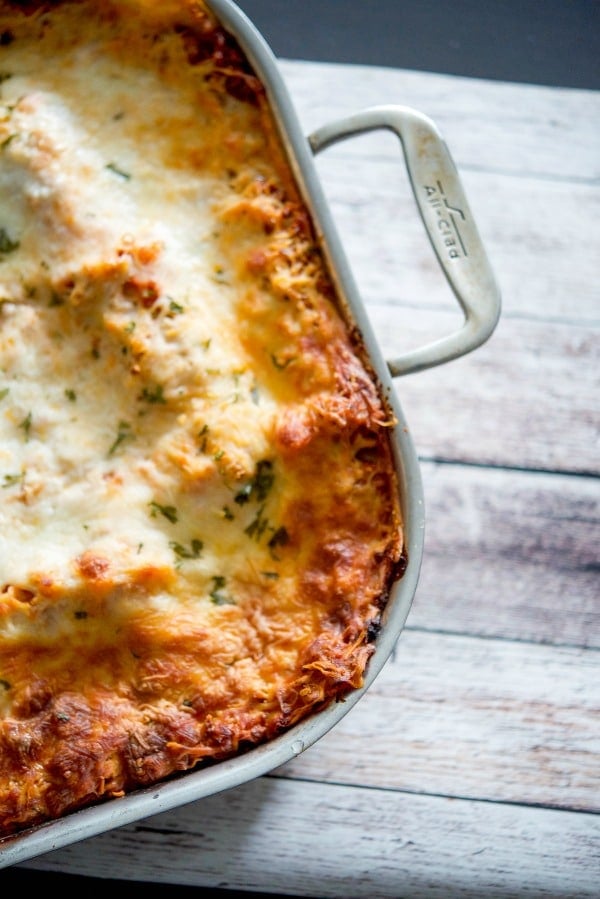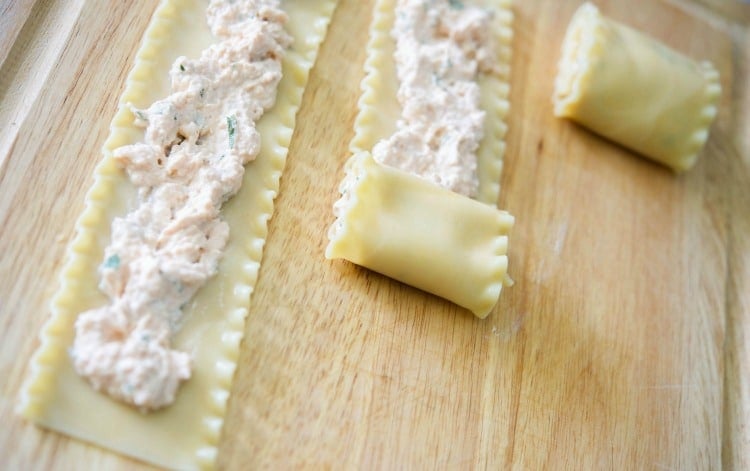 Buffalo Chicken Lasagna Roll Ups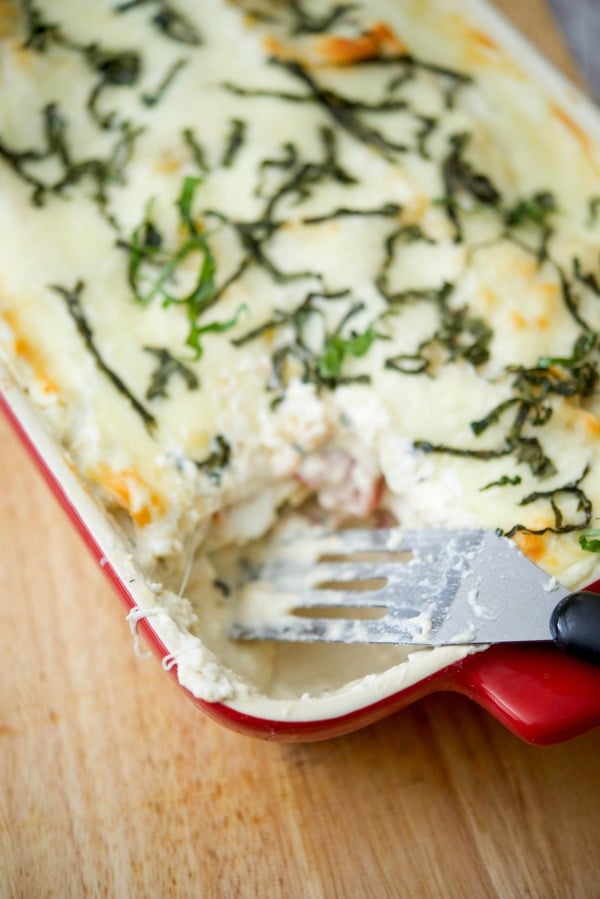 SIGN UP FOR MY WEEKLY NEWSLETTER
A
ND RECEIVE
A FREE EBOOK!