Turn a classic restaurant dish into your new favorite casserole with this cheesy, Chicken Francaise Lasagna with a lemon white wine sauce.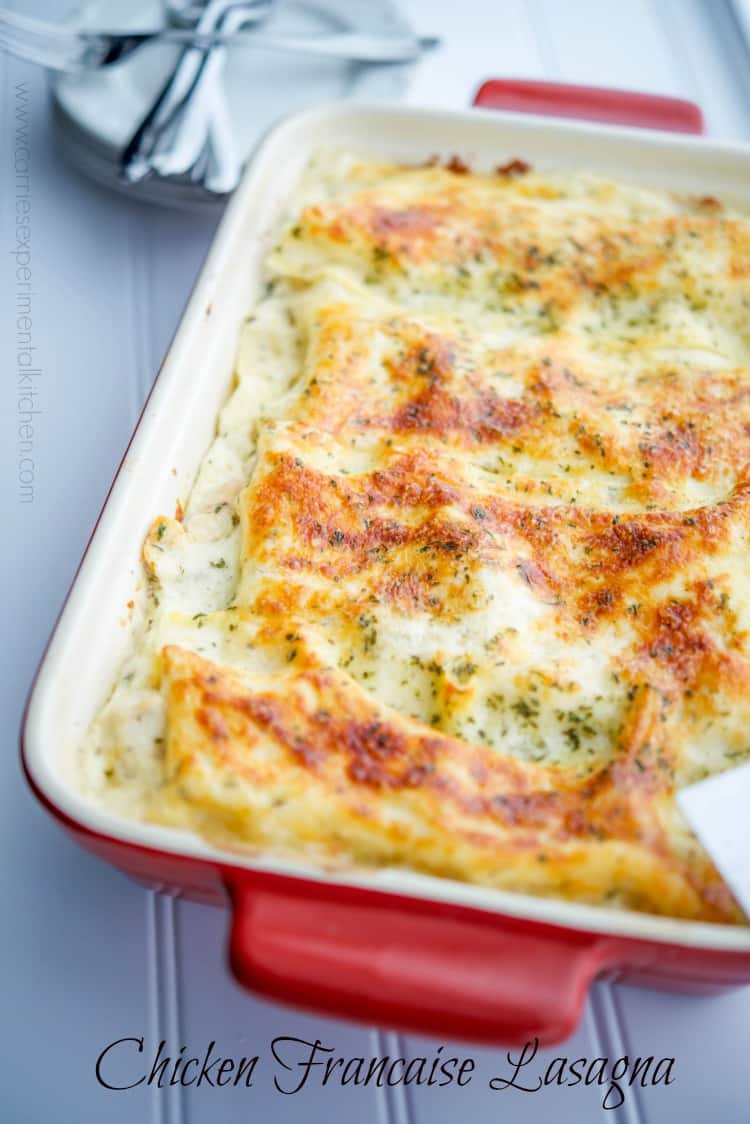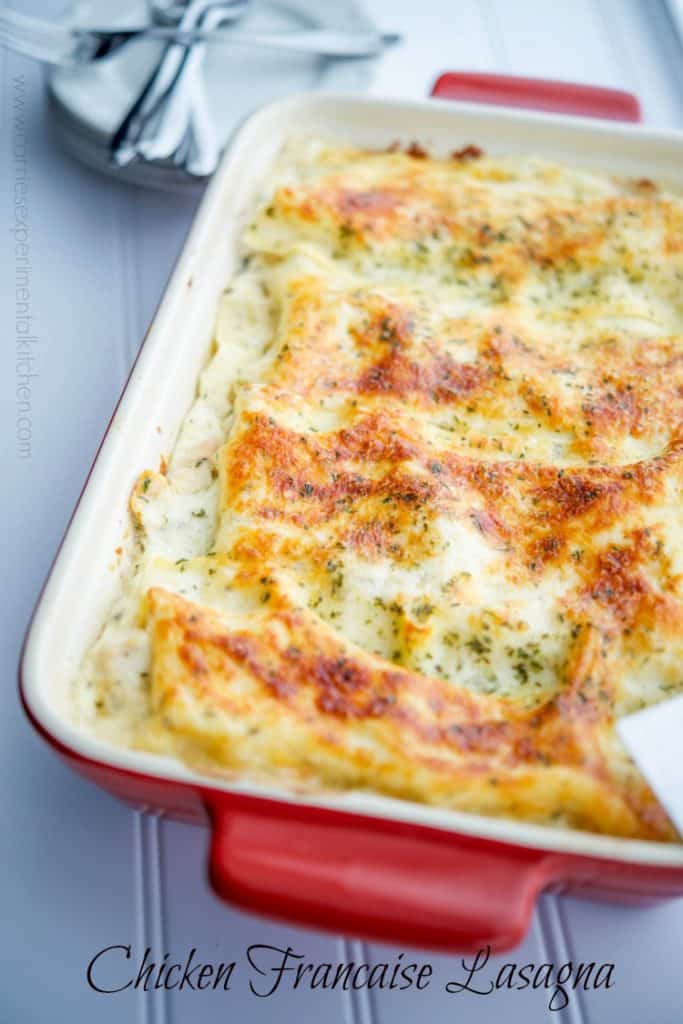 One of my family's favorite meals is Chicken Francaise and I tend to make it quite often for family gatherings and birthday dinners. It's especially popular amongst my nieces and nephews and they request it often.
So I decided to experiment with a new way to enjoy the lemony flavor we all know and love and came up with this Chicken Francaise Lasagna.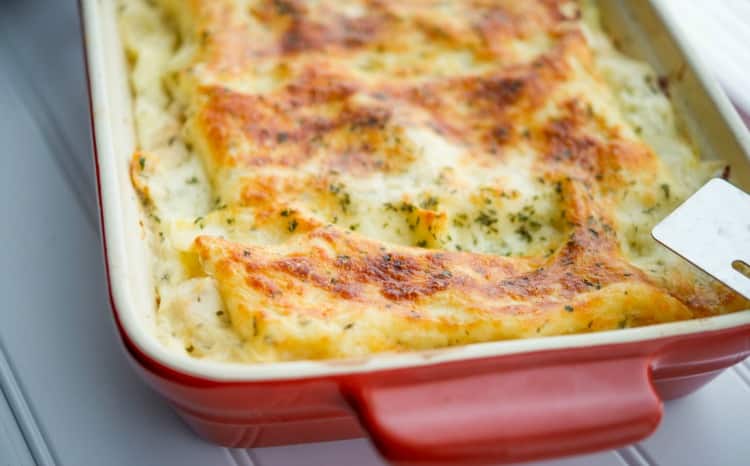 Honestly, I don't know why I didn't think of making it this way sooner. Chicken Francaise in a casserole form...one of my best ideas yet! It was pretty easy to assemble; especially since I used the oven ready lasagna sheets.
However, my husband who thought this was a fantastic recipe, did say he probably would have liked it even more if I had the traditional lasagna noodles.
I guess because they tend to be a bit thicker. But since I'm always trying to shave off prep time in the kitchen here at CEK I opted for the oven ready variety and this meal was ready for the oven in about 20 minutes.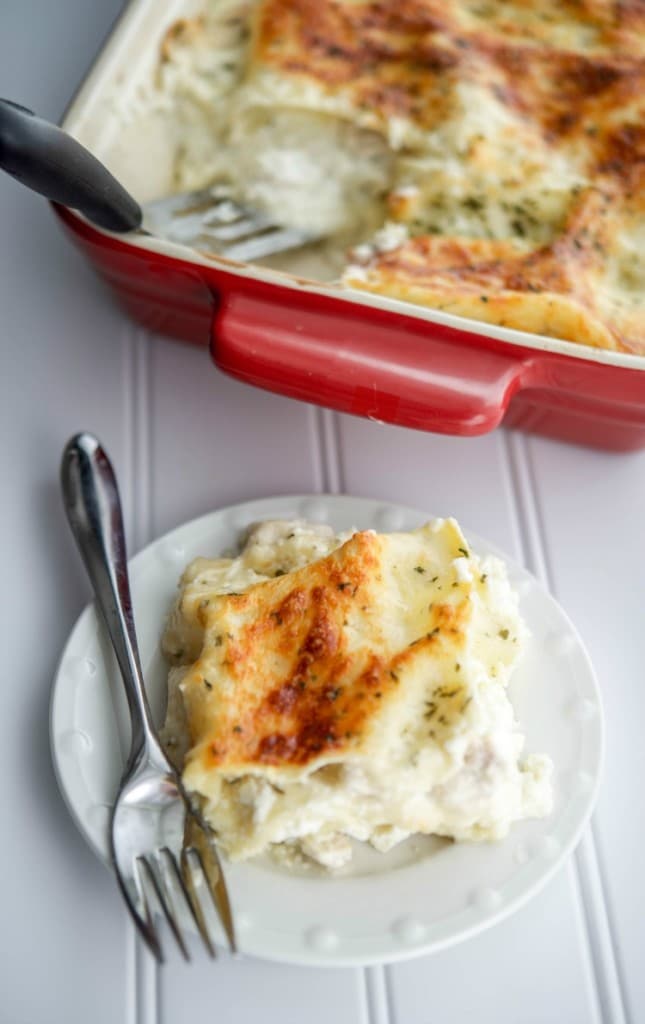 What kind of chicken should you use for this recipe?
For this recipe you can use any type of already cooked, white meat chicken. Since I didn't have any prepared, I boiled boneless, skinless chicken breasts for about 10 minutes until they were cooked through before dicing.
If you need to do the same, add on the additional prep time or just go buy an inexpensive rotisserie chicken at your grocery store and use that to save some time.
What steps do you take to make chicken francaise lasagna?
Cook the Pasta - If you're using traditional lasagna sheets vs. oven ready, prepare these according to package directions; drain and set aside.
Assemble the Cheese Mixture - Combine ricotta and mozzarella cheeses, egg, parsley and fresh lemon zest together in a bowl.
Make the Sauce - Melt butter; then whisk in flour to form a roux. Add lemon juice, white wine and chicken stock until it starts to thicken; then add the diced, cooked chicken.
Assemble the Lasagna - Layer the lasagna noodles, cheese mixture and sauce. Place in the oven and bake for about 45 minutes until bubbly and golden brown.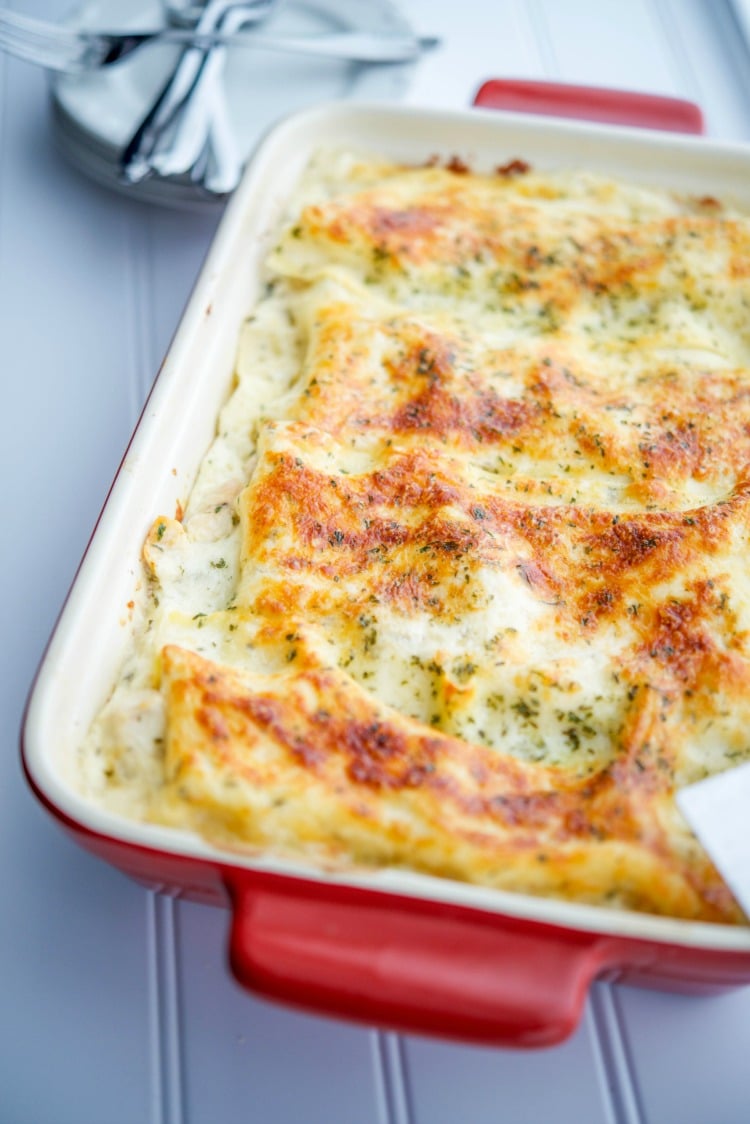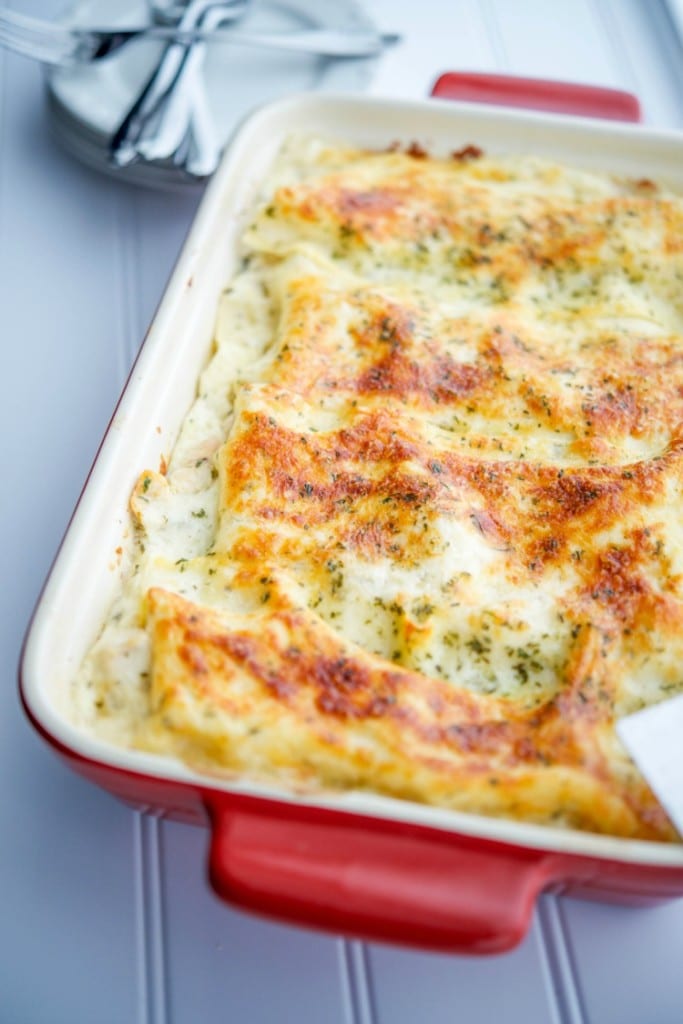 This Chicken Francaise Lasagna was oozing with lemony, cheesy goodness and it's definitely going to reappear in my kitchen again over the coming months.
It was enough to serve 8-10 moderate sized pieces, but if you're serving it for a crowd along with other buffet items, you can cut the pieces smaller and get about 12-14 servings out of it.
Speaking of serving for a crowd, you can also prepare this, freeze it; then defrost and bake when you're ready to eat. However, you may want to double the sauce recipe since it will soak into the noodles and may be a little dryer. ~Enjoy!
SIGN UP FOR MY WEEKLY NEWSLETTER
AND RECEIVE
A FREE EBOOK!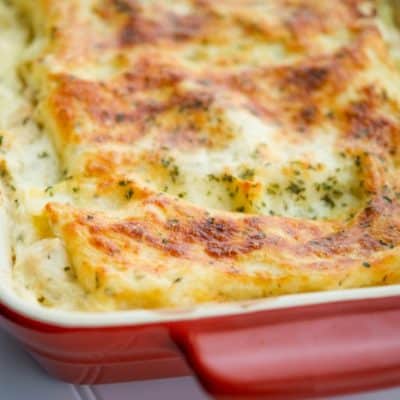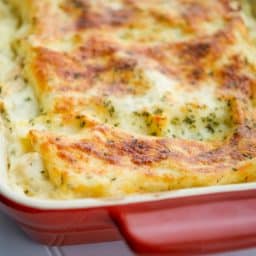 Chicken Francaise Lasagna
Turn a classic restaurant favorite dish into a new favorite casserole with this cheesy, Chicken Francaise Lasagna.
Ingredients
1

box

Lasagna Sheets,

oven ready or traditional

1

lb.

Ricotta Cheese

2

c.

Shredded Mozzarella Cheese,

divided

1

large

Egg

1

tsp.

Parsley

1

tsp.

Garlic Powder

1

tbsp.

Lemon Zest

2

tbsp.

Butter

4

tbsp.

All-Purpose Flour

1

tbsp.

Lemon Juice

½

c.

White Wine

1 ½

c.

Chicken Stock

2

c.

Cooked and Diced Boneless Skinless Chicken Breasts,
Instructions
Preheat oven to 350 degrees F.

If using traditional lasagna sheets, cook them according to package directions. Drain and set aside.

In a medium bowl, combine the ricotta cheese, 1 cup of the mozzarella cheese, egg, parsley, garlic powder and lemon zest. Set aside.

Next, melt the butter In a medium saucepan over medium heat; then whisk in the flour to form a roux. Add the lemon juice, wine and chicken stock and bring to a boil. Allow to cook 5-6 minutes until the sauce thickens; then add the diced chicken.

Now it's time to assemble the lasagna. Add some sauce to the bottom of a 13"x9" baking pan. Just enough to cover the bottom; then cover with 3-4 lasagna noodles.

Next, spread half of the cheese mixture over the noodles; then ladle the sauce on top. Repeat layering with the noodles, cheese and sauce. For the top layer, add the noodles, any remaining sauce and sprinkle the remaining 1 cup of mozzarella cheese on top.

Bake for 45 minutes or until bubbly and golden brown.
Notes
If you don't have any prepared cooked chicken, boil the chicken breasts in water for about 10 minutes until they're cooked through before dicing.

Related Recipes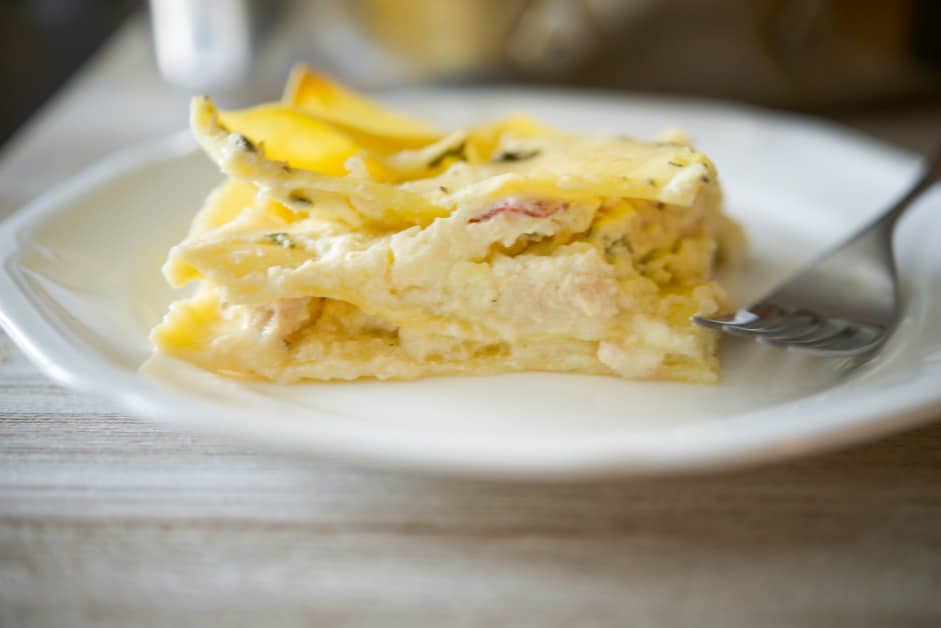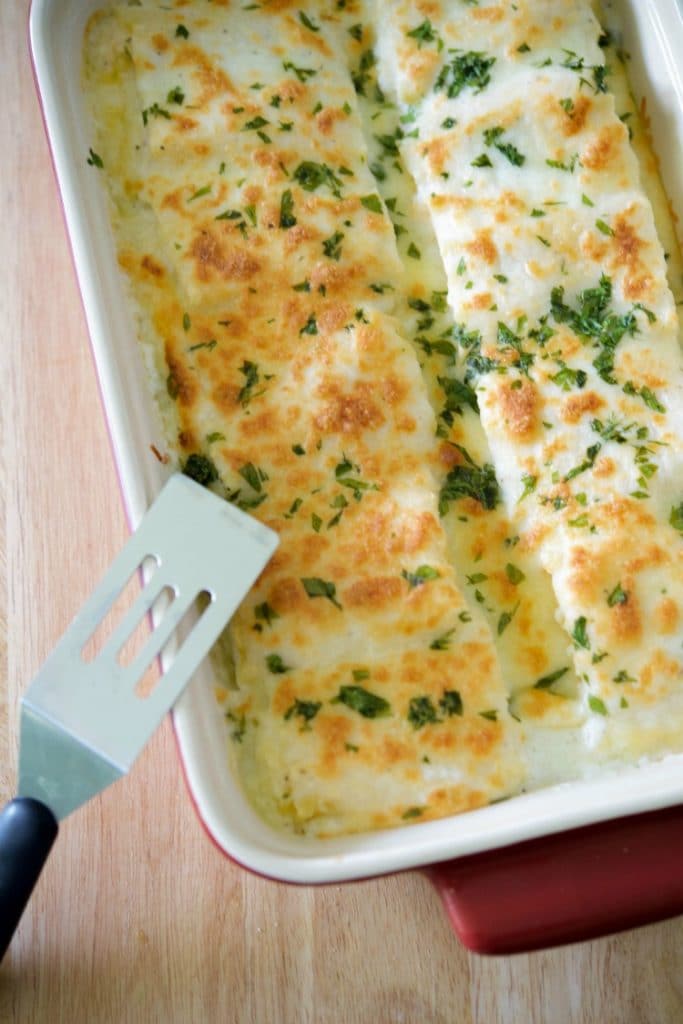 Buffalo Chicken Lasagna Roll Ups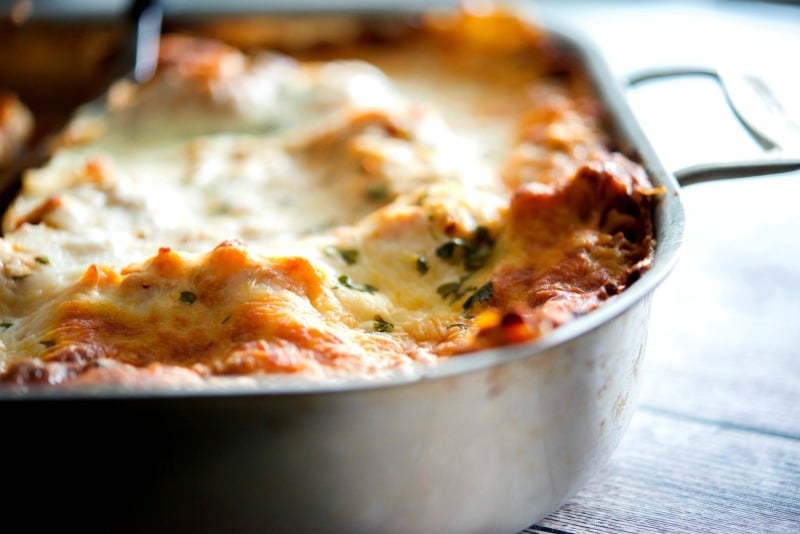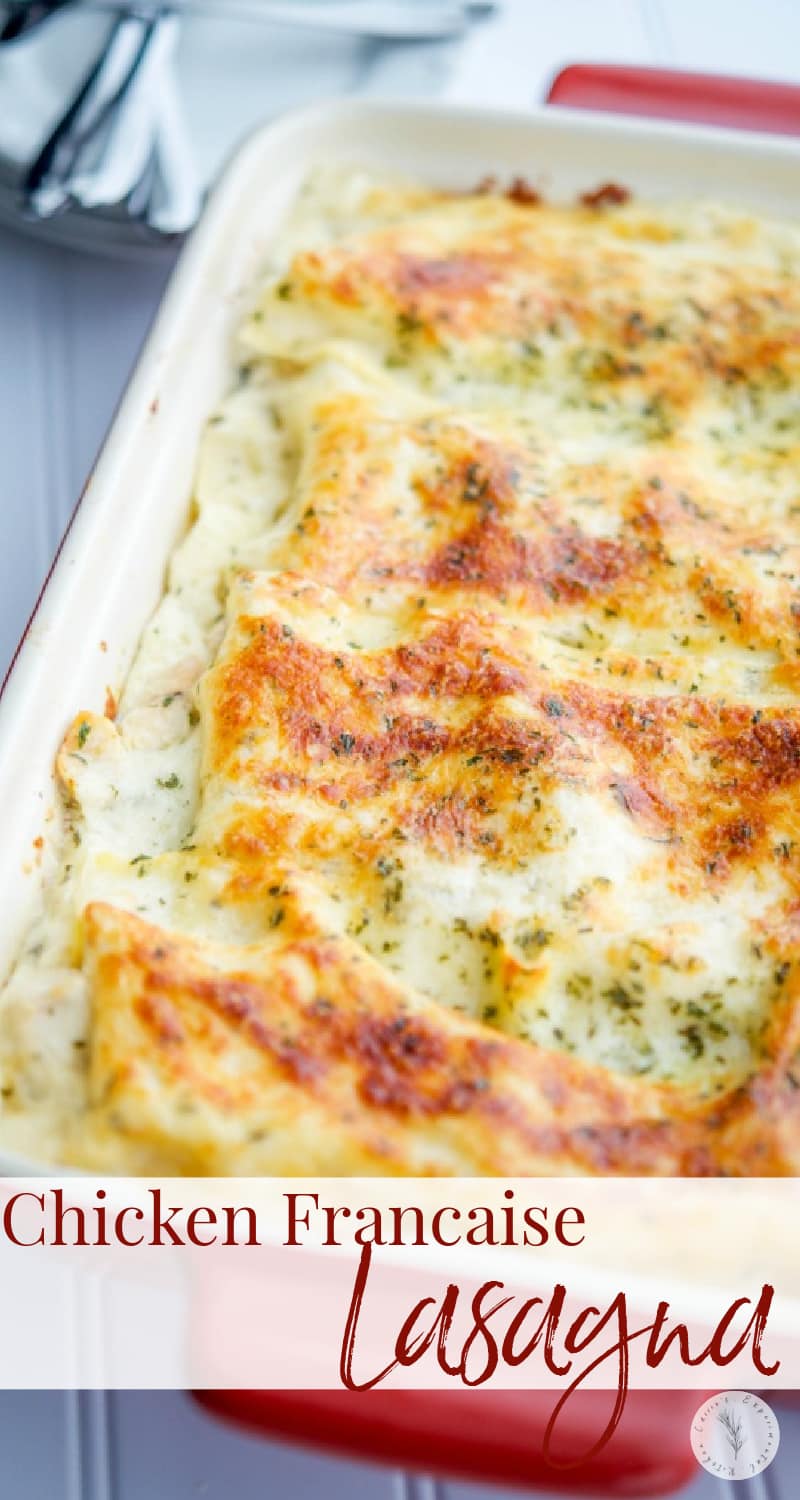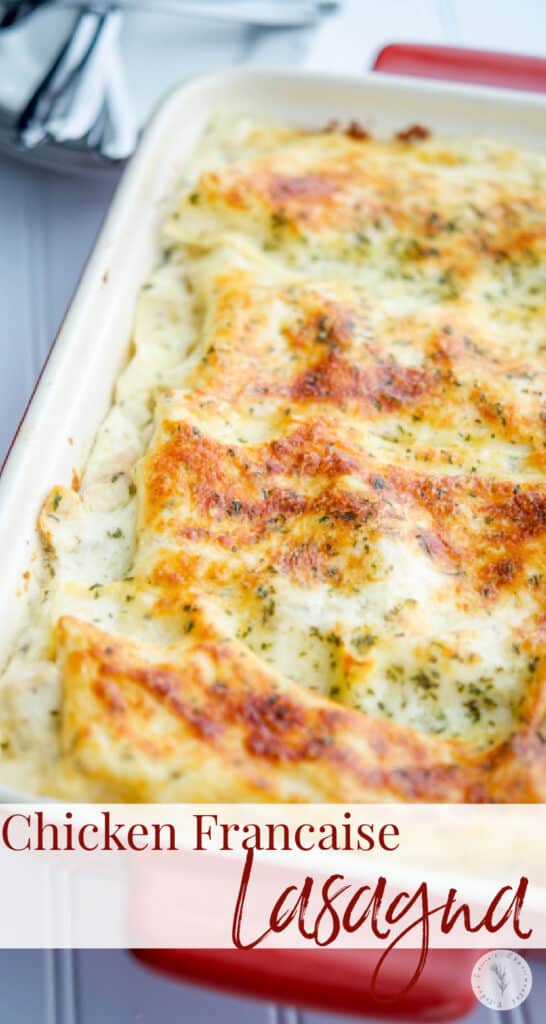 CONNECT WITH ME ON SOCIAL MEDIA