Looking for a new appetizer with a lot of heat to try at your next party? Then these Spicy Mozzarella Stuffed Meatballs made with Garlic Head BBQ Sauce are for you!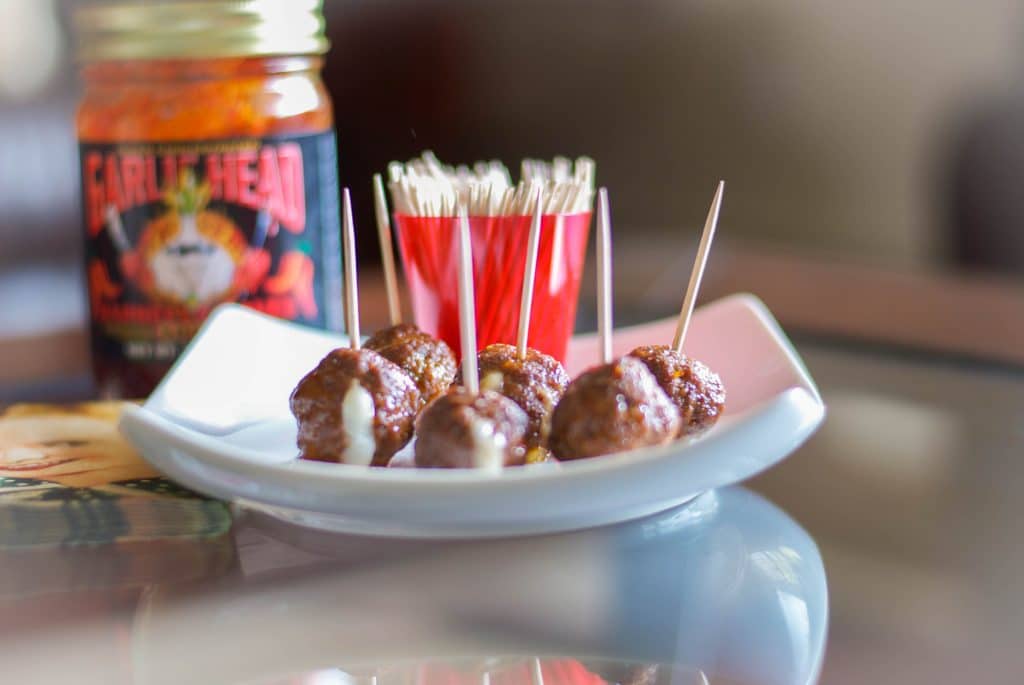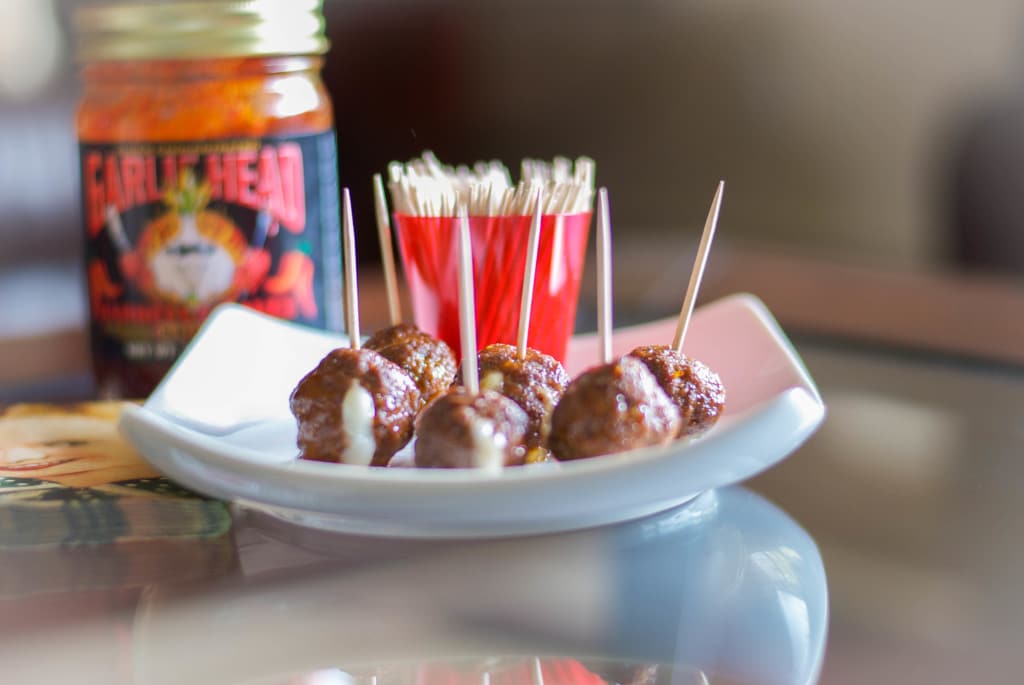 If you remember, the kind folks at Garlic Head had sent me their regular sauce a few months ago along with this spicy version. I'm not a huge fan of spicy so I was waiting until I could experiment on a larger crowd than my immediate family.
My girlfriend, who just turned the big 4-0, was having a big birthday bash and I offered to bring something. Fast forward to the day of the party and I was unexpectedly out most of the day so my wheels were churning as to what I had at home that I could bring…Yes, it is sad that I have a mental picture in my head of all currently stocked food items in my house. I'm telling you, I have a photographic memory when it comes to that stuff, but ask me what I did yesterday and I'm at a loss! 🙂
Anyway, I knew I had some string cheese and ground beef and thought bite-sized meatballs would be a quick, easy appetizer idea and I was right. It took no time to prepare at all. In fact, I made the meatballs and placed them on the tray, then refrigerated them until right before I left so that they were hot when I arrived. I actually made two batches of this recipe (approx. 80 meatballs) and the last time I looked there were 3 left, so I'm guessing they were a hit! They were especially favored amongst the male guests and everyone loved how the cheese was stuffed inside like a unexpected surprise.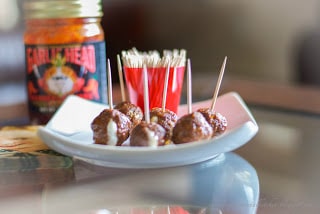 Spicy Mozzarella Stuffed Meatballs
1 lb. Ground Beef
1/2 c. Garlic Head Spicy BBQ Sauce
1/4 c. Italian Seasoned Breadcrumbs
3 – 2% Mozzarella String Cheese, cut into 14 slices
Parchment Paper
In a bowl, mix the beef, bbq sauce and breadcrumbs until well blended. Form a small, bite-sized meatball and place one slice of cheese into the center, forming the meat around the cheese. Place on a baking sheet lined with parchment paper and bake at 425 for 10-12 minutes. Makes approximately 42 meatballs.
Enjoy!