Prime rib roast or otherwise known as a standing rib roast, is so simple to make at home and is a special treat for holiday gatherings.
Making a Standing Rib Roast, or otherwise known as prime rib, is a lot easier than you may think. Simply coat with your favorite herbs and seasonings, place in a roasting pan with liquid on the bottom; then wait for a few hours for it to be cooked to your liking.
When I was younger (around 18 or so), and started going out to restaurants on dates, prime rib was my go-to meal. We didn't eat a lot of beef at home, or as a struggling college student for that matter, and I thought it was too difficult to try to make myself.
Prime rib roast or otherwise known as a standing rib roast, is so simple to make at home and is a special treat for holiday gatherings.
One year for Christmas when I was home from college on break, I decided to make a rib roast for our family dinner. It came out perfectly and everyone loved it! Now, I generally only prepare a Standing Rib Roast for special occasions like Christmas or New Year's Day as a special treat. Not because it's difficult, but it can be a little pricey; especially if you're feeding a crowd!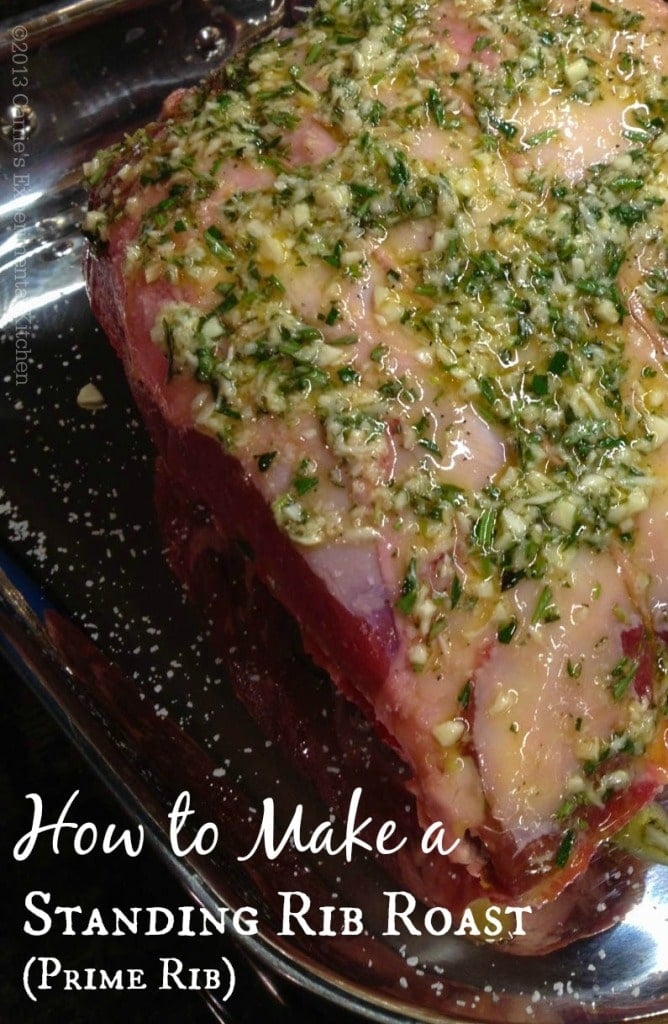 What kind of beef do you purchase for a Prime Rib Roast?
When ordering your roast from the butcher (which is recommended), ask for the first cut as it is generally a better cut of meat and has less fat and is more tender. I personally purchase three ribs; which is equivalent to 6 pounds and serves 6-8 people. When purchasing your roast, figure on three-quarters of a pound per person.
How do you prepare a standing rib roast?
This simple rub recipe below can be used on any cut of beef roast and I really love the flavor combination of garlic, rosemary and horseradish on this roast the best. Place the roast fat side up in a shallow baking pan; then add some basting liquid to the bottom of the pan.
I like to use red wine on the bottom of my pan to give the juices even more of a robust flavor, but water or beef stock will work just as well. When basting, allow the rub to form a crust before basting it with a liquid. By doing so beforehand, you will just wash off the rub prior to it being infused into the meat.
How long do you cook the roast?
Roast the meat for 30 minutes in a 450 degrees F oven; then reduce the temperature to 325 degrees F. Continue to cook for an additional 1-2 hours; depending on how you prefer your doneness.
Figure on a total of 15 minutes per pound for rare, 20 minutes per pound for medium or 25 minutes per pound for well done. Check the internal temperature with a meat thermometer for desired doneness. When the roast is done, remove it from the oven and allow to rest for 15 minutes before placing on a cutting board and carving.

How do you carve a standing rib Roast?
To carve, begin at the rib top and slice down along the curve of the ribs to separate the meat from the bones; then slice the meat across the grain into the desired thickness. You can then cut between the bones and add them to your serving platter as well. In my opinion, that's the best part! ~Enjoy!
VISIT THE RECIPE INDEX TO SEARCH FOR MORE RECIPES BY CATEGORY.

Related Recipes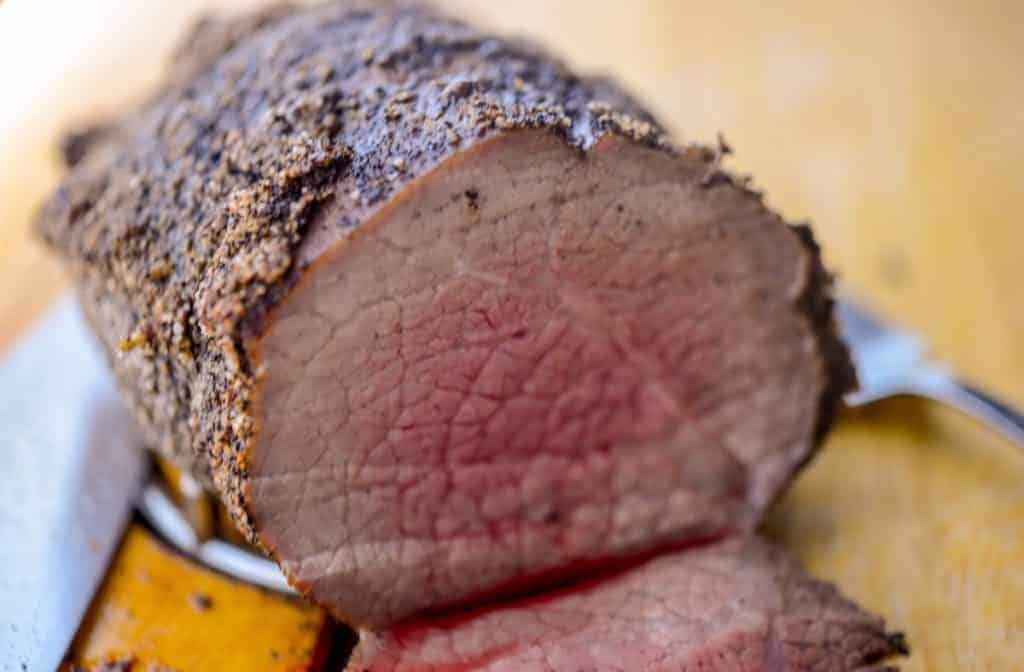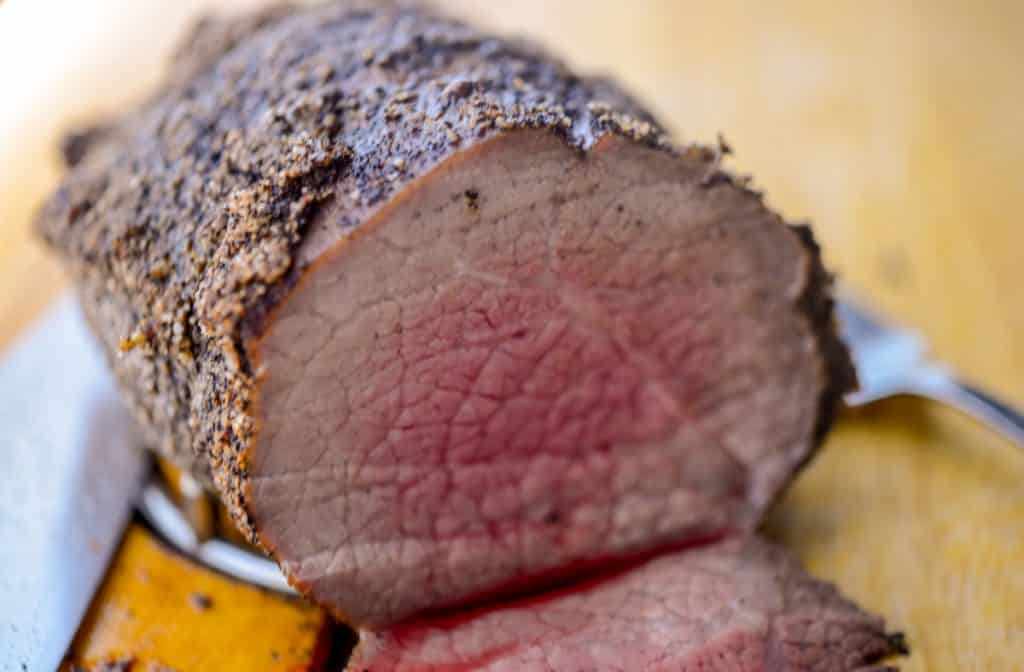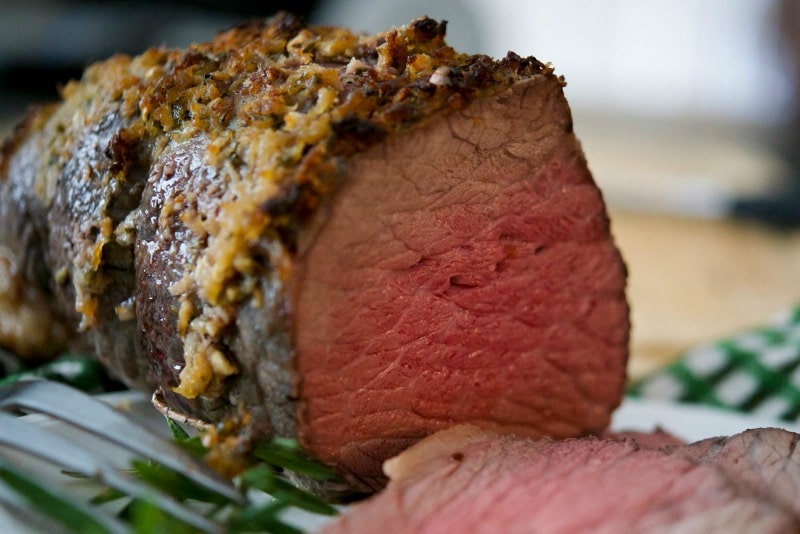 Horseradish, Garlic & Rosemary Encrusted Roast Beef
Shop Related Products
Connect with me on Social Media