Making a holiday dinner doesn't have to be difficult. Try this Brown Sugar-Honey Baked Ham made with only three ingredients.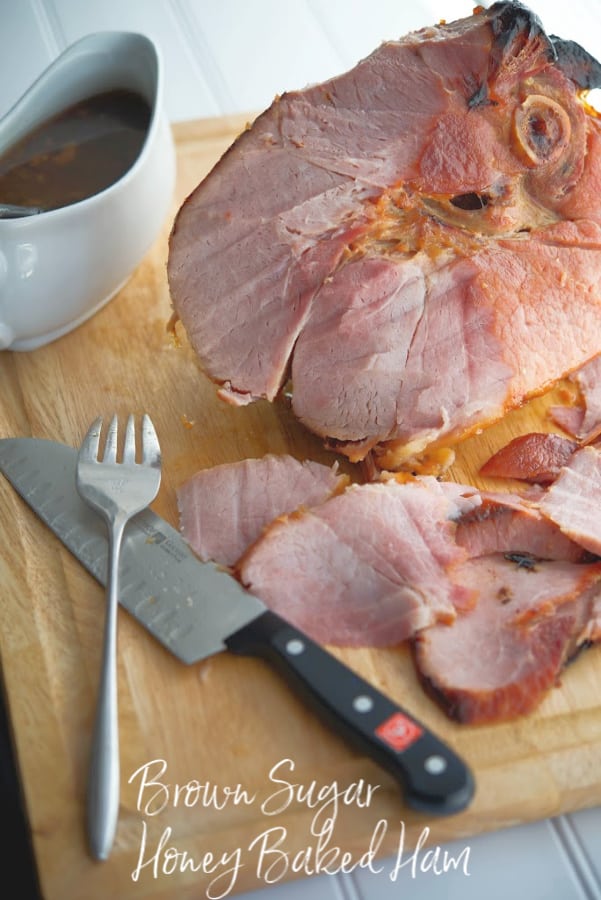 Every Easter I tend to make a baked ham; however, since starting this blog Easter is the only time I ever make a ham and like I've said in the past, I try not to do "bloggy" stuff like photographing our food during holiday meals.
This year, since my in-laws will be hosting dinner, I decided to make a ham ahead of time so that I can share my recipe for this easy Brown Sugar-Honey Baked Ham with you before Easter this year.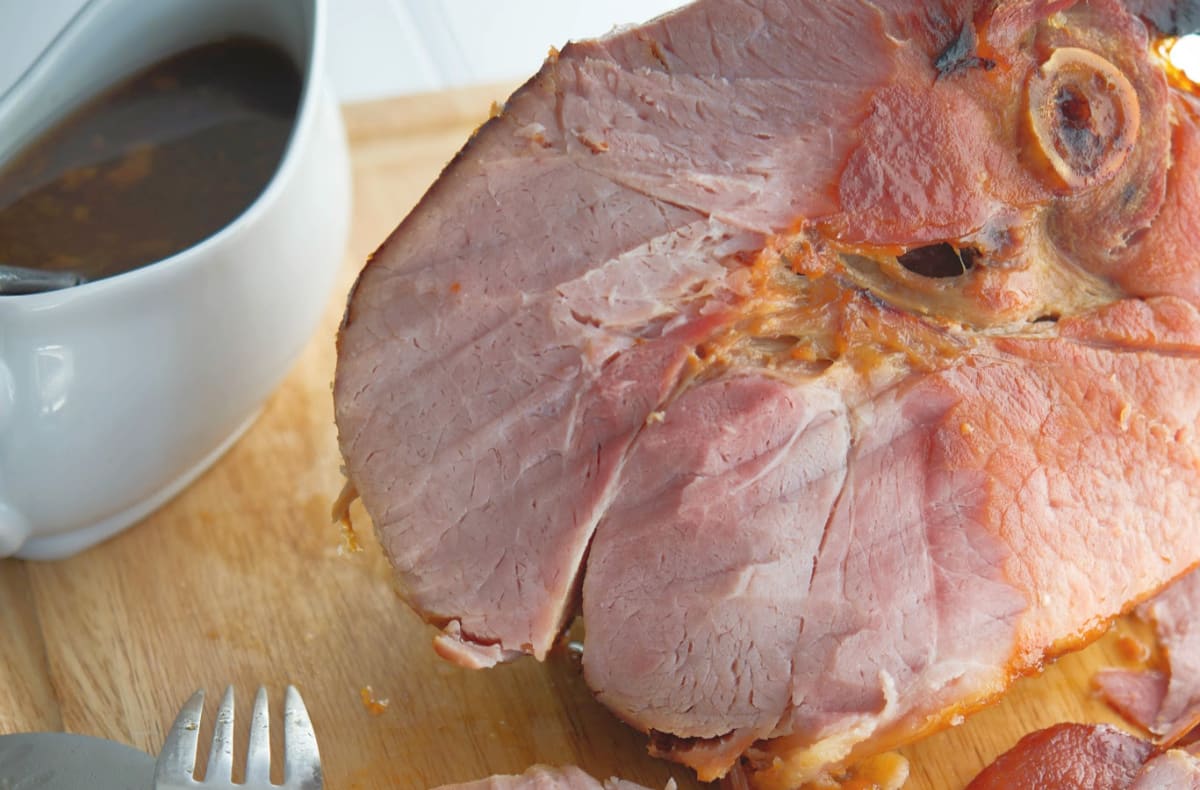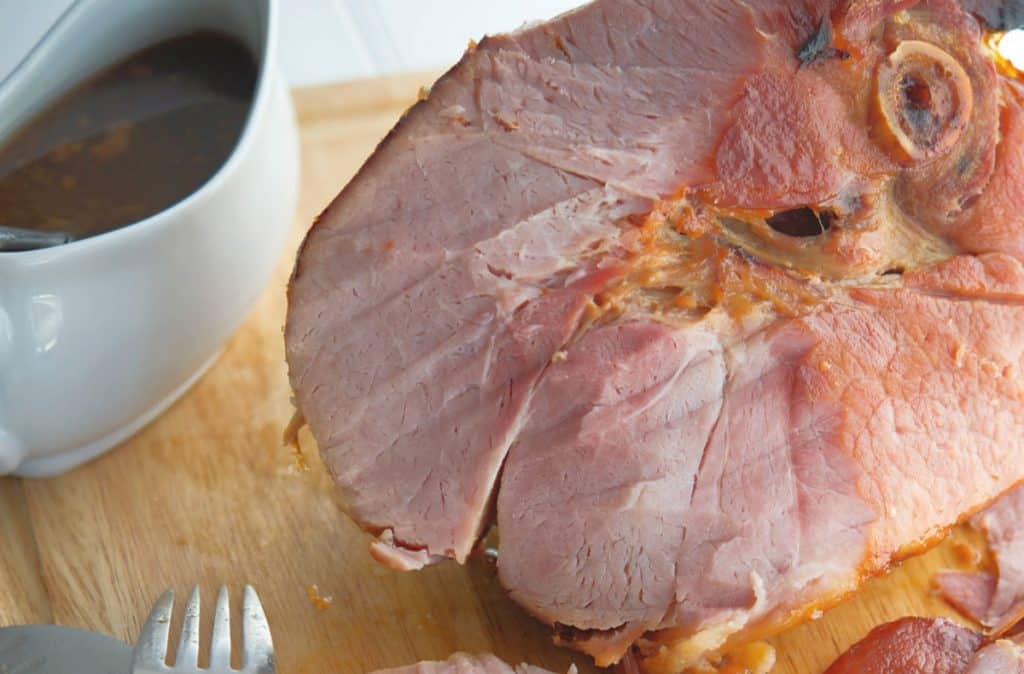 How do you make Brown Sugar Honey Baked Ham?
This has got to be the simplest recipe...EVER! Honey. Brown Sugar. Bone-in Ham. Three ingredients...That's it!
As simple as this dish is to make, the flavor combination is so tasty. The honey and brown sugar fall into the water bath forming a wonderful au jus which we like to pour on top of our meat which gives it that little added sweetness.
If you like pineapple, you can certainly crush that up on top as well; however, my youngest daughter and I recently became allergic to pineapple over the last couple of years which is quite a shame because I used to love it. Now, our tongues start to swell whenever we eat or drink it so I'm not going to chance it!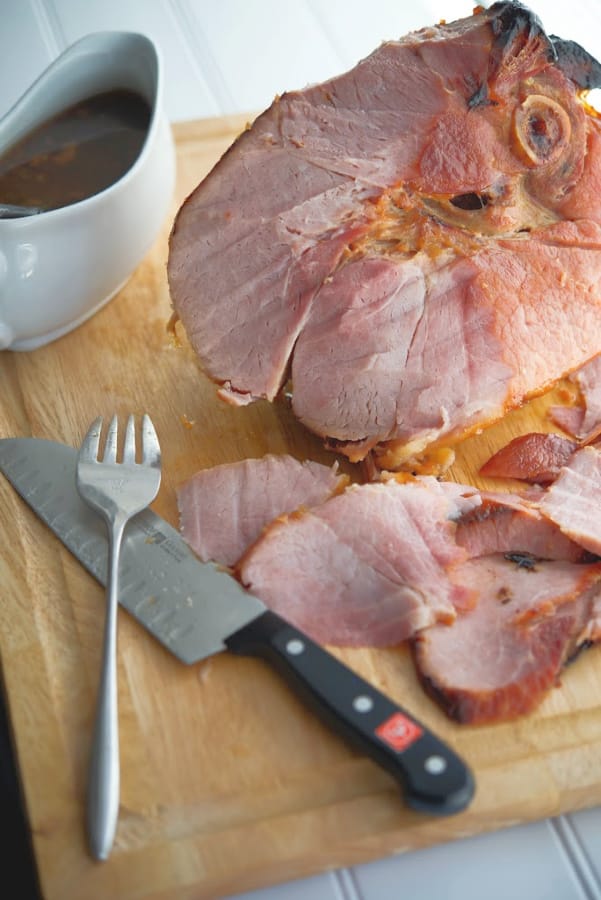 In any event, I used a bone-in ham which is fully cooked; however, you need to let it reheat until the proper internal temperature of at least 150 degrees is reached. Also, baste the meat with the juices every ½ hour or so to keep it moist.
If you find the top of the meat is getting to dark before it reaches the proper temperature, cover it with foil.
When done, allow the meat to rest for at least 10 minutes before slicing to allow all of the juices to settle. With carving a ham, it's going to be a little difficult getting even pieces while slicing like you do with other cuts of roasting meats like beef, chicken or pork.
Just do the best you can. I first start by making a slice closest to the bone and carving out a larger piece. From there, slice the meat into manageable pieces and save the bone to make soup like Split Pea, Lentil or Ham & Potato. ~Enjoy!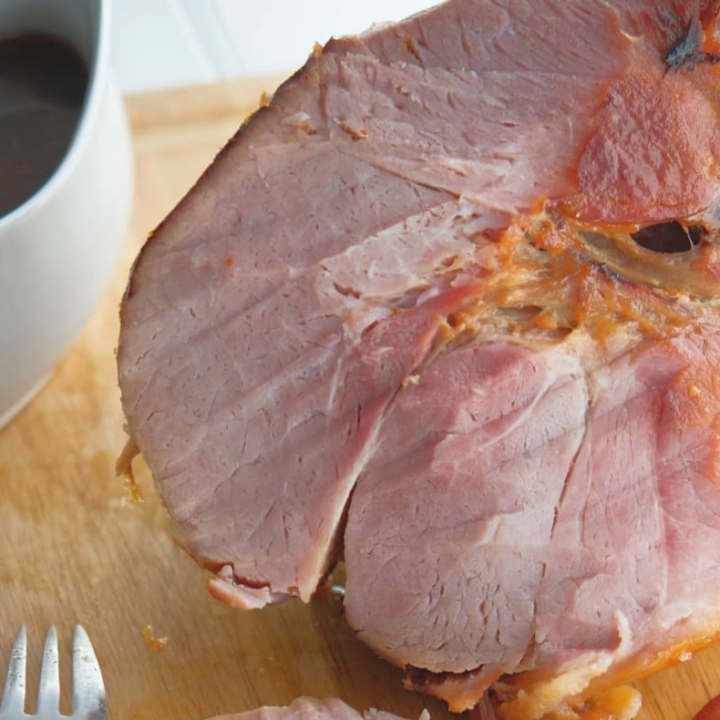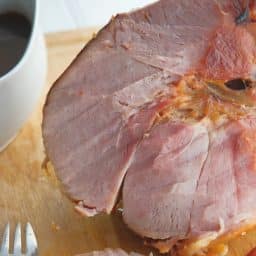 Brown Sugar-Honey Baked Ham
Making a holiday dinner doesn't have to be difficult. Try this Brown Sugar-Honey Baked Ham made with only three ingredients.
Instructions
Preheat oven to 350 degrees F.

Remove ham from wrapping and place in a deep roasting pan.

Pour the honey evenly over the top of the ham; then coat with brown sugar.

Add the water to the bottom of the pan, place the pan in the oven and bake 2 ½ hours or until internal temperature is a minimum of 150 degrees F. (approximately 18 minutes per pound).

Baste the ham with the juices every half hour.

Remove the ham from the oven and allow to rest 10 minutes before slicing. You can use the drippings as au jus for the ham.
Notes
*You can also use a spiral ham. 
Nutrition
Visit the

recipe index

to search for more recipes by category.

More Ham Recipes
Connect with me on Social Media