Taylor Ham, Egg and Cheese on a Hard Roll is the quintessential New Jersey breakfast sandwich. When ordering, don't forget to let them know if you want them to add salt, pepper and ketchup!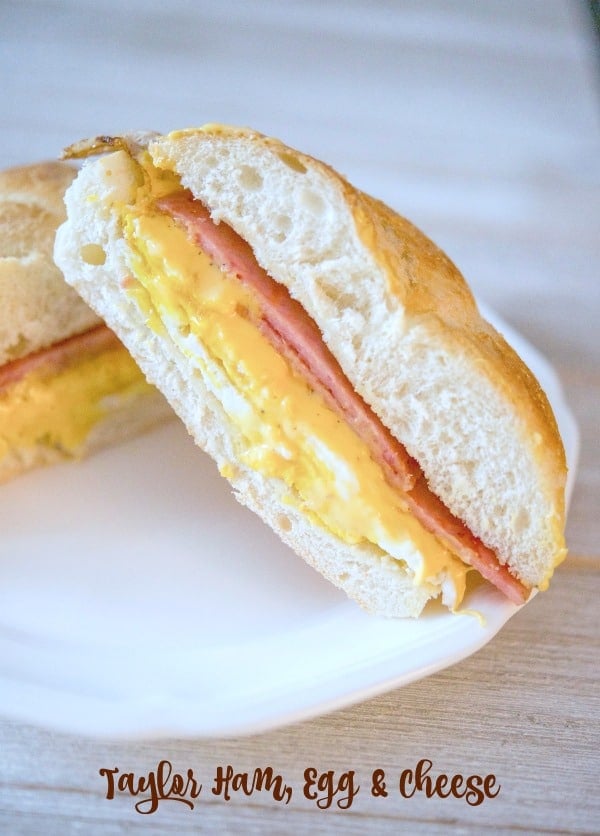 I originally posted this recipe back in July 2011 and for years, this sandwich has been a weekend staple but I never thought to take a new picture of it.
Being from northwestern New Jersey, I've had the distinct pleasure of growing up with one of the world's BEST breakfast sandwiches.
Seriously! Even those who are not from here have heard about the famous Taylor Ham, Egg and Cheese Sandwich on a Hard Roll.
In fact, there have been debates on what to call this sandwich even in our own state and whether or not it is our "official breakfast sandwich".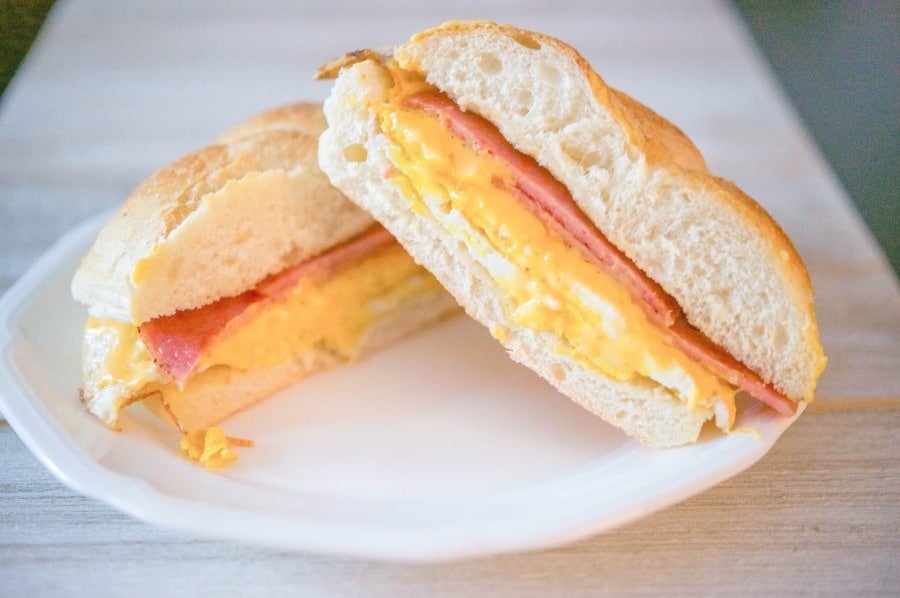 What's the difference between Pork Roll and Taylor Ham?
Technically, pork roll and Taylor ham are the same. South Jersey refers to it as 'pork roll'; while us northerners call it Taylor Ham.
I do find it ironic though that John Taylor developed the first product in 1856 and lived in Trenton; which is in South Jersey.
I guess that's why there is some confusion surrounding the name, but when I'm talking about the product, it's Taylor Ham all the way.
Taylor Ham, Egg & Cheese is a staple at many local delis, diners, bakeries and breakfast spots around NJ and NY, as well as parts of PA (closer to Philly) and MD.
Over the years (and with the invention of the internet!), anyone can purchase Taylor Ham and have it shipped right to their home.(It freezes well too!).
You can purchase it either sliced thick or thin, and in either 1 lb., 1 ½lb. or 3lb. whole and slice it yourself.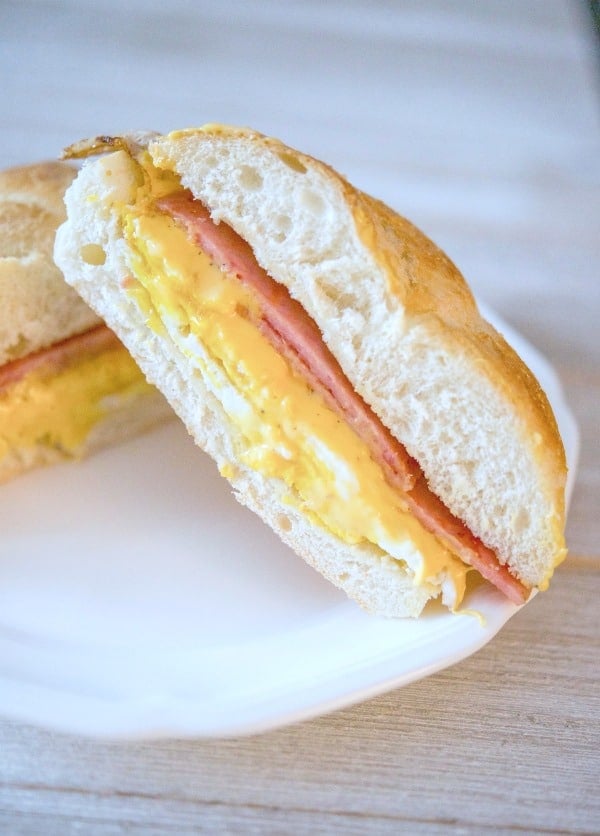 How do you make Taylor Ham, Egg and Cheese?
The recipe is pretty self explanatory as all of the ingredients are in the name, but in order to make this tasty sandwich, you must start with sliced Taylor Ham and cook it by frying it on top of the stove on a pan.
The trick is to make two to four slits in each piece so that the meat lays flat on the sandwich. Fry the meat any where from 2-4 minutes per side depending on whether you prefer it just heated or more browned and well done.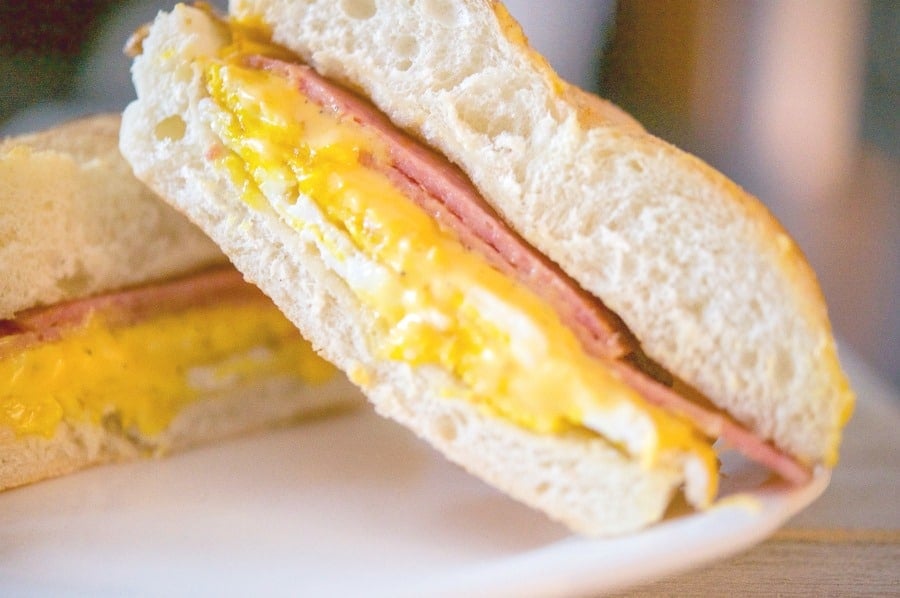 Once the meat is cooked, place it on the top half of the roll while you're making your eggs. A hard roll (or Kaiser Roll) is pretty big, so you'll probably need to make two fried eggs to fill the bread.
I like my eggs fully cooked with the yolks firm, but you can leave your yolks runny if you prefer, just don't forget to melt some American cheese on top of the eggs before adding them to the sandwich.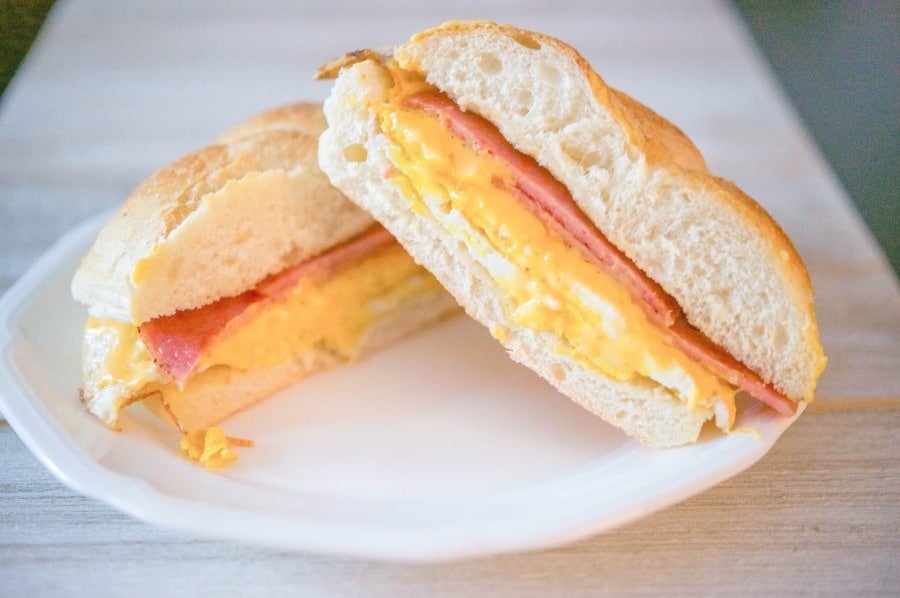 Be prepared! When placing your order for a Taylor Ham, Egg & Cheese at your local New Jersey deli, you WILL be asked the following immediately upon placing your order: Salt? Pepper? Ketchup?
It's a Jersey thing. Even if you never eat ketchup on your eggs normally, the combination must be incredible because my picky breakfast eaters will eat it on their sandwich. ~Enjoy!
Sign up for my weekly newsletter
and receive
a FREE eBook!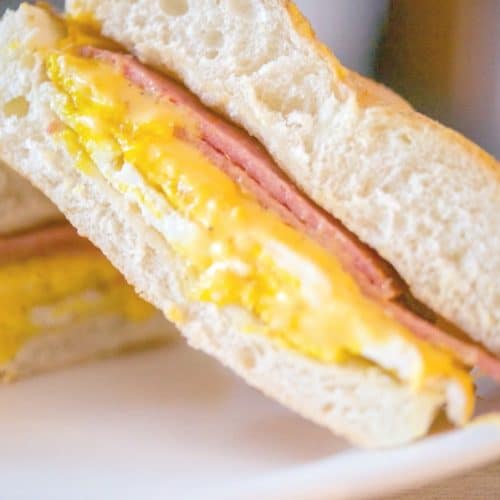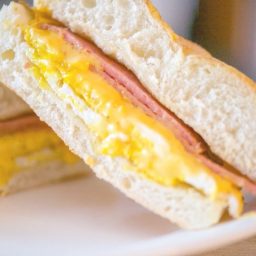 Taylor Ham, Egg and Cheese on a Hard Roll
Taylor Ham, Egg and Cheese on a Hard Roll is THE BEST and most popular New Jersey breakfast sandwich in the state!
Ingredients
4

Round Hard Rolls, sliced in half lengthewise

8

Large Eggs

8

Slices

American Cheese

8

Slices

Taylor Ham
Instructions
On a flat grill pan, heat Taylor Ham over medium heat until lightly browned on both sides. Remove from pan and keep on the side.

Fry the eggs, breaking the yolk; then add cheese to the top of the eggs so that it melts. Place the eggs on the roll and top with cooked Taylor Ham.
Visit the

recipe index

to search for more recipes by category.

Shop Related Products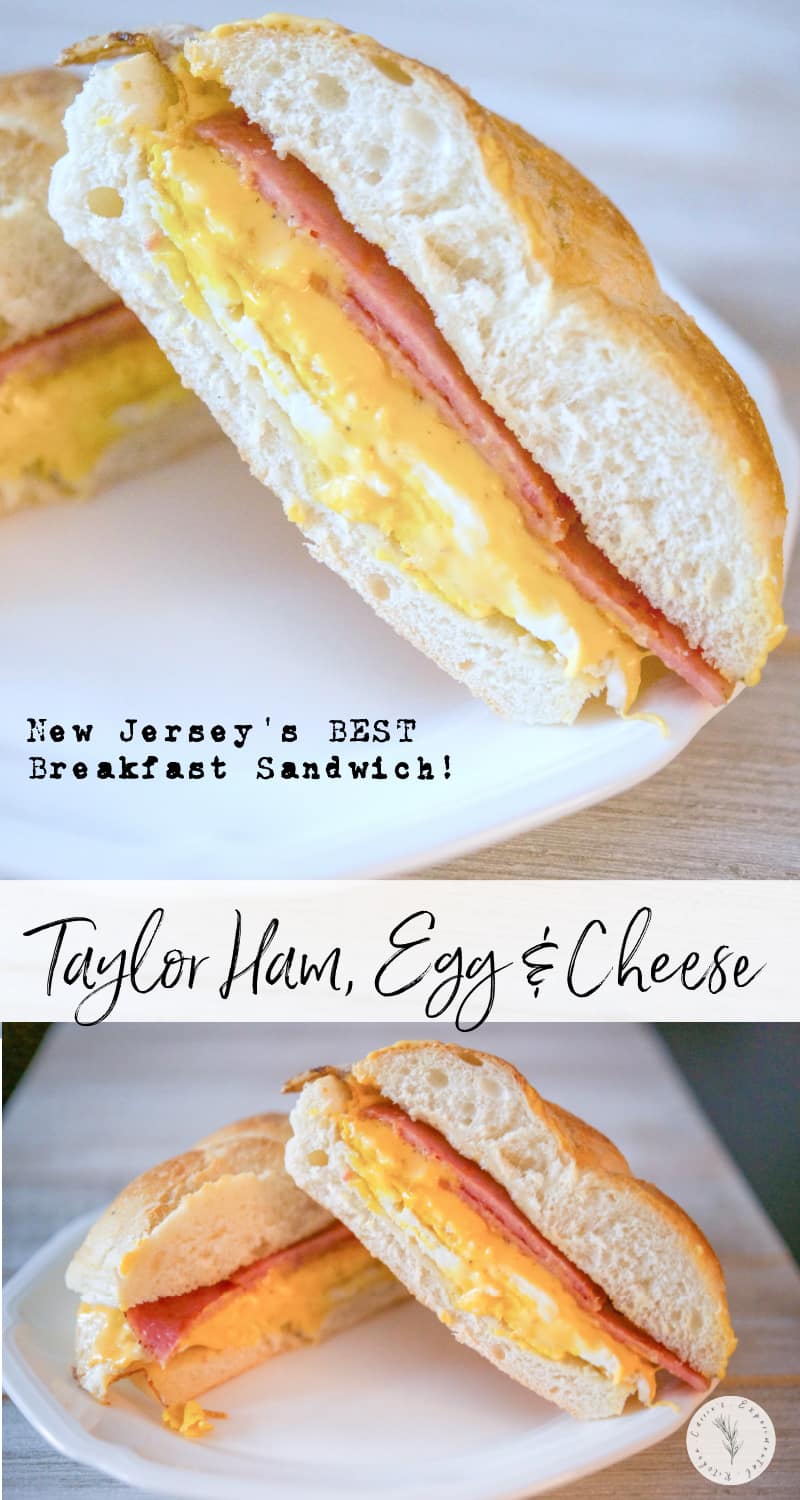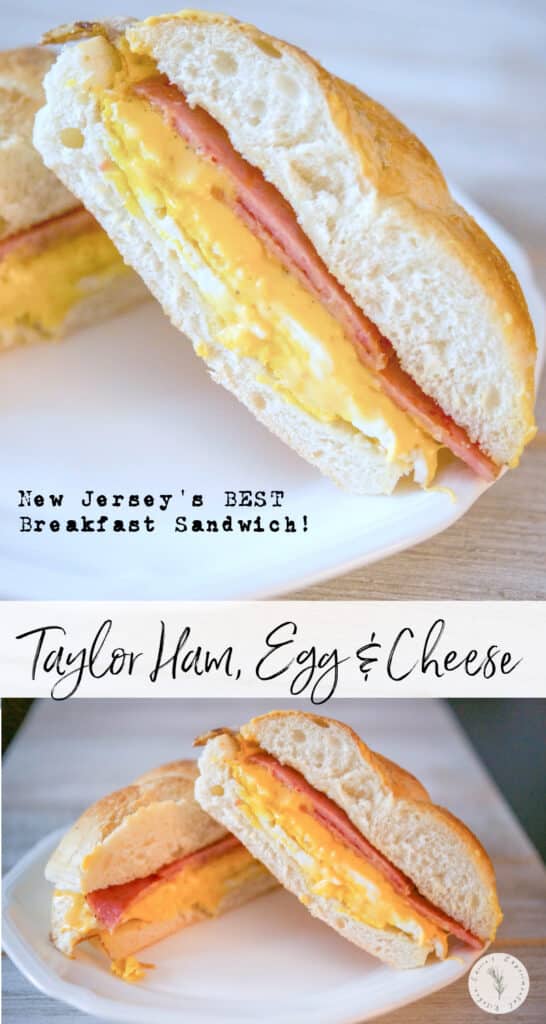 Connect with me on Social Media
*Originally posted July 2011; Updated March 2018