Butterscotch Eggnog Hot Chocolate made with butterscotch morsels, eggnog, milk, vanilla and ground nutmeg is sure to warm the soul during the cold winter months.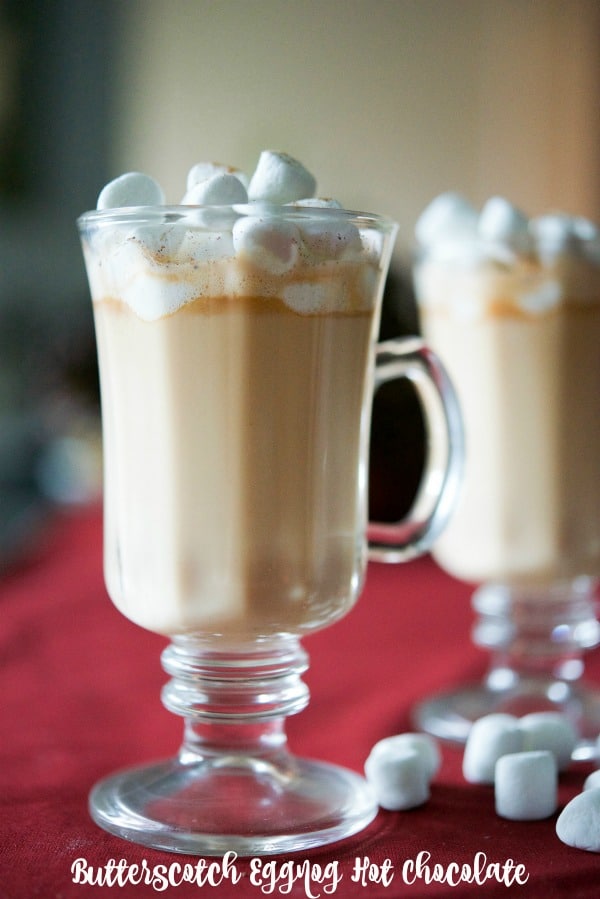 "Sleigh bells ring, are you listening. In the lane, snow is glistening. A beautiful sight, we're happy tonight, walking in a winter wonderland." Ahh..winter. We had our first snowfall this past weekend here in northern NJ and though it was only 3″ it was still enough to turn the ground, grass and tree limbs white.
Since it was the day after our daughters' Sweet 16 party, our oldest daughter and her friend couldn't drive back to PA with the bad weather so we spent the day relaxing and playing cards until the snow stopped and they were able to go out into the snow to sled down the front yard. Yes, even at 16, 21 and 23 sleigh riding never gets old until they got cold enough to come inside for some hot chocolate.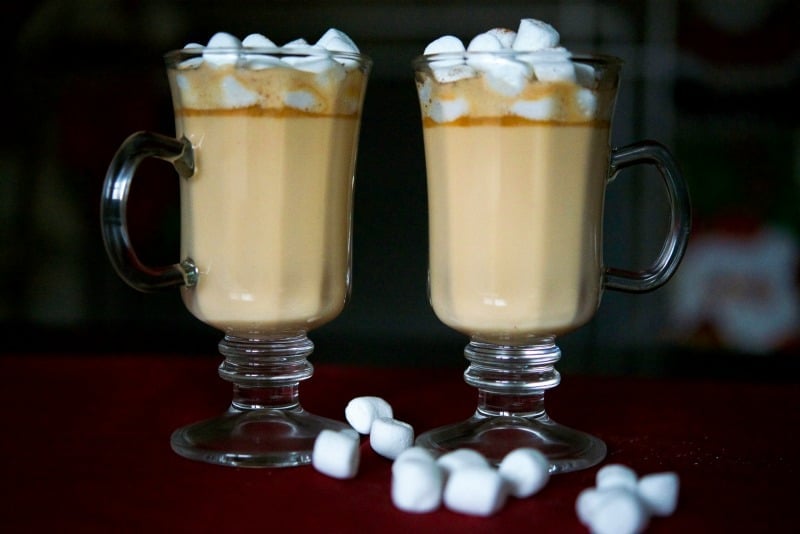 That brings me to this recipe for Butterscotch Eggnog Hot Chocolate.  Sometimes I feel like I have Attention Deficit Disorder (ADD) because I'll be in the middle of writing a new post and an idea will strike me and I head off into the kitchen, leaving the blog post unfinished as I'm deciding what I'm going to experiment with what I have in my pantry cabinets. (Wait, I'll be right back! A new recipe I'm working on is done and I have to go photograph it before it gets dark outside. See, ADD!).
[clickToTweet tweet="Butterscotch Eggnog Hot Chocolate #hotchocolate #butterscotch #eggnog #winter" quote="Butterscotch Eggnog Hot Chocolate is a satisfying, sweet treat that is sure to warm the soul during the cold winter months. "]
Now back to this hot chocolate. Hot chocolate has always been a little on the sweet side for me so when I have it, it's because I may be craving some type of dessert. When I was looking in the cabinets, I found butterscotch morsels (which is odd because I don't really bake with them often, but I think my husband or daughter bought them by mistake) and it brought back memories of my grandfather.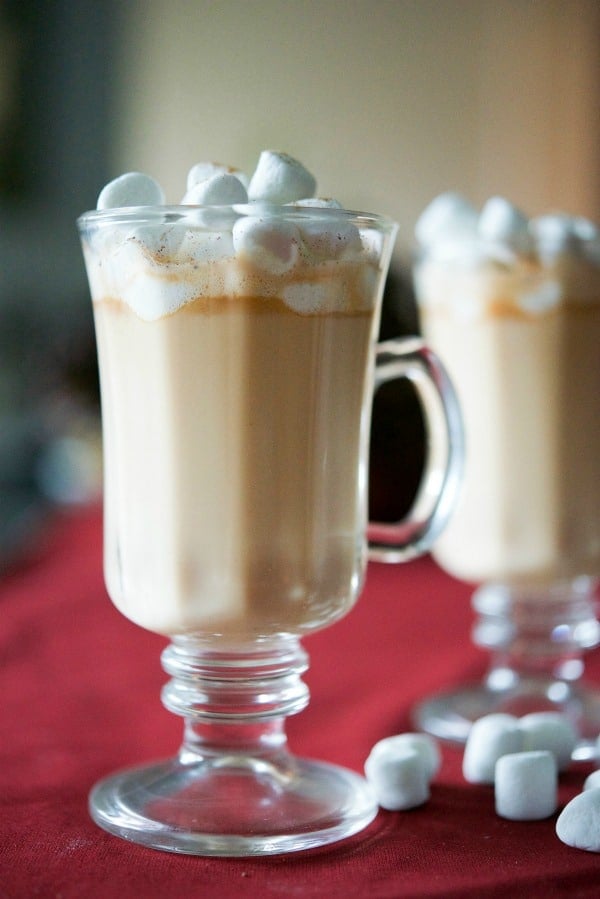 He LOVED butterscotch pudding at night for a snack. If my sister and I would be sleeping over that night and my grandmother had made butterscotch pudding, he would use that as a method of reward if we "behaved" ourselves. You see, my sister and I were only 15 months apart and what one didn't think of, the other one did. Hence, we were ALWAYS in trouble and managed to  yell and scream at each other for hours. My poor uncle (who is only 11 years older than me and still in high school at the time) must have hated it when we came over! 🙂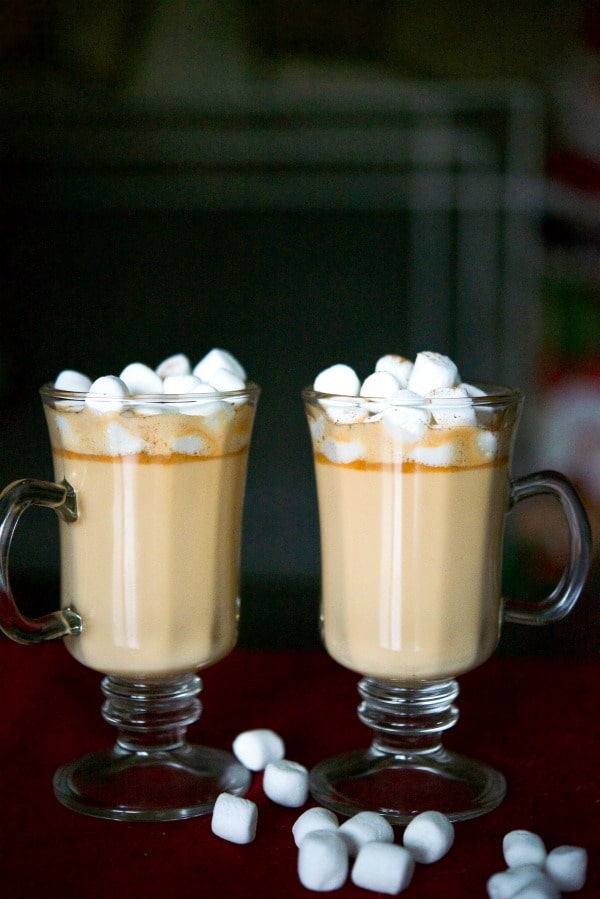 So when I found the butterscotch morsels and had recently purchased a small container of eggnog, I decided to make an afternoon "snack" for my husband and I. Making this Butterscotch Eggnog Hot Chocolate is super simple, though a bit on the sweet side for my liking. My kids were  a little disappointed when I put the picture up on my personal Snapchat story only to come home and find that it was all gone since I only made two mugs full. They can't have everything! ~Enjoy!
Sign up for my weekly newsletter to get
 the latest recipes and receive
 a FREE eBook! 
Butterscotch Eggnog Hot Chocolate
Butterscotch Eggnog Hot Chocolate is a satisfying, sweet treat that is sure to warm the soul during the cold winter months.
Ingredients
8

oz.

Eggnog

8

oz.

Milk (I used 2%)

1/2

c.

Butterscotch Morsels

1

tsp.

Vanilla Extract

1/4

tsp.

Ground Nutmeg (plus more for garnish if desired)

Mini Marshmallows, for garnish if desired
Instructions
Add the eggnog, milk, butterscotch morsels, vanilla and nutmeg to a small saucepan and cook over medium-low heat; stirring occasionally until the butterscotch has melted and the liquid is heated through.

Divide the hot chocolate into two, 8oz. mugs, top with marshmallows and sprinkle with extra nutmeg, if desired.
Nutrition
Visit the 

recipe index

 to search for more recipes by category.


Connect with me on Social Media