Chicken Contadina is a rustic, country style chicken dish where the chicken is cooked in a sauce of tomatoes, red wine and vegetables.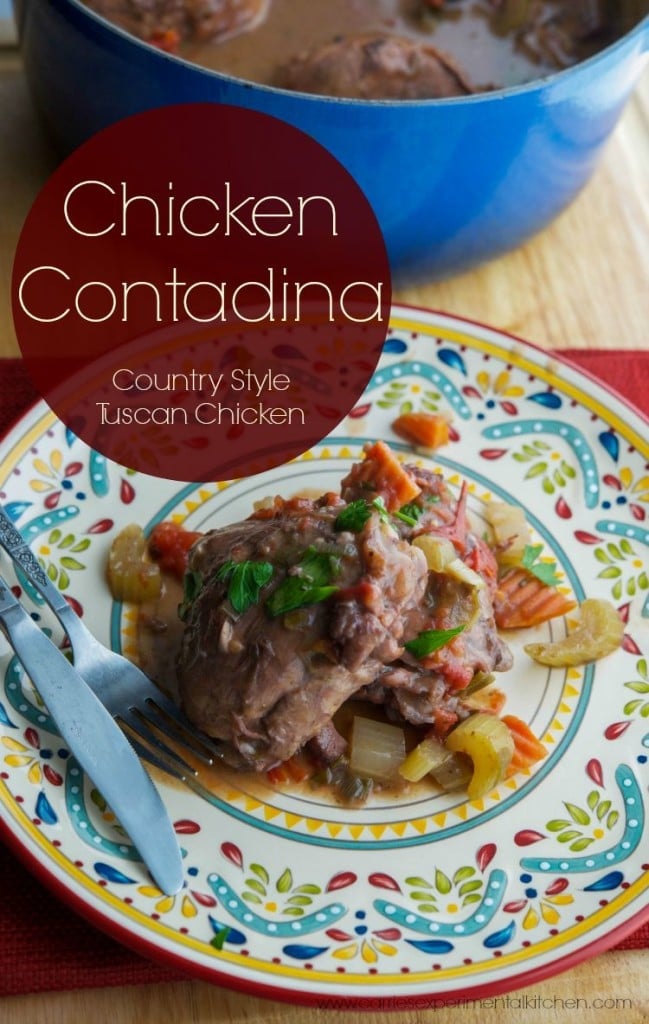 During the cooler months I prefer to make meals that don't take a lot of effort. Ones that are more simple and rustic like this recipe for Chicken Contadina.
As an added bonus, this meal also costs less than $2 per person. I know this because my eldest daughter is living in an apartment in college off campus and has to cook for herself.
One of the things she said to me while she was home over the summer was that she wished that I would include the cost of making a recipe.
I have to say that though everything I make I usually purchase at my local grocery store or market, I never paid too much attention to the cost. Mainly because most of my recipes are fairly simple to make and use staples I purchase on a weekly basis.
I hope you will all be able to see that preparing a meal at home can be just as cost effective as eating out at those cheap fast food places AND much healthier!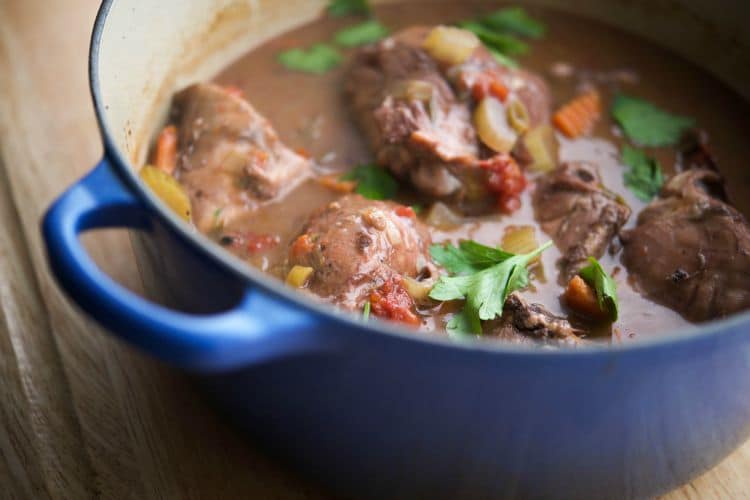 How much does chicken contadina cost to make?
$10.20 Bone In Chicken Thighs-I prefer to use dark meat like thighs and legs for this type of dish as it adds more flavor. I don't recommend using the already de-boned type of chicken.
$ .28 Olive Oil-Olive Oil is something I always have on hand and prefer to use; but if you're looking to cut costs you can use the oil you generally use since it's such a small amount.
$2 Vegetables & Herbs-I opted to use simple vegetables like carrots, celery, onions, tomatoes as they cost pennies, but still add flavor. If fresh tomatoes are in season, I recommend those; if not you can used canned diced tomatoes. Fresh herbs are always best and can also be purchased at your local grocery store in small quantities.
$1.60 Red Wine-There are many decent wines out there in the $10 range. I like to stock up on these to use in my cooking. Remember, you don't want to cook with wine that you wouldn't drink yourself. Here is a list of some of my favorite inexpensive red wines. If you don't like to cook with wine or prefer not to, you can use all chicken stock; though the flavor may change slightly.
$ .33 Chicken Stock-There are several options: Make your own(free), chicken stock(~$ .33) or chicken bouillon cubes (~$ .11). For this purpose I'll use the already made stock.
Total Cost= $14.41 #Servings=8 Cost per Serving=$1.80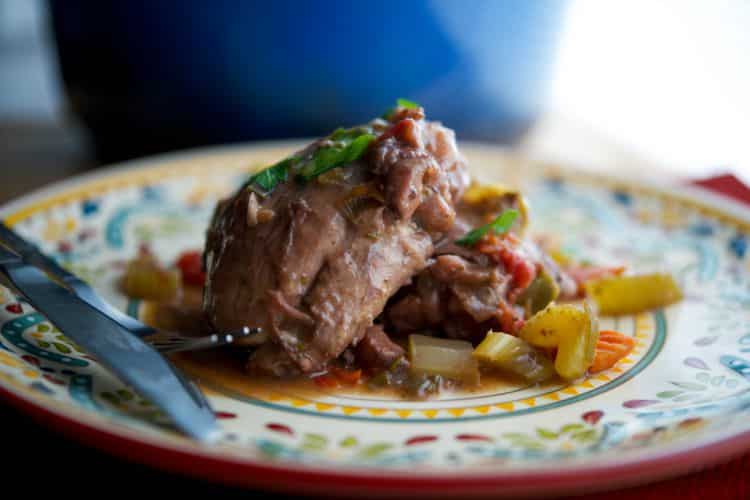 How do you make Chicken Contadina?
Alright, so now that we know this Chicken Contadina is one inexpensive meal, let's get to how to make it.
First, you want to remove the skin from the chicken; then you're going to brown it on both sides in a little extra virgin olive oil in a Dutch oven or heavy pot.
Once the chicken is browned, remove it from the pot, set aside and keep warm. Next, add your vegetables, rosemary and lemon zest and saute them for about 2-3 minutes.
Add the wine and deglaze the bottom of the pan by scraping off any bits. Next, add your chopped tomatoes and chicken stock; then add your chicken back to the pot.
Cover the pot and allow to simmer over low heat for about 20-25 minutes until the chicken is cooked through. Easy right?
I love meals where you can just throw it all in and walk away. This Chicken Contadina was so flavorful and I really liked experimenting to see what it actually cost to make.
This dish made enough to serve 8 people and since there are only three of us at home now, I froze some in individual containers to bring up to my daughter during our next visit. ~Enjoy!
Visit the

recipe index

to search for more recipes by category.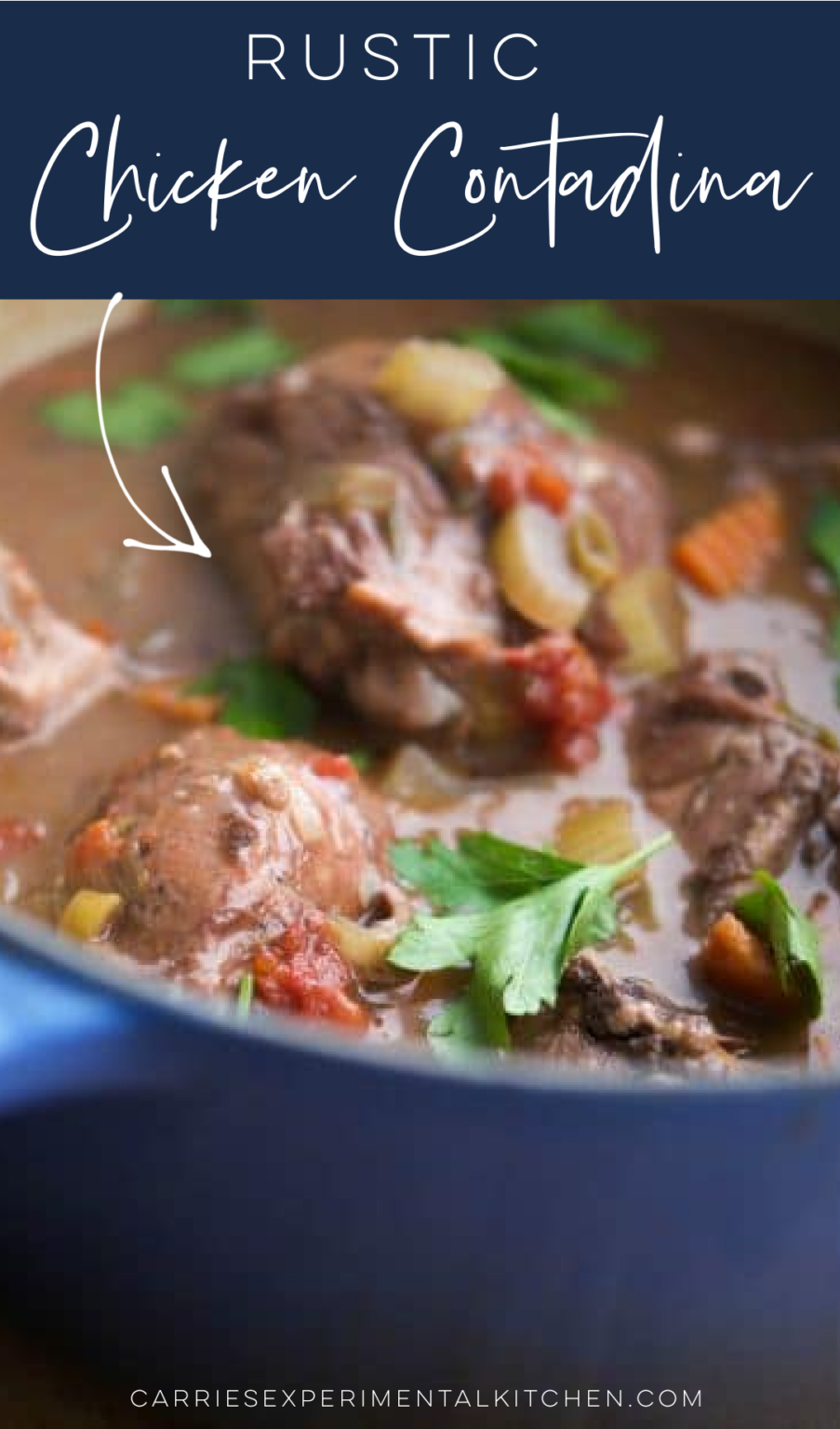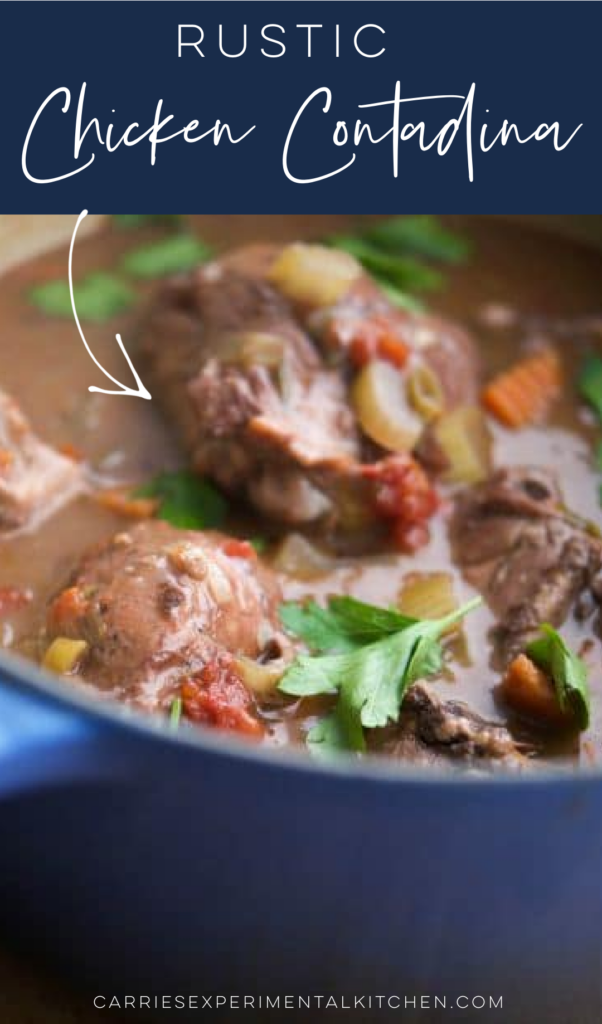 More Chicken Thigh Recipes
Sign up for my weekly newsletter
and receive
a FREE eBook!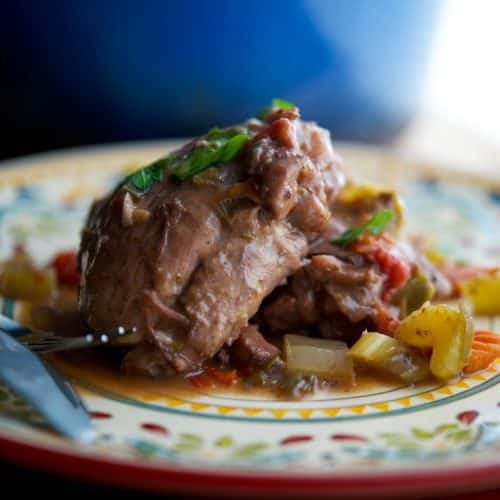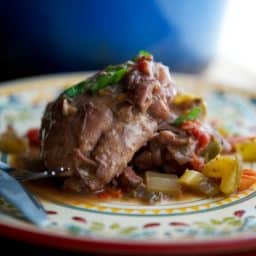 Chicken Contadina
Chicken Contadina is a rustic, country style chicken dish where the chicken is cooked in a sauce of tomatoes, red wine and vegetables.
Ingredients
8

bone in, skinless chicken thighs

2

tablespoons

extra virgin olive oil

¼

cup

chopped onion

2

cloves

garlic,

minced

2

carrots,

peeled and diced

2

ribs

celery,

chopped

1

tablespoon

chopped fresh rosemary

1

lemon,

zest only

½

cup

dry red wine

2

cups

diced tomatoes

½

cup

chicken broth
Instructions
Heat oil in a Dutch oven or large heavy pot over medium heat and brown the chicken; approximately 5-6 minutes per side. Remove chicken from pot and keep warm. You may have to do this in two batches.

Add the onion, garlic, carrots, celery, rosemary and lemon zest to the pot and saute 2-3 minutes.

Next, add the wine and scrape any bits from the bottom of the pot; then add the tomatoes and chicken stock and place the chicken back into the Dutch oven.

Cover the pot and allow to cook for 20-25 minutes until the chicken is cooked through.
Nutrition
Calories:
200
kcal
Carbohydrates:
6
g
Protein:
23
g
Fat:
8
g
Saturated Fat:
2
g
Polyunsaturated Fat:
1
g
Monounsaturated Fat:
4
g
Trans Fat:
0.02
g
Cholesterol:
108
mg
Sodium:
180
mg
Potassium:
480
mg
Fiber:
1
g
Sugar:
3
g
Vitamin A:
2698
IU
Vitamin C:
8
mg
Calcium:
43
mg
Iron:
2
mg
Connect with me on Social Media