Farfalle pasta combined with Italian sausage and vegetables in a white wine goat cheese sauce.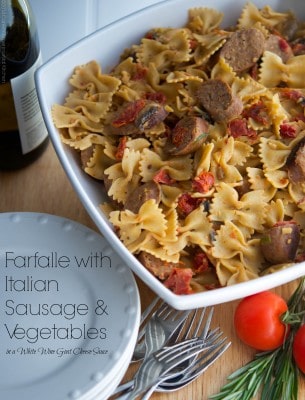 *Disclaimer: This is a sponsored post. All opinions are my own based on my experience.
I was very excited a few weeks ago when I got a message from Barilla Pasta on my Twitter account letting me know that a surprise would be coming in the mail. If you've been following me for a while, you know that Barilla is the only brand of dry pasta I use for my family and our favorite variety is their "Plus" version.  So imagine how happy I was when I opened my front door a week later to see a box full of Barilla Plus pasta and a couple of other neat gifts.  I wasn't sure what I was going to make at first as I had to get through Spring Break and Easter, but knew I wanted to resurrect one of my favorite original recipes from my cookbook since you can't find any of those recipes here on the blog. I decided to give one of our old favorites a little twist using ingredients I had on hand and came up with this recipe for Farfalle with Italian Sausage & Vegetables in a White Wine Goat Cheese Sauce.
In my original recipe, I also added some zucchini, yellow squash and used Pecorino Romano cheese instead of the Goat cheese, but I think I liked this version better. The flavors were exquisite! For this version, I baked my sausage, but grilled sausage would add another wonderful layer of flavors; especially if you happen to have some sausage leftover after grilling over the weekend! My family really enjoyed this meal and as I've mentioned before, they won't eat "brown" (a.k.a. whole wheat) pasta, so using the Barilla Plus pasta instead with the extra protein, fiber and Omega-3's is a win-win!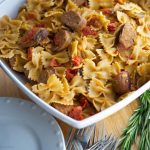 Farfalle with Italian Sausage & Vegetables in a White Wine Goat Cheese Sauce
Ingredients
1-14.5

Box Barilla Plus Farfalle Pasta

ounce

6

Links Sweet Italian Sausage

1

tbsp

. Extra Virgin Olive Oil

10

oz

. White Mushrooms

sliced

1

c

. Sun Dried Tomatoes

not in oil, sliced

2

Garlic Cloves

chopped

1/4

c

. Scallions

chopped

1

tbsp

. Fresh Rosemary

chopped

1

c

. White Wine

I used Chardonnay

3.5

oz

. Crumbled Goat Cheese
Instructions
Preheat oven to 425 degrees.

Place the sausage on a baking sheet and bake for 20-25 minutes; then slice diagonally into 1/2" thick slices.

Cook pasta according to package directions.

While the pasta is cooking, heat the oil in a large nonstick saute pan over medium heat and add the mushrooms, tomatoes, garlic, scallions and rosemary.

Saute 3-5 minutes until the mushrooms start to soften; then add the wine and sausage. Reduce heat to low and simmer another 3-5 minutes. Remove from heat if done before your pasta.

Drain pasta and place back into the pot; then add the vegetable mixture and the goat cheese. Mix well.
***SURPRISE GIVEAWAY***  
Barilla Pasta was very generous and also sent me a $25 Williams-Sonoma Gift Card with my care package. Though I am VERY grateful, I decided it would make me happier to pass the gift card along to one lucky reader instead. Please enter using the Rafflecopter link below and GOOD LUCK!!
*Disclaimer: Contest is open to U.S. residents only and is valid April 23-27, 2014. One (1) Winner will be selected and notified on Monday, April 28, 2014.
Want to learn more about Barilla and their family of products? Visit them online: