Repurpose leftover chicken or turkey into a new weeknight meal with this delicious Individual Chicken Pot Pie.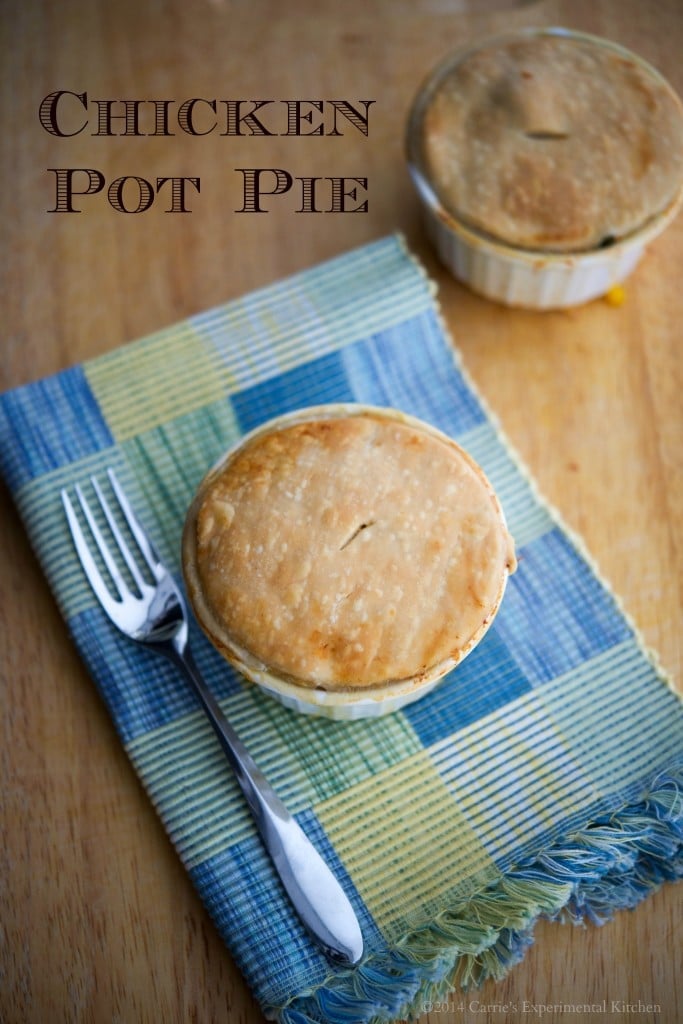 Happy Valentine's Day and I hope all of my fellow East Coasters survived all the snow and ice! If you're not a planner, and haven't given any thought to what you want to make for tonights' dinner, (like me!) it's fine.
There is still plenty of time to whip up a special dinner for two and your significant other will never know you haven't been planning this for weeks!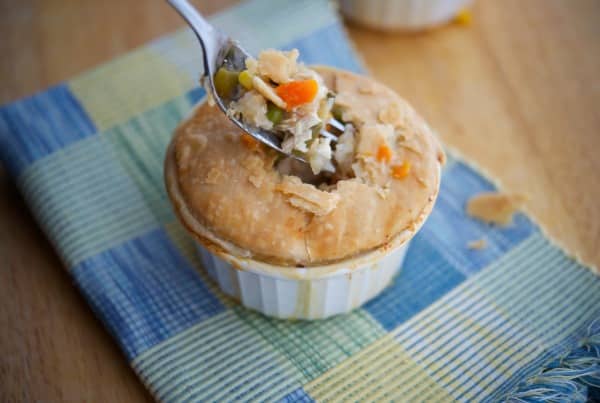 These individual Chicken Pot Pies are so comforting and are easy to make. In fact, this was one of the first recipes I shared on my blog almost 3 years ago and is also in my cookbook.
Though the original recipe called for making an entire pot pie, the filling is the same with the addition of horseradish in this recipe just because I like a little extra kick. In 45 minutes you can have a home cooked meal waiting on the table.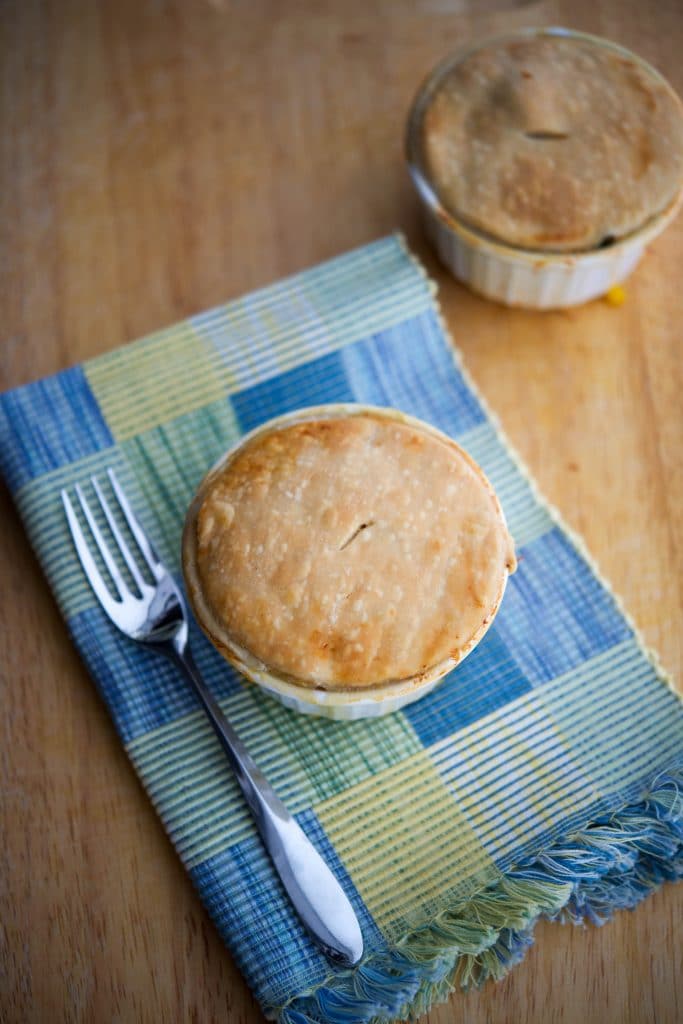 How do you make Chicken Pot Pie?
To make this recipe tonight, make a quick stop at your local grocery store and pick up the following items:
Pre-Made Roasted Chicken (those rotisserie chickens work wonderful for last minute dinners)
Refrigerated Pie Crust Dough (Can usually be found by the milk and eggs)
Frozen bag of Mixed Vegetables (I use the corn, carrot, pea and green bean mix)
Staples: You should have some chicken broth, Dijon mustard, horseradish and cornstarch, but if not...pick those up too!
~Enjoy!
Sign up for my weekly newsletter
and receive
a FREE eBook!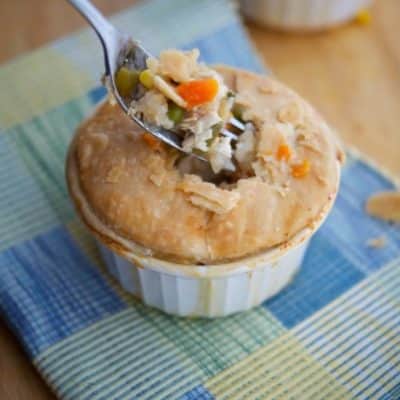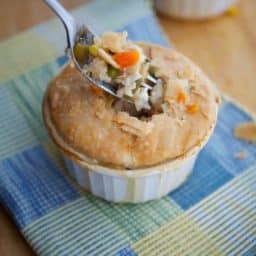 Individual Chicken Pot Pie
Repurpose leftover chicken or turkey into a new weeknight meal with this delicious Individual Chicken Pot Pie in less than an hour.
Equipment
2-(7 ounce) Oven Safe Ramekins
Instructions
Preheat oven to 350 degrees F.

Roll out the pie crust dough on a lightly floured surface to make sure it's even; then using the top of the ramekins, cut out 4 circles. Set aside. (You may have to roll out the dough twice)

In a large, nonstick skillet add the chicken, vegetables, chicken broth, mustard and horseradish. Heat the mixture over medium-high heat until it starts to come to a boil.

Combine the cornstarch and cold water; then add it to the chicken and vegetables. Stir until the mixture is slightly thick and creamy.

Divide the mixture into the two ramekins and place two pie crust circles on top of each ramekin.

Place the ramekins on top of a baking sheet to avoid any spillage in the oven and bake for 30 minutes or until the dough is golden brown and puffed up.
Nutrition
Visit the

recipe index

to search for more recipes by category.

Related Recipes
Shop Related Products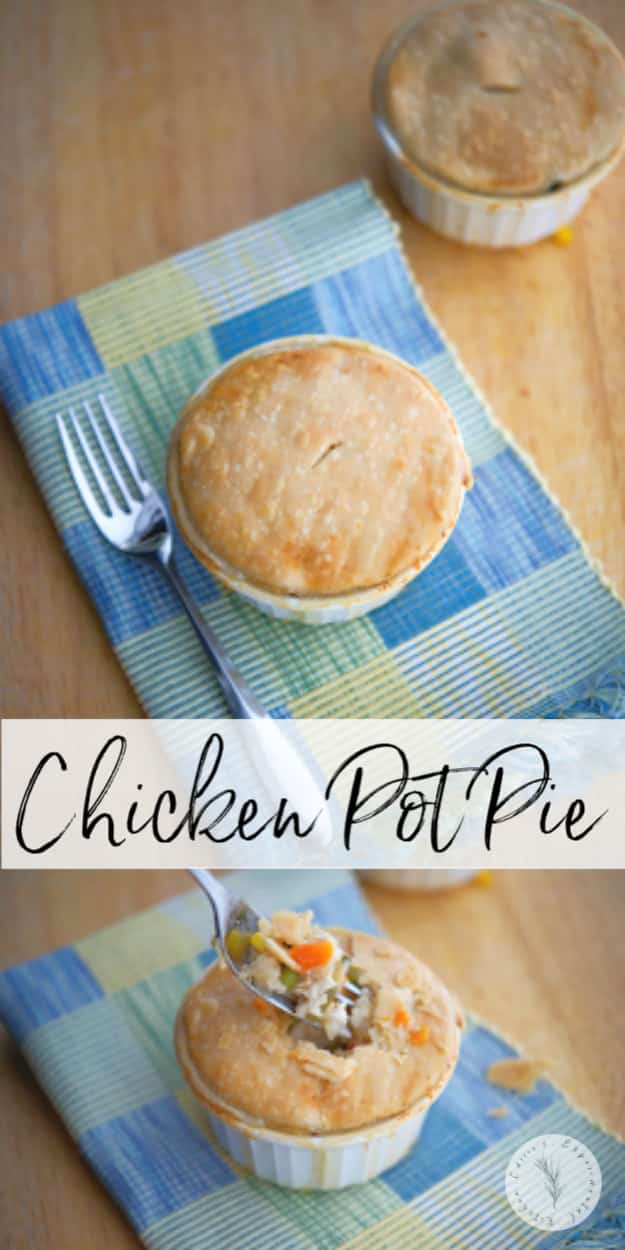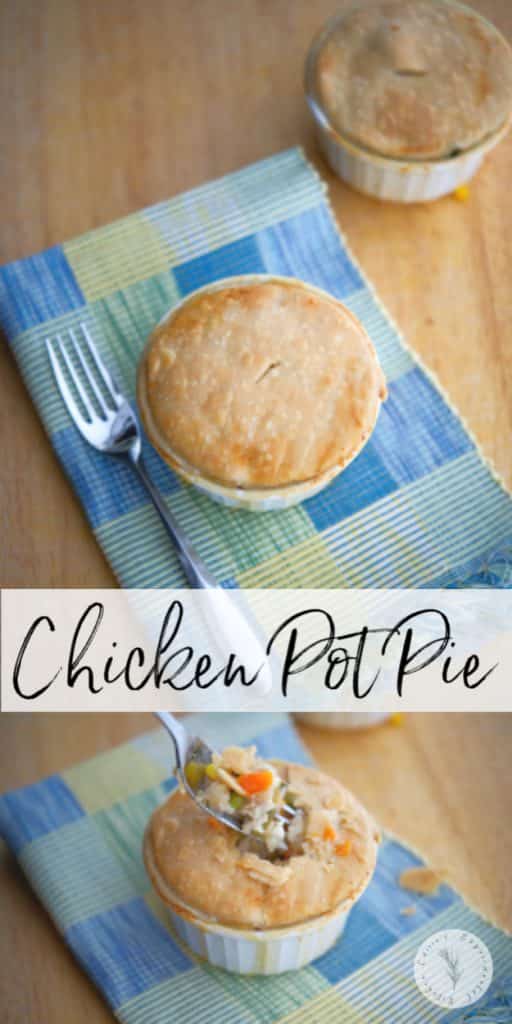 Connect with me on Social Media