This Creamy Chicken, Spinach & Mushroom Casserole makes for the perfect weeknight meal. Prepare ahead of time and reheat for those busy weeknights too.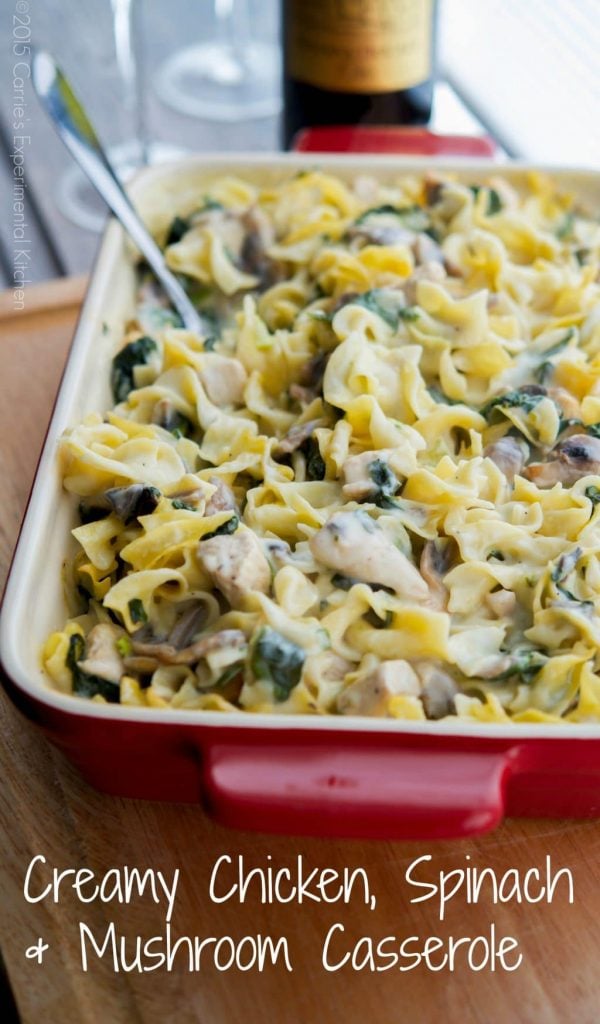 I have to be honest, I don't make a lot of casserole-type dishes. Perhaps it's because when I think of casseroles you generally utilize leftovers; and I'm not a huge leftover fan. I'm not sure if that makes sense, but I'm a little quirky that way.
However, when I had some leftover roasted chicken and didn't want to make another chicken pot pie, I decided to use some of the ingredients to make this Creamy Chicken, Spinach & Mushroom Casserole.
What is a casserole?
Casseroles usually consist of:
pieces of meat such as chicken or fish, various vegetables
a starchy binder such as flour, rice, potato or pasta
and are generally cooked in the oven
Reminiscent of growing up in the 70's, many casseroles used canned soup as the binder to hold the casserole together and make it creamy.
Being that I don't like to use a lot of canned products in my recipes, I decided to use other ingredients to make my casserole creamy.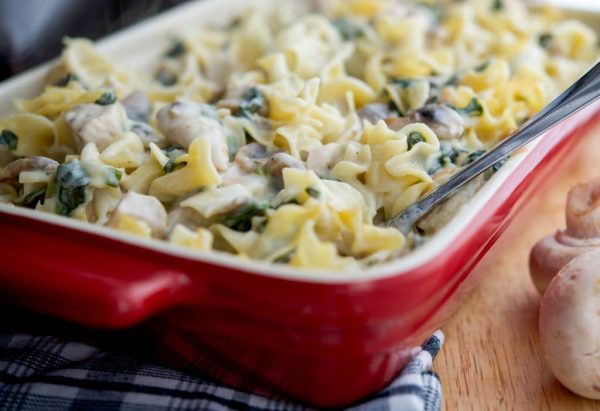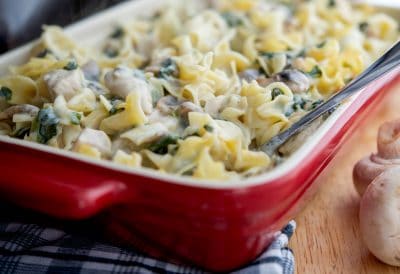 How do you make Chicken, Spinach & Mushroom Casserole?
I started out by cooking some egg noodles until they were al dente. While the noodles were cooking, I sautéed some fresh mushrooms, scallions and garlic in a little butter; then added some fresh spinach and chopped, pre-cooked chicken.
If you don't have leftover chicken, you can use a store-bought rotisserie chicken, cooked chicken in the meat section or saute chopped, un-cooked chicken in a little olive oil until it is no longer pink.
When the chicken is heated through and vegetables have softened, remove from heat and set aside while you prepare the sauce.
How do you make the Sauce?
To prepare the sauce, heat some chicken broth and heavy cream in a small saucepan and stir in some of your favorite cheese until the cheese is melted and the sauce is creamy.
I used soft Asiago Cheese PDO for a sharper taste; but any soft or semi-soft cheese would work well. Once the sauce is done, combine the noodles, vegetable and chicken mixture and sauce, place in a casserole dish; then bake for 30 minutes until hot and bubbly.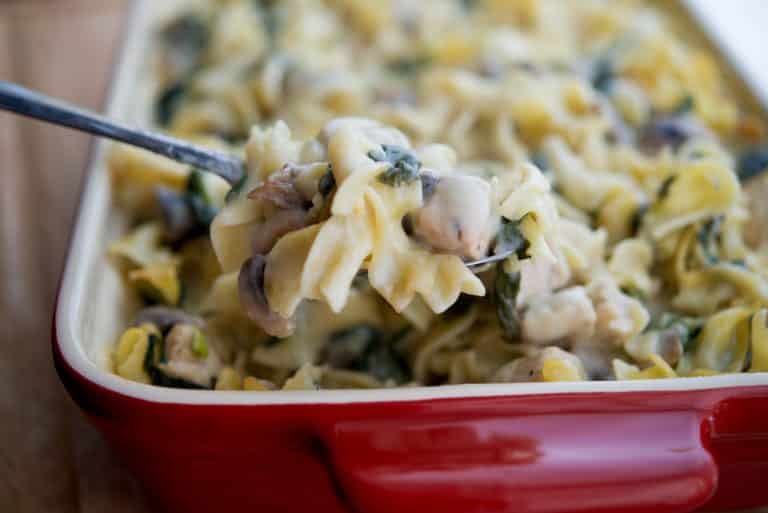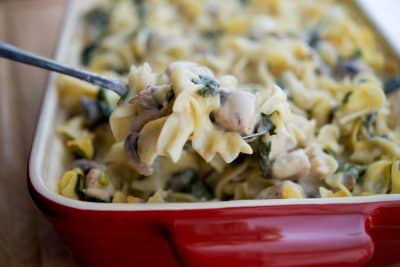 My family really liked this Creamy Chicken, Spinach & Mushroom Casserole. Now because we're a family of three on a regular eating basis now, we did have quite a bit leftover.
Thankfully, our oldest who is in college was very appreciative of the huge container I saved for her in the freezer so she could take some home with her; which by the way, she said it still tasted great even after reheating.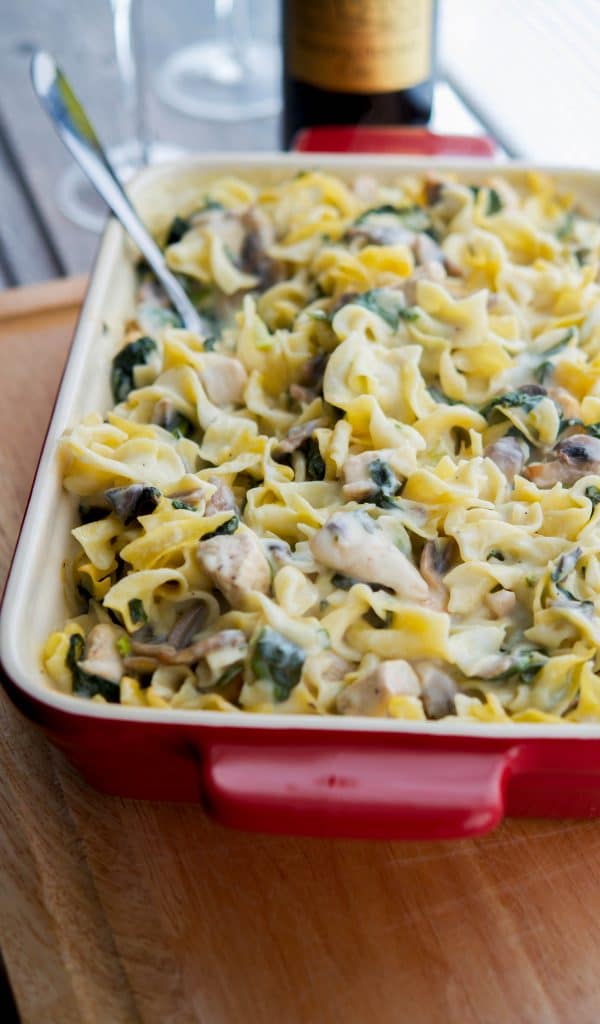 I suggest adding a little water, chicken broth or milk once it's been refrigerated or frozen to reheat so the casserole doesn't get dried out.
The entire meal took only 20 minutes to prepare; then another 30 minutes to bake. ~Enjoy!
Sign up for my weekly newsletter
and receive
a FREE eBook!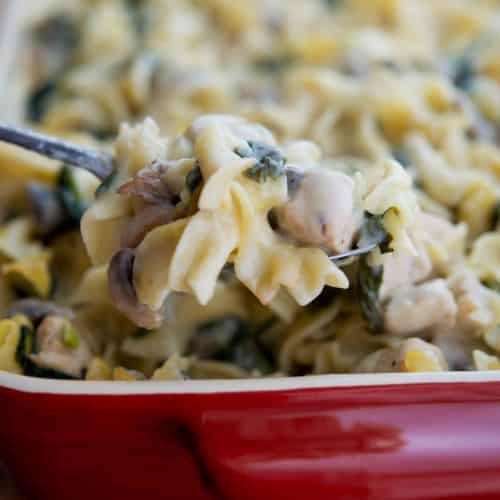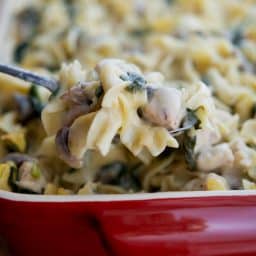 Creamy Chicken, Spinach and Mushroom Casserole
Chicken, Spinach and Mushroom Casserole
Ingredients
For the Casserole
12

ounces

egg noodles

2

cups

diced cooked chicken breasts

1

tablespoon

butter

10

ounces

sliced mushrooms

2

tablespoons

minced garlic

3

cups

fresh spinach

prepared sauce
Instructions
For the Casserole
Preheat oven to 350 degrees F.

Prepare egg noodles according to package directions allowing them to be al dente. Drain.

In a lage saute pan, melt butter and add mushrooms and garlic. Saute until the mushrooms start to soften, approximately 2 minutes; then add the spinach and chicken and stir until the spinach has wilted.

Combine the vegetable and chicken mixture, egg noodles and the prepared sauce, place in a casserole dish and bake for 30 minutes or until hot and bubbly.
For the Sauce
In a small saucepan, heat the heavy cream over medium heat until warm, not boiling.

In a medium saucepan, melt butter over medium heat and add the scallions. Stir for 1 minute then whisk in the flour forming a roux.

Add the chicken broth, cheese, salt and pepper. Keep stirring until the cheese has melted and the sauce is smooth; then add the warmed heavy cream.
Nutrition
Calories:
638
kcal
Carbohydrates:
49
g
Protein:
37
g
Fat:
33
g
Saturated Fat:
19
g
Polyunsaturated Fat:
2
g
Monounsaturated Fat:
9
g
Trans Fat:
0.3
g
Cholesterol:
162
mg
Sodium:
904
mg
Potassium:
754
mg
Fiber:
3
g
Sugar:
4
g
Vitamin A:
2516
IU
Vitamin C:
8
mg
Calcium:
474
mg
Iron:
3
mg
Visit the

recipe index

to search for more recipes by category.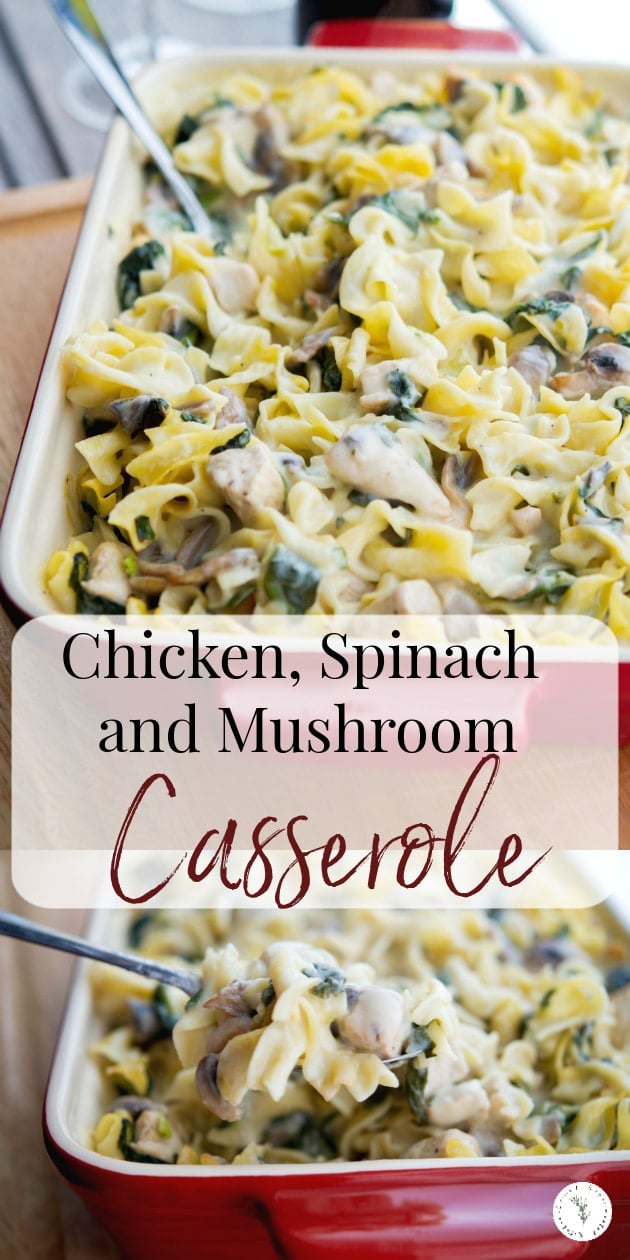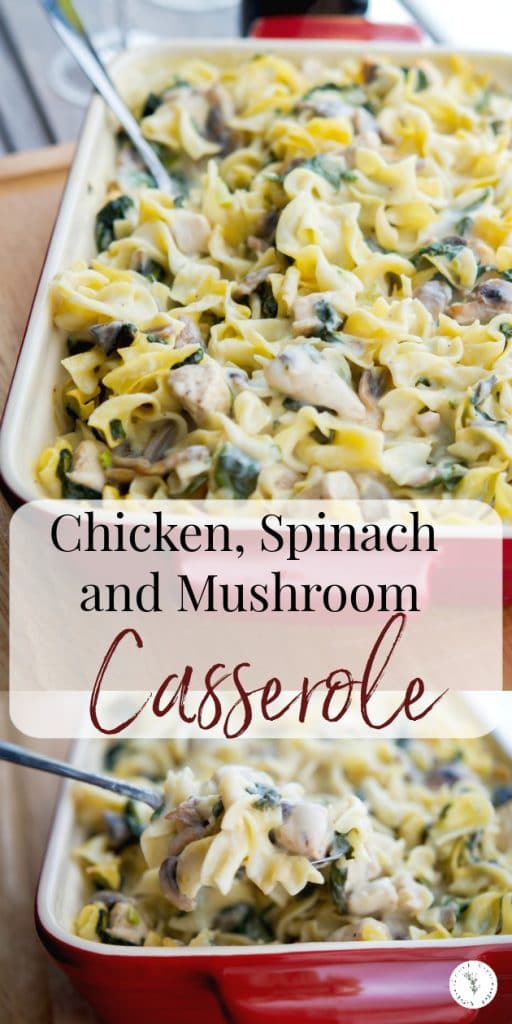 Related Recipes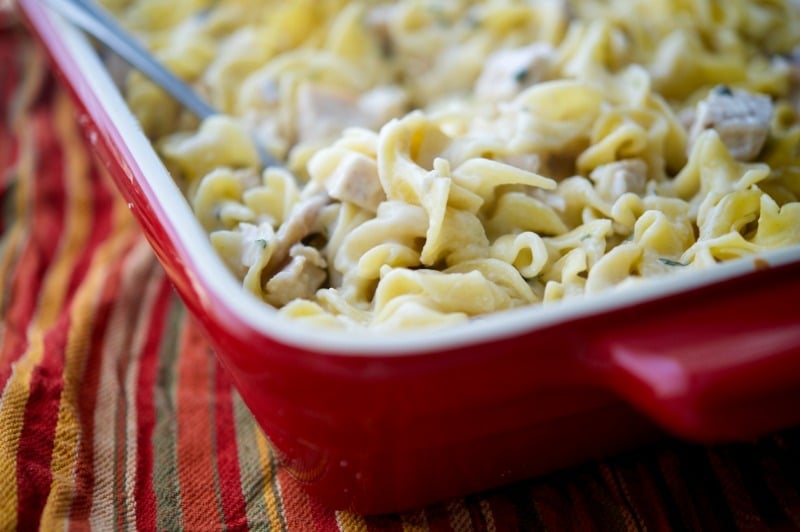 Leftover Turkey Stroganoff Casserole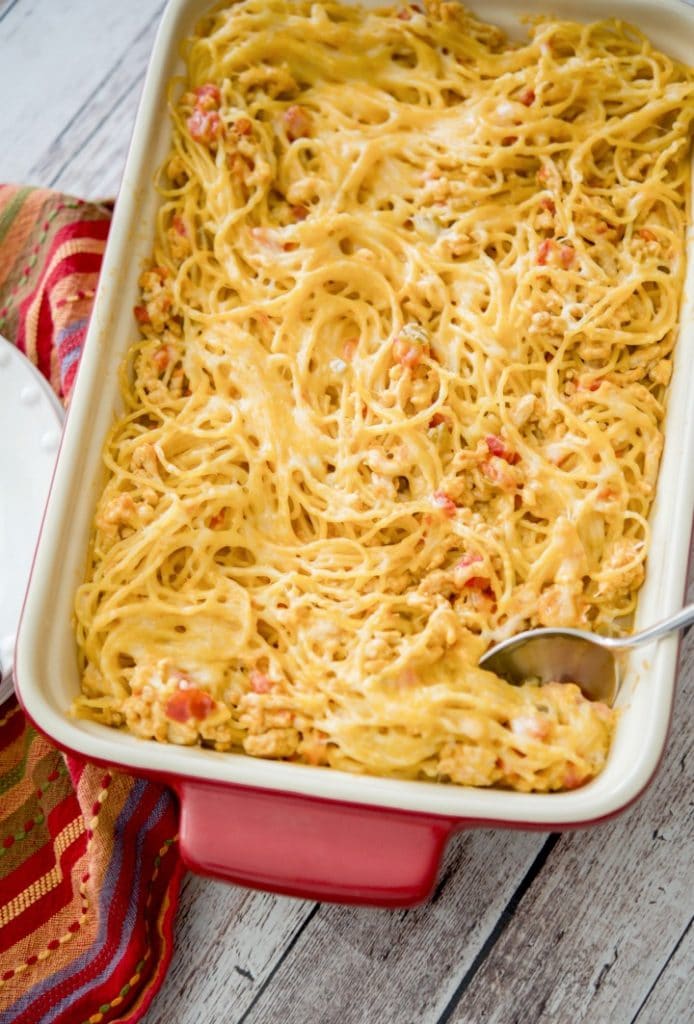 Low Fat Taco Spaghetti Casserole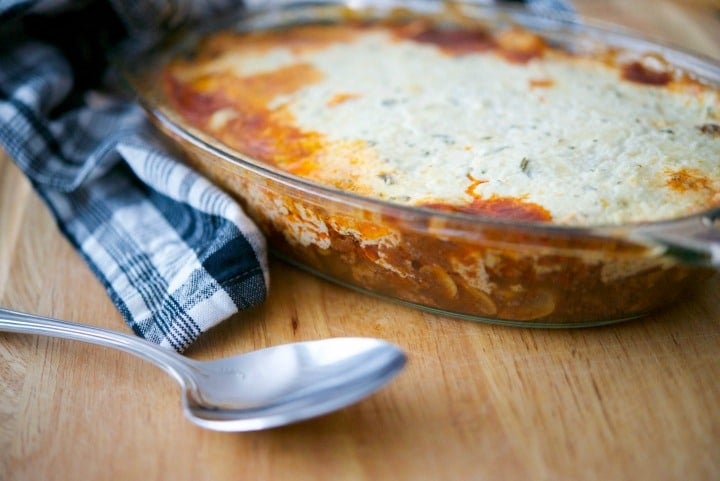 Connect with me on Social Media