Quinoa Salad with Black Beans and Golden Sunburst Tomatoes in a Tahitian Lime Olive Oil and Ginger Rice Vinaigrette.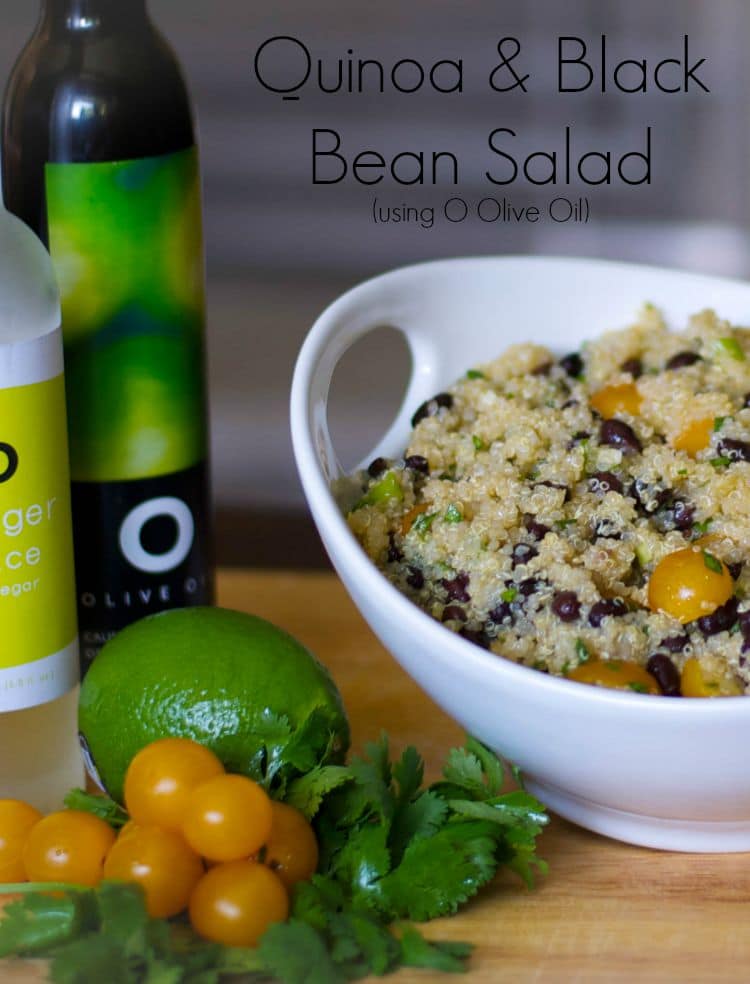 As I mentioned in my previous post, I am a contestant for a recipe contest hosted by
eRecipeCards
and
O Olive Oil
. I was given O Tahitian Lime Olive Oil and O Ginger Rice Vinegar to create something fabulous and boy did I…if I don't say so myself! When I tasted the combination of the oil and vinegar together, I knew I had to make a salad using these products so that the fresh citrusy flavor of the lime would shine through. I also wanted to use my new found love for quinoa.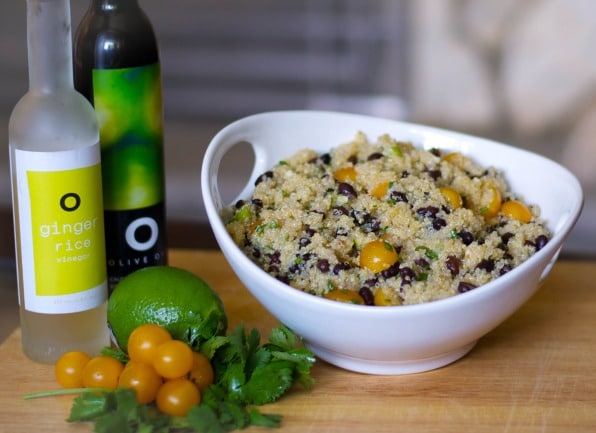 If you remember a while back, I had made it as a hot side dish and it didn't go over very well with the family. Then, I made that
Mediterranean Quinoa Salad
and they loved it. I loved the all-around freshness of this Quinoa & Black Bean Salad with the sweet flavor of the golden tomatoes, the nuttiness of the quinoa, the zesty flavor of the cilantro and the citrus and fragrant flavors of the fresh crushed lime in the olive oil and the ginger rice vinegar. Not to mention it was healthy and filling! My family ate this as a side dish with grilled chicken for dinner, then ate it for lunch the next day on it's own. I hope you like it as much as we did!
Quinoa Salad with Black Beans and Golden Sunburst Tomatoes in a Tahitian Lime Olive Oil and Ginger Rice Vinaigrette
1 1/2 c. Water
1 c. Quinoa
1-15oz. Can Black Beans, rinsed
1/4 c. Scallions, chopped
2 dz. Golden Sunburst Grape Tomatoes, rinsed and cut in half
Prepared Vinaigrette
Add water to a pot and bring to a boil. Add in the quinoa, cover and reduce heat. Simmer for approximately 15-20 minutes or until water is absorbed then remove from heat and let rest for 5 minutes. Fluff with a fork and let cool.  Add to a bowl along with the black beans, tomatoes, scallions, and prepared vinaigrette. Mix well and refrigerate for at least 1 hour. Serves 8 (1/2 cup).
Vinaigrette
1 tbsp. Fresh Cilantro, chopped
1 Clove Garlic, minced
1/4 c. O Ginger Rice Vinegar
1/2 c. O Tahitian Lime Olive Oil
1/2 tsp. Kosher Salt
1/4 tsp. Fresh Ground Black Pepper
In a small bowl, whisk all ingredients together until emulsified.
O Olive Oil, you have a new fan! I love this product (and I'm not just saying that because I received some complimentary to try!).  I love what they stand for as a company. They are concerned with what is happening in the marketplace and are proactive in finding ways to produce a better product. I love the freshness of their products, they're not acidic like others I've tried, and you really can taste the difference . The quality shines through and I can't wait to try the other varieties they produce. For a complete listing of all of the other fabulous selections at O Olive Oil, click
HERE
.
Enjoy!


*I was not compensated for this post other than to receive complimentary product. All opinions are my own.