Boneless chicken breasts marinated in a combination of honey, lemon juice and rosemary; then grilled is a healthy, low fat delicious weeknight meal.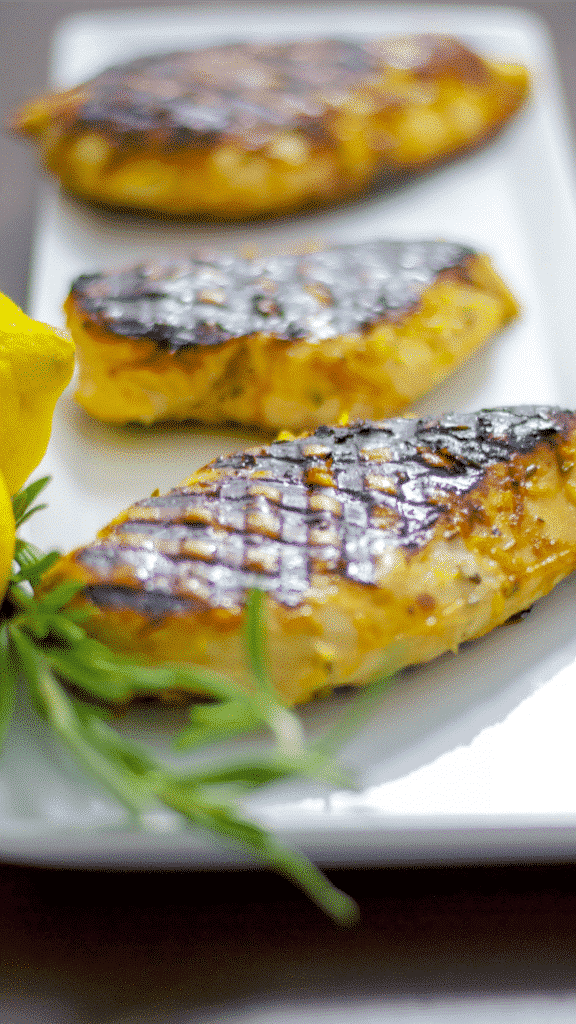 You can really learn a lot in a year without even realizing it. Last year, I can honestly say I used to burn or just about overcook everything I tried to grill (to the point of shoe leather!).
I have to say, though I'm not perfect yet, I am doing a much better job and these Honey Lemon Grilled Chicken Breasts were cooked perfectly!
grilling tips for chicken
After you fire up the grill, don't poke the chicken. Instead, use tongs to turn it over. Using a fork to turn the chicken pokes holes in the meat, thus letting some of those juices go to waste.
The only time you need to cut into the meat is when you are cooking a whole chicken and it is almost done.
One trick I learned for grilling chicken on the bone is to simmer it in water first. Add chicken pieces to a large pot, cover with water, bring to a boil then reduce to a simmer. Then allow to simmer for approximately 15-20 minutes. You can do this with or without the skin on. This accomplishes several things.

One: The chicken doesn't dry out on the grill (especially when using chicken breasts) before it has time to cook through. It also won't have that completely charred bbq sauce on the meat; which if you're like my family, the kids refuse to eat!
Two: It reduces your grilling time which is helpful if you're entertaining for a large crowd.
Three: If you are cooking for a crowd, you can prepare the chicken ahead of time, even the day before the event, so you can spend more time with friends and family and less time sweltering over the heat of the grill...BONUS in my opinion!

Grills vary, thickness of meat, bone-in or bone out, skin or no skin, and even the weather all effect the cooking times of chicken. Use a meat thermometer, look for golden brown skin, clear running juices, and monitor closely to cook to the best doneness.
Get a grilling thermometer. The recommended internal temperature for chicken when it is finished is between 165 - 175 degrees and the juices run clear.
Don't serve the chicken right away. Let the chicken "rest". For grilling a whole chicken let it sit for about 15 minutes after taking it off the grill and before carving. For chicken pieces let them sit for about 5 minutes to let the juices run back into the meat. The chicken will be much juicier this way!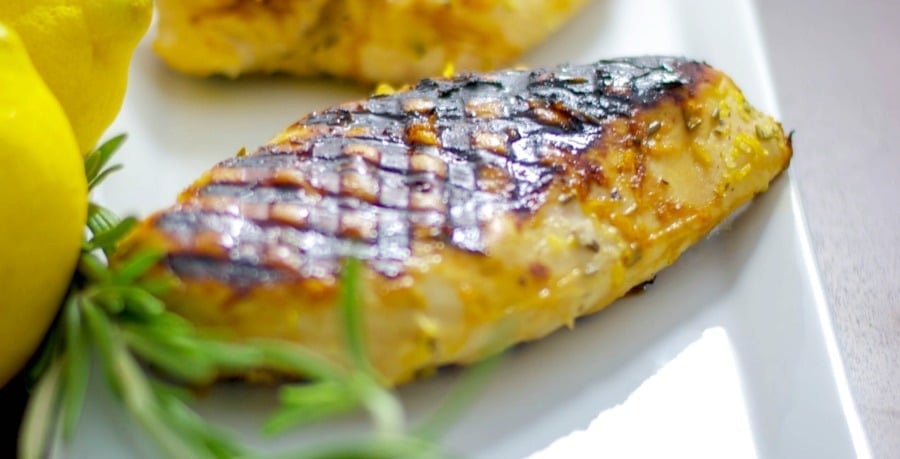 How do you make Honey Lemon Grilled Chicken?
For this recipe you'll need boneless chicken breasts, honey, lemon zest and juice and fresh rosemary. Add the honey, lemon zest and juice, and rosemary to a bowl and whisk until well blended.
Place the chicken in a resealable plastic bag; then add the honey mixture and refrigerate for at least 2 hours or overnight.
Remove the chicken from the refrigerator at least 15 minutes prior to grilling to bring the meat to room temperature. When you're ready to cook, discard the marinade; then grill until minimum temperature of 165 degrees F. (approximately 10-15 minutes depending on thickness and temperature of your grill)
You can't get any simpler than these Honey Lemon Grilled Chicken Breasts and the flavor was INCREDIBLE! Sweet, tangy and woodsy all in one made this one of my favorite ways to marinate chicken.
Serving Suggestions
This Honey Lemon Grilled Chicken was deliciously moist and super flavorful. Grilled chicken goes well with so many side dishes. here are a few suggestions
Visit the

recipe index

to search for more recipes by category.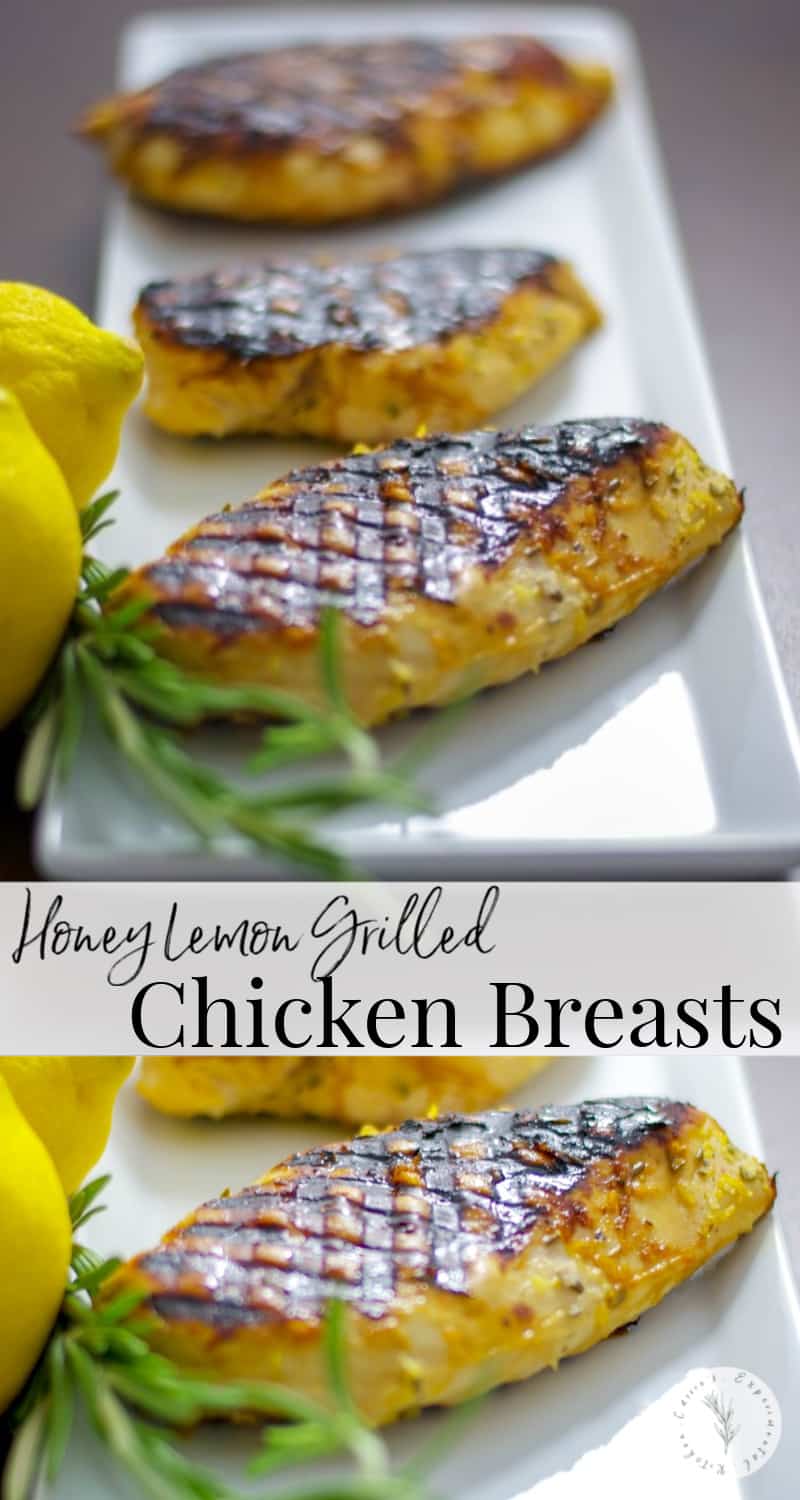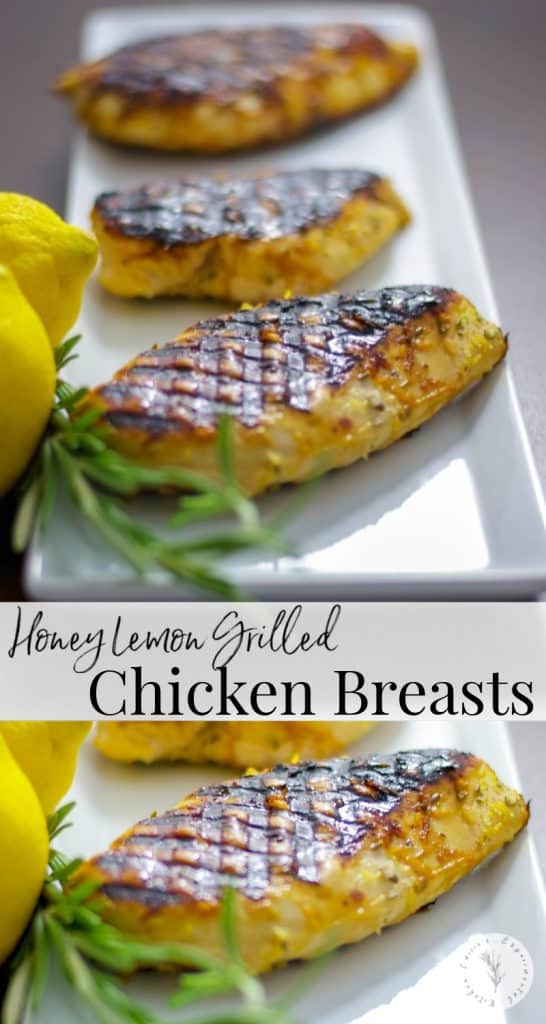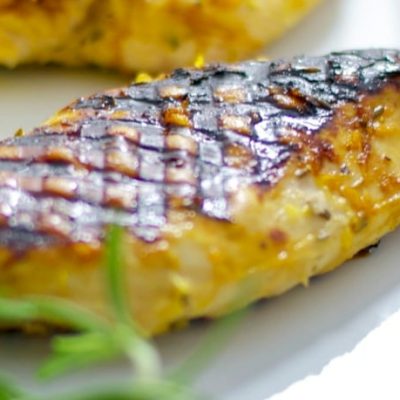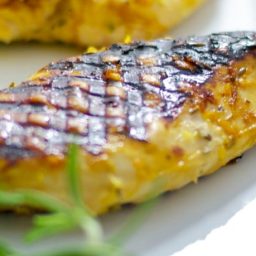 Honey Lemon Grilled Chicken
Boneless chicken breasts marinated in a combination of honey, lemon juice and rosemary; then grilled is a healthy, low fat delicious weeknight meal.
Ingredients
4-

(6-ounce)

boneless chicken breasts

½

cup

honey

1

lemon, zest and juice

1

tablespoon

chopped fresh rosemary
Instructions
Add the honey, lemon zest and juice, and rosemary to a bowl and whisk until well blended.

Place the chicken in a resealable plastic bag; then add the honey mixture and refrigerate for at least 2 hours or overnight.

Remove the chicken from the refrigerator at least 15 minutes prior to grilling to bring the meat to room temperature, discard the marinade; then grill until minimum temperature of 165 degrees F. (approximately 10-15 minutes depending on thickness and temperature of your grill)
Notes
*Allow extra time for the chicken to marinate (2-24 hours)
Nutrition
Calories:
323
kcal
Carbohydrates:
35
g
Protein:
36
g
Fat:
4
g
Saturated Fat:
1
g
Polyunsaturated Fat:
1
g
Monounsaturated Fat:
1
g
Trans Fat:
0.02
g
Cholesterol:
109
mg
Sodium:
199
mg
Potassium:
655
mg
Fiber:
0.2
g
Sugar:
35
g
Vitamin A:
66
IU
Vitamin C:
2
mg
Calcium:
13
mg
Iron:
1
mg
Connect with me on Social Media