Tender beef rib eye steak sliced thin; then topped with sautéed mushrooms, onions and melted cheese on toasted Ciabatta rolls.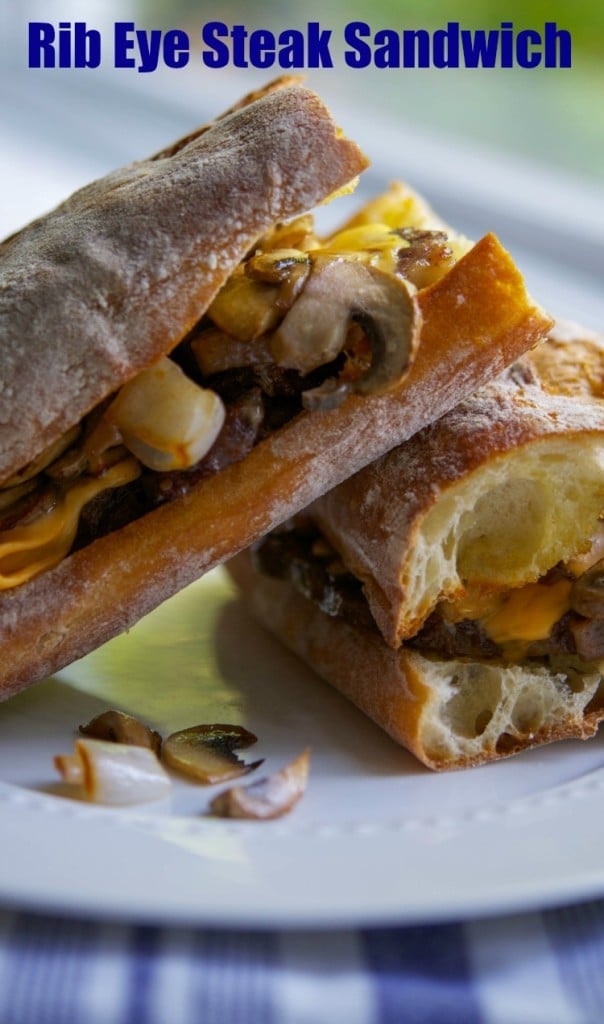 Well I hope you all enjoyed your nice, long weekend! We stayed home and caught up on some housework and rested after the busy 3 weeks we've had between my grandmother passing away and our oldest daughters' graduation.
We did manage to do some grilling and wound up with some leftover rib eye steaks. I sliced them in half horizontally, sautéed some mushrooms and onions, melted some cheese and created these Rib Eye Steak Sandwiches.
OH MY GOODNESS! Can you believe I haven't made these at home in about, UMMM...NEVER?! We don't eat sandwiches very often for dinner, but I can't stand to see food go to waste so sandwiches it was going to be.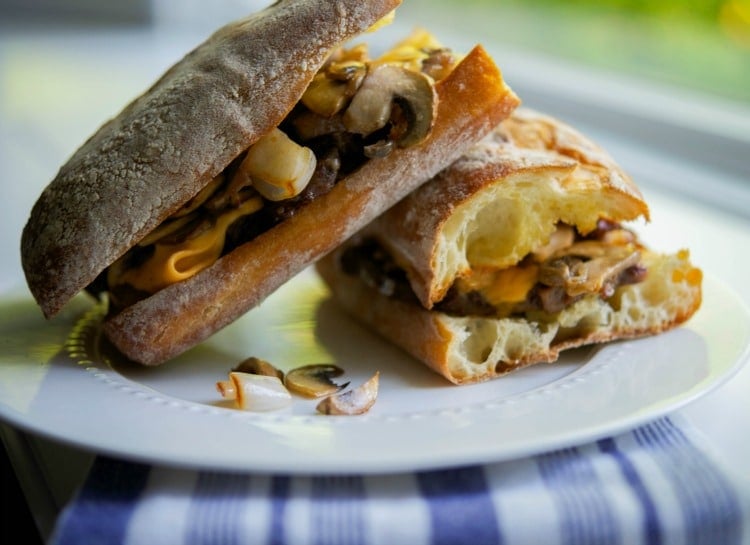 How do you make a Rib Eye Steak Sandwich?
First, I melted some butter and added a little garlic powder; then smeared it on two loaves of Ciabatta bread.
Next, I wrapped the bread in foil and baked the bread for about 10 minutes until the bread got a little crispy. Don't you just love crunchy bread on your sandwiches?
I then melted a little butter in a non stick pan and sautéed some mushrooms and onions until they were soft; then added the rib eye steak to the pan to warm it up.
Top that with your favorite cheese (I just used American) and place on your crispy Ciabatta bread.
My family and I don't like peppers, but you can certainly add them to this rib eye steak sandwich if you'd like.
I have to say that this isn't the healthiest meal in the world, but YUM is definitely an understatement. My family loved these and yours will too. ~Enjoy!
Sign up for my weekly newsletter
and receive
a FREE eBook!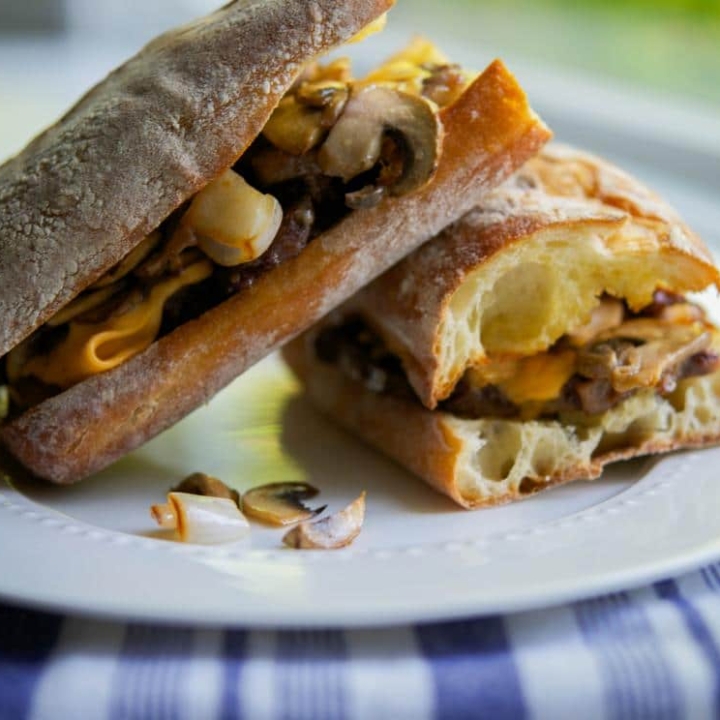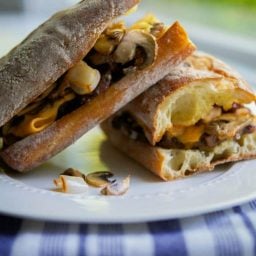 Rib Eye Steak Sandwich
Tender beef rib eye steak sliced thin; then topped with sautéed mushrooms, onions and melted cheese on toasted Ciabatta rolls.

Ingredients
2-

12-inch

Ciabatta Rolls

6

tbsp.

Butter, divided

Garlic Powder, as desired

2

Boneless Rib Eye Steaks

1-

10(ounce) pkg.

Mushrooms, sliced

½

Red Onion, sliced

4

Slices

American Cheese
Instructions
Preheat oven to 450 degrees F.

Cut the rolls in half to form four 6" rolls; then slice in half horizontally.

Melt 4 tablespoons of butter and add garlic powder. Spread the butter on the inside of the rolls; then cover with aluminum foil and bake for 10 minutes.

In a large, nonstick saute pan, melt the remaining 2 tablespoons of butter over medium heat and add the mushrooms and onions. Saute until the onions become translucent; then remove from pan and set aside.

Cut the rib eye steaks in half horizontally so that you have four ½" thick steaks; then add to the same pan and cook through turning halfway. (If you're steak is already cooked like mine were, this should only take a few minutes as you just want to heat it through).

Melt one slice of cheese on each steak; then place on each roll. Top with mushrooms and onions.
Notes
*This recipe uses rib eye steaks that were previously grilled. Add additional cooking time if you are using fresh rib eye steaks.
Nutrition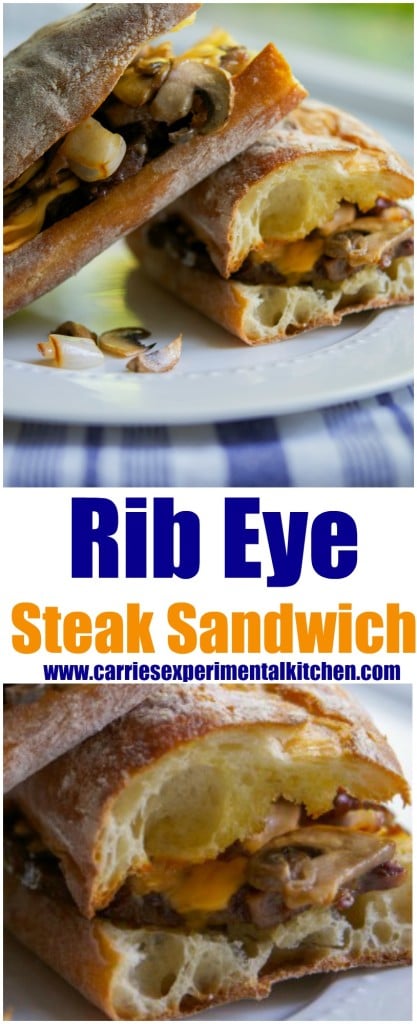 Related Recipes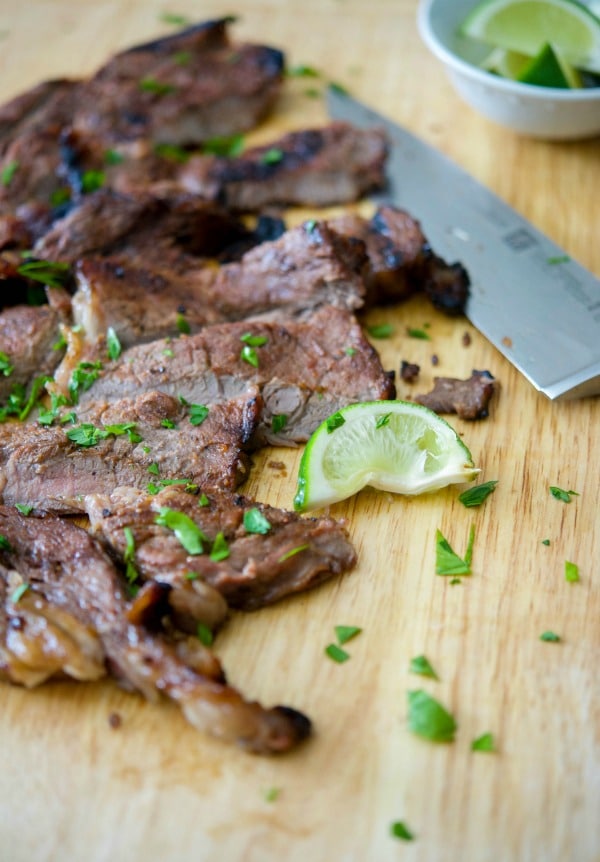 Cajun Lime Grilled Rib Eye Steak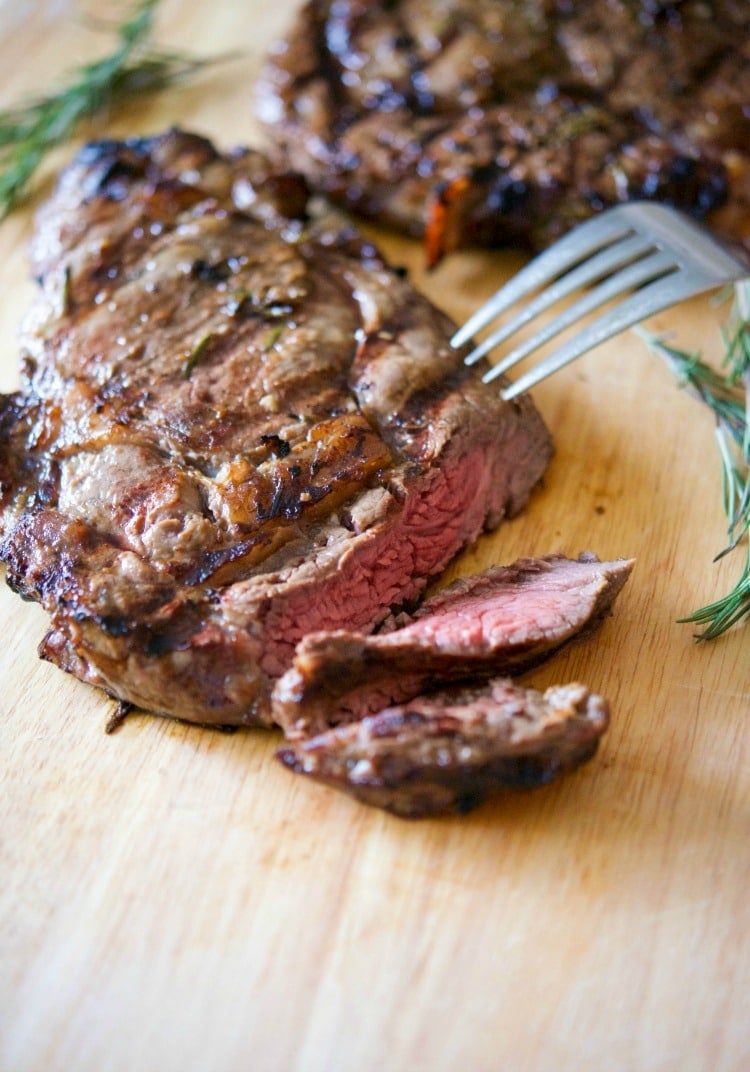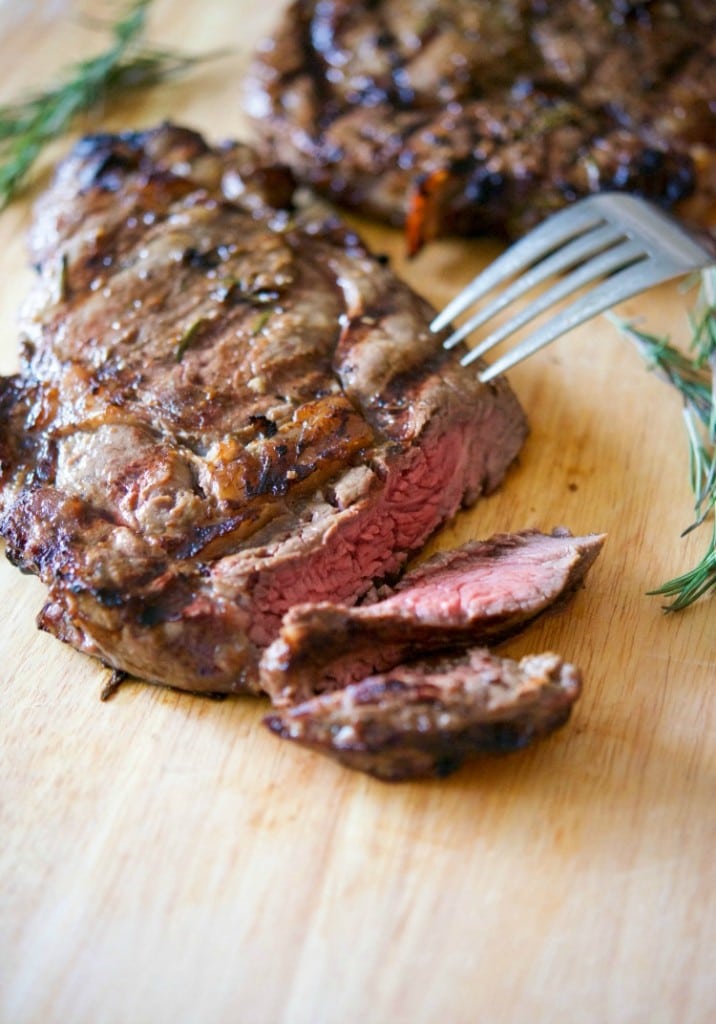 Tuscan-Style Grilled Rib Eye Steak

Connect with me on Social Media