Chicken Salad made using a store bought, finely shredded Rotisserie whole roaster chicken is a super easy way to make a deliciously quick family meal.
I'm sure you've all had one of those days where you are so exhausted that you can't even think about what to make for dinner. I certainly do. That's where purchasing a store bought Rotisserie style whole roaster chicken comes in.
Not only can you just carve and eat, you can make a deliciously quick and easy chicken salad like this one. Not to mention it's also super inexpensive too!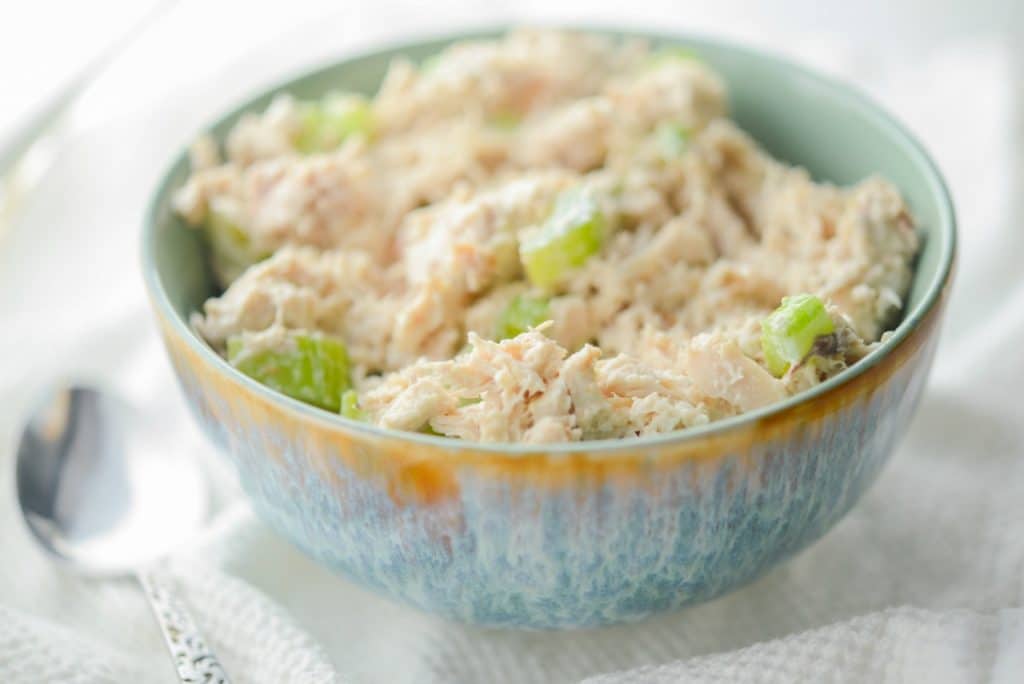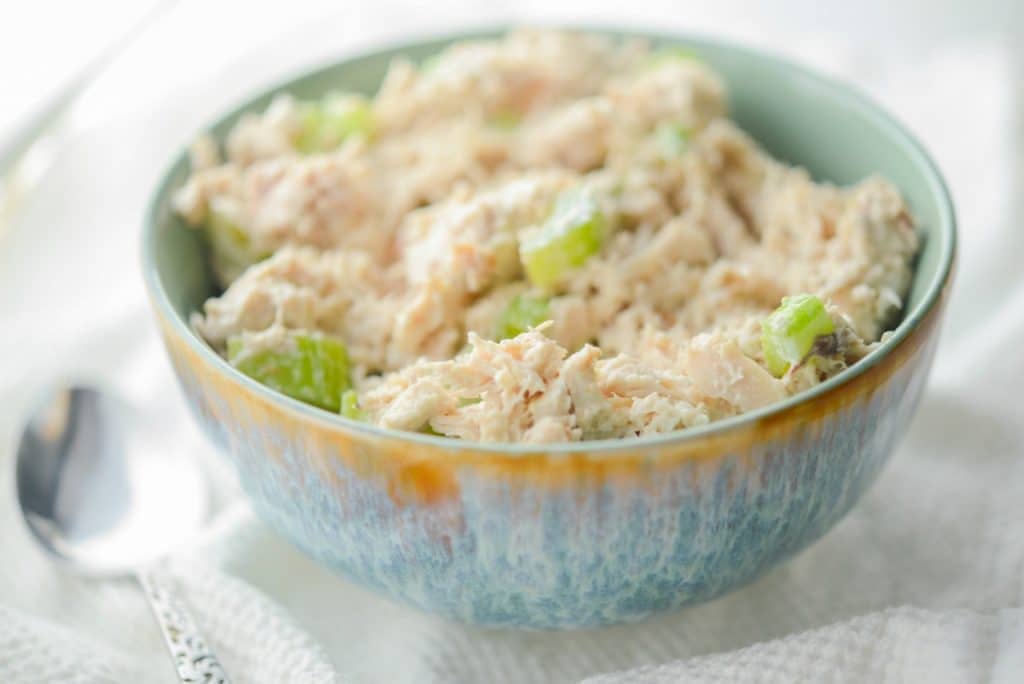 I guess I'm a little late to the 'store bought chicken' party, but I never felt the need to purchase one until recently. About 7 weeks ago, I woke up and had such excruciating pains in my back, chest and paralysis in my right arm and hand.
Thankfully it wasn't a stroke or heart attack, but a herniated cervical disk that was impinging on the nerves that control my right arm and diaphragm. After weeks of home remedies, medication, and PT; the doctors told me it would just heal on its own.
Though it has improved since the initial onset, I do have my days where I can't even type or cook dinner with any kind of effort. That's where buying this Rotisserie chicken came in.
While I was food shopping I saw them putting out fresh chickens and they were only $3.99. Bargain! They had several different types of seasoning on them, but I opted for the original.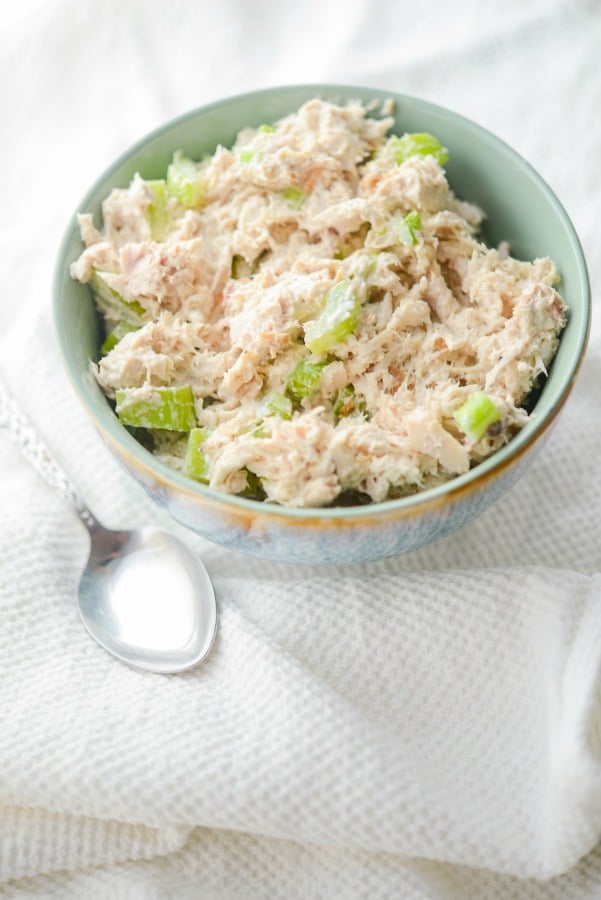 It was a warm day and I didn't want a heavy meal for dinner, so I opted to make chicken salad instead.
How do you make Rotisserie Chicken Salad?
First you'll need to remove the skin and shred the chicken into mixing bowl with your clean hands.
Many years ago while I was working at an Italian deli during college, the owner had us shred the cooked chicken with our clean hands. He said it made it taste better. You wouldn't think it would really make a difference, but it did.
Next, add some chopped celery, mayonnaise, salt and pepper and mix well. That's it! Super easy right?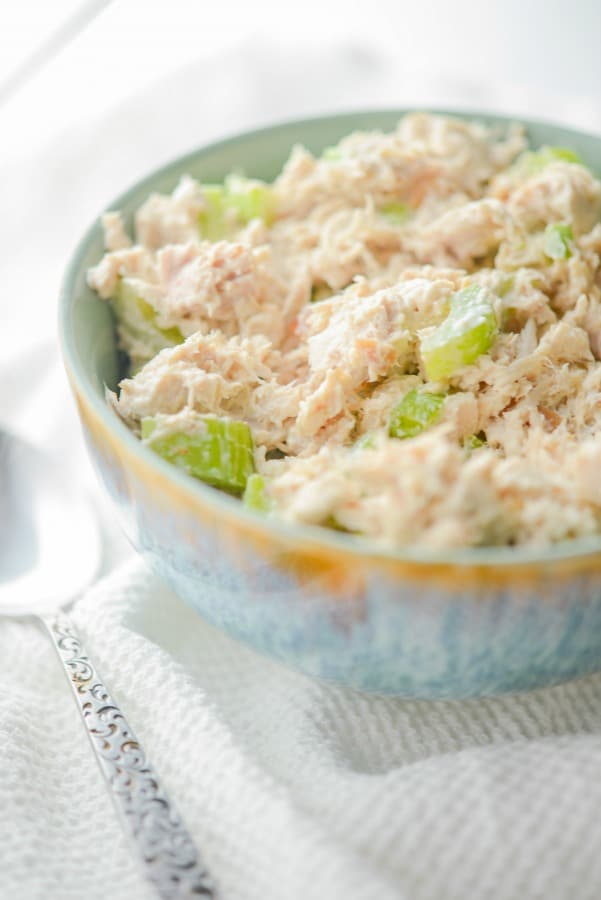 Rotisserie Chicken Salad is a quick and easy lunch or dinner that takes about 10 minutes to prepare. It serves 4 people and costs about $1 per serving.
You can serve this alone with slices of lettuce and tomato for a gluten free or low carb option. Or you can make a sandwich on your favorite bread or roll. ~Enjoy!
Sign up for my weekly newsletter and receive a FREE eBook!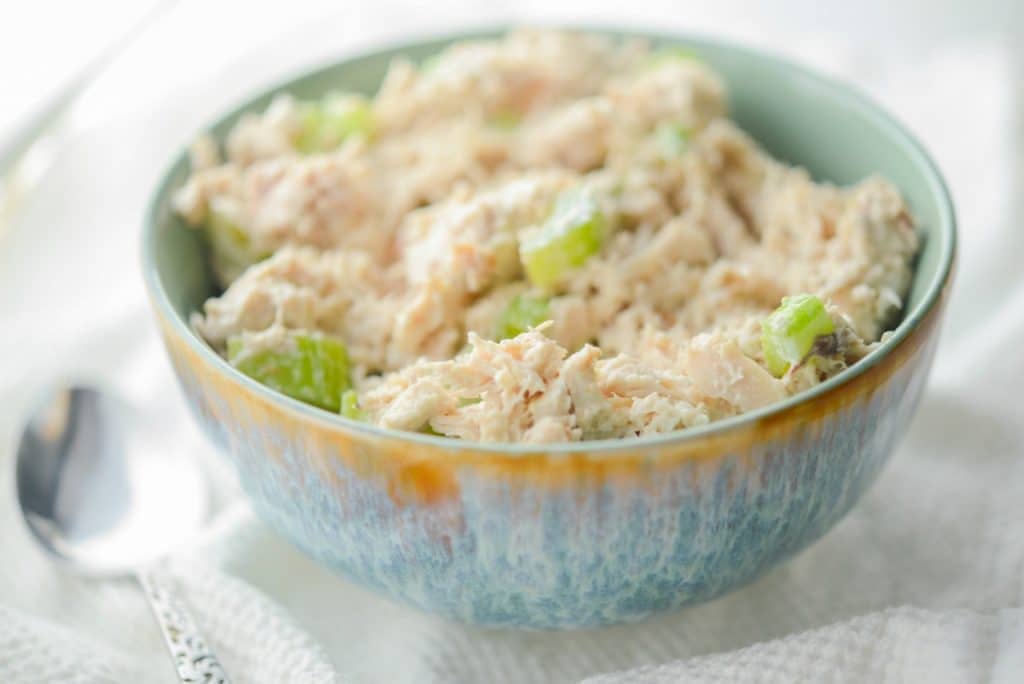 Instructions
Remove the skin from the chicken and shred the chicken into mixing bowl with your clean hands.

Add the remaining ingredients and mix well.  
Did you make this recipe?
Share a comment on the blog or mention @CarriesExpKtchn on Instagram!
Visit the

recipe index

to search for more recipes by category.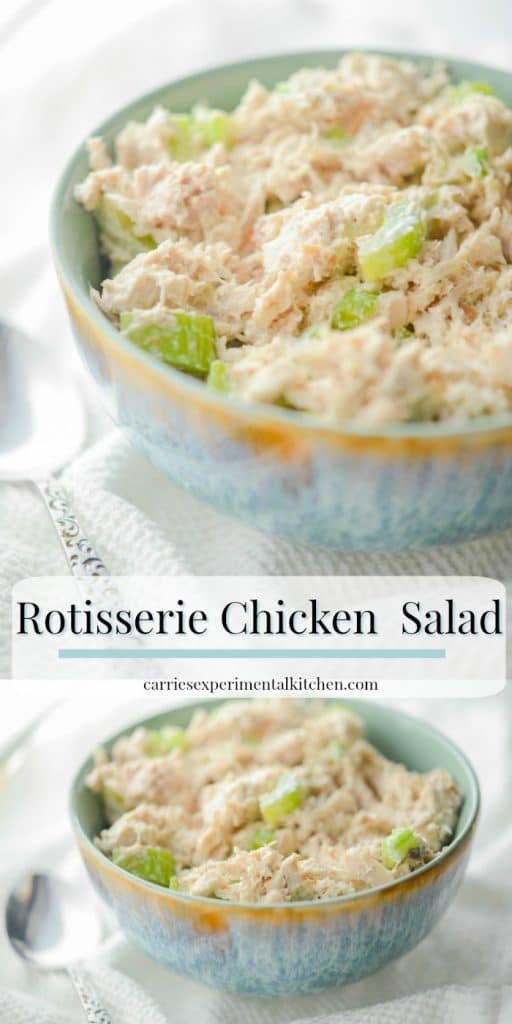 Related Recipes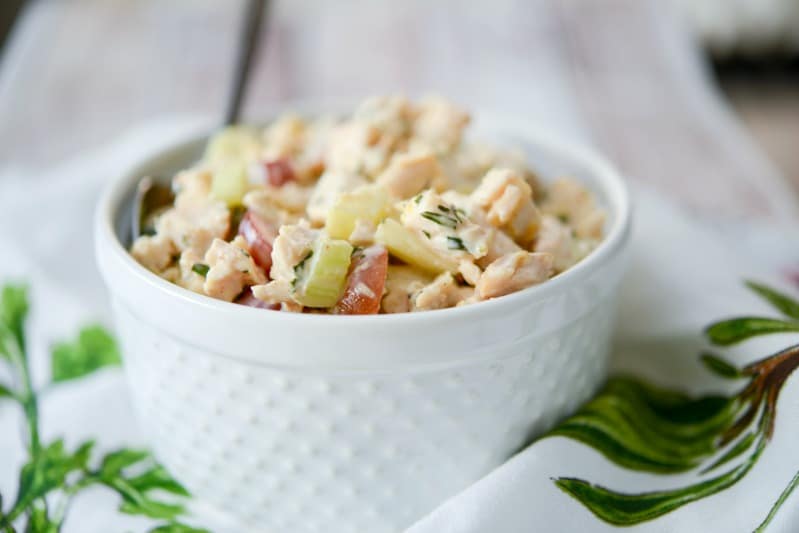 Napa Almond Chicken Salad (Panera Bread Copycat)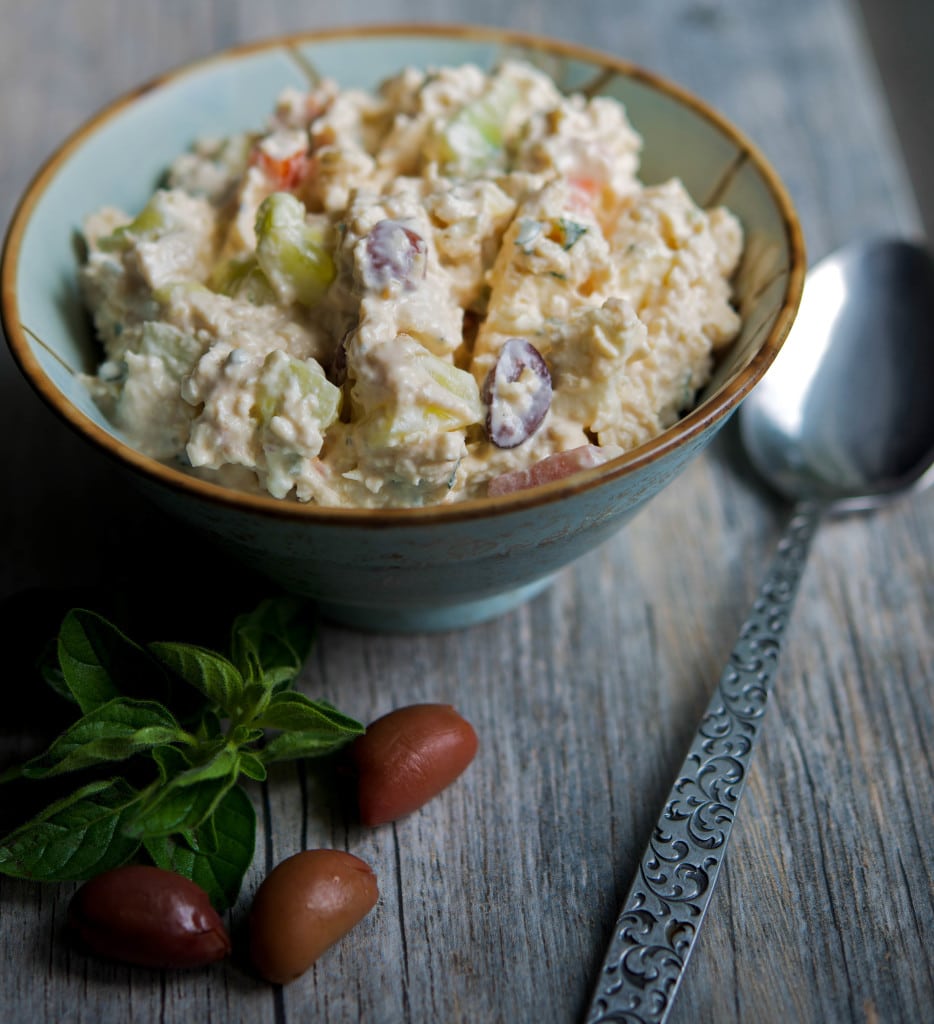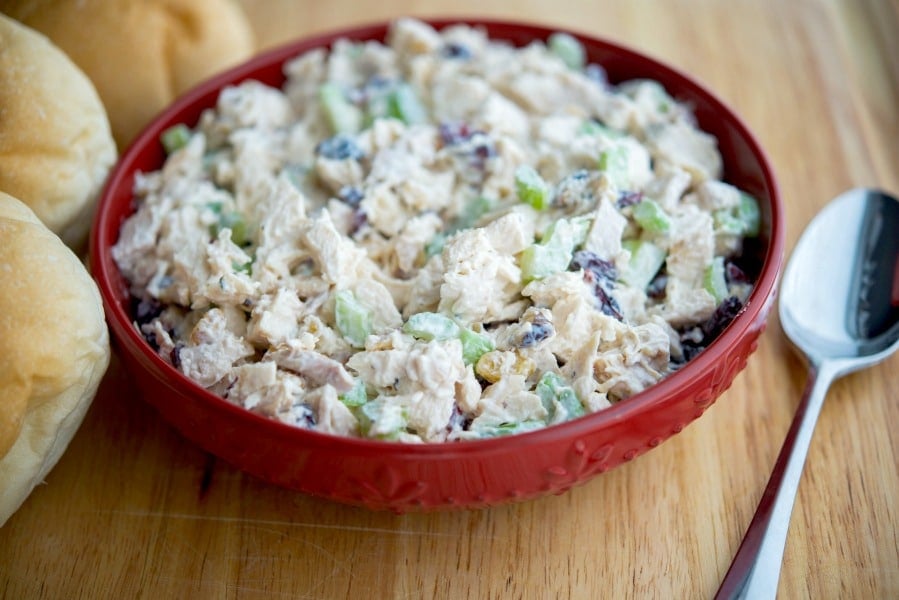 Rosemary, Honey and Walnut Chicken Salad
Try these other chicken salad recipes too:
What is your favorite recipe using Rotisserie chicken?
Connect with me on Social Media