These Sea Salt Roasted Green Beans are delicious and so easy to make. A must try addition to your side dish dinner rotation.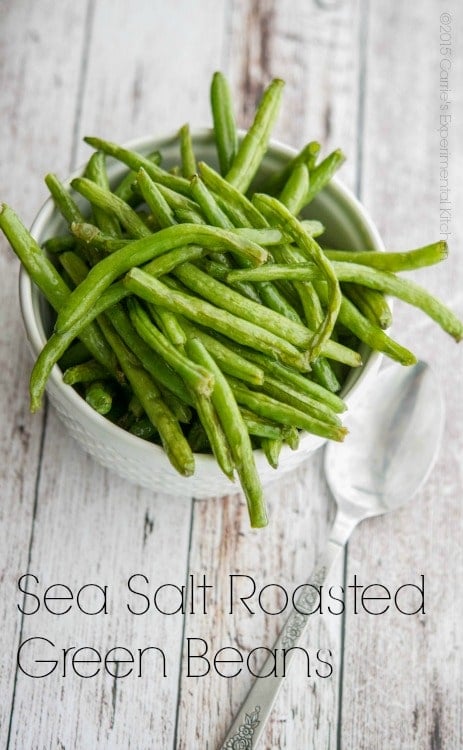 Green beans are my family's favorite vegetable and I generally make them at least once a week. Our favorite way to eat them is steamed (fresh of course!) then sautéed with just a little butter and a small amount of vegetable or chicken broth.
I was trying to find a new way to make them and for me, simplicity is best so I made these Sea Salt Roasted Green Beans; which are made with a little extra virgin olive oil, sea salt and pepper.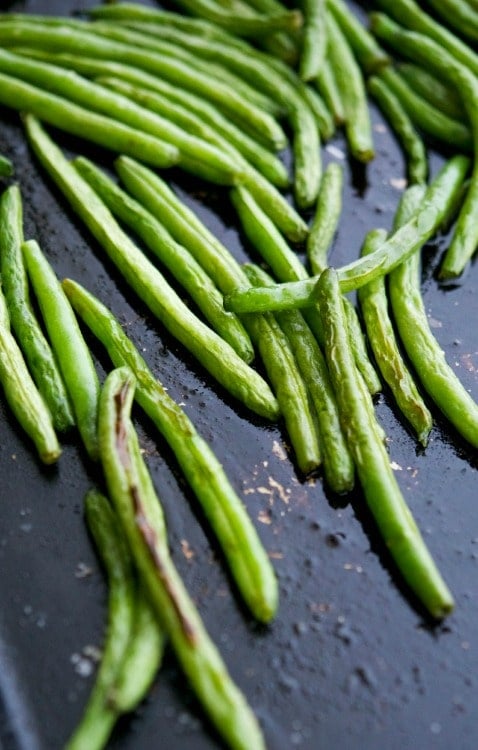 What is the difference between sea salt and table salt?
Both have the same basic nutritional value, despite the fact that sea salt is often promoted as being healthier and also contain comparable amounts of sodium by weight.
Sea salt has a coarse, crunchy texture and a stronger flavor; which makes it a favorite amongst chefs. It is also processed less than table salt and contains magnesium. It is produced through the evaporation of ocean water; which leaves behind certain trace minerals and elements. The minerals add flavor and color to sea salt, which also comes in a variety of coarseness levels like Himalayan Pink or Red Hawaiian Sea Salt.
Table salt is typically mined from underground salt deposits and is more heavily processed to eliminate minerals and usually contains an additive to prevent clumping.
Most table salt also has added iodine, an essential nutrient that helps maintain a healthy thyroid.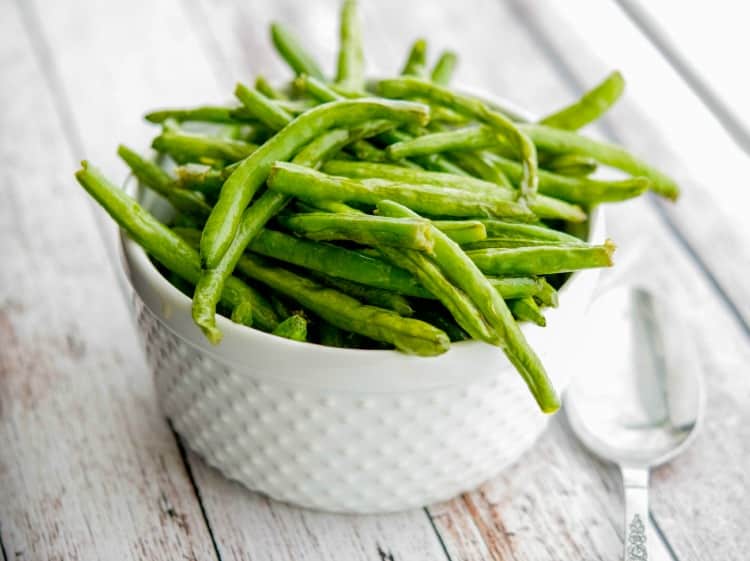 These green beans were delicious and so easy to make. I used fresh green beans and trimmed the ends first; however, I prefer Haricot Verts; which are French beans that are slimmer and longer.
I like them because unlike the regular beans, you don't have to trim the edges first which definitely saves you a few minutes of prep time.
How do you make Sea Salt Roasted Green Beans?
Once the green beans are trimmed and rinsed under cold water, toss them with some olive oil, sea salt (any color or texture is fine) and fresh ground black pepper.
Place them on a baking sheet and roast them for about 15 minutes (10 minutes if using Haricot Verts) until they are soft, yet slightly crisp.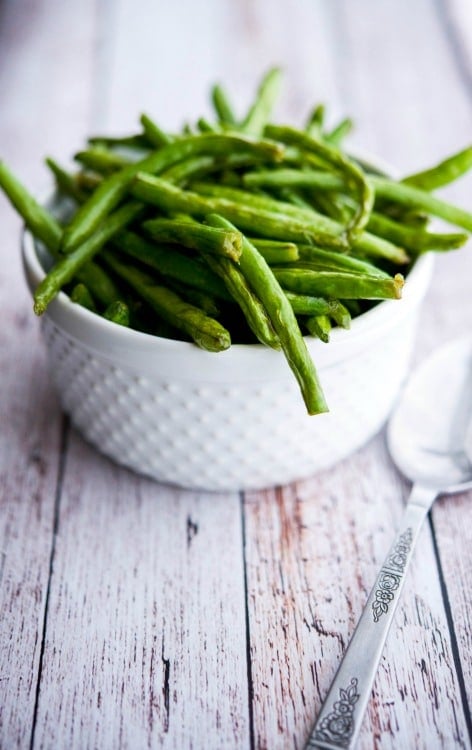 My family and I really liked these Sea Salt Roasted Green Beans and the salt really brought out the flavor. I served these with Mojito Grilled Chicken (recipe coming soon!). ~Enjoy!
Sign up for my weekly newsletter
and receive
a FREE eBook!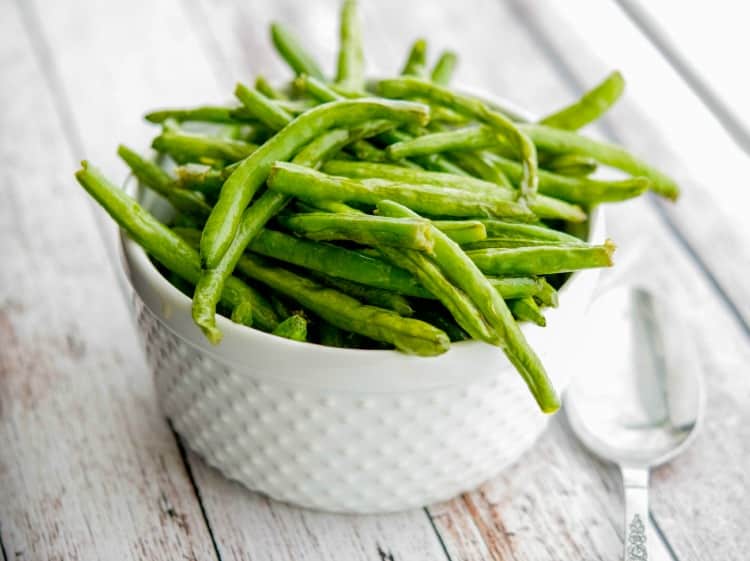 Instructions
Preheat oven to 425 degrees F.

Rinse the green beans under cold water, pat dry; then trim the ends.

Add the beans, oil, salt and pepper to a medium size bowl; mix well.

Place the beans on a baking sheet and bake for 15 minutes.
Nutrition
Calories:
95
kcal
|
Carbohydrates:
8.1
g
|
Protein:
2.1
g
|
Fat:
6.9
g
|
Fiber:
3.9
g
Did you make this recipe?
Share a comment on the blog or mention @CarriesExpKtchn on Instagram!
Visit the

recipe index

to search for more recipes by category.

Related Recipes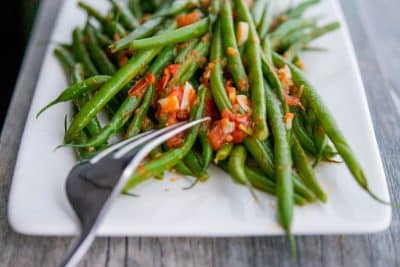 Green Beans with Tomato & Garlic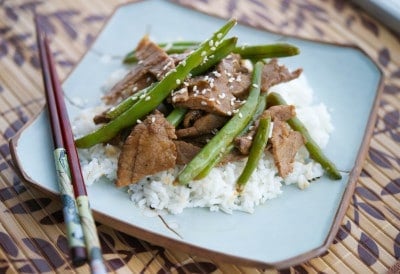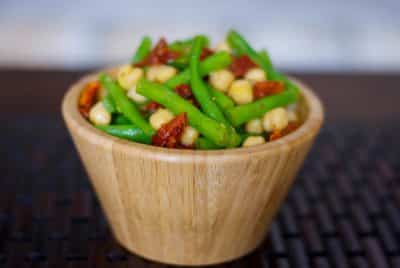 Mediterranean Garbanzo & Green Bean Salad
Connect with me on Social Media