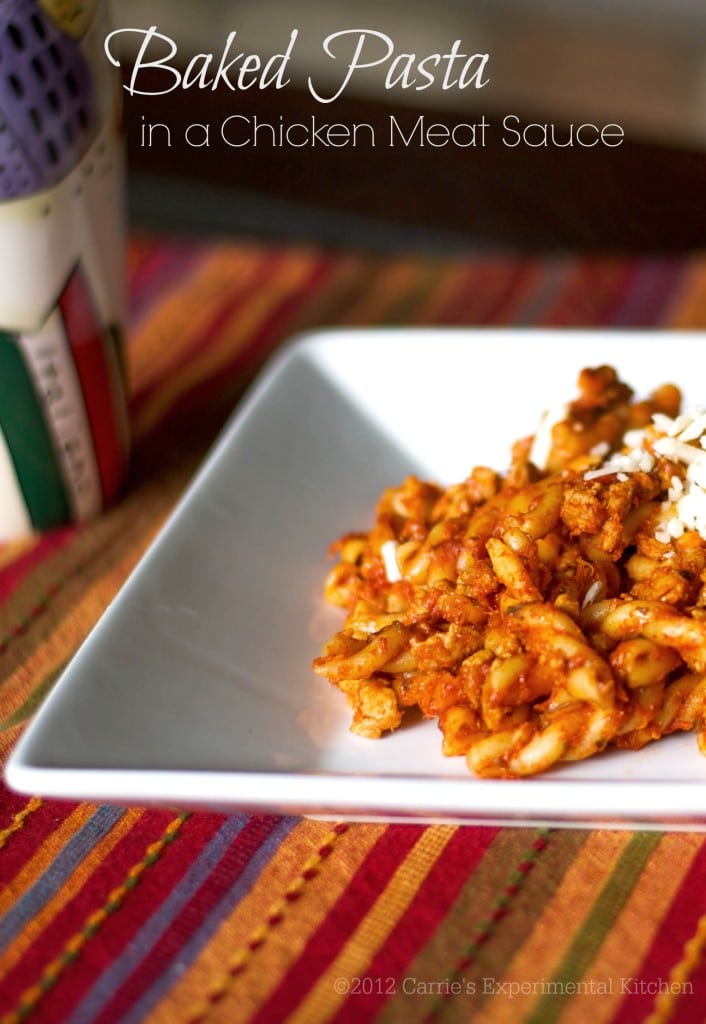 This dish is our family's go-to meal when I need something quick. I can make it the night before or earlier in the day, then just heat up what we need when it's time to eat, which comes in handy on those nights where we're off and running to so many sporting events. This time I used ground chicken but I've also used ground beef and turkey and threw in some mushrooms once or twice too. Just add whatever you and your family like. You can also substitute whole wheat pasta or pasta plus (like what I normally use), but I'm trying to use up what's in my cabinets. 🙂
Baked Pasta in a Chicken Meat Sauce
1 lb. Pasta (I used Gemelli, but Rotini would work nicely also)
1 lb. Ground Chicken (you can substitute ground turkey or beef if you prefer)
1 tsp. Extra Virgin Olive Oil
2 Cloves Garlic, minced
1/4 c. Red Onion, chopped
1 tbsp. Fresh Basil, chopped
1 tbsp. Parsley
28oz. Hunts Crushed Tomatoes
6oz. Hunts Tomato Paste
6oz. Water (I use the tomato paste can)
1/4 c. Dry Red Wine (I used Chianti)
1/4 c. Parmigiano Reggiano Cheese, grated
1 c. Part Skim Mozzarella, shredded
Add the oil to a  large, non-stick saute pan and add your ground chicken, onions and garlic. Allow chicken to brown completely, then add in your tomato products, water, wine, basil, parsley and cheese. Let simmer for approximately 45 minutes. While the sauce is simmering, prepare the pasta according to package directions, drain water, then add the cooked pasta to the sauce once it has thickened and turned a deep red color. Next, stir in the mozzarella cheese then add the pasta to an oven safe baking dish. Bake at 425 degrees for 15 minutes. Makes 5 cups.
Nutritional Information per 1 Cup: Calories 512, Carbs 64g, Fat 15g, Protein 41g
*Calculations based on ingredients entered into 
MyFitnessPal
 and may not be 100% accurate.