Blueberry Pie Tassies are a simple, small bite sized dessert, similar to a cream cheese cookie; then filled with your favorite pie filling.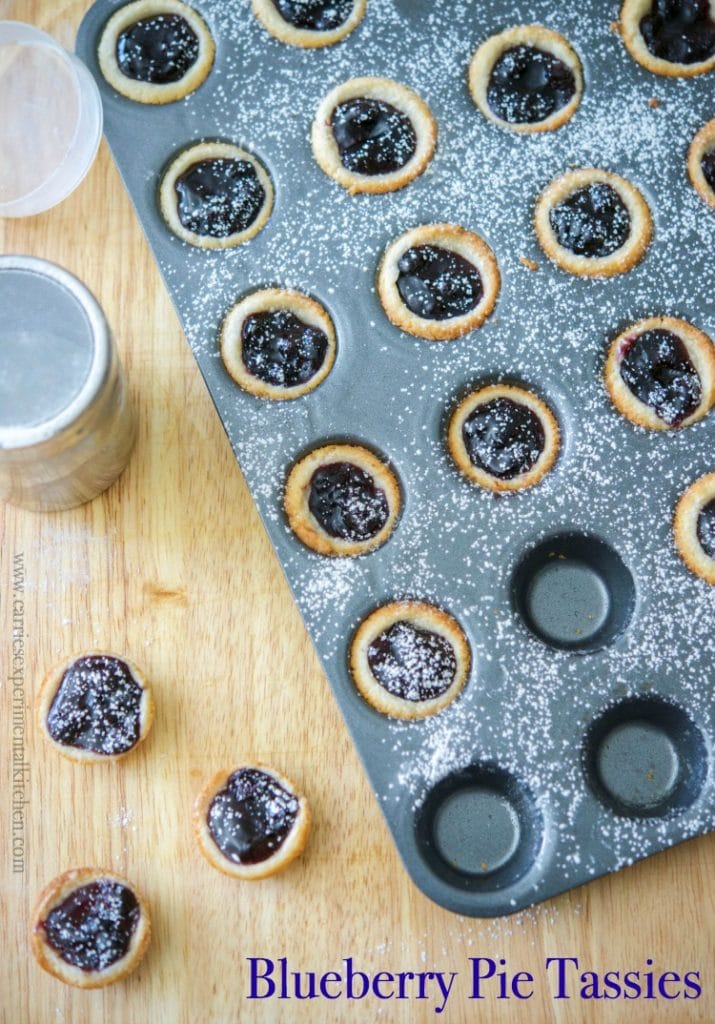 Later this month, my youngest daughter will be graduating 8th grade and heading to high school. So of course, 100 of our closest family and friends will be gathering for bbq celebration which we'll be hosting at the small lake in our neighborhood.
We hired someone to do the grill work, so all I have to do is provide the beverages, salads and desserts; one of which will be these Blueberry Pie Tassies.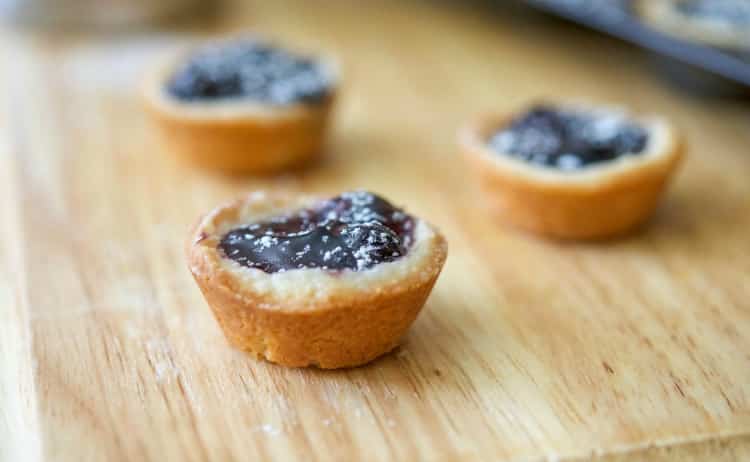 I had seen a recipe in Cooking Light Magazine for Pecan Tassies a few months ago and decided to make my own version. Of course, I also had to simplify it because you all know how much I don't like to bake.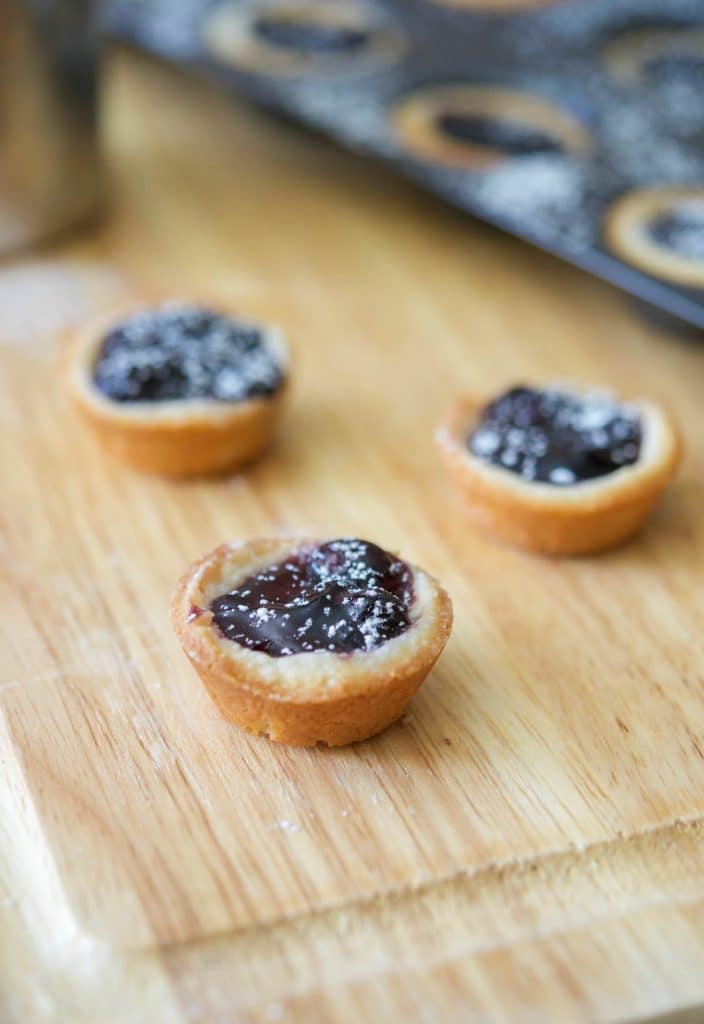 What is a 'tassie'?
Tassie means 'a small cup' and are basically made by placing dough into a mini muffin pan; then pressing the dough down around the bottom and sides to form a "cup".
The dough is made from butter, cream cheese, flour and sugar and takes minutes to prepare. I've seen tassies with many types of fillings from pecan pie, to lemon to cinnamon sugar.
However, being it is also two years since my grandmother passed away and her favorite dessert was blueberry pie, I decided to use blueberry pie filling; which made making this dessert even easier.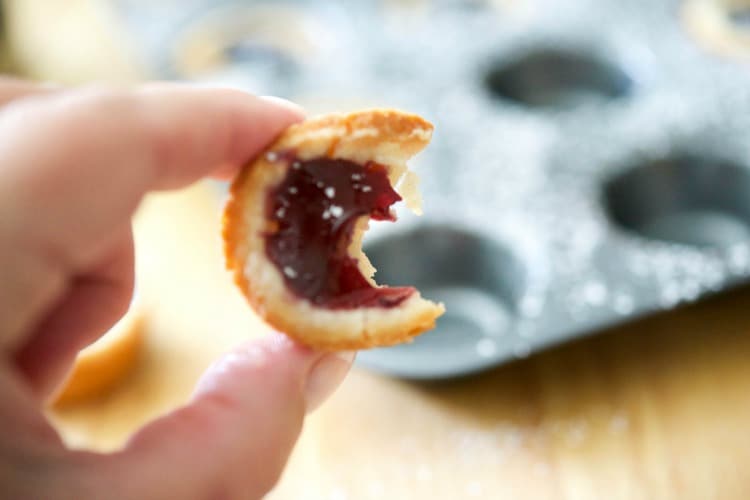 How do you make Blueberry Pie Tassies?
To prepare the tassies, combine softened butter, cream cheese, all purpose flour and granulated sugar; then mix until all of the ingredients have been incorporated.
Next, spray a mini muffin tin with cooking spray; then form 24 balls about 1″ in diameter and place them in the muffin tin. I then used a Pampered Chef Mini Tart Shaper to push the dough down to form the bottom and sides of the tassie.
Finally, I fill the dough with the blueberry pie filling. If you prefer other flavors, they also have apple, peach, cherry and strawberry.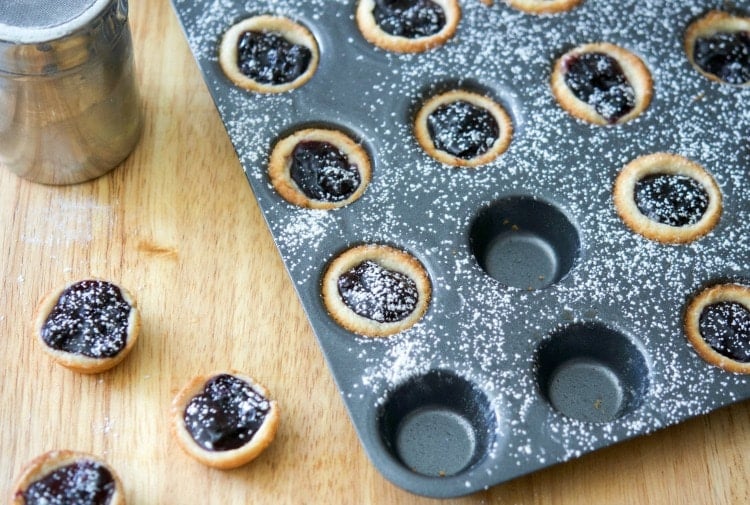 Once the tassies are filled, place them in a 350 degree F oven for 30 minutes; then allow to cool completely before storing them in layers separated by parchment or wax paper in an airtight container.
I kept our container out on the counter and they became a bit soft and crumbly after 2 days so I recommend keeping them in the refrigerator until you're ready to serve.
You can also keep them in the freezer up to 3 months, but I doubt they'll last long. At least they never would in my house. Every time one of my family members walked by the container they'd take two or three tassies and were gone before you knew it.
These Blueberry Pie Tassies are so good and easy to make; they taste like little bite sized pieces of pie. I'll be making a few flavor varieties for the graduation party and I have no doubt they'll be a huge hit. ~Enjoy!
VISIT THE

RECIPE INDEX

TO SEARCH FOR MORE RECIPES BY CATEGORY.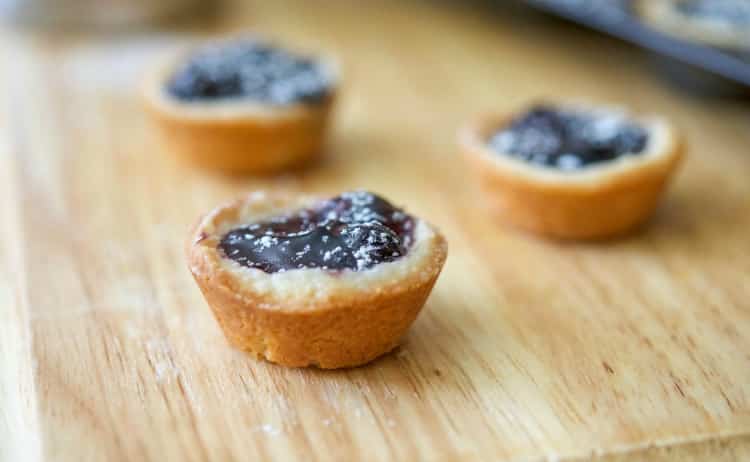 Ingredients
1/2

cup

softened salted butter

(1 stick)

3

ounces

softened cream cheese

1/4

cup

granulated sugar

1

cup

all purpose flour

1

cup

canned blueberry pie filling

(or apple, peach, cherry, etc)
Instructions
Preheat oven to 350 degrees F.

In a bowl, combine the butter, cream cheese, sugar and flour and beat together.

Spray a mini muffin tin with cooking spray and make 24 1-inch balls with the dough and place in the muffin tin; then form a cup using a tart shaper so that there are equal parts of dough on the bottom and sides of the tin.

Spoon in blueberry pie filling into the cup and bake for 25-30 minutes. Tassies are done with the edges are lightly brown.

Cool completely before storing in an airtight container in the refrigerator. Can be also be frozen for up to 3 months.
Did you make this recipe?
Share a comment on the blog or mention @CarriesExpKtchn on Instagram!

Related Recipes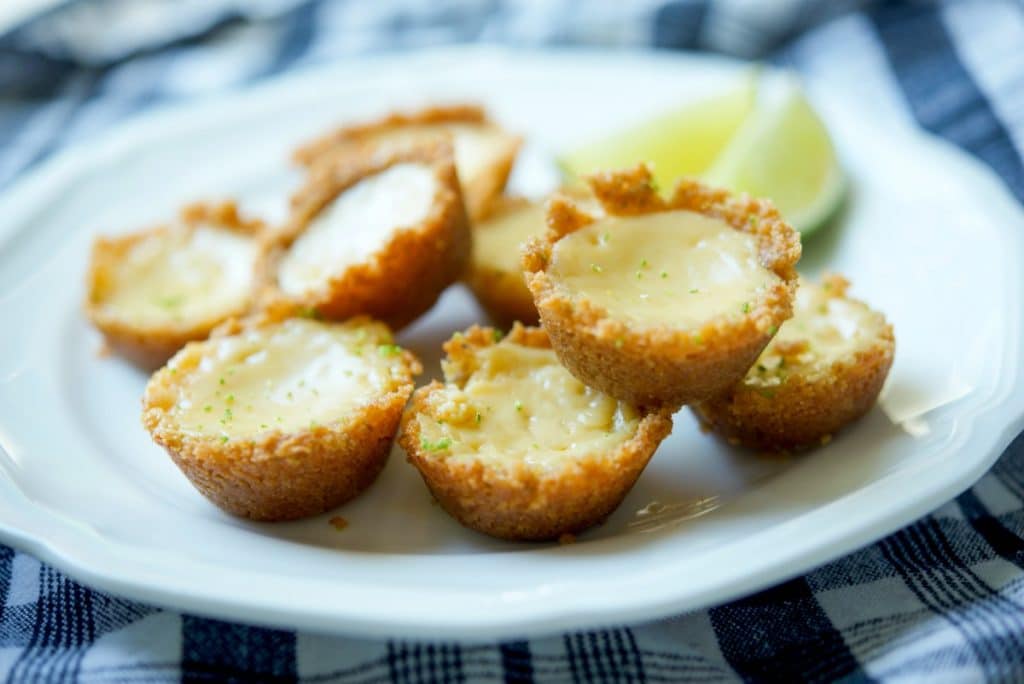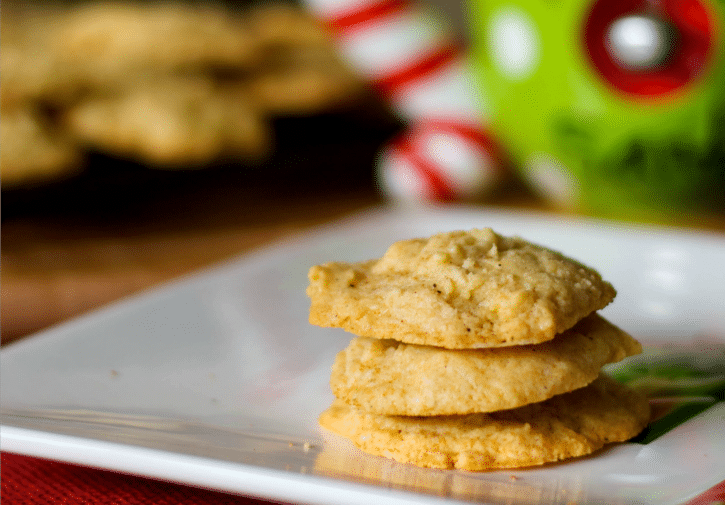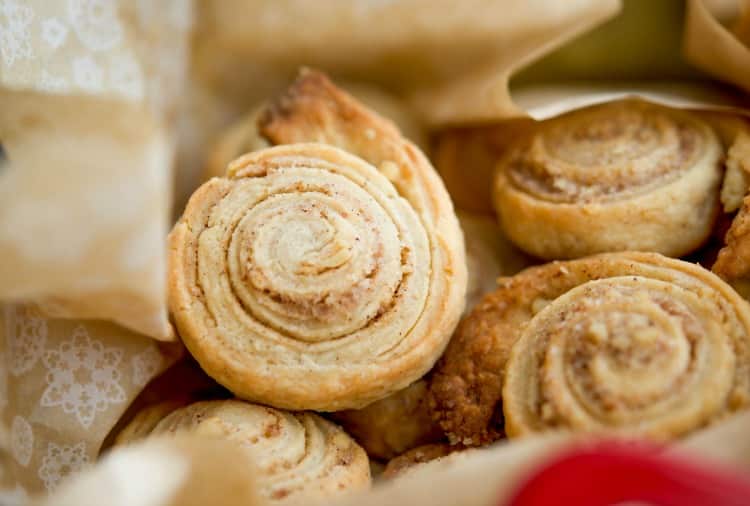 Cinnamon Walnut Pinwheel Cookies
CONNECT WITH ME ON SOCIAL MEDIA