I have been filling out a questionairre for the publisher for my upcoming cookbook this week and I'm having a bit of difficulty locking in on a working title for my book. If you could please take a moment to answer the poll to the left, I'd greatly appreciate it~Thank you!
And now for the recipe…
Take one guess what I made this with? You guessed it! the Champagne Chicken with Baby Portobello Mushrooms. And…I think the champagne is all gone now too. 🙂 These were so good even my picky eater tried them this time and she loved them!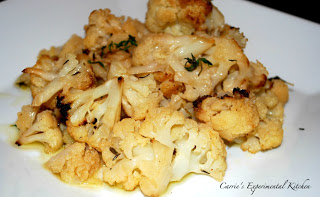 Champagne & Thyme Roasted Cauliflower
1 Large Head Cauliflower, cut down to florets (about 6 cups chopped)
2 Cloves Garlic, chopped
2 tbsp. Fresh Thyme
1 Lemon, zest and juice
1/4 c. Sweet Champagne (like Asti)
3-4 tbsp. Extra Virgin Olive Oil, enough to coat without burning
1/2 tsp. Kosher Salt
1/4 tsp. Fresh Ground Black Pepper
Add all ingredients together in a bowl and mix well. Place in an oven safe baking dish and bake at 425 degrees for 1 hour; turning several times throughout. Serves 6.
Points+=3pts


Powered by eRecipe.com
Enjoy!
Pin It