Chicken Cordon Bleu is an easily prepared meal consisting of tender chicken stuffed with ham and Swiss cheese; then baked until golden brown.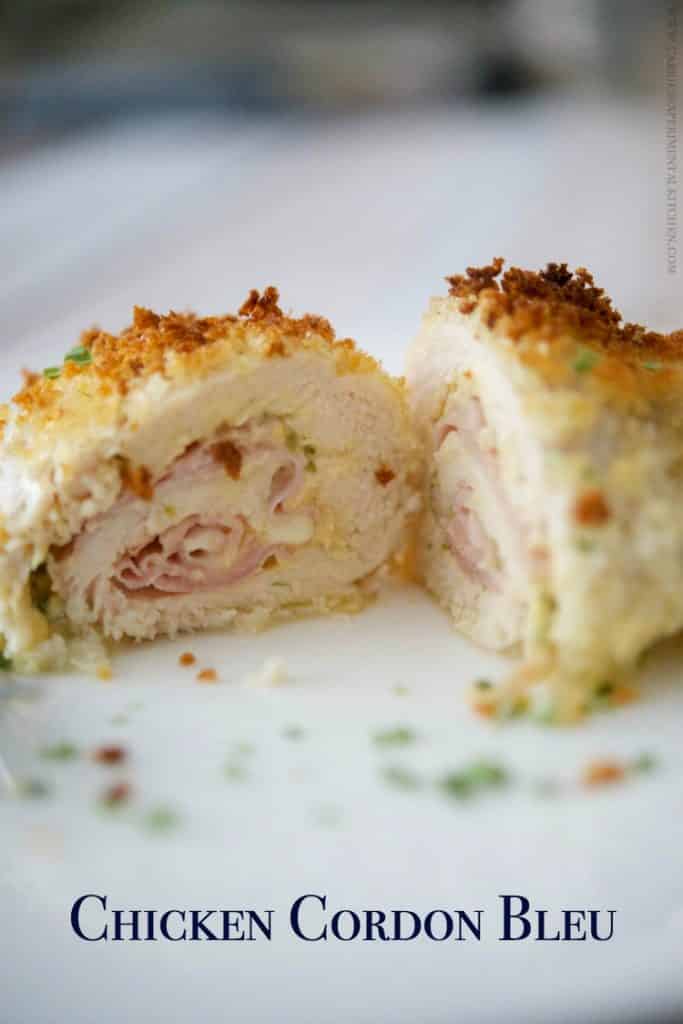 Chicken Cordon Bleu or the term cordon bleu means 'of the highest class; however, when referring to the food which originated in Switzerland in the 1940's, it generally refers to either veal or chicken that is wrapped with a thin slice of ham and soft cheese like Swiss.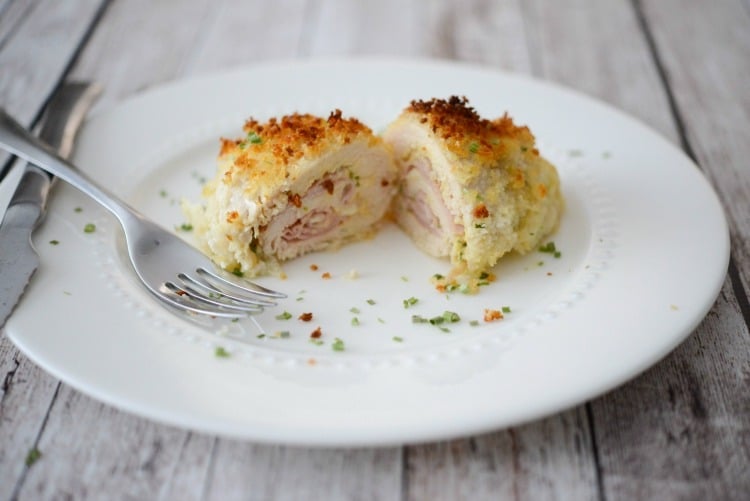 I used to think it was so hard to make Chicken Cordon Bleu because growing up in the 1970's as a child, it would always be on a restaurant menu and being naive (and not even in my teens), if it was on the menu you generally didn't eat it at home. Pfffttt…Crazy right?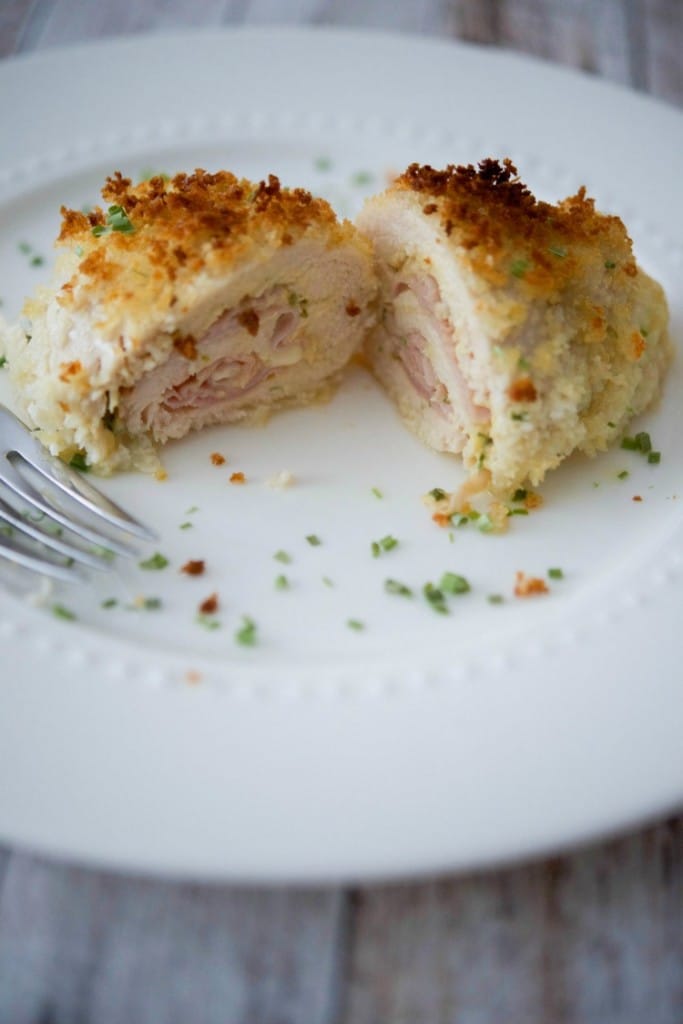 Well fast forward many years later to where my Aunt Renee (one who had me replicate that Chicken in Lemon Butter Sauce you all LOVE so much) and I were having a conversation about food.
She wanted to know if I knew how to make Chicken Cordon Bleu. My response was that I had made it years ago in my early 20's, but haven't made it since.
I told her that I would make the recipe again and if it turned out good, I would post the recipe. I made mine a little differently than I had years ago to add a little flavor and help keep the meat moist, and this recipe was delicious!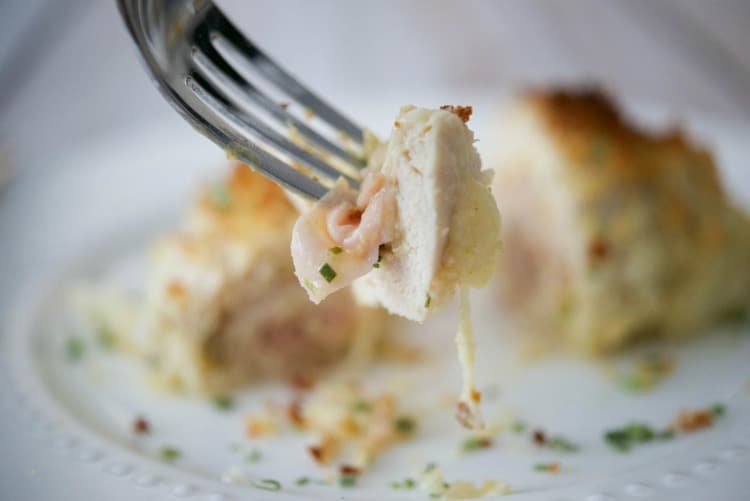 How do you make Chicken Cordon Bleu?
First, I had to trim down my boneless, skinless chicken breasts since they were about 8-ounces each. I cut them in half horizontally to make two, 4-ounce pieces; however, you can purchase chicken that has already been trimmed for you to make it easier.
Next, I combined Dijon mustard and chopped chives; then spread the mixture on top of the chicken.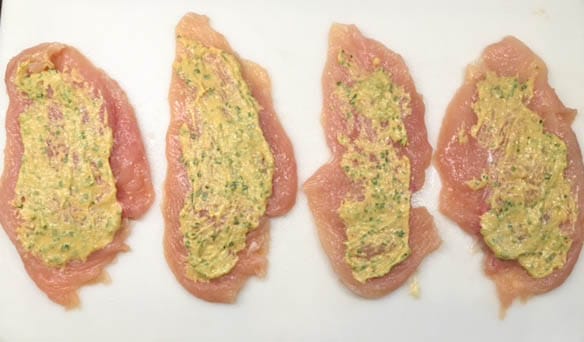 I then added slices of boiled ham and Swiss cheese on top of the mustard; then carefully rolled the chicken up. My pieces were pretty large so I didn't need to use toothpicks to hold them together, but you can if you feel the need to; just remember to remove the toothpicks prior to serving.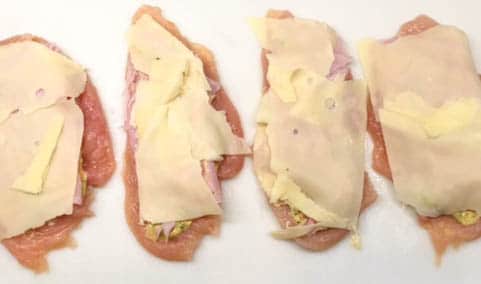 Next, I dipped the rolled up chicken into egg whites; then panko breadcrumbs, sprayed them with cooking spray and placed them into an oven save baking dish where they baked for 30 minutes in a 375 degree F oven.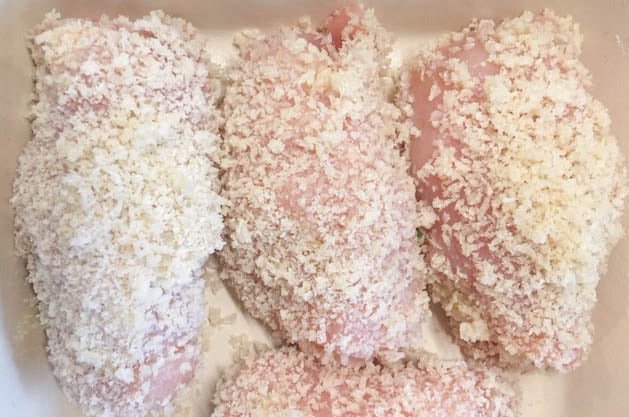 Viola..Chicken Cordon Bleu! To prepare this dish it only took about 20 minutes, so if you wanted to prepare this in the morning; then refrigerate until you are ready to bake it when you come home at night, it makes a tasty weeknight meal.
We really loved the addition of Dijon and chives and the cheese was oozing out of the center when I sliced it open.
Serve this with some rice and your favorite vegetable and dinner is served. Don't forget to check out and share my latest food video on YouTube below. ~Enjoy!
Visit the

recipe index

to search for more recipes by category.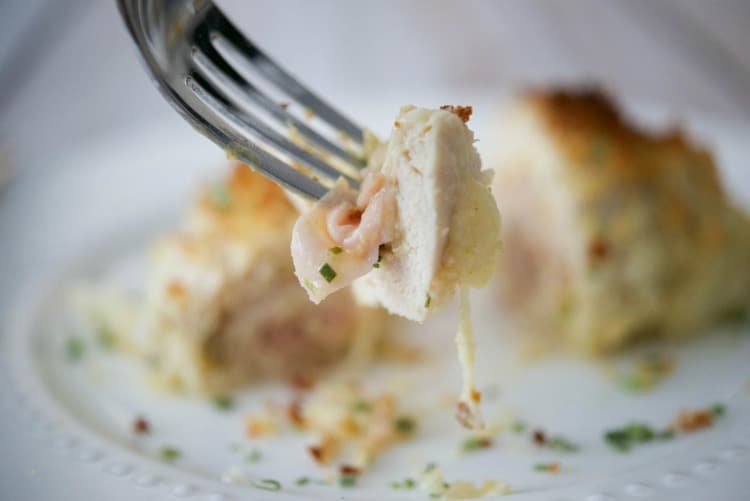 Ingredients
16

ounces

boneless, skinless chicken breasts

(or four 4-ounce breasts)

1/4

cup

dijon mustard

1

tablespoon

chopped chives

4

slices

boiled ham

4

slices

sliced swiss cheese

2

large

egg whites

2

cups

panko breadcrumbs
Instructions
Preheat oven to 375 degrees F.

Cut the chicken horizontally into four 4oz. pieces; then use a meat mallet to pound the meat to make it uniform in size and thickness.

Combine the Dijon mustard and chives in a small bowl; then spread the mixture on top of the chicken.

Add one slice of ham and one slice of cheese to each piece of chicken on top of the mustard; then carefully roll up the chicken. Use toothpicks to secure the chicken if need be, but remember to remove them prior to serving.

Next, dip the rolled chicken into the egg whites; then breadcrumbs. Spray the chicken with cooking spray and place them into an oven save baking dish. Bake for 30 minutes.
Did you make this recipe?
Share a comment on the blog or mention @CarriesExpKtchn on Instagram!

Related Recipes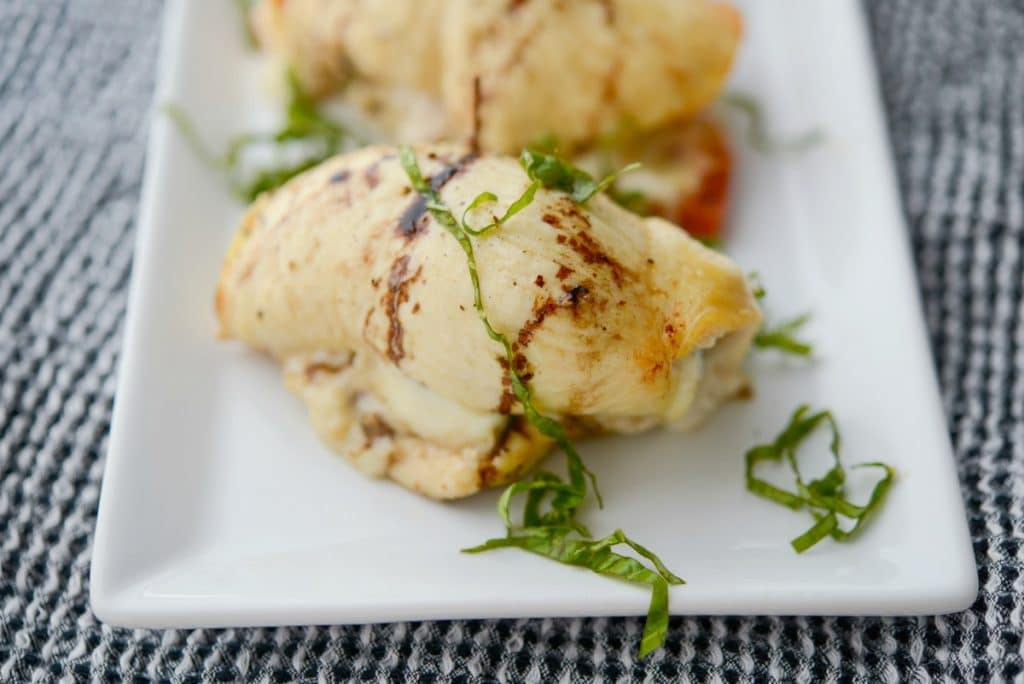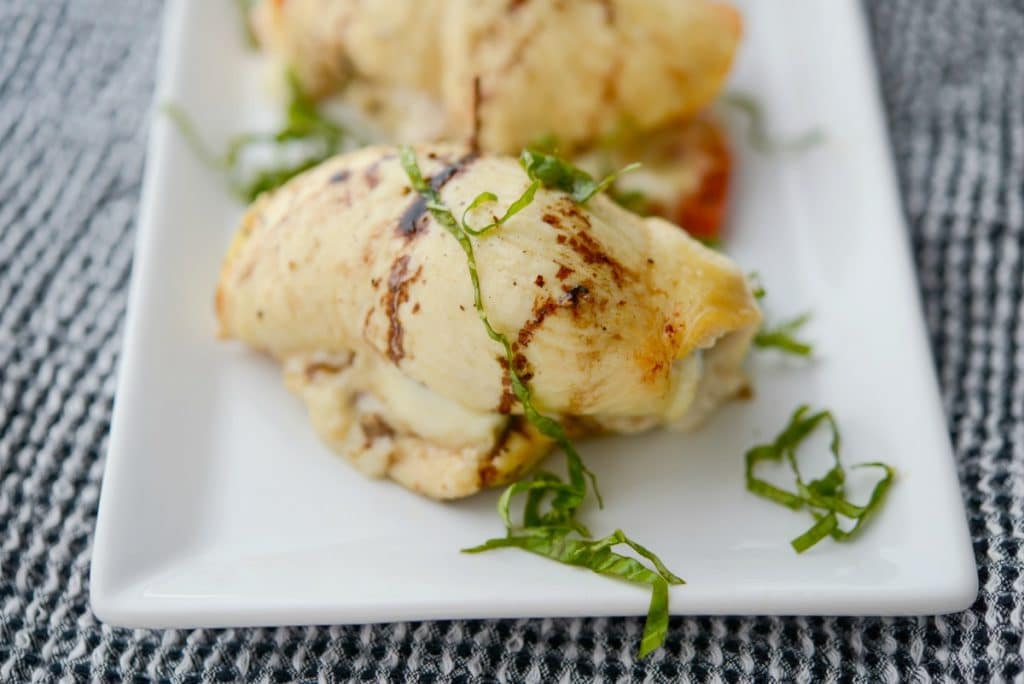 Caprese Stuffed Chicken Roll Ups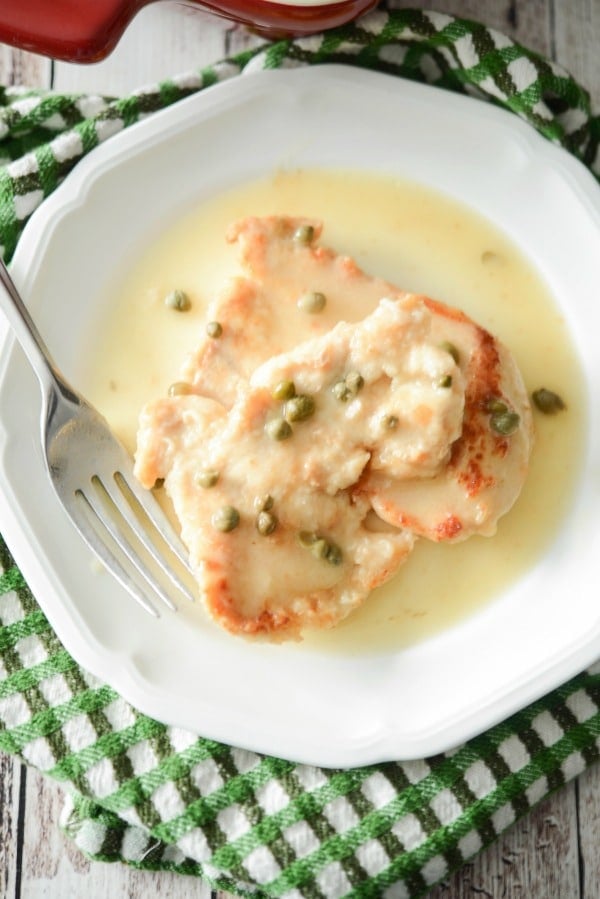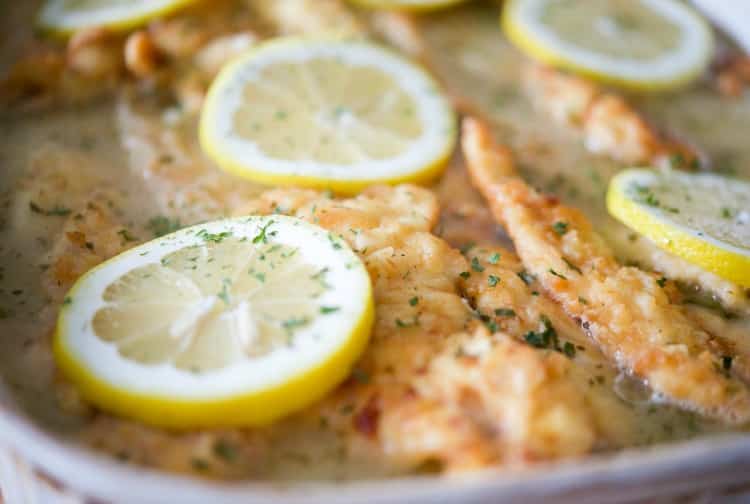 Connect with me on Social Media