Chimichurri Whole Roasted Chicken made with a combination of fresh herbs, vinegar and oil adds a light flavor to this whole roasted chicken.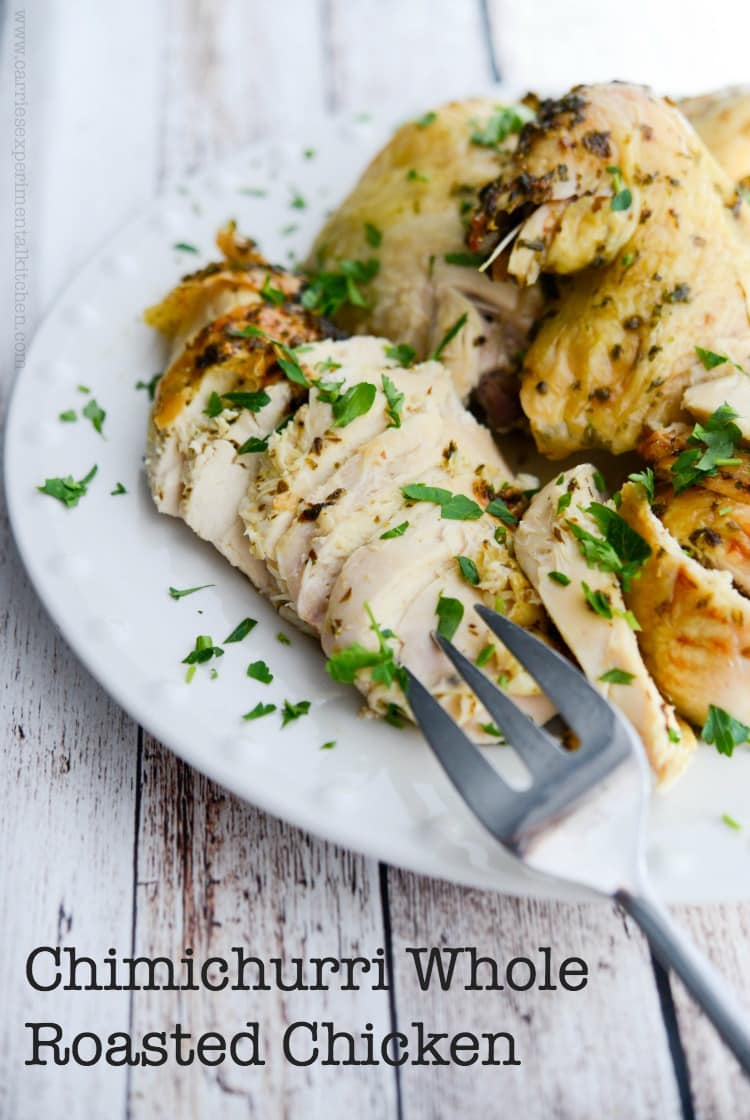 The first time I tried chimichurri; which is similar to a pesto, was during the Food and Wine Conference I attended last summer in Florida. I had heard of it before and know that it went well with pasta or on top of beef; which is how I had tried it myself.
The sauce was mild, yet added a ton of flavor to the beef so I thought I would try it on this whole roasted chicken.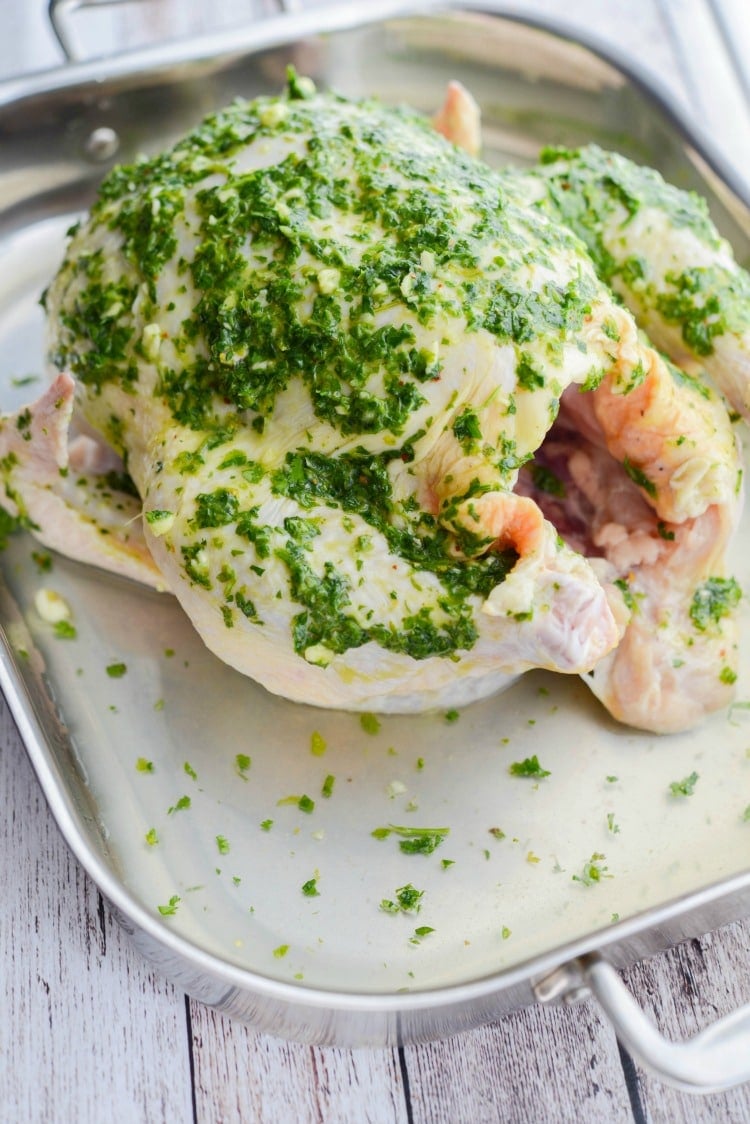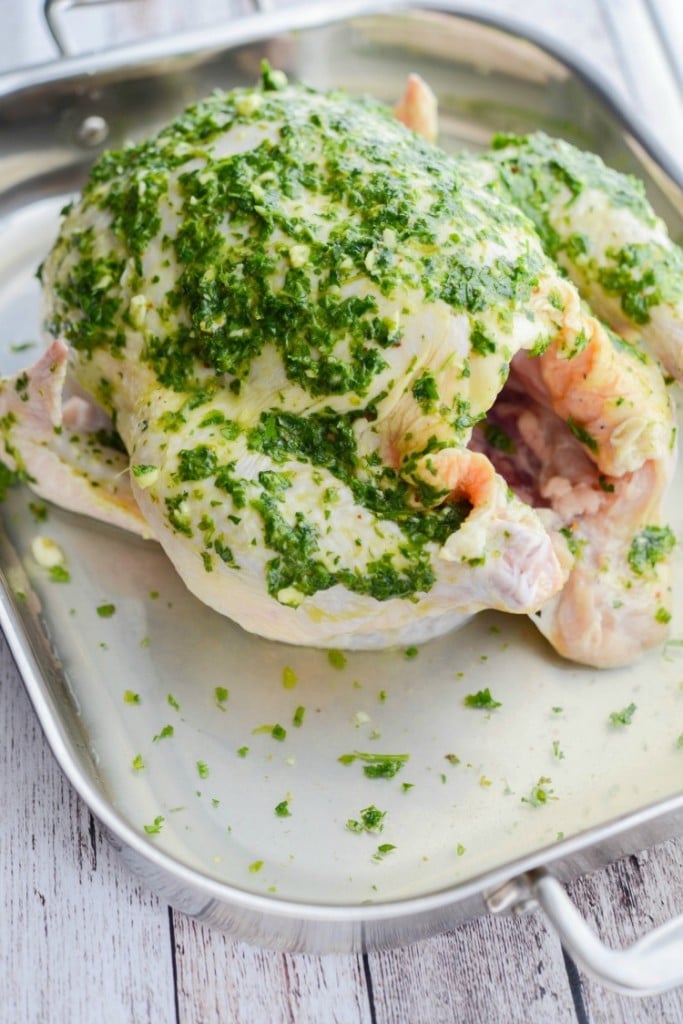 What is Chimichurri?
Chimichurri is a green sauce generally used on grilled meat and originally came from Argentina. It is made of parsley, garlic, oil, oregano or cilantro (I've seen recipes using both), and white vinegar.
For this recipe I combined all of the ingredients in a mini food processor and pulsed until well blended; then brushed it on a whole roaster chicken.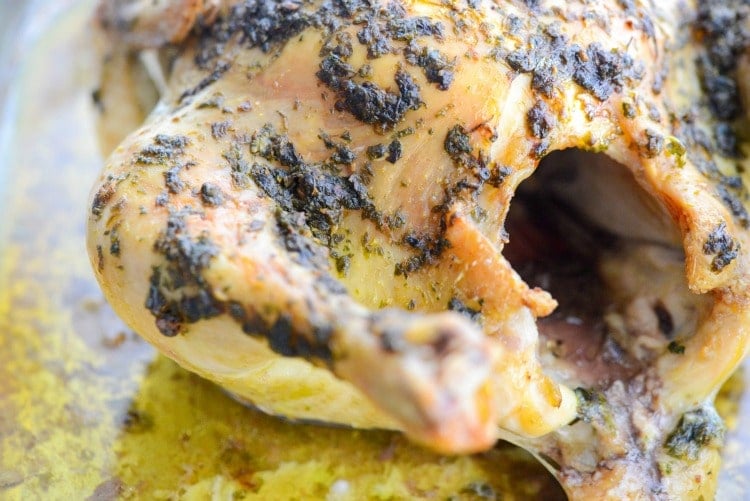 My chicken was 7 lbs. and took about 2 hours in a 350 degree oven. I added some chicken broth to the bottom of the pan so that I can make a gravy afterward, but you could also use white wine or water.
I didn't baste this chicken while it was cooking because I didn't want the sauce to come off. Instead, the flavor seeped into the skin generating a light and flavorful addition to this chicken which was delicious and moist.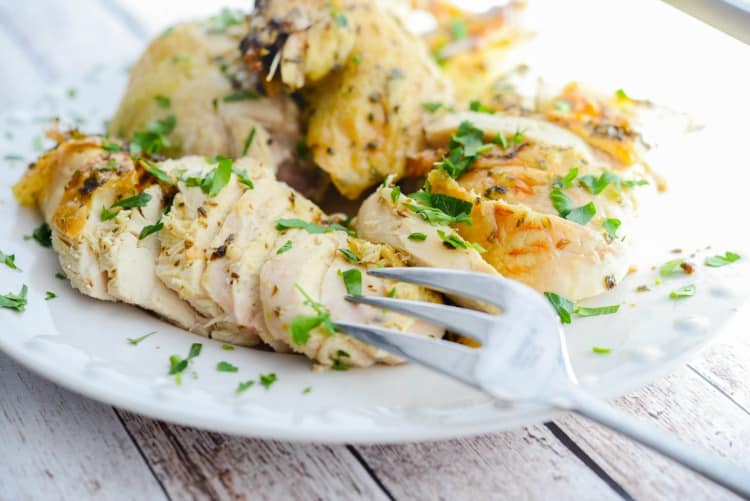 On another note, I know how much everyone loves these food videos on Facebook. Heck, I share them myself from time to time. So I decided to take a stab at creating one myself. It's pretty basic, but was fun to create something new.
Sign up for my weekly newsletter
and receive
a FREE eBook!
Chimichurri Whole Roasted Chicken
Chimichurri is a combination of fresh herbs, vinegar and oil and adds a light flavor to this juicy and flavorful whole roasted chicken. 
Instructions
Preheat oven to 350 degrees F.

Rinse and pat dry the chicken and place in a roasting pan; then season with salt and pepper to your liking.

Combine the parsley, cilantro, garlic, pepper, vinegar and oil in a mini food processor and pulse until it is a sauce-like consistency. Brush the mixture over the entire chicken using a basting brush; then add the liquid to the bottom of the pan.

Place the pan in the oven and roast until the chicken is cooked through with a minimum internal temperature of 165 degrees F (I prefer ours at 180 degrees F); approximately 1 ½ to 2 hours. Allow chicken to rest 10 minutes before carving.
Visit the

recipe index

to search for more recipes by category.

Related Recipes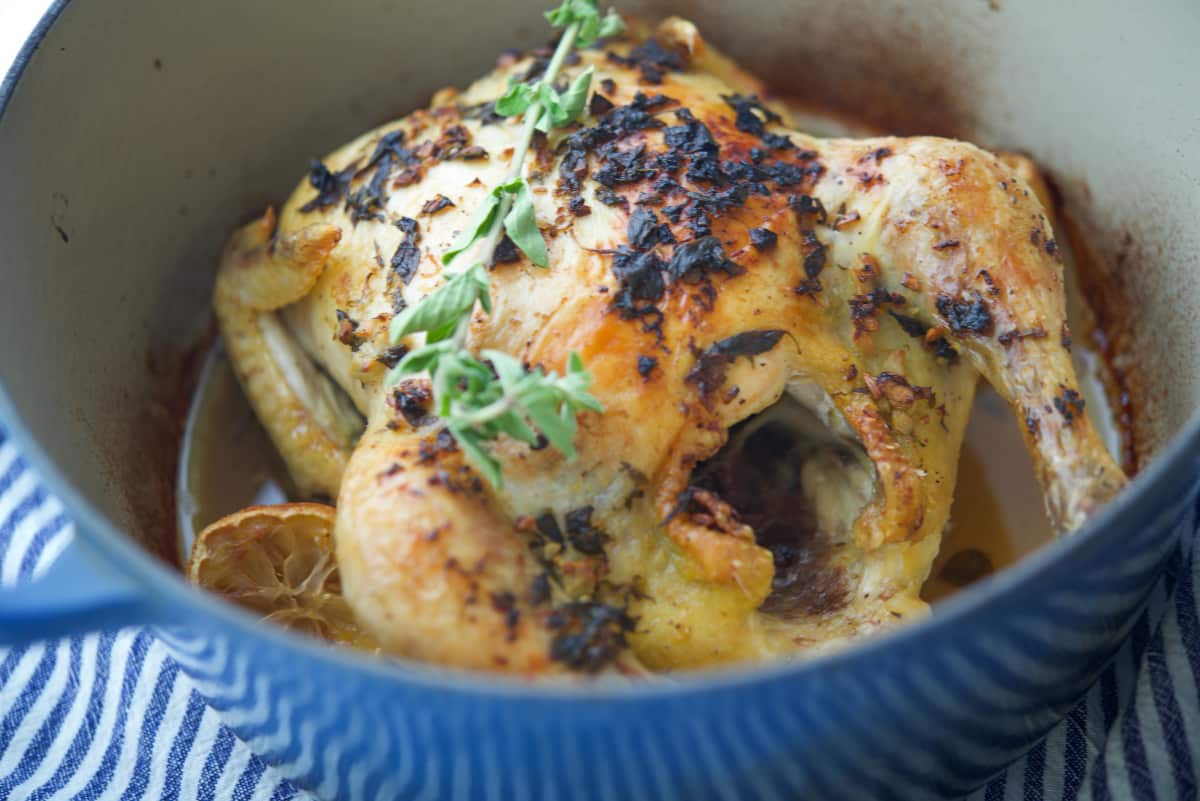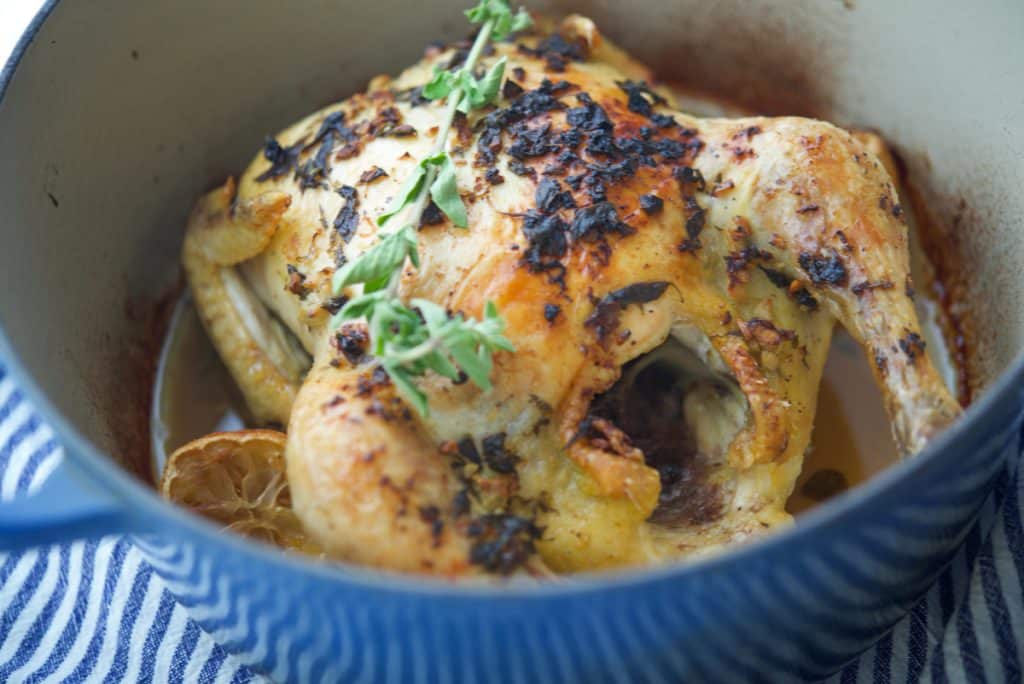 Dutch Oven Whole Roasted Greek Chicken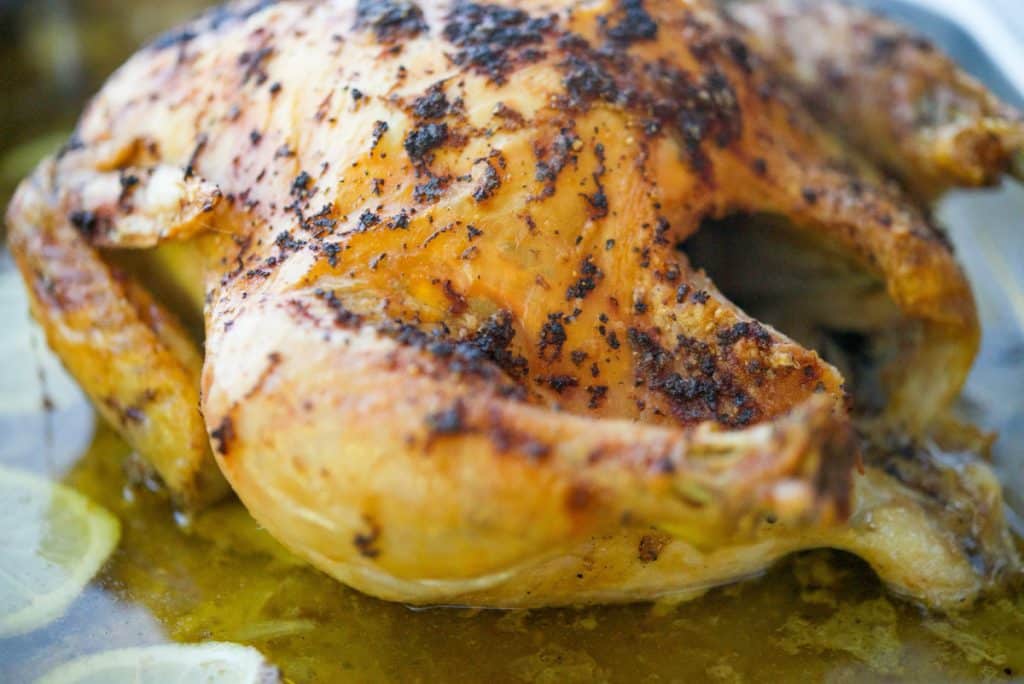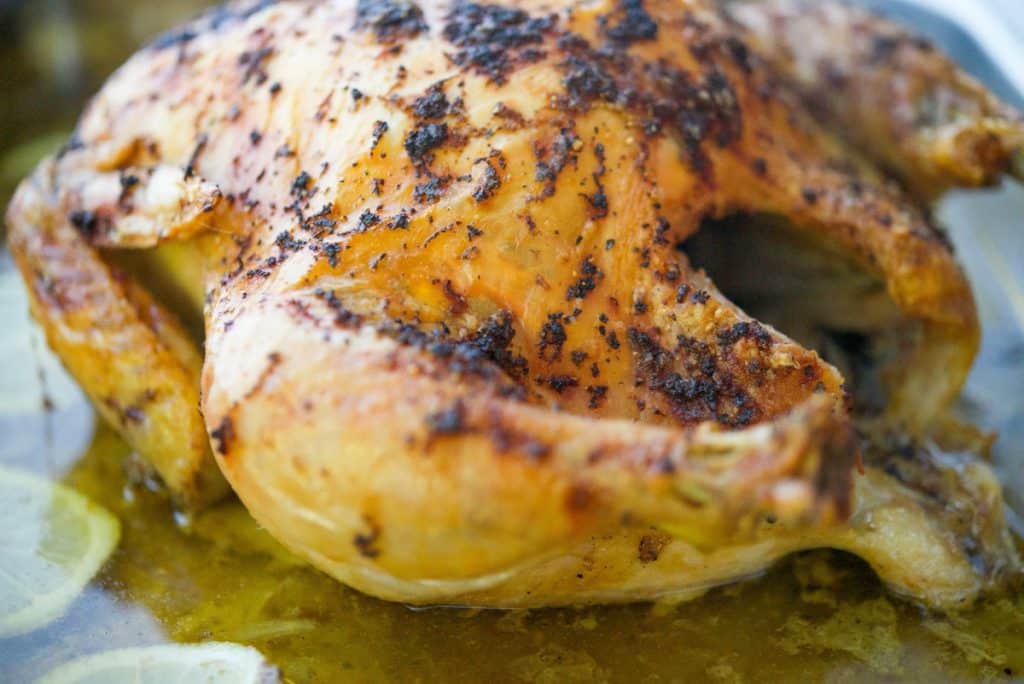 Lemon Pepper Whole Roasted Chicken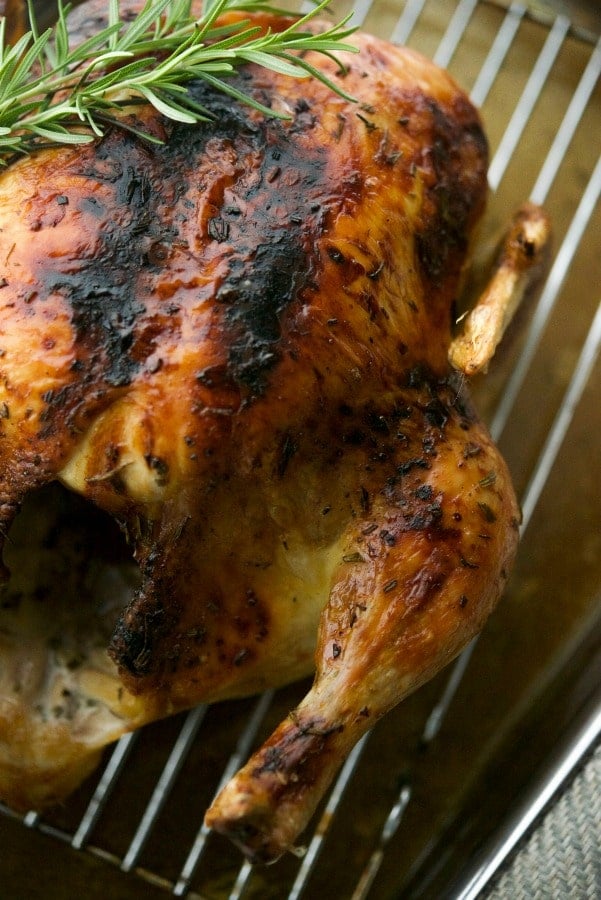 Balsamic Maple Whole Roasted Chicken

Connect with me on Social Media