Today is Day 7 and the final day of my Copycat Recipe Week. I hope you have enjoyed getting to know some of these other great food bloggers as much as I have had trying out their fantastic recipes. They're all on Facebook too so if you go like them, tell them I sent you over.
The last recipe (but certainly not the least!) comes from Bia at Bia's Rich and Sweet Kitchen. The other night, I was in a lime/cilantro type mood again (recipe to follow next week) and I wanted a side dish to go with what I was making. These sweet potato fritters were incredible and unbelievably light. We don't like a lot of heat in our food so I did cut down on the amount of jalepeno peppers and onions and I added a little bit of cilantro, to blend the flavors with my other menu items that evening, but everything else remained the same. Thanks for a great recipe idea Bia!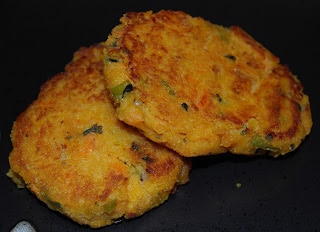 Jalapeno & Sweet Potato Fritters
1 Large or 2 Small Sweet Potato
1 Small Jalapeno Pepper, chopped (measured about 1 tbsp.)
1/2 c. Red Onion, chopped
1 tbsp. Fresh Cilantro, chopped
2 + 2 tbsp. Extra Virgin Olive Oil
1 tsp. Kosher Salt
1/2 tsp. Fresh Ground Black Pepper
1 tsp. Paprika
1 tsp. Baking Powder
1 Egg, beaten
3/4 c. Cornmeal (I used the yellow kind)
1/4 c. All-Purpose Flour
1/4 c. Water
Prick sweet potatoes with a knife or fork and microwave for about 10 minutes or until inside is soft. Peel potatoes while warm, add the insides to a bowl and mash them with a fork. Set them aside. In a frying pan, heat 2 tbsp. of the olive oil and cook the onions over medium heat for 3 minutes. Add jalapenos and cilantro and saute for another 3 minutes. In a medium bowl mix flour, cornmeal, salt, paprika and baking powder. Add jalapeno/onion mixture, egg and water to sweet potatoes and mix it well. Add dry ingredients and mix it all together. Make balls, about 1 heaping soup spoon worth out of the mixture. Preheat the oven to 425F. Heat 2 tablespoons of olive oil in a large frying pan and lightly fry the fritters on all sides. (I flattened mine so they were flat) Grease a cookie sheet. Place lightly fried fritters on cookie sheet and bake them on preheated oven for 10 minutes. They should be firm and slightly puffed. Makes 8 fritters.
Weight Watchers Points+ Value Per Serving = 4


Enjoy!