Everyone has their favorites and this is another one of mine. It's very simple to make with limited ingredients but adds another variety to this summertime favorite.  According to Produce Pete, the WNBC "Weekend Today in New York's" TV Correspondent, when purchasing potatoes, look for ones that don't have any sprouts from the eyes and have no wrinkles on the skin. There should be no cuts or dark spots and the potato should feel heavy.  You should avoid potatoes with a green tint to the skin because they have been exposed to the light for too long and will be bitter. All potatoes should be stored in a dark, dry place.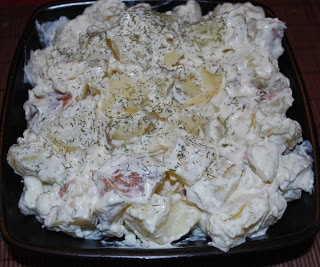 Dilled Red Bliss Potato Salad
8 Medium Red Bliss Potatoes
1 Cup Hellmann's® Mayonnaise
1 tsp. Dill
1/2 tsp. Kosher Salt
1/4 tsp. Fresh Ground Black Pepper
2 tsp. Distilled White Vinegar
In a large pot, add potatoes, completely cover with water and bring to a boil. Reduce heat to medium and cook for approximately 15-20 minutes or until the potatoes are fork tender.(If the skins start to peel away from the potato, they are probably done.) Drain the hot water and add cold water to the pot to bring down the temperature of the cooked potatoes. You may need to do this 2-3 times. Once cooled enough that you can handle them, carefully peel away and discard the skin of half of the potatoes; leaving the red skins on the other half for color. Cut the potatoes into 1-2" chunks and put in a large mixing bowl. In a separate bowl, add mayonnaise, vinegar, salt, pepper and dill. Whisk together until the mixture is creamy and add to the potatoes. Mix until all ingredients have been incorporated, place in a serving bowl and garnish with dill. Refrigerate for at least 4 hours. Serves 6-8
Enjoy!