Grilled Squash Quinoa Salad is an incredibly light and delicious salad made with nutty quinoa, garden fresh yellow and green squash in a sweet and tangy aged balsamic vinaigrette.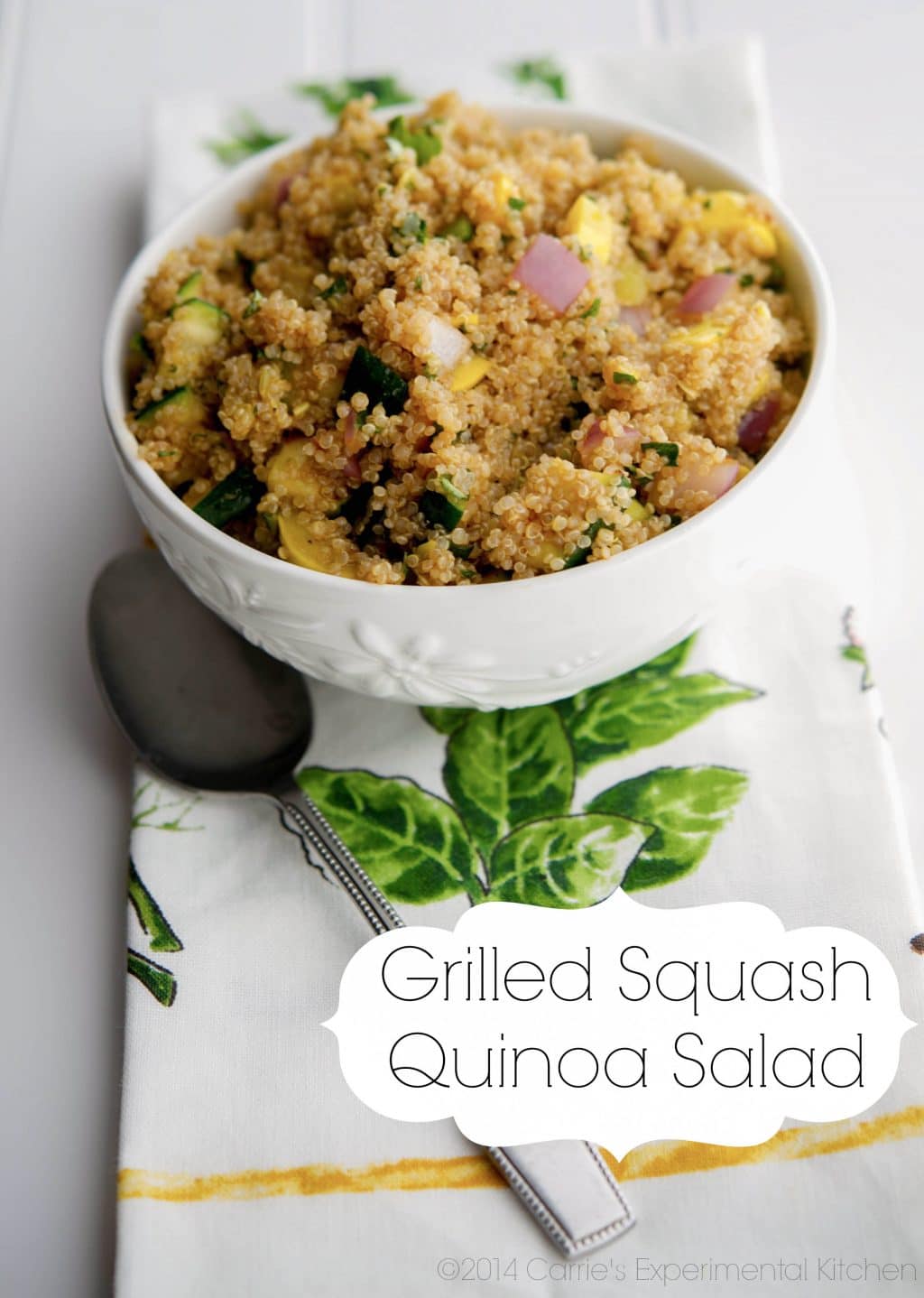 I've been trying to reduce the amount of processed white flour in my family's diet and I'm so glad they now like quinoa; which is naturally gluten free.
I'll admit at first they were a little hesitant, but since their original apprehension, I've found that they prefer the recipes I create better when made into salads versus eating the quinoa hot, but I like it either way.
In this recipe I actually used some flavored Espresso Balsamic Vinegar and a Tuscan Herb Olive Oil from The Tubby Olive; which I purchased while in Philly about a month ago and the flavors were incredible.
Since I know you may not have access to their products, using a good aged balsamic and extra virgin olive oil will work nicely. I like eating quinoa salads for lunch as they're so light, yet filling.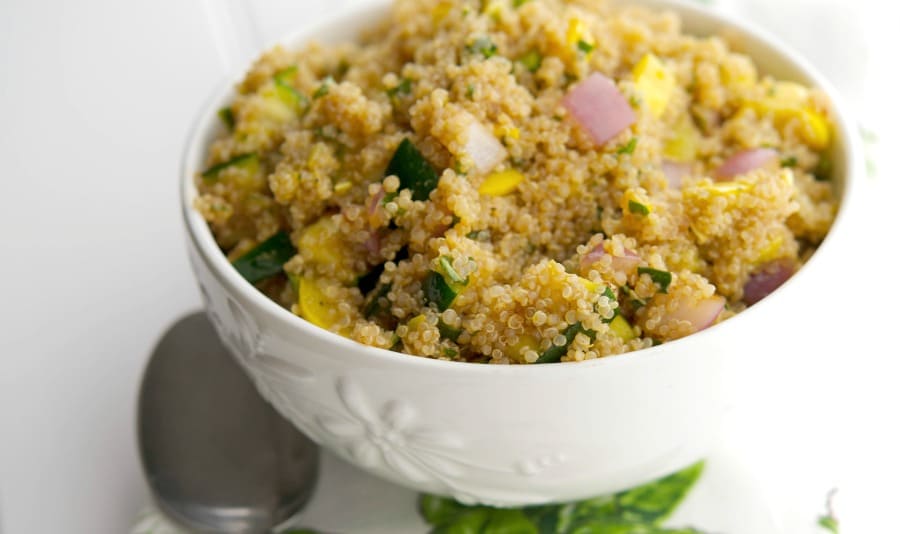 How do you make Grilled Squash Quinoa Salad?
For this recipe you'll need quinoa, zucchini, yellow squash, red onion, EVOO, and aged balsamic vinegar. First, bring measured amount water to cook the quinoa to a boil in a medium saucepan.
Add the quinoa, reduce heat to a simmer and cover pot for approximately 20 minutes or until the water has been absorbed. Allow the quinoa to cool slightly and fluff with a fork; then add it to a bowl.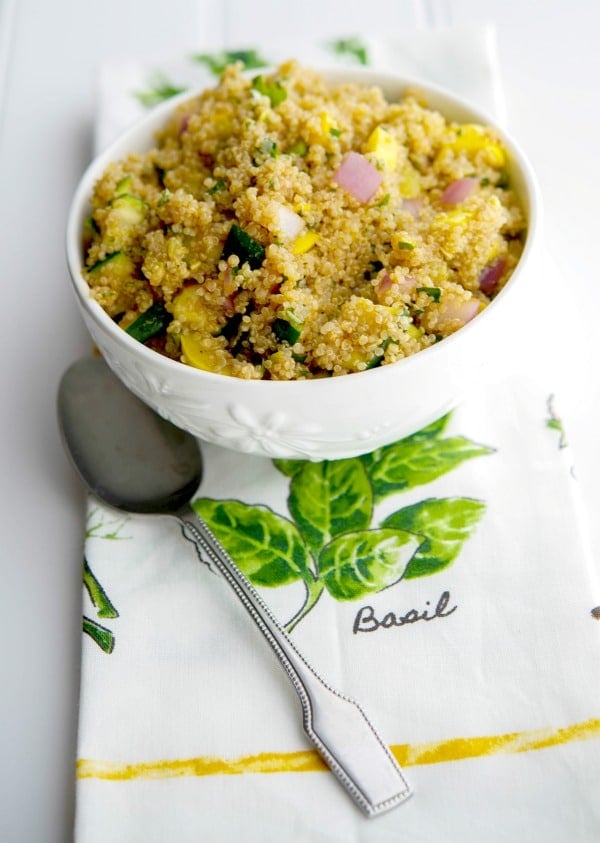 While the quinoa is cooking, heat your grill and brown your zucchini, squash and onion on both sides. Use cooking spray if using an indoor grill pan.
Once the vegetables have grill marks and have softened slightly, dice then add to the bowl along with the oil and vinegar. Mix well and refrigerate until ready to serve.
You can also serve this Grilled Squash Quinoa Salad as a side during your next outdoor gathering. ~Enjoy!
Visit the

recipe index

to search for more recipes by category.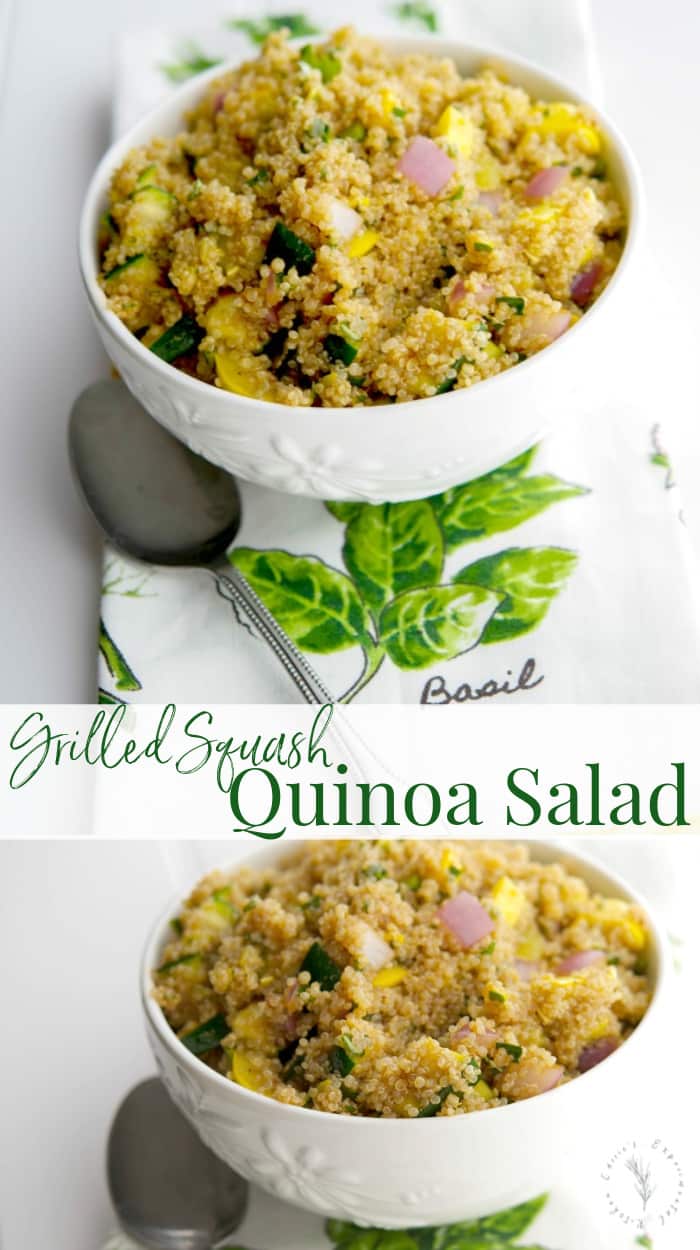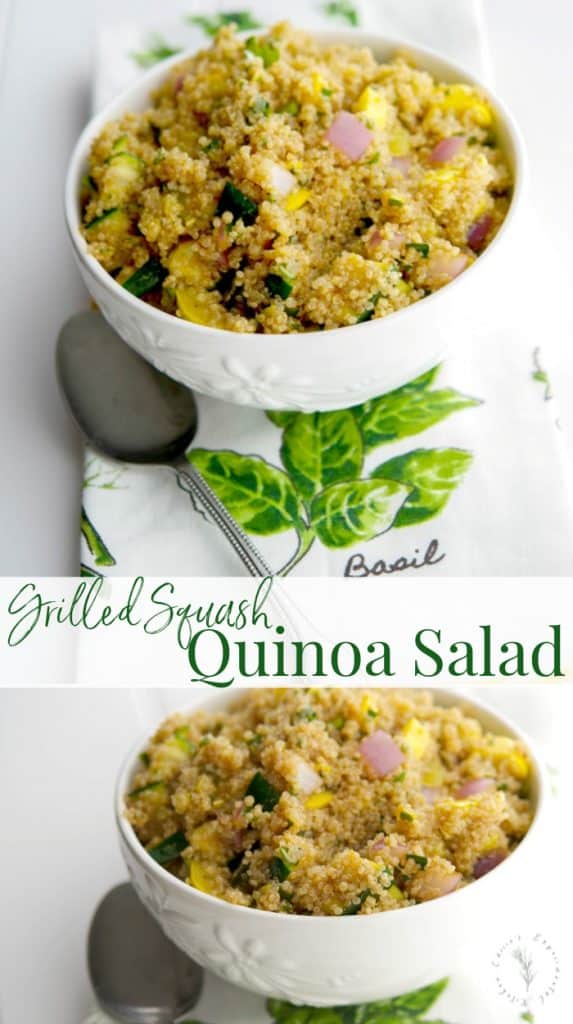 More Quinoa Recipes
Sign up for my weekly newsletter
and receive
a FREE eBook
WP Recipe Maker #15188

remove

Grilled Squash Quinoa Salad Grilled Squash Quinoa Salad is an incredibly light and delicious salad made with nutty quinoa, garden fresh yellow and green squash in a sweet and tangy aged balsamic vinaigrette. Course: Salads Cuisine: American Keyword: quinoa, squash Prep Time: 10m Cook Time: 20m Total Time: 30m Servings: 8 Author: Carrie's Experimental Kitchen - 2 c. Water - 1 c. Quinoa, rinsed - 1 Medium Zucchini, rinsed and sliced lengthwise ½" thick - 1 Medium Yellow Squash, rinsed and sliced lengthwise ½" thick - 1 Thick Slice Red Onion - 2 tbsp. Extra Virgin Olive Oil - 3 tbsp. Aged Balsamic Vinegar - Cooking Spray, if needed 1) Bring the water to a boil in a medium saucepan. 2) Add the quinoa, reduce heat to a simmer and cover pot for approximately 20 minutes or until the water has been absorbed. 3) Allow the quinoa to cool slightly and fluff with a fork; then add it to a bowl. 4) While the quinoa is cooking, heat your grill and brown your zucchini, squash and onion. (Use cooking spray if using an indoor grill pan.) Once the vegetables have grill marks and have softened slightly, dice then add to the bowl along with the oil and vinegar. Mix well and refrigerate until ready to serve. serving_size 0.5 calories 156 carbohydrates 22 protein 5 fat 6 saturated_fat 1 polyunsaturated_fat 1 monounsaturated_fat 3 sodium 8 potassium 306 fiber 3 sugar 2 vitamin_a 102 vitamin_c 9 calcium 26 iron 2
Connect with me on Social Media