Pesto Chick Pea and Kaniwa Salad is a light, flavorful grain salad made with fresh basil pesto, chick peas, and tomatoes.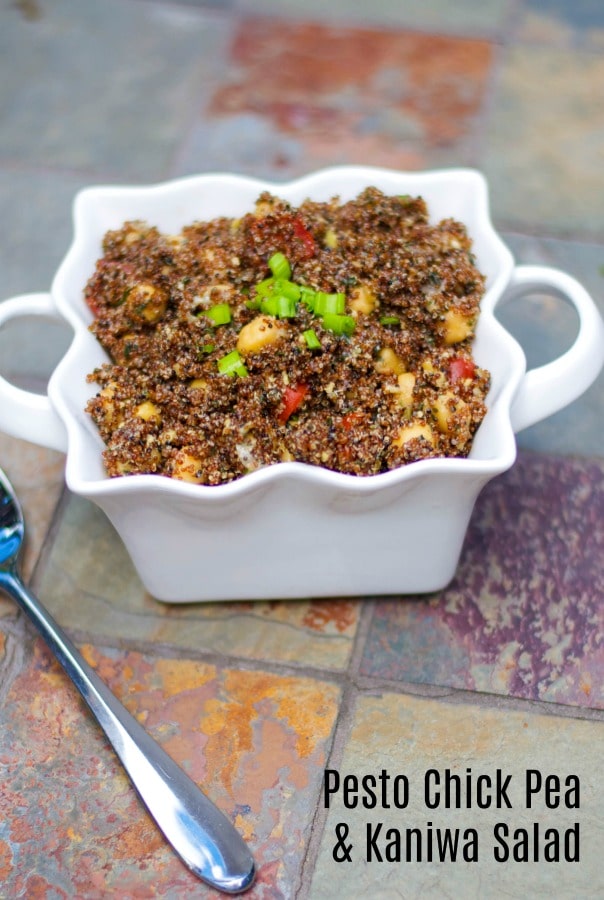 I'm back, did you miss me? I missed you! What a fun, jam packed week my family and I had while we were gone. This is  our last getaway for the summer as next month already starts cheering season, so only day or weekend trips from here on out.
My family and I headed south from NJ to FL and stopped to visit potential colleges along the way for my oldest to attend next fall. We also visited my Mom, barbecued on the Fourth of July with our Jersey friends, Jenn from
My Daily Jenn-ism
(who also happened to be there at the same time) and threw in some theme park fun. As you can see below, you're never too old for Mickey Ears!
We actually like and look forward to the long car ride as we don't get to spend much uninterrupted time together during our hectic schedules. It gives us a time to reconnect as a family and watch some good movies. I have to say that we've been doing this drive at least once a year for the last 20 years to visit family and we have it down to a science.
Though we did learn about a fairly new driving law called the
Move Over Law
. We got pulled over in VA for not moving over into the left lane when someone was already pulled over on the shoulder. It's a fairly new law to help stop tragedies from happening when law enforcement, broken down vehicles or workers are pulled over on the shoulder. It is a great law, but took us by surprise.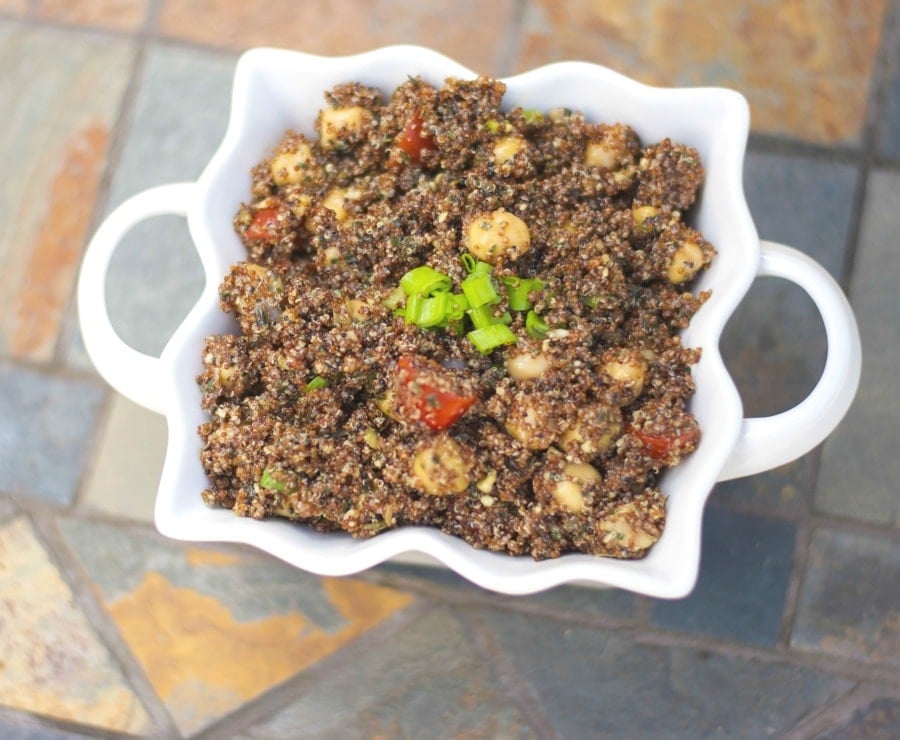 The law states that if you can't move into the left lane (which we couldn't because of other traffic) you are supposed to slow down to 25 miles per hour. I just thought I'd pass this along since when I posted this as a status on Facebook the other day, there were quite a few people who hadn't heard of this law either. After the long drive, we finally made it home, a little longer than expected with holiday traffic, but I hope you all had a great holiday weekend as well. And now for today's recipe!
[click_to_tweet tweet="Pesto Chick Pea and Kaniwa Salad is a light, flavorful grain salad made with fresh basil pesto, chick peas, and tomatoes. #salad" quote="Pesto Chick Pea and Kaniwa Salad is a light, flavorful grain salad made with fresh basil pesto, chick peas, and tomatoes."]
Kaniwa (pronounced "ka-nyi-wa") is a small, nutty, grain-like food from the Andes Mountains in Peru and is a fairly new product to the United States. It was a staple grain of the ancient Aztec and Incan cultures, is gluten free and is a good source of both protein and fiber. It is much smaller than it's cousin, quinoa; however it does not contain saponins so you do not need to rinse it prior to cooking.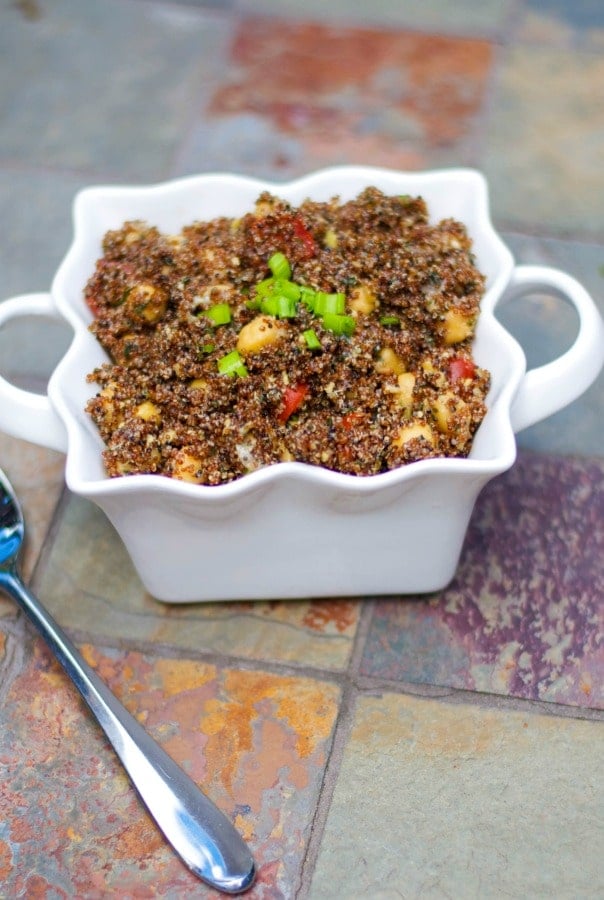 I first found this product in my local grocery store a few weeks ago and couldn't wait to try it since I have this new found love for quinoa and I really liked it. As you can see, not only is it smaller than quinoa, it's also a reddish-brown color. My daughter and I really liked this Pesto Chick Pea & Kaniwa Salad as it was very flavorful and filling. You can serve it as a side dish or as a main meal. ~Enjoy!
Sign up for my weekly newsletter to get
 the latest recipes and receive
 a FREE eBook!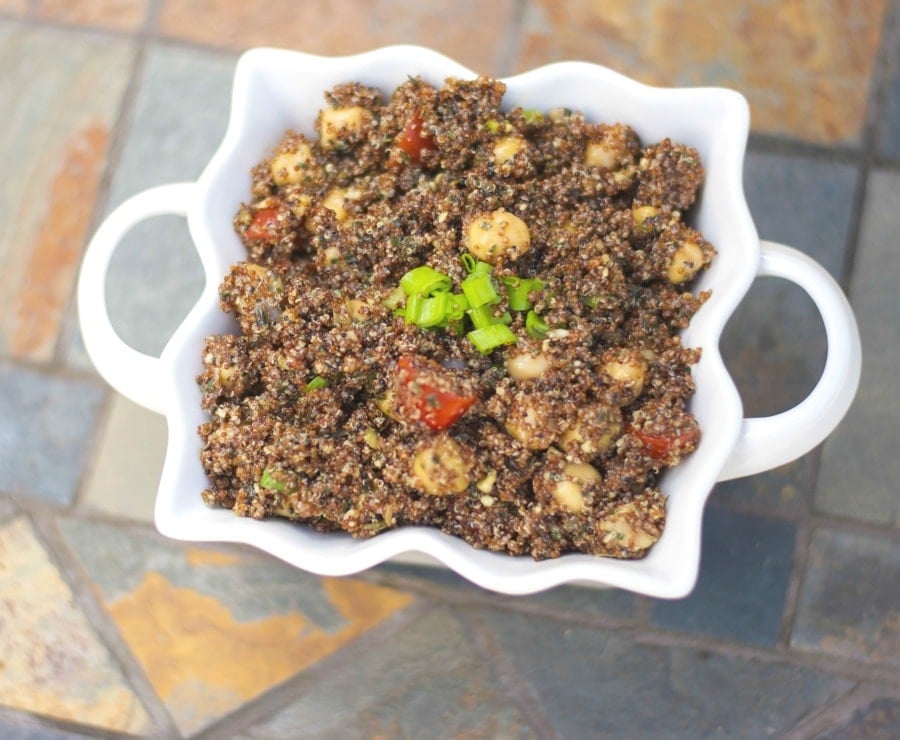 Ingredients
2

c.

Water

1

c.

Kaniwa, rinsed

1-

15(ounce) can

Chick Peas, rinsed and drained

1

c.

Grape Tomatoes, halved

1

Scallion, chopped

1/2

c.

PreparedPesto

2

tbsp.

Aged Balsamic Vinegar
Instructions
Place the water in a pot and bring to a boil; then add the Kaniwa. Reduce heat to low, cover and allow to simmer until all of the water is absorbed; approximately 15-20 minutes.

Place the Kaniwa in a bowl and allow to cool; then add the chick peas, tomatoes, scallion, pesto and vinegar. Mix well and refrigerate until ready to serve.
Did you make this recipe?
Share a comment on the blog or mention @CarriesExpKtchn on Instagram!
Visit the 

recipe index

 to search for more recipes by category.