In this post, I show you how to clean and prepare mussels with a marinara sauce. My family loves them every year at Christmas.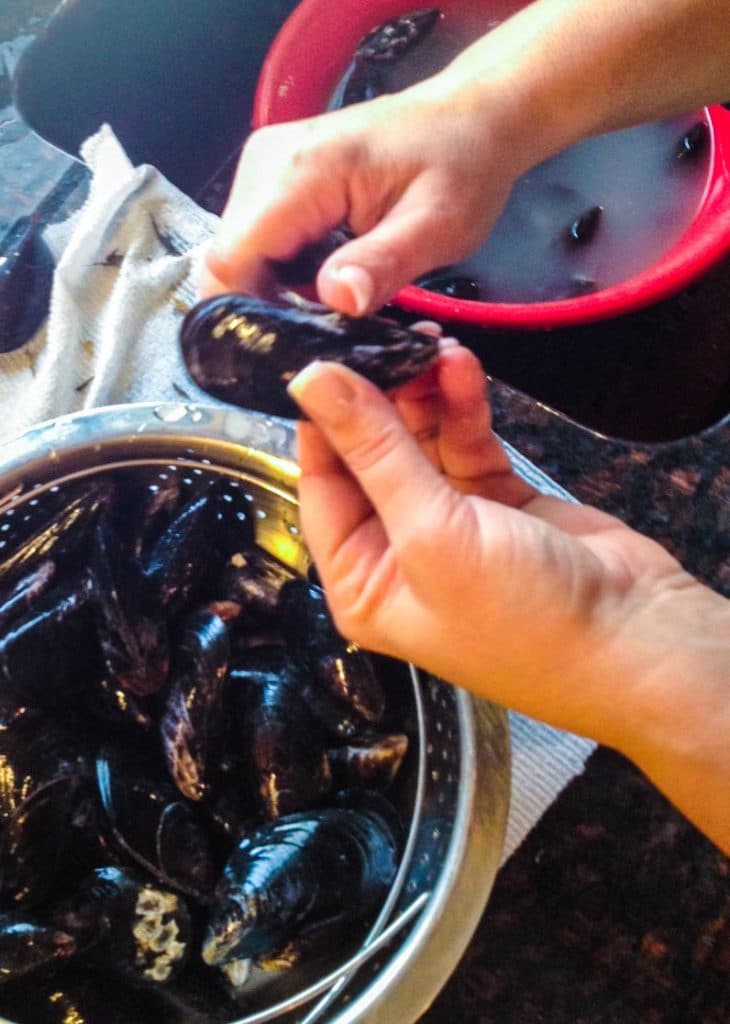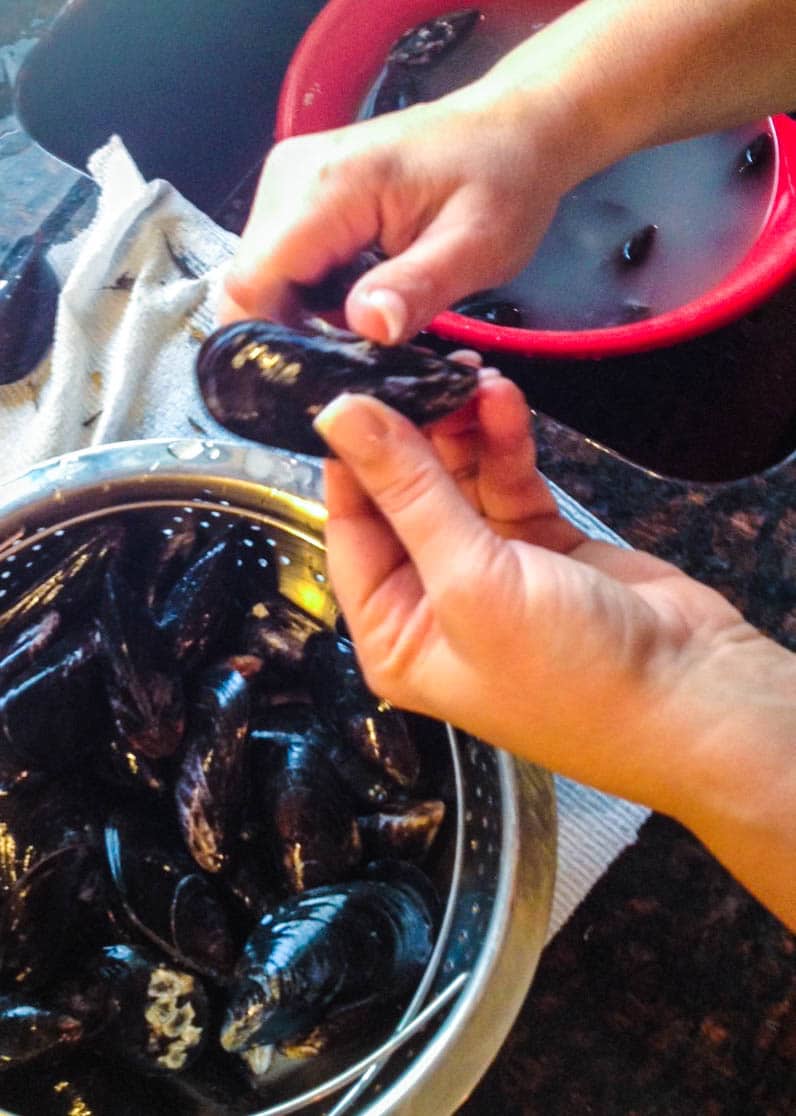 Most of you know that I don't eat seafood; especially if you've been reading my blog for a while. My family however loves most of it; especially mussels which I will be making once again on Christmas day.
So I'm sharing some tips I got from my mother on how to clean and prepare mussels. I've been told that "They are the cleanest mussels I've ever eaten!" so I must be doing something right! 🙂
How to Clean & Prepare Mussels
Buy FRESH mussels, either the day before or day of serving, and keep them in a lightly covered bowl or dish in the refrigerator until you are ready to clean them. I generally purchase 2 pounds of mussels which is enough for 10 people (since we also serve other appetizers as well). They fit nicely in a large glass bowl (approx. 4-quart). If the shell is open, tap the mussel. If the shell closes, the mussel is fresh and alive. If the shell does not close or the shell is visibly cracked or chipped, the mussel is no longer alive and should be discarded.
Four hours before you are ready to clean and prepare your mussels, fill your bowl with cold water and 1/2 cup of flour (I use all-purpose flour). This will help clean the mussels and reduce the amount of sand found inside. Place the bowl back in the refrigerator.
Remove the dish from the refrigerator after the four hours; then "de-beard" the mussels by pulling the "fuzzy" part of the mussel off as best as you can. Using a small knife, I grasp the beard with the side of knife and my thumb and pull the beard towards me down the shell. (See image above).
Once you are done removing all of the beards, rinse all of the mussels in cold water to remove any excess sand and/or flour; then place your mussels in the perforated portion of a large steamer pot.
Fill the bottom portion of the steamer pot approximately halfway with water; then add the perforated portion of the pot with the mussels on top. Cover the pot with a lid, bring to a boil and allow mussels to steam. The mussels are cooked when the shells have all opened; approximately 8-10 minutes. If any mussels do not open, discard.
Once the mussels are cooked, place them on a large serving dish or platter and toss with your favorite sauce. We like to use a spicy Fra Diavolo Sauce; which is a Marinara Sauce with the addition of some crushed red pepper.
Make it as hot or mild as you like. You can also make a white wine sauce by sautéing some fresh garlic and parsley in butter; then adding some white wine. Oh and don't forget the crusty Italian bread…it's great for dipping into the sauce. ~Enjoy!I
Connect with me on Social Media