Celebrate the patriotic holidays with this refreshing Red, White and Blue Sorbet made with fresh fruit, water and sugar.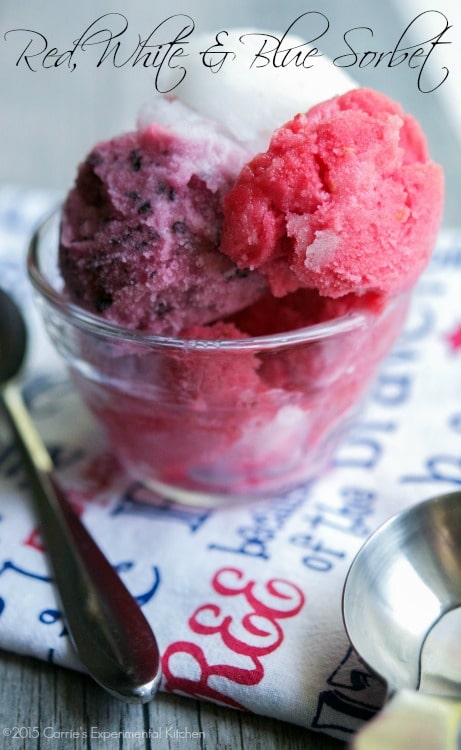 One day I had this epiphany about making red, white and blue sorbet and lining it up when frozen so that when you scooped it out, you would have all three flavors in one scoop.
I figured it would be a fun, dessert addition to my Patriotic Pinterest Board that contains recipes and craft ideas for the patriotic holidays like Memorial Day, Fourth of July and Labor Day.
So I searched online to see if anyone had done it before and the only thing I found with the same name were recipes for individual scoops of red, white and blue sorbet so I started out on my mission.
This process of making three separate colorful sorbets takes up to three days because with each new flavor you have to refreeze your ice cream maker's insert.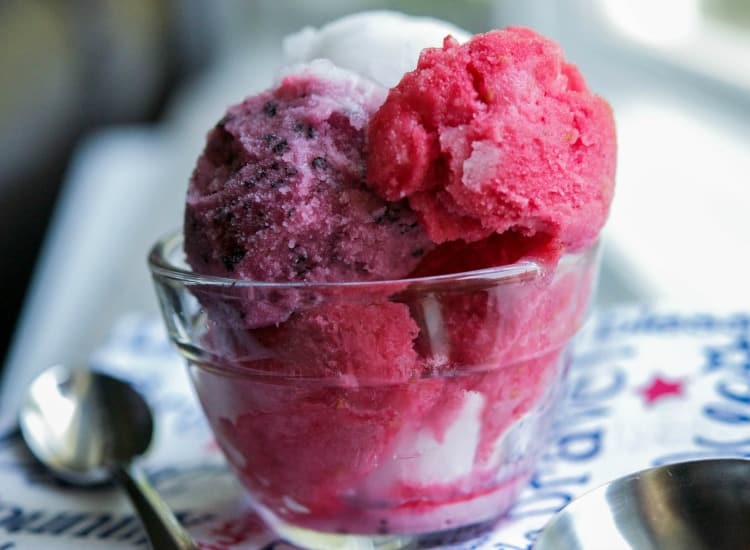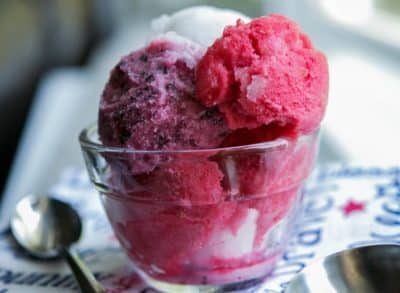 How do you make sorbet?
The first thing I did was make enough simple syrup; which is a combination of equal parts of sugar and water, for all three sorbet recipes. Once the simple syrup was cooled completely I was able to get started.
Now I have to admit that I made this recipe two times in less than a week just for this post. The first time I made strawberry, lemon and blackberry sorbet. Every layer was complete. I took my photographs and gave the "OK" to the family to indulge.
And indulge they did. It was gone in no time flat! Then, I went to edit the photos I took and low and behold, they weren't great. At least I didn't think the images truly showed this recipe in all of it's glory. So I started from ground zero and this time made raspberry, lemon and blueberry sorbet.
What is sorbet?
Sorbet is simple to make. Fresh fruit + simple syrup. That's it! Mix and match flavors or make your individual favorites.
When it's time to freeze your sorbet in between creating the flavors, I used one of those 9 ½ cup (76oz) disposable plastic containers. It's the perfect size and fits nicely in my bottom-style freezer.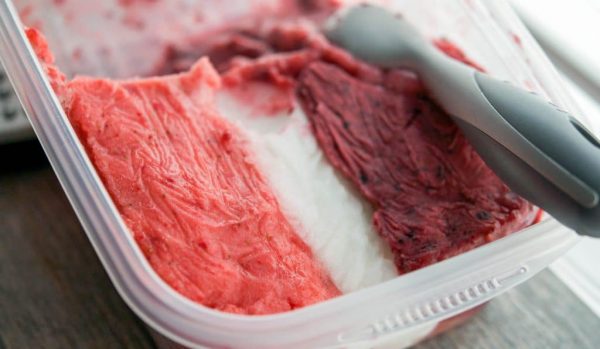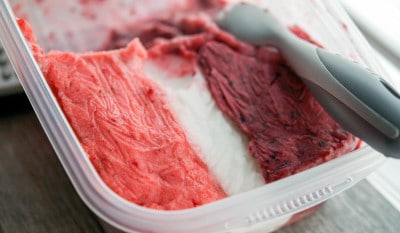 All of the flavors I made were extremely tasty and would certainly quench your sweet tooth cravings on a hot day; however, I have this love affair with lemon flavored anything lately so that would be my favorite; then the raspberry sorbet would definitely be next.
Both my husband and daughter liked all of the flavors, but they were least fond of the blackberry sorbet for no other reason than it had seeds. I guess I could have strained it first before mixing it with the simple syrup, but I was going for true flavors...seeds and all!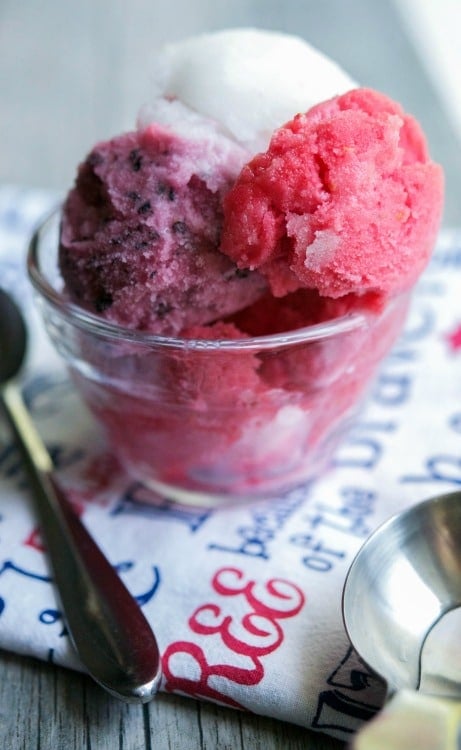 I can't wait for you to try this Red, White and Blue Sorbet. It's marvelous and perfect for your next summer get together. ~Enjoy!
Sign up for my weekly newsletter
and receive
a FREE eBook!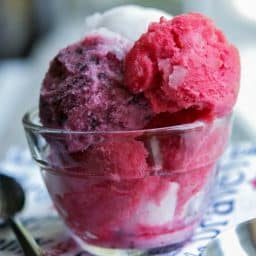 Red, White & Blue Sorbet
Celebrate the patriotic holidays with this refreshing Red, White and Blue Sorbet made with a few simple ingredients such as fresh fruit, water and sugar. This version is made with fresh raspberries, blueberries and lemons.
Ingredients
For the Red Sorbet (Strawberry or Raspberry)
1 ½

c

. Prepared Simple Syrup

½

c

. Pureed Raspberries or Strawberries
For the White Sorbet (Lemon)
1 ¾

c

. Prepared Simple Syrup

¼

c

. Fresh Lemon Juice
For the Blue Sorbet (Blueberry or Blackberry)
1 ½

c

. Prepared Simple Syrup

½

c

. Pureed Blueberries or Blackberries
Instructions
For the Simple Syrup
Combine the water and sugar in a small saucepan and cook over medium heat until sugar is completely dissolved. Allow to cool completely. Can be made ahead of time and stored in an airtight container at room temperature up to 3 days ahead.
For the Red, White and Blue Sorbety
Combine the simple syrup and fruit in your ice cream maker for each sorbet flavor separately; then allow to churn for 30 minutes until mixture starts to get firm.

Place the sorbet in an airtight sealed container in the freezer for a minimum of 2 hours; leaving room to place the other two flavors next to it. Repeat process for each flavor which can take up to 3 days to prepare as the ice cream canister needs to be refrozen prior to starting each new batch of sorbet.
Visit the

recipe index

to search for more recipes by category.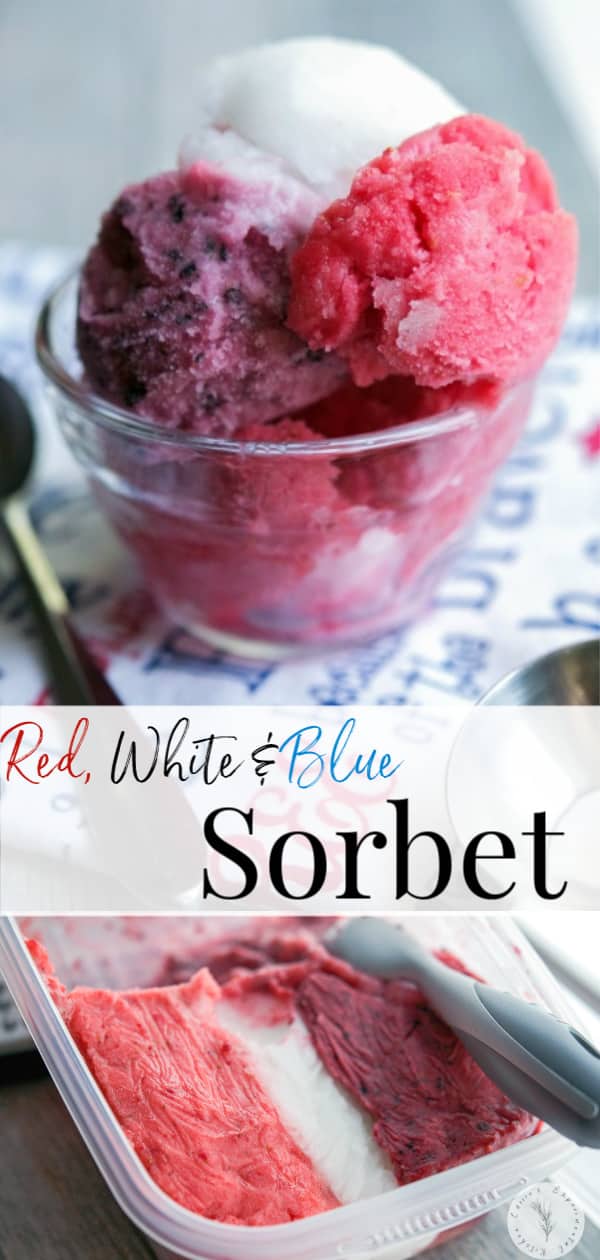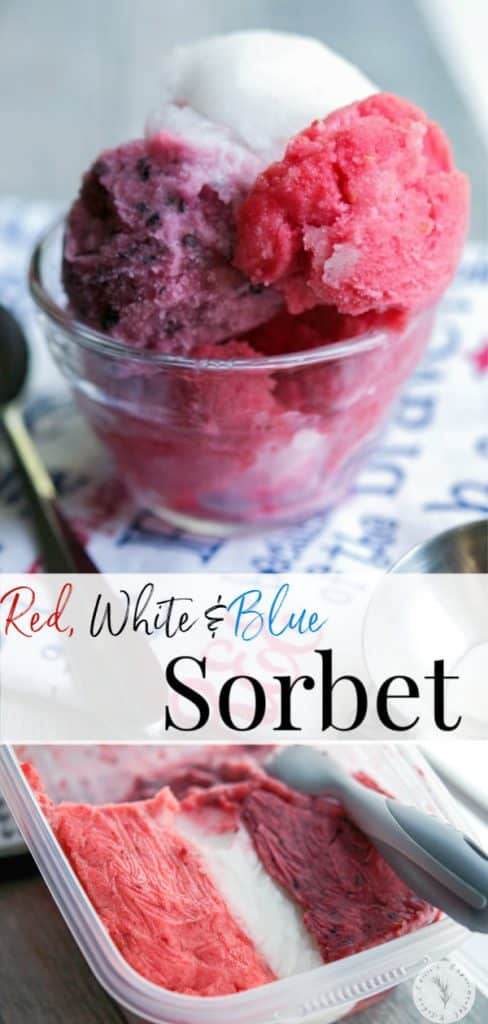 Connect with me on Social Media