First, let's all take a moment to remember that horrific day 11 years ago when our sense of security was ripped from us by the September 11th attacks. My thoughts and prayers continue to go out to the families affected by this tragedy.
And now for today's recipe…
Since I still have quite a bit of quinoa left, I keep trying to find new ways to experiment with it. It was determined by my tasting squad that they prefer to eat quinoa cold in a salad versus as a hot side dish. So when I found myself with some cauliflower that was going to turn soon, I decided to use it in this salad. To give this bland looking salad some vibrant colors, I added some fresh cherry tomatoes and threw in some saffron when roasting the cauliflower. It was very good and the family approved.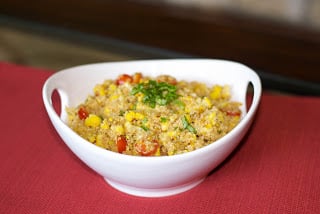 Saffron Roasted Cauliflower Quinoa Salad
1 Head Cauliflower
2 Garlic Cloves, chopped
1/2 tsp. Saffron powder (or a pinch of threads)
Extra Virgin Olive Oil
1 c. Quinoa, cooked according to package directions
1 c. Cherry Tomatoes, cut in half
Prepared Dressing
Directions:
1. Cut down the cauliflower into florets, rinse under cold water then add to a bowl.
2. Add in the garlic, saffron and a drizzle of oil; mix well.
3. Place cauliflower on a baking sheet and bake at 425 degrees for 15 minutes, remove and let cool.
5. Add quinoa, tomatoes and cooled cauliflower mixture to a bowl; then add the prepared dressing. Mix well. Serves 8.

Dressing
1 tbsp. Fresh Basil, chopped
1 Lemon, zest and juice
5 tbsp. Extra Virgin Olive Oil
1 tbsp. Balsamic Vinegar
Kosher Salt, to taste
Fresh Ground Black Pepper, to taste
Add all ingredients together in a bowl and whisk together.
Enjoy!