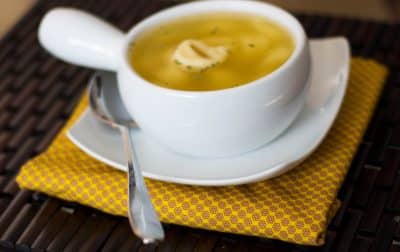 Did you ever hear the name of a recipe and think to yourself, "This sounds too complicated so I'm not even going to look at the ingredients!"
This recipe for Tortellini en Brodo was that recipe for me when I was a new home cook living on my own. I don't know why it intimidated me, I was making far more difficult meals than this at the age of 18, but after realizing that 'en brodo' simply meant 'in broth' I finally looked at the recipe and LAUGHED!  It was so SIMPLE with only 2 ingredients. Now my kids love it when they just want something hot to sooth their throat when they have a cold.
Tortellini en Brodo
1 lb. Frozen Three Cheese Tortellini
4 c. Low-Sodium Chicken Broth
Parsley
Directions:
1. Bring the chicken broth to a boil in a medium saucepan; then add in the frozen tortellini.
2. Allow to simmer until the tortellini is cooked through, about 10 minutes. Season with salt and pepper and garnish with parsley. Makes 4 cups.
*Nutritional Information per Cup: Calories 179, Carbs 24g, Fat 4.5g, Protein 9.9g, Fiber 2g, Sugar 2.4g
*Calculations based on ingredients entered into CalorieCount and may not be 100% accurate.
Enjoy!